We all like to earn a little extra money from our hobbies and daily habits, whether it's cash or the next best equivalent, gift cards.
Are you using one of these apps to earn gift cards for free?
If not, you can start getting paid for activities you already do online. If the thought of getting paid for doing what you already do sounds appealing, you need to check out these free gift card apps!
Top Apps to Earn Gift Cards
InboxDollars
Free and paid games to earn actual dollars. Get a $5 bonus when you join.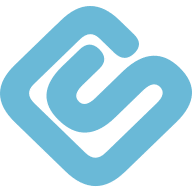 Swagbucks
Cash out minimum starting at $3 doing hundreds of fun tasks.
Ibotta
Buy groceries and redeem your rewards for gift cards or PayPal cash.
There are dozens of ways to earn free gift cards using apps. We're going to show you four different ways apps pay out with gift cards.
And we'll show you which apps work with each of the four earning methods. Then we'll share how each app works so you can use the apps you like the best.
Apps With Multiple Earning Opportunities
This first section is a compilation of apps that let you earn gift cards by completing a variety of tasks.
These apps can be the easiest way to get started. This is because you can literally get paid for virtually anything you do online.
1. Swagbucks
Swagbucks is one of the easiest ways to make money online through a variety of tasks. Here are a few ways you can earn free gift cards with Swagbucks:
Completing surveys
Surfing the web
Watching videos
Playing games
Shopping online
For every task you complete, you will earn reward points. They can be redeemed for gift cards for your favorite stores and restaurants for only $3. You can also redeem your points for PayPal cash as well.
2. InboxDollars
Another leading get-paid-to site is InboxDollars. InboxDollars pays you for doing just about anything online.
InboxDollars will pay you to:
Watch videos
Play games
Download apps
Search the web,
Answer surveys,
Shop online,
Open daily emails (a la "dollars in your inbox")
I personally like InboxDollars because they pay you to shop too. The app makes it possible to make money by buying products you buy anyway.
Instead of shopping through the store's website, you access it through InboxDollars to activate the bonus offer.
You can redeem your rewards for free gift cards or PayPal cash. We have a more in-depth review of how to make money with InboxDollars. Use this app to help you boost your earnings as soon as possible.
3. instaGC
Like other platforms in this section, instaGC lets you earn free gift cards (and other rewards as well) through common methods. You can earn points by completing surveys, watching videos, shopping online, and surfing the web.
There are over 350+ redemption options for gift cards. And you can begin receiving gift cards with only a $1 balance! Also, all gift cards are instantly received which means once you redeem your points for one there's no wait!
You'll immediately receive the gift card code details.
Not only are these gift cards instant, but they also offer PayPal that is instant as well. These are both great reasons alone to consider instaGC.
4. MyPoints
MyPoints is the sister site to Swagbucks and has been rewarding users with prizes since 1996.
While both sites look very similar in appearance, they do have different payouts per task. They also have different redemption values for gift cards.
You can consider joining both sites to ensure you earn the most points possible for your online activities.
It's also possible to earn bonus points when you book your next vacation through the MyPoints travel portal.
MyPoints has partnered with several leading hotels and airlines to award you bonus points on just about any travel purchase you book in advance. And you can use MyPoints even if you book through a third-party site like Expedia or Hotels.com
5. FeaturePoints
FeaturePoints is another app that lets you earn reward points in multiple ways. When you sign up with FeaturePoints, you can earn points by:
Shopping online
Taking surveys
Downloading apps
Referring friends
With the points you earn, you can get free gift cards to stores like Starbucks, Amazon, Playstation and more. You can use your points for PayPal or Visa gift cards too. Or you can use them to get Bitcoin gift cards.
6. PocketFlip
PocketFlip is an easy-to-use app that pays you for completing tasks. You might be asked to take a survey or to download a new app with PockFlip.
Or, PocketFlip might ask you to take a picture and send it in. You might get asked to take a picture of a certain product, or of a receipt from a recent shopping trip.
With the PocketFlip points you earn, you can get free gift cards to sites like Amazon. You might be able to get cash with some of your PocketFlip points too.
7. PointsPrizes
PointsPrizes will give you reward points for doing a number of different tasks. You can earn points when you:
Take surveys
Watch videos
Complete daily reward tasks
Learn about and take advantage of offers
As you earn, you can convert your points into digital gift cards. PointsPrizes has gift cards from Netflix, Amazon, PayPal and a number of gaming sites as well.
Online Surveys To Get Gift Cards
Online surveys can be another easy way to earn gift cards.
You might enjoy these apps if you only have a few extra minutes each day. This is because most surveys only take 15 minutes or less to complete.
You might want to try survey apps if you simply don't take the time to watch videos, play games, or shop online too.
Plus, online surveys can be a good way to supplement your other online apps and to further boost your earning potential.
8. Ipsos I-Say
Ipsos I-Say is one part online survey site and one part social media platform. They offer multiple paid survey and product testing opportunities that help you earn free gift cards.
But, you can also connect with other Ipsos members to create online friendships. And you can earn additional points by taking user-created polls too.
As an additional bonus, you can also earn an annual loyalty bonus for completing up to 200 surveys each year!
Learn More: Ipsos i-say Review
9. Survey Junkie
Survey Junkie has over 3,000,000 members. It's also one of the highest-rated survey sites and has many 5-star Trustpilot reviews. In fact, their overall Trustpilot rating is 4.3/5. And, it is free to join.
You will receive points for every survey you complete. And you can exchange your points for cash and gift cards.
Learn More: Survey Junkie Review
10. Pinecone Research
Another survey site that lets you interact with other users is Pinecone Research. You will earn points each time you complete a survey. You'll also earn when you test a product or interact with other Pinecone Research community members.
This company is one of the largest survey app companies out there. They routinely partner with some of the most widely-recognized household brands.
That means you'll do surveys with companies like Disney, CBS, Expedia, and Proctor & Gamble.
Do you want to be a brand influencer and enjoy interacting with others online? Do you like having the opportunity to earn free gift cards and win weekly prizes? If so, Pinecone Research might be the best option for you!
11. Panel Pay Day
Do you enjoy taking surveys, participating in focus groups, and mystery shopping? If the answer is Yes, you need to go to Panel Pay Day.
You can instantly begin earning between $25 and $75 per survey. And you can receive a $25 bonus just for completing your first survey today.
With PanelPayDay, you can expect to receive between two and four invitations each month for a host of topics. You can earn points that can be redeemed for gift cards.
Bonus: Some surveys will also offer to pay you with cold, hard cash.
12. Toluna
Toluna is a company that uses member influence to shape the development of products and services. When you become a Toluna Influencer, you get to share your opinion on products.
Most Toluna surveys take between 15 and 20 minutes to complete. As you complete surveys, you earn reward points.
You can use your Toluna rewards points to get free gifts or free gift card vouchers. Toluna has gift card vouchers from Amazon, PayPal and more.
You can also use your points to enter Toluna's sweepstakes drawings.
Learn More: Toluna Review
13. Maru Springboard America
Maru Springboard America, also known as Springboard, allows you to share your opinion and pays you to do so.
Springboard was founded by asking users surveys about what they wanted out of a survey company. From here they created a platform to have your voice heard by government bodies, media, non-profit and private companies.
When you complete surveys, you are rewarded with points. Redeem points for prizes and entries in monthly sweepstakes.
Be one of the first people to know about products and services as you complete surveys.
Shopping Apps To Earn Gift Cards
Some of the other apps mentioned in this article will also pay you to shop. However, some of these apps can have higher payouts because they are exclusively intended to reward you for shopping online or in person.
14. Rakuten
Rakuten is possibly the largest online shopping app. Formerly known as Ebates, this app gives you the possibility of earning 1% to 40% cash back at over 2,000 stores. And many of the stores are stores that you will be shopping at anyway.
They also give you the opportunity to earn cash back in person at over 30 stores and restaurants.
While you can also shop through the Rakuten web browser, they do offer increased cashback rates when you use their mobile app.
You can earn an additional $10 bonus after making your first $25 purchase with Rakuten. Once your rewards balance reaches $5, you will have the option to redeem your gift cards for cash.
You can also redeem them for a gift card for a higher value!
15. Fetch Rewards
Fetch Rewards is an app where you can earn rewards by scanning your receipts.
The list of participating products is long and includes many products you buy and use every day.
You can earn points for referring friends who sign up for and use the app too. You can use the points you earn to get gift cards from your favorite stores.
Or you can get entertainment gift cards or Visa/Mastercard gift cards as well.
16. Ibotta
Did you know you can earn gift cards for grocery shopping? It's true!
The Ibotta app will not only let you enjoy the in-store savings when you swipe your grocery store loyalty card but, you can also earn additional cash back by purchasing featured products within the app.
You might get paid to buy a specific product like Crest toothpaste or Oscar Mayer hotdogs while other offers will pay you regardless of the brand as long as you buy milk, bread, or fresh fruit.
All you have to do is scan your grocery store receipts and you will earn the cash rewards that can be redeemed for gift cards, PayPal, or Venmo cash.
In addition to earning cash for shopping at nearly any grocery store and pharmacy, you can also earn extra rewards for making in-app purchases at online stores and for shopping in person at your favorite brick-and-mortar stores and restaurants.
17. Shopkick
Shopkick is a fun app that lets you earn free gift cards with no purchase necessary.
All you need is to download their app on your smartphone (iOS version or Android version) and then make sure its location services are enabled so that Shopkick knows which store you are visiting.
Within the Shopkick app, you can complete missions at each store by scanning the barcodes of select items and by providing the current selling price.
If you do make a purchase, you will also receive additional points for the purchase amount.
This can be a great way to get paid to shop or an innovative way to get exercise by walking the store aisles.
Your points can be redeemed for gift cards to most stores and restaurants. And, most new Shopkick members earn their first gift card within the first week of membership, so you can immediately be rewarded for your efforts!
18. TopCashback
TopCashback is another cash back shopping portal that lets you get a percentage of your purchase amount back in the form of cash or gift card at over 4,000 stores. You can earn cash back when you shop online or use their app as six million worldwide users currently do.
While you can elect to receive your payout as PayPal cash or direct deposit, you will receive a 3% bonus when you request payment with an American Express gift card.
The gift card can be more valuable than cash and other retail gift cards because these prepaid cash cards are accepted anywhere you can make a credit or debit card purchase.
19. National Consumer Panel
National Consumer Panel is another app that makes it easy to earn free gift cards. Unlike most apps where you have to activate the rewards offers before you shop, you can scan the barcodes of the products you buy after you get home with your smartphone.
This flexibility can be handy if you want to minimize your shopping time because you have small children or occasionally forget to check the app before you shop, therefore missing out on the bonus opportunities.
You can also earn additional reward points for answering online surveys inside the NCP app. Your points can be entered for weekly, monthly, and quarterly prize drawings for gift cards, cash, and merchandise.
As a National Consumer Panel member, you can also receive a 25% discount on your AT&T wireless plan and phone accessories.
Available for both Apple and Android devices.
20. Receipt Pal
Another cool app for its flexibility for earning and redeeming points is Receipt Pal (which is available on both Android and iOS). They are one of the very few apps that accept receipts for nearly any purchase making it easy to be rewarded for all your weekly purchases.
You will earn reward points for sharing a picture of your receipt when you buy coffee in the morning, take the family to dinner, or even get your oil changed.
Just as it's super easy to be rewarded for every single purchase you make, you can also redeem your gift cards at many different stores. They even offer $1 Amazon gift cards.
21. CheckPoints
CheckPoints could also be classified under the first section of this article because you can earn points through a variety of tasks including surveys, searching the web, and watching videos.
But, you can also earn rewards points for scanning barcodes as you browse the grocery aisles. This is something the other multi-task sites like Swagbucks do not offer.
Your points can be exchanged for gift cards to your favorite stores. And, you can also enter giveaways for additional gift cards, shopping sprees, and other prizes.
22. Receipt Hog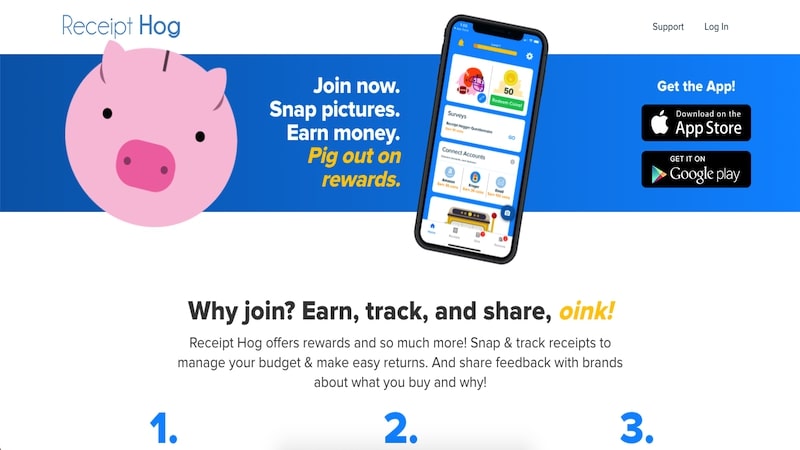 Receipt Hog is another app that makes it easy to earn rewards points on every purchase that can be used for free gift cards. All you have to do is take a picture of your receipt and you will earn rewards coins for each scanned receipt.
You can also earn bonus coins by answering in-app surveys and spinning the Hog Slots.
Your coins can be redeemed for Amazon gift cards, PayPal, and free magazines. The app is available for all Apple and Android devices.
23. PayPal Honey
Do you want to earn Amazon gift cards while shopping online? Honey is an app that employs a unique twist on earning cash rewards by earning 1% to 15% on your entire online purchase.
The only catch is that you don't know how much you will earn until after the sale has been completed.
Where other cashback portals use a flat-rate rewards system where you can get 1% to 40% back on the entire order, your rewards rate with Honey depends on which item you purchase.
For example, you might get 4% cash back on your online order from Target, but, Honey might give you 1% cash back on a shirt and 55% cash back on the pair of shoes you ordered. But, you won't know until the purchase has been finalized.
Honey is the proverbial "two in bush" as opposed to the "one in the hand" with the traditional cash back apps.
If you enjoy shopping on Amazon and thought joining Amazon Prime was the only way to save money, this just might become your favorite app.
Task Apps To Get Free Gift Cards
The fourth app category that lets you earn free gift cards is to use an app that only focuses on a specific task. For example, you might get paid to download another app, watch videos, or even surf the web.
You might consider these apps because they might offer content that the flexible, paid-to apps cannot access. Or, these apps have a higher payout per task because they only let you earn gift cards for a specific store.
24. Microsoft Rewards
You can get paid to use the Bing search engine on your computer or mobile device with Microsoft Rewards. They also offer additional bonus points with daily quizzes and promotional offers.
Bonus points can be redeemed for Microsoft Store credit that lets you buy music, movies, games, and Microsoft software. You can truly earn points every time you put a search term into your browser address bar!
25. Google Opinion Rewards
Google Opinion Rewards lets you earn free Google Play credits. This is the official Google app to pay you for your opinion and you will earn a $1 credit for each poll.
Topics are usually Google-related (go figure!) as you might be asked what logo design is the best, which marketing offer is most appealing, or how you plan to use Google services in the future.
Summary
Earning cash is nice. However, sometimes earning a gift card can be more advantageous since you can earn a higher reward rate.
Also, if you are going to immediately turn around and spend the cash at your favorite store or restaurant, choosing the gift card is just as valuable and can be just as convenient.
It doesn't matter what you do on your smartphone. My guess is that there's most likely an app that will help you earn free gift cards every day of the week.