Having a baby is one of the most exciting things to happen. It can also be very overwhelming.
If you're heading into parenthood for the first time, it's common to be unsure about everything from nutrition, to supplies, to finances.
Creating a baby registry for the things you'll need can help ease the financial burden of parenting as well as get you prepared.
It also gives loved ones some great ideas for helping you bring your new bundle of joy into the world.
Below we'll talk about some of the more popular stores – both online stores and brick-and-mortar stores – that have baby registry services.
We'll also talk about how you can know what items you should register for when you're expecting that beautiful family addition.
Best Baby Registry Websites
Every store's registry has its benefits. So, I'll go into detail below regarding those in order to give you the information you need to decide which registries to sign up with.
Some people sign up for just one, others sign up for multiple registries.
Check out the details and benefits of each to see which baby registry programs might be best for you.
1. Amazon
Amazon has a pretty comprehensive baby registry program with many benefits. Here is a list of the program's features.
If you are (or become) an Amazon Prime member before – or when – you create your registry, you will be eligible for an extra 15% completion discount on qualifying purchases.
A completion discount applies when you purchase the remaining items on your baby registry list after everyone is done giving gifts.
If you're not a Prime member, you'll still be offered a 10% completion discount.
However, you might want to check out these ways to get Amazon Prime for free if you don't currently have the service.
You'll also be eligible for rotating offers such as their Welcome Box, discounts from baby product partners, store product savings and more.
Bonus: as an Amazon Prime Member you'll get free 2-day shipping on all orders and free access to Amazon Prime Video.
Don't want to become an Amazon Prime Member? That's okay: you'll still get a 10% discount on almost any item you purchase as a baby registry member.
Universal Registry Management
You can create, add to or edit your baby registry list at any time from any device. This is a convenient feature that makes it easy to manage your registry with Amazon.
In addition, you can add items from any other store site to your Amazon baby registry when you use Universal Registry Management.
The Largest Selection
Amazon has just about the largest selection of any store around, and their prices are lower on many, many items.
When we're price shopping for stuff, Amazon is our first stop, and then we compare prices from there, but we almost always end up buying from Amazon.
With over 270,000 baby items to choose from at this writing, you'll almost certainly find what you need for your baby on Amazon.
Return Policy
If you're not satisfied with a gift you get from your Amazon Baby Registry, you have up to 365 days to return most items for a full refund.
This feature will help ensure that none of your gifts sit in a closet or drawer unused.
All in all, there's a lot of great things about the Amazon Baby Registry program. One down side is that you can't just go into the store and see, feel and examine things.
And you can't buy and bring them home the same day, and neither can your gift-giving friends and relatives.
Also, technology might be a problem for older folks who prefer the old-fashioned way of shopping.
But for the majority of users Amazon makes buying baby gifts for registry members super easy, and it makes creating a baby registry well worth the effort for parents.
2. Target
Target has another popular baby registry program.
With over 1800 brick-and-mortar store locations in the United States alone, your gift givers are bound to find a Target store near them as they shop for gifts for your baby.
So, what does the Target Baby Registry program have to offer? Lots. Let's check out the benefits.
Both Online and In-Store Registry
Because Target has hundreds of store locations throughout the U.S., you can register online or you can head to a store location to register.
One benefit of registering in-store is that you can get a better, more thorough look at the products they have available.
While the online store will definitely have more products for you to choose from, registering for your baby directly in a store location will help you get a better idea of the quality of certain brands, colors, etc.
I don't know about you, but I always get the warm fuzzies when I wander through the baby department at Target or other stores.
Those same warm fuzzies don't come when I'm shopping for baby products online.
If you do have to shop online, use this link to get free shipping on any orders over $35.
A Welcome Kit
Everyone who creates a baby registry at Target gets a Welcome Kit worth $150.
The Target Baby Registry Welcome Kit is loaded with sample items and coupons that will help you get your baby off to the right start and help you save money at the same time.
A Completion Discount
Like Amazon, Target offers a completion discount when you purchase the remaining items on your baby registry list after your due date passes.
The Target completion discount is 15% across the board. It applies to all items left in your baby registry 8 weeks before your due date.
First, it can only be used for one in-store purchase and one online purchase, meaning you only have two "trips" to complete your baby registry purchases.
Also, there are certain brands that the discount will not apply to. See the Target website for details on excluded brands.
Also, know that you can't use your discount to purchase gift cards.
Easy Returns
Target works to make baby registry item returns easy by giving registry members up to one year to return "most new, unopened items" at a local Target store.
Make sure to save receipts that you receive with your items. This will help when returning to a store so the cashier can determine if it was from online or in the store.
Universal Registry
As with Amazon, your online Target registry can include items from many other websites.
This is a great feature for online shoppers if you have items you want that aren't sold at Target.
Group Gift Giving Feature
Target makes it easy for people to go in together on larger gift items on your baby registry.
Let's say that Aunt Susie, Cousin Mary, Cousin Jenna and Grandma Jane want to go together to purchase a car seat for you, and that car seat costs $100.
Someone in the group starts a group gift purchase.
They'll actually be sending you a gift card that includes a note saying "To be used toward the purchase of X brand car seat", but you do have the option to purchase other things with it as well.
Each member in the group gifting group will receive an individual link where they can go and contribute a specified dollar amount toward the e-gift card.
The e-gift card is then sent to you and you can purchase the item specified or a different item.
Personalized Page Features
Target's Baby Registry program comes with the ability to personalize your online registry with features such as custom URL and photos.
This is a fun little benefit that can help people have an insight into you and your journey into parenthood.
Baby Registry Checklist
Target helps you get an idea of what items to include on your registry with their checklist. Super helpful for first time parents.
Gift Tracking
The Target Gift Tracking feature helps you see who has given you what, along with who you've already thanked and who you haven't.
This feature requires some input from you as the recipient, but it does provide you with an easy, online place to keep track of thank you notes sent.
As with Amazon, there's a lot to love about the Target Baby Registry program.
In my research, I found little in the way of negatives other than the fact that online purchases can sometimes be cumbersome to return at store locations.
3. Walmart
The Baby Registry doesn't seem to have all of the features that the registries at Amazon and Target have, but there's still a lot to love about registering for your baby at Walmart.
Here are some of the benefits of Walmart's Baby Registry program.
A Welcome Box for All Registrants
All who register for Walmart's Baby Registry program get a free Welcome Box with a value of up to $40.
The site doesn't share a lot about what their Welcome Box contains; it simply says it will include product samples for each stage of your baby's development.
There's also a disclaimer that the boxes are available only while supplies last.
I've done a good bit of research about this program over the years however, and I've never headed onto the site without the offer for a Welcome Box being in place.
However, that could change if supplies do run out according to the Walmart website.
The Walmart App
As with most stores these days, Walmart has a downloadable app that will help you easily track your baby registry progress from your smartphone or other device.
Available for both Android and Apple.
Virtual Registry Assistant
Walmart's Virtual Registry Assistant can help recommend products for you to add to your baby registry.
This is a nice feature, especially if you're expecting your first baby.
Free Returns
It's always free to return a baby registry item you've gotten from Walmart as long as you return it within the timeframe specified on their website.
The website says up to 365-day returns are allowed, but this can vary according to the product.
As I perused the website's return policy, they talked about some items having a 15-day return policy, others having a 30-day return policy and others having a 90-day return policy.
Check out their returns web page to find out more information on how long you have to return specific items.
Note: If you have an item on your online baby registry that was not fulfilled and shipped from Walmart but instead from an outside company, you will have to return it directly to that outside company, and likely at your own cost.
If you're looking at something not sold and shipped by Walmart, there will be a little blurb that says "Sold and shipped by…" stating the name of the company.
If there's no such blurb, the item is likely sold and shipped directly from Walmart. This is something you may want to keep in mind as you choose the items for your online registry.
Simple But Effective
Walmart's Baby Registry program may not have a lot of bells and whistles, but it's a great basic registry that can fill most all of your baby's needs.
And there is a Walmart in almost every city these days (over 4,500 in the United States currently).
This means that gift-givers from all over the country shouldn't have to travel too far to purchase a gift from your registry list if they'd rather buy in person than online.
4. Buy Buy Baby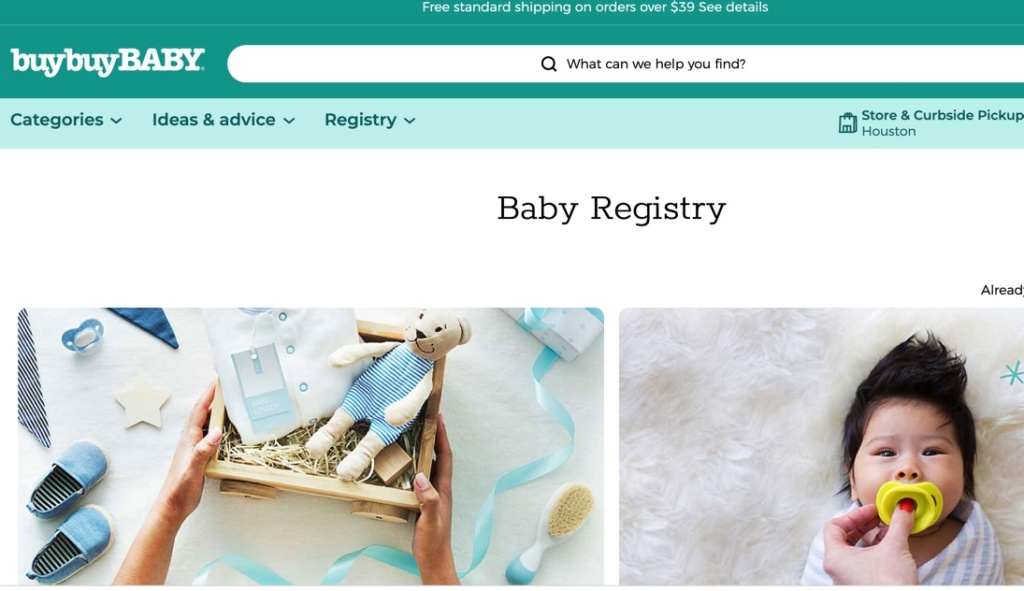 Buy Buy Baby stores aren't as expansively located as Target and Walmart stores are, but according to their website they do have 135 locations across the U.S states.
And luckily, today's world of online shopping means you can register for your baby at Buy Buy Baby even if there's not a brick-and-mortar location near you.
Here are some of the best features and benefits of registering your baby with Buy Buy Baby.
Free Gift Bag
Buy Buy Baby gives a Goody Bag to all baby registry members. The bag includes free samples and coupons.
However, you do need to go to an actual store location to pick up your Goody Bag.
They won't send it out if you're registering online and there are no store locations near you.
If you are registering for the baby registry online, Buy Buy Baby will send you a free goodie box with samples for baby.
Referral Program
Another cool feature of the Buy Buy Baby Registry program is that you can get rewarded for referring friends and family members who are expecting a baby.
If you refer a loved one, and they sign up for their own registry, you as the referring party get a coupon worth $25 off of any $100 purchase at Buy Buy Baby.
The referral program notes did say, however, that the purchase using the coupon has to be an in-store purchase, so beware of that stipulation.
Diaper Fund
Another great feature of the Buy Buy Baby registry is the Diaper Fund. With Diaper Fund, friends and family can give cash gifts at any time to go toward diaper purchases.
You can select a 4, 8, or 12-month diaper fund supply for loved ones to contribute to.
Baby Registry Analyzer
Buy Buy Baby has a baby registry analyzer feature as well.
The baby registry analyzer helps you compile a wide variety of items on your registry to accommodate any giver's budget.
It helps you balance your registry with gift choices in all price ranges so everyone can find a gift that fits in with what you need and what they can spend.
Baby Registry Thank You List
The Buy Buy Baby registry also comes with a thank you list tool.
This tool helps you keep track of what you've received and from whom. You can use the list to help you create thank you notes.
And you can check sent notes off so you know who you've thanked with a note and who you have yet to send thank you notes to.
Hassle Free Returns
Buy Buy Baby promises to have hassle-free returns on their website, although I couldn't find anything stating exactly what that meant.
5. The Tot
The Tot is on a mission to find safe, high quality, and non-toxic products for babies and children at every stage of life.
When you create a baby registry on The Tot, you'll be able to take advantage of several features.
The Tot has starter registries in all kinds of categories from Luxury to Gender Neutral to Newborn Essentials.
These starter registries help you begin a list of needed and wanted items, even if you aren't sure where to start.
Concierge Service
When you create a baby registry with The Tot, you'll have access to the company's dedicated concierge service to help you with any questions you might have.
This service is free for all registry clients, and can help you customize your registry as needed.
15% Completion Discount
The Tot offers a 15% completion discount on any items remaining in your baby registry.
Items need to be ordered within 60 days of your due date, and you must have had at least 10 items on your registry to begin with.
Gift Tracker
The Tot's gift tracker feature will help you keep track of who has given what gifts so you can easily track who needs a thank you note.
If you like the idea of putting tot-tested baby items that focus on safety and health, you might want to register at The Tot.
6. MyRegistry.com
MyRegistry.com is a universal registry site you can use to register for baby items around the web.
When you register on MyRegistry.com, you can add items from almost any store you can think of, including Amazon, Target, and even Etsy.
You can even register for cash gifts if you want to.
Although you may not find extras such as concierge services or free design experts, you will be able to comprise a full list of needed items in one place if you use this site.
7. Pottery Barn
If you've never perused the Pottery Barn Kids website, now is the perfect time.
Although the items there tend to be at a higher price point, the products they sell are beyond cute and made well.
Pottery Barn has a limited number of stores in the U.S. and around the world, but they do have an e-commerce store as well that can be used to create your baby registry.
Or you can stop in at a store location, or call their customer service line to register for your baby as well.
Here are some of the other features of Pottery Barn's baby registry.
Complimentary Design Services
Pottery Barn Design Studio Specialists will help you create the perfect nursery for your little one's arrival, free of charge.
You can visit a store in person, call their customer service number or look online for help in creating your nursery.
A Completion Discount
Pottery Barn's completion discount is the highest of those I've seen for baby registries; they offer a 20% discount on any item you purchase yourself for up to six months after your event date, provided you had those items listed on your registry.
You can use your discount starting 60 days before your due date.
Hassle Free Exchanges and Returns
The company also promises hassle free exchanges and returns on any items purchased from your baby registry list.
You can return items up to 90 days from the date of the event or the date of the purchase, whichever is later.
8. Crate & Kids
Crate & kids is Crate & Barrel's store containing all things kid. When you register for your baby with Crate & kids, you can add items to your registry such as:
Baby furniture
Bedding
Toys
Decor
Storage
And more. Note that all Crate & kids bedding is made with organic materials. Other registry features are included as well.
Crate & kids will help you design your baby's nursey–for free. Use their expert help to build the nursery you need for your baby.
You'll get a 10% discount on items that weren't purchased off of your registry. See the store's website for discounts and exclusions.
You'll also get free shipping on eligible purchases from your baby registry. The Crate & kids website can give you more information on how to qualify for free shipping.
9. The Ultimate Green Store
The Ultimate Green Store specializes in environmentally friendly products for baby.
You can find a wide array of organic baby products here, including clothing, cloth diapers, baby sheets, nursing accessories, and more.
When you create a baby registry on The Ultimate Green Store, you can ask for gifts ranging from toys, to bedding, and more.
View, edit, and add to the list as you choose. Shop by store brand, or choose from organic products, BPA-free products, and home products as well.
10. Babylist
The Babylist baby registry is an entirely different kind of baby registry than the others we've featured here. Babylist is a baby registry service of sorts.
This unique and exciting online baby registry was founded in 2011, and it's grown exponentially since then.
Not only will it help you create a universal registry, but you can add items from the Babylist store as well.
Here are some of the features about Babylist you might like.
Any Item from Any Store
Since Babylist is a registry service along with an actual store, you can put items from any store, anywhere on your Babylist registry.
Just add the items you find at online stores to your Babylist registry and gift givers can purchase them for you.
That means you can add items from the Babylist online store, from Indie baby item makers, and more.
You'll also get a 15% discount on any items you added from the Babylist store if they weren't purchased from your registry.
Other Meaningful Gift Options
One feature that really stood out to me is the ability to add service gifts onto your Babylist registry.
You can include gift options such as:
Meals delivered
Service-oriented gifts such as pet or babysitting an older child
Diaper service plans
Dog walking
House cleaning
Any new parent will tell you that gifts such as these are worth their weight in gold.
It's so nice to have people bringing meals, helping with housework and helping care for kids and pets as you and your newborn get settled in.
Hello Baby Sample Box
Babylist is currently offering a sample box for expectant parents that contains samples and coupons for your baby and parent needs.
Note that this offer is labeled "while supplies last".
For the reason of the service gift options alone I would totally register on Babylist if I was expecting.
That's our summary of some of the more popular baby registry sites. Now onto some information about what types of products you should register for on your baby registry.
Key Registry Items
Thinking about what you and your baby might need before he or she even arrives can be overwhelming.
Here is a short list of things you may want to consider putting on your baby registry list to help you get prepared for parenthood.
Large Ticket Items
Aside from the hospital bill, large ticket items such as cribs can be some of the most expensive things you'll need to shell out for to prepare for your new baby.
That's why it's smart to consider putting items on your registry such as:
Your crib choice
A bassinet
A car seat
A stroller or stroller/car seat combo
A playpen
A high chair
Or other expensive items you may need or want. Although some people get nervous about asking for expensive items on their registry, many gift givers with smaller budgets are happy to go in with other people to buy a large ticket item together.
Clothing Basics
Onesies, receiving blankets, bibs and one-piece pajama-type outfits come to mind here.
Between spitting up and other bodily functions, babies tend to need clothing changes a lot, especially in those first few months.
Put plenty of them on your registry list – and in a variety of sizes so that you'll be covered for several months as far as clothing needs go.
Other Convenience Items
I'm thinking specifically of things like hooded bath towels, humidifiers, baby thermometers, nasal aspirators, pacifiers and such.
And don't forget the baby wipe warmer. Cold wipes on a baby's bottom in the middle of the night will keep everyone awake. The warmer is a must have.
You may be surprised at how handy these types of items come in as you care for your newborn. Make sure to ask other new moms for their tips as well.
Beware of Asking for Diapers, Wipes and Formula
I caution against asking for disposal diapers, wipes and formula in large quantities on your registry.
Although these are great items to have, some babies may end up having sensitivities.
Hence gift cards are great to use to put towards diapers once you figure out the perfect brand for baby.
Summary
Bringing a new baby home is one of the most exciting times in a person's life.
Make sure you're prepared by creating one or more baby registries that can help ensure you have everything you need for your new bundle(s) of joy.