Online yard sales can be a lot less work than traditional yard sales. The best online yard sale sites help you get the most exposure, and of course, sell your stuff!
If you're looking to buy stuff, online yard sales can show you millions of items for sale. Each online yard sale site is different and offers different items for sale at discount prices.
We're sharing the best places for you to post your yard sale items online, as well as other tips on how to have the most success as you work to declutter your home and potentially earn some cash in the process.
You'll also learn where you can buy items from online yard sales – or get them for free!
Top Online Yard Sale Sites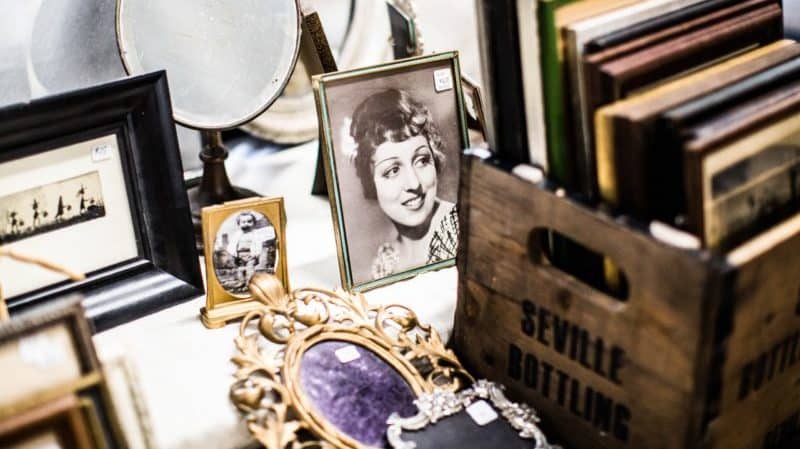 All of these sites will help you sell or give away your stuff online, whether individually or in a yard sale format. And they'll also help you buy what you need on the cheap.
You may already know about and have used Craigslist to sell online or buy online.
However, there are other places that are created for the purpose of helping you sell or give away your items, and to help you find items you need for cheap or for free.
Here is some information on some of the best online yard sale sites.
1. VarageSale
VarageSale is an app that was created by a mom on maternity leave who wanted to improve online garage sales in order to better improve user experience.
That was in 2012, and today VarageSale boasts communities throughout the United States and Canada.
One interesting thing about VarageSale is that each area group has community administrators who are responsible for managing the group.
Group administrators are responsible for approving people to join the group, creating the list of approved and denied items that you can sell, and more.
VarageSale is free; it won't cost you a dime to sell on the site. When you post an item and someone wants it, they'll send you a notification so you can place the item on reserve.
Conversely, you would send a notification to a seller if you found something you wanted to buy.
From there, the buyer and seller meet to ensure the item is what the buyer expects, money is exchanged and everyone goes on their way.
User profiles are available so you have some idea of who you're communicating with on VarageSale.
Each state or province has a varying number of communities, some of which are more active than others. Note that you can join more than one VarageSale community.
However, you may be denied joining a community if you're further away from the community than that group's admins allow.
2. OfferUp
OfferUp is an online garage sale site that launched in 2011. The focus is on deals near you with added detail to security and safety.
With OfferUp, you have to create an account and log in if you want to communicate with other buyers and sellers or if you want to post items for sale.
The free app has a feature that allows you to instantly message other members about items you're interested in selling or buying.
Member profiles have ratings, badges, and transaction histories you can read through.
Whenever you complete a transaction with a buyer or seller, you'll be asked to give a rating and the other party will be asked to give a rating to you as well.
Ratings are another measure that helps keep buyers and sellers informed about with whom they're doing business.
OfferUp has another feature called TruYou. TruYou verifies the identity of members by matching a selfie photo with information from a driver's license or another official ID form.
TruYou is optional but may help you get more sales if you're selling on OfferUp. Conversely, using it may give your buy offer an edge over a competitor not signed up with TruYou.
OfferUp is free for both buyers and sellers to use when buyers pay with cash. Card transactions or shipped transactions may incur fees. See the OfferUp terms and conditions page for more information.
3. Facebook Marketplace
If you've got a Facebook account you've likely at least seen advertisements for items that are for sale on Facebook Marketplace.
Facebook Marketplace is a (mostly) free section on Facebook where you can buy or sell most items, including cars and real estate.
With Facebook Marketplace you can buy or sell locally or around the world. If a person buys and ships from a purchase you sell when you use Commerce Manager (i.e. you are selling as a business), Facebook will deduct a selling fee of:
40 cents for items selling for $8 or less
5% for items selling for over $8
There are no fees for selling as a non-business user on Facebook Marketplace, with the exception of possible transaction fees involving credit cards and/or shipping.
Facebook Marketplace has one of the largest online yard sale reaches in the world, with nearly 3 billion active users.
4. Nextdoor
The Nextdoor website and app work to bring communities together to share local news and recommendations, get answers to questions, and more.
Another feature of the site is that it has a "For Sale and Free" section on the left sidebar. This section is a great place for you to sell individual items or items in lots.
Although the site does have a list of restricted items, most common things can be sold on Nextdoor.
Also, check out Nextdoor's Buy for Good/Sell for Good option. This option allows sellers to donate a percentage of the profits from a sale they make to a specified non-profit organization.
So you can sell your items and help a worthy cause too. And as a buyer, you'll know that a portion of the money you're spending will be helping a worthy cause.
There are no fees for using Nextdoor, whether you're selling something or simply using the app to stay updated on the latest local happenings.
And since potential buyers should live in your general area there'll be no need for you to ship items you sell. In fact, Nextdoor recommends against shipping in order to avoid scammers.
Nextdoor can be a great site to use if you're interested in only buying from and selling to people in your area. Note that depending on how involved your neighbors are with your community's Nextdoor site, your reach may be limited.
5. Facebook Online Garage Sales
Facebook online garage sales are a personal favorite when it comes to buying and selling online.
With the online garage sale feature, you can search for items for sale right in your community or in surrounding communities.
The local focus makes it very convenient to buy and sell online. There are no fees for using online garage sales on Facebook.
You simply make a deal with a buyer or seller, meet up, exchange cash, and be on your way.
Another nice thing about using Facebook online garage sales is that meetups are easy since the geographical area of most groups is pretty concentrated.
This helps limit your travel and save you time when you make a deal using online garage sales through Facebook.
As with all online yard sale transactions, safety is important. Meet in a public place and be sure to tell someone where you're going and when you'll be back.
6. Buy Nothing
Buy Nothing groups are great if you're looking to give something away for free or get something for free. You can find anything in these groups, from free diapers to household goods and more.
The Buy Nothing groups typically have very small, concentrated geographical boundaries. For instance, if you live in a big city, Buy Nothing groups may be limited to those in specific neighborhoods.
These groups are run by admins who determine the rules of the group, including who can be members and on which platform the group is run (many run on Facebook).
In other words, you may not be able to join a Buy Nothing group if you're not "local" enough. Because the groups want to focus on community sharing, membership is limited to those in the specified community.
However, if you have a group near you (or choose to start one), Buy Nothing groups can be a powerful way to reduce, reuse and recycle all sorts of items.
7. Freecycle.org
Freecycle.org offers another way to get free stuff online. This giveaway group has nearly 10 million members in over 5,000 cities. There is no cost to post items for free on this site, and no cost to take the free items home.
Volunteers create groups within a certain geographical area, much as with Buy Nothing groups.
Potential users must then join Freecycle.org and request to be a member of a group. Login is required to browse and request to join a town, so you'll have to create a free profile in order to use Freecycle.org.
You can choose to look for free items by using the search bar near the top of the Freecycle.org home page.
However, searching in this manner returns limited results. You'll want to create a profile and join a group for maximum opportunities, both as a giver and as a receiver of free items.
8. Bookoo
Bookoo is another online yard sale site that focuses on connecting you with people in your community. The site was made specifically for yard sale fans, by yard sale fans.
Bookoo was started by two brothers with a lot of kids and a need for frugality when it came to making money work. (Read the "About" page–it'll make you smile.)
Posting on the site takes less than a minute, and the site is very easy to use.
There are no fees whatsoever for using Bookoo. You simply go to the site's home page and enter your city name, zip name, or country name.
Note that Bookoo isn't quite as far-reaching yet as other sites may be. However, it does boast nearly 3 million users.
It's a wonderfully simplistic site that makes it easy to post, buy and sell items to users near you. However, Bookoo doesn't have the transparency or safety features you'll find on sites like OfferUp.
How to Have a Successful Online Yard Sale
As with any sale, there are tips you need to follow in order to be successful with your online yard sale. Check out these valuable tips in order to sell your wares quickly.
Be Sure the Price Is Right
Pricing is very important when it comes to online yard sales. Choosing a price that is too low means you're losing out on money.
Choosing a price that is too high limits the chance that your items will sell. Check various online platforms for items similar to the brand and shape of the item you're selling in order to get an idea of how to price your item.
Keep in mind that geographical area and other factors may affect what your item will sell for. And if it hasn't sold after 2-3 weeks, consider a price adjustment.
Take Great Photos
Good photos are so important when you are selling an item. Be sure your photos are taken with the proper lighting, that they're clear and not blurry, and that they are taken from a variety of angles.
Not that great of a photographer? Practice makes perfect. Check out online articles on how to improve your photography skills.
Timing Is Everything
Selling your items at the right time is important too. For instance, you'll want to sell summer items in the spring and not in the fall. And sell Christmas items in September and not in February.
Thinking about when potential buyers would have the most need for your item can help you get top dollar when you sell.
Be Honest Regarding Defects
It's also important to be honest regarding the wear, tear, and defects of the items you sell. Your buyers are going to see the defects when they come to look at the item or get it in the mail anyway.
Don't damage your reputation by not disclosing defects or damage. Be upfront about any issues and price your items accordingly.
Summary
The best online yard sales help you sell what you want to sell and don't charge you an arm and a leg to do so.
If you're buying instead of selling, the best online yard sale sites have good protection policies in place and a large number of listings.
Use the guide above to find online yard sale sites that can help you accomplish your buying and selling goals.