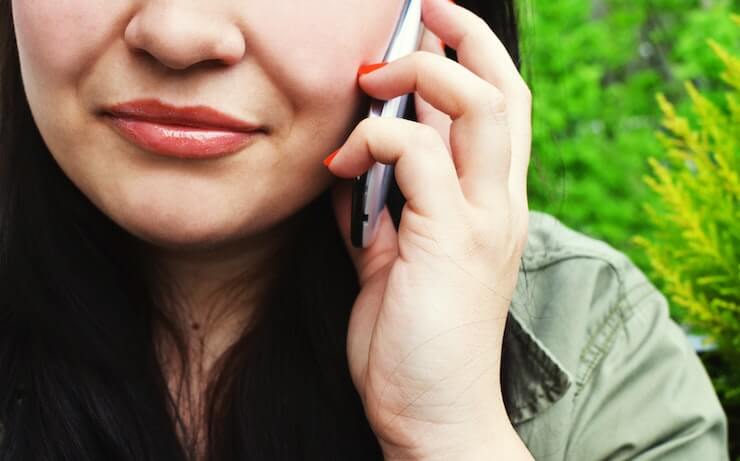 If you don't like the idea of being locked into a cell phone contract for two years, take heart. There is an alternative. A prepaid cellphone plan may be right for you.
Prepaid plans are inherently different from typical contract plans. Prepaid plans allow you more freedom and flexibility of coverage options. Instead of signing a contract for a set term with unchangeable features, you can choose to change it up over time.
Prepaid plans are even known to be less expensive than traditional contract plans.
Best Prepaid Cellphone Plans
Let's take a look at the best prepaid cell phone plans on the market today. Remember to decide what you need in a plan before you choose a prepaid plan.
1. Straight Talk
Straight Talk has a variety of plans that offer different levels of data usage, plus unlimited talk and text. You can choose your plan based on your needs.
The best offer available through Straight Talk is the unlimited data nationwide plan. It is $45/month and offers 25GB of data plus unlimited nationwide calls and texts. Currently, I am on the unlimited nationwide plan. I have had no complaints about the plan or coverage. And, the affordable price tag works for me.
The other plans range from $30 to $60 a month, with a variety of options in between. The unlimited international plan offers unlimited calling to certain foreign countries including Canada. If you have family in another country, this could be a great option. It is $60 a month, which could be a good deal. It just depends on the amount of time you spend on the phone.
One bonus is that you can sign up for a longer term than just one month, which gives you a discounted rate for the same plan. The downside is that you would be locked into that prepaid plan for the duration of the term.
I would recommend testing out the plan for a month or two, then signing up for a longer plan to get the best rate if you like the service. When you choose to sign up for just one month, the plan will expire 30 days later.
Straight Talk has contracts with the four biggest national carriers. Depending on where you live, you will be using one of those four networks. That wide range of coverage is a great feature.
The prepaid cell phone plans offered by Straight Talk are affordable. They are best for people that need access to data on their phones. They offer a variety of phone products such as Apple, Samsung, and Google.
If you never use data, then there are less expensive options available. For example, if you can get by with mostly Wi-Fi coverage, then you should consider other plans. Otherwise, you may be spending unnecessary money on this data heavy plan.
2. Republic Wireless
Republic Wireless offers a great plan with no data for just $15 a month. As mentioned above, you may not need cellular data if you have access to Wi-Fi most of the time. Think about the areas you frequent. If you are constantly able to connect to free Wi-Fi, then why bother paying for data?
The company offers an unlimited talk and text monthly plan for only $15. You will not have access to any data unless you decide to pay for it. You have the option to add data right from your phone, so if you absolutely need data then you will be able to buy it on the spot for $5/GB. It is a steep price for data, but if you are in an absolute bind then it's a good last-minute option.
Although this $15 unlimited plan is cheaper than the $45 Straight Talk unlimited plan, remember that you will not have the 10GB of data offered by the Straight Talk plan. Before you choose the Republic Wireless plan, be sure that you can survive without data.
Republic Wireless uses Sprint and T-Mobile networks to support their coverage, but it is heavily supplemented by Wi-Fi use. So if you are on a call, then you may be using wifi instead of network coverage.
One downside to Republic Wireless is that it does not support most smartphones. If you were planning to bring your own smartphone to this plan, that may not be an option.
Republic Wireless is a great option for anyone who does not need access to data on a regular basis but would like unlimited calls and texts.
3. Ting
Ting offers a tiered billing system that allows you to only pay for what you use. That means that if you go over a certain number of talk minutes or texts, then you will be billed for the next tier. You do have the option to set limits from your phone, so it is unlikely that you'll exceed your intended usage accidentally.
The base prepaid phone plan is just $6 a month, but for $6 a month, you have access to 100 minutes of talk and 100 texts. You have the option to add data as needed, but it is relatively expensive. I would not recommend signing up for this plan if you have any desire to use data.
The best part about Ting is that you can decide what you want to pay. Basically, you can design your own custom plan to create the best situation for yourself. That means you can create a plan that is text-heavy and talk-light, or vice versa. However, adding data will cost you more than it should. Data plans can add more on to your payment plan than you expected.
In contrast to Republic Wireless, approximately 80% of phones work on the Ting network. It is likely that you will be able to bring your own phone, but it is not a guarantee.
Ting is another good option for anyone who does not need access to data. The ideal user does not need unlimited minutes but uses less than 100 minutes and 100 texts per month.
4. Boost Mobile
The Boost Mobile Unlimited plan is a great deal that offers four lines for $140 a month. All of the lines will receive unlimited talk, text, and data. Plus, the plan users can share access to 12GB of mobile hotspot streaming and video streaming in HD.
Boost is a company owned by Sprint, so you will be using the Sprint network exclusively with this plan. With each line, you will have the option to bring your own phone or buy a new one.
The Boost Unlimited plan is a great deal for many people. However, if your family does not use their phones extensively, then you can spend less on plans through Ting or Republic Wireless.
The Unlimited plan is advertised as a limited time offer, so if you are interested, you should jump on this right away. Thirty dollars a line is a great price for a family, especially because the unlimited access to data will likely end any data wars happening within your family.
5. Cricket Wireless
Cricket Wireless offers many cost-effective plans, but its Group Save discount options allow you to maximize your savings. In fact, you can save up to $70 a month if you add enough people to your plan. It is a great way for large families to have access to an affordable plan.
The Group Save discount starts when you add just one line, and the discount grows for each line until you add the fifth line. After five lines, you can add more but you are not saving any extra money. For five lines, you would pay just $125. For four lines, you would pay $100. These affordable prices could help your family plan stay on budget.
Each line will receive unlimited calls and texts, plus 5GB of data per line. The amount of data each person receives is enough to use it often, but not all of the time. Make sure that you and your plan members are capable of staying within that data limit. Otherwise, the Boost Mobile Unlimited plan may be a better option.
Cricket uses AT&T's network exclusively, but the data speed is noticeably lower, at only 8 Mbps. Overall, the Cricket Group Save discount plan is a good option for a family that does not need access to tons of data.
6. AT&T
Many people use their phones every single day, but if you do not then a daily plan might be the best option for you.
The AT&T prepaid daily plan gives you the option to only pay for days that you actually use your phone. On days that you do use your phone, you will be charged $2 each day. That $2 fee gives you unlimited access to minutes and texts, plus the texts can be sent internationally at no extra charge. However, data is an additional charge of 1 cent/5KB or a $1 day pass for access to 100MB.
The best part of this plan is that you only have to pay for days that you use your phone. But it is only a good deal if you use your phone for less than 15 or 22 days in the month. If you use it more than 15 days a month, then you could sign up for the Republic Wireless $15 plan for a better deal. If you use it for more than 22 days a month, then you could sign up for the Straight Talk Unlimited plan to get more bang for your buck.
7. T-Mobile
T-Mobile offers a bare minimum amount of service for an equally small monthly payment. Plus access to T-mobile's network.
The Pay As You Go plan will only cost you $3 a month, but the service you receive is minimal. The $3 will get you 30 of a combination of talk minutes and texts. For each minute or text you go over, the charge is 10 cents.
The low price is the best part of this plan. However, it is only a good idea for people that will not exceed the limit.
If you know that you rarely use your cell phone but would still like to keep it around, then this Pay As You Go plan is a good option. But if you go over the allotted talk minutes or texts, remember that texts and minutes at 10 cents a piece will add up quickly.
8. Virgin Mobile
Virgin Mobile has several plans that offer a good value, but the 5GB plan offers you the maximum use of your money.
The 5GB plan is $35/month and it includes unlimited calls and texts. The 5GB of data is offered as 4G LTE data, so you should not have any problems with speed. There are affordable add-ons for international calling and mobile hotspots.
The next tier is almost identical to the Straight Talk unlimited plan. It is $45/month and includes 10GB of data, plus unlimited calls and texts. The difference is that Virgin Mobile runs exclusively on Sprint's network, but Straight Talk has access to all four major nationwide networks. You will have to decide which network will work best in your area based on coverage maps.
In addition to the great price of the 5GB plan, Virgin Mobile members also have access to exclusive member benefits. These benefits mostly include coupons for deals on pizza, flowers, clothes, and more. Although I would not recommend making your decision on these perks, they are definitely a nice bonus.
Most phones are compatible with Virgin Mobile, so you are able to bring your own iphone or android to this plan. Or you can buy one through Virgin Mobile, but expect to pay a high retail price.
The Virgin Mobile 5GB plan is a great option for almost everyone. If you use your phone on a regular basis and would like access to data, then this is an affordable option.
9. Metro by T-Mobile
You may think of Metro PCS when you hear Metro by T-Mobile. The two companies merged several years ago, but both brands still exist. The new Metro by T-Mobile plans offer the power of T-Mobile with the no-contract appeal of Metro PCS.
The Metro by T-Mobile 10GB LTE plan includes unlimited talk and text, but it is only $40.
The price and features are very similar to the Virgin Mobile 5GB plan and the Straight Talk Unlimited Plan. It offers more data than the Virgin Mobile plan for a slightly higher price. However, the largest difference is the network each company uses. Metro uses the T-Mobile network, Virgin uses the Sprint network, and Straight Talk has access to all four major national networks of AT&T, Sprint, T-mobile, and Verizon. You just need to determine which network offers the best coverage in your area.
With this unlimited data plan, you will have access to a large amount of data. Plus the ability to talk and text to your heart's content. It is really a great option for anyone with a large need for data, but no desire to sign a contract.
Summary
For each of the plans, you have the option to buy a phone or bring your own. If you bring your own phone, then you could potentially save some money.
Buying a used cell phone is not complicated, but you will want to do some research to ensure that you get the best deal possible. Prepaid plans are a great option but remember to look for additional costs for adding on hotspots, unlimited talk, unlimited text, and the phone itself. For tips on how to find an affordable used cell phone read about the best places to buy used cell phones.
Do you have a prepaid cellphone plan? Which one do you use? Let us know on social media.