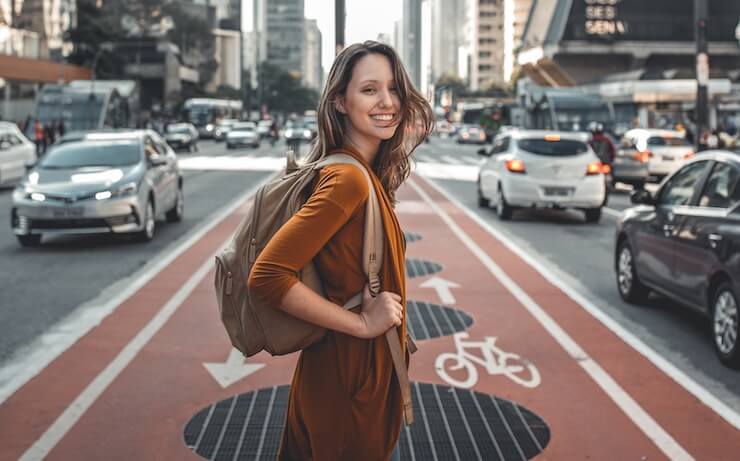 For many, the thirst to be a wanderlust is real. Whether it's traveling to a sunny Caribbean beach, touring historic towns in Europe, or hop scotching across America, many people would rather be "there" than home.
For these rabid travelers, there's good news! You can work and travel at the same time. There are many jobs that let you work while traveling, travel while working, or work away from the office while traveling for leisure.
Top Travel Jobs
Here's our picks of the 23 best jobs for people that love to travel.
1. Airline Pilot
People choose to become airline pilots for many reasons. Some love flying, others want to visit different locales every day.
Scheduled commercial and cargo airline pilots can be sent anywhere in the world. Depending on the pilot scheduling system, their schedule bring them home at the end of the day or put them in a two day layover elsewhere.
At some airlines, pilots can bid for their favorite schedules based on seniority. At other airlines, it's randomly assigned. Either way, not knowing where you'll be that day or later that month is quite exhilarating.
For charter airline pilots, the assignment can be even more exotic. Charter pilots never have the same flying schedule. A customer may require a flight to Asia, then another customer may require the same plane to fly a European route.
Salary for airline pilots can vary wildly. But the average salary for airline pilots is $113,709, according to Glassdoor.
If you're looking for a way to check out cities around the world while working, being an airline pilot is the best way to do it. Just keep in mind that years of training to become a pilot stands between you and the left seat in the cockpit.
2. Flight Attendant
Much like airline pilots, flight attendants enjoy the same sort of globetrotting lifestyle as their colleagues in the cockpit.
Most commercial flight attendants follow three types of scheduling systems:
Based on seniority (Preferential Bid System)
Bid on an already strung together group of shifts (line bidding)
Random assignment without choice
Flight attendants could end up on multi-day itineraries with one or two-day layovers in exotic destinations. Or they could be set up with an out-and-back schedule that has them back in their own bed at the end of the day.
A layover means an opportunity to check out an exotic locale while the airline pays for your hotel. Although, you'll have to work the flights to and from.
Both flight attendants and pilots are entitled to flight benefits. They can fly anywhere they want during their off-time, as long as there's a seat available.
Flight attendants also enjoy a relatively high salary. According to Salary.com, the median annual flight attendant salary is $73,507, as of July 31, 2018.
Just remember that becoming a flight attendant is a selective process. For example, of the 150,000 people that applied to be a flight attendant at Delta Airlines in 2016, only 1% were actually selected to go on. That's a worse acceptance rate than the Harvard class of 2021, according to Business Insider.
To get started as flight attendant, be sure to check an airline's website for open recruiting season.
3. Travel Nurse
A subset of the nursing industry you may not be familiar with are traveling nurses. These nurses work on temporary contracts to ease nursing shortages and stick around for a few weeks or a few months at each hospital.
Staffing or travel agencies may offer housing or travel reimbursements. But the big allure is that traveling nurses get to pick where they go next and it may be a spontaneous decision.
Currently, 31 states participate in a Nurse Licensure Compact. The NLC allows nurses who reside in a participating state to be able to practice as a nurse in another participating state. This makes being a traveling nurse within these states much easier, as a nurses' license is much more portable.
Travel nurses make $78,120 a year on average, according to Glassdoor.com. Quite a handsome salary for being able to work and travel at the same time.
To become a travel nurse, you should look for placement/employment agencies. These agencies may offer benefits to travel nurses that you would expect with full-time permanent nurses, such as 401(k) and health benefits.
4. Management Consultant
Friends and family members who work for companies like McKinsey & Company and Accenture, they are likely consultants. While their expertise may differ, they're likely working for a client in a distant town to solve a business problem.
A common schedule among consultants is a Sunday evening or Monday morning departure to the Client's city. They'll spend the next few days and nights there and then fly home on a Thursday evening.
They'll continue doing this for as long as the client needs them. When the contract is concluded, they'll spend time in the office until dispatched to another client's project.
Due to the extensive flying involved in many projects, many consultants earn elite status in airline and hotel programs. That means when it comes time to travel for vacation, they enjoy the perks of their work.
However, the downside is the extensive travel to a destination that's not of your own choosing. But you want to be on the go and have a knack for solving business problems, becoming a consultant may be a dream job.
The average pay for management consultants is about $75,000, according to Glassdoor. But large annual bonuses are typical in this industry.
To become a consultant, many of these consulting firms look to hire candidates straight out of a university program. Or, candidates are coming into the industry with extensive, senior level industry experience. Check out these consulting firm's career websites for more information on how to get started.
5. Tour Guide/Tour Leader
If you're knowledgeable about culture, history, architecture, or landmarks, you may do well as a Tour Guide or, more specifically, Tour Leader. As a tour leader, you can lead sightseeing tours of countries, cities, cultural treasures, and more.
"There are jobs touring the general sights of countries, sailing the Nile in a dhow, guiding safaris, mountain biking, doing European cultural tours, riding horses, carrying out conservation work, driving overland trucks, walking and leading family trips," says Wanderlust.
They also cite that while some leaders only work during peak season, many do it as a full time job.
"You will learn a lot about yourself and develop your interpersonal and leadership skills in ordinary and extraordinary situations," says Nick Nikolsky, a full-time tour leader, told Wanderlust.
Of course, there is naturally a downside to this. You're following a fixed itinerary set forth by the tour company, although this could change from tour to tour. You're also living out of a backpack, which could be a pro or a con, depending on your disposition.
In addition, the average pay for tour leaders is $12.16 an hour, according to payscales.com. So relying on tips is a must in this occupation.
If you have leadership and interpersonal skills, this may be the job for you. Check out the websites for independent travel tour companies to see if they have openings available.
6. Civil Servant
Working for the government may not seem like a well-traveled job, but it can be. You could be stationed elsewhere domestically or internationally.
The most common civil service jobs that involves travel is working within the U.S. State Department. Specifically as a career diplomat or embassy staff . You'll be relocated into embassies that have a need for your skill. And you may be reassigned to remote locations.
But there are other jobs in all levels of government that require travel. Like an Economic Development Director for a city, public relations for a federal agency, and even law enforcement jobs (like with the IRS or FBI).
Just remember that you will likely need to take a competency-based exam, like a civil service exam, in order to be considered. In particular, with the federal government, the pay is known up front, and your potential for advancement and future raises is well documented in publicized pay scales/pay grade.
A civil service job is a career path that is well documented, transparent, and laid out up front. If you like the reassurance of that and you have the experience to qualify, a civil service job may be right for you. Check out usajobs.gov for more information.
7. International Aid Worker/NGO
Working as an international aid worker or for a Non-Governmental Organization (NGO) can be very fulfilling. If you have a sense of purpose, social justice, and compassion, it can be a very satisfying job.
You may imagine International Aid Workers feeding the poor, counseling refugees, and providing medical care. But working in the field is so much more than that.
NGO's can be found everywhere, even in industrialized countries. They all have various roles in improving the lives of the communities they serve. Including providing microfinancing or teaching children.
In other words, being an international aid worker doesn't mean you have to be off-the-grid in the middle of the Democratic Republic of Congo.
To get started working as an International Aid Worker or for an NGO, check out organizations that do work in your area of interest. Then inquire about careers and jobs with them.
Pay can range wildly. Humanitarian aid program directors can stand to make at least $52,000 to start, says internationalrelationsedu.org.
If you're not sold on being an Aid Worker as a permanent job, many NGO's offer temporary or contract positions. Or you could also volunteer as a service project.
8. Peace Corps
If want to serve communities in a structured environment, working in the Peace Corps might be a good fit.
Run by the U.S. Government, this volunteer organization has over 7,000 volunteers currently in the program. They're responsible for partnering "…with communities abroad to develop sustainable solutions for the world's most pressing challenges by sharing America's most precious resource—its people," says the Peace Corps.
They do this by carrying out "…people-to-people public service and citizen diplomacy at the grassroots level."
In the Peace Corp, you'll train for three months and then serve two years in the country of assignment. The most common placement for volunteers is in Africa, with 46% of volunteer force located there in 2017. You'll receive a living allowance, along with medical and dental care.
The most common job for volunteers involves education and in health.
To find out if being a volunteer in the Peace Corps is right for you, visit peacecorps.gov. Just remember that you need to be a U.S. Citizen over the age of 18 to apply.
9. English Teacher
A popular job for those in their 20's is to become an English Teacher in a foreign country. The most notable need for these teachers is in countries where both the written alphabet and spoken words are not rooted in Germanic language, such as South Korean, Japan, China, and other Asian countries.
For English as a Second Language (ESL) students, they strive to learn English to advance their career, broaden their horizons, and possibly travel or work internationally. As an English Teacher, you're providing their communication lifeline and the opportunity for upward mobility through language education.
English teachers abroad often work through placement agencies, who provide salary and sometimes housing and other assistance.
The average pay for English teachers abroad vary wildly. In Japan, the pay is about $1,700 to $5,000 a month, according to gooverseas.com. One teacher even documented her journey to making $100,000 a year teaching overseas.
One thing to note, English teachers in foreign countries are foreign workers and subject to visa restrictions set forth by those countries. There have been reports of placement agencies and schools taking advantage of English teachers who are unfamiliar with local laws and customs.
Be sure to conduct comprehensive research before accepting a contract to work as an English teacher abroad. Once you conduct due diligence, you may find that being an English teacher to non-English speaking students to be one of the most rewarding experiences in your lifetime.
10. Field Service Technician
If you're a tradesman, being a field service technician may be a good career move if you want to travel for work. Ever industry relies on machines and components to function properly in order for workers to do their job. Think about generators for electrical utilities, cell phone towers for cellular service providers, and others.
All of these jobs require service technicians to go into the field to work on these machines. We're not talking about fixing refrigerators in your own town. But rather, machines that are installed hundreds of miles from the nearest town.
When those machines go down, Field Service Technicians go to work. On their own or as a team, they drive to wherever they're needed.
They setup their own work site, figure out how to fix the problem, and then report back to the home office. They may stay on the road for days or weeks at a time, visiting distant client offices or rural equipment installations.
These technicians never know where they'll be, but they know they'll be touring around their assigned territory to ensure that their company's machines are always working.
The average pay for field service technicians is $47,000, according to Glassdoor. To get started, check out companies that make equipment for the industry you're interested in. Then investigate how those machines are serviced.
11. Professional Yacht Crew
From Captain to Deckhand, Engineer to anything else in between, professional yacht crew members have a mission. They must ensure a yacht is always functional, ready, and mechanically sound on a moment's notice.
Their clients, the yacht owner, is most likely very discerning. Whether for work or play, the owner want the very best crew for their big investment.
Professional yacht crew live on the yacht itself. Each member of the crew has an essential function, but they must work together to keep the yacht in tip-top shape. A Chief Stewart is in charge of guest care and staff, a Captain is responsible for steering the yacht, and an Engineer is responsible for all on-board systems.
Some people may think of working on a yacht as an extended vacation. It is, most definitely, not. However, most all of your living expenses are taken care of while working on a yacht. You are provided housing, a uniform, and anything you could need by the owner. Your salary goes straight into your bank account.
According to crewfinder.com, assistant engineers can make $42,000-$72,000 a year, a chef can make $36,000-$55,000 a year, while a Captain can make a whopping $65,000-$200,000 a year!
If you'd like to be considered for a job on a yacht crew, be sure to check out various yacht crew employment agency websites for more information.
12. Cruise Ship Staff
If being on a small yacht isn't your thing, but you want to be on a boat, working on a cruise ship may be a more interesting job for you. There are hundreds of positions to fill on a cruise ship. The more obvious ones include captain, engineer, social director, and chef. But there's hundreds more that many don't think of.
Modern cruise ships are basically floating cities. Every function you can imagine in a city is contained on a boat. But every job is oriented to making a customer's vacation pleasant and enjoyable.
Some of the most interesting jobs include expedition leader, medical staff, and entertainer. The latter often being featured on documentaries about cruise ships, as these entertainers must be at the top of their performance game while also putting on a show while a ship is rocking back and forth.
Cruise ship staff members typically sign contracts to work on a ship for a set duration of time. You'll be provided housing, food, health care, and a salary.
If you're interested in working on a cruise ship, be sure to check out the cruise line websites for career prospects.
13. Au Pairs
Being an Au Pair is a job of trust. Families are relying on you to help raise their children. You'll run errands involving the children (i.e. picking up kids from school) and attend to the child's need.
One night, you may be tasked with helping the child with their homework. On another night, you may spend hours playing with the children. No two days are the same, as the position is multifaceted.
But being an Au Pair is different from being a Nanny in one very fundamental way. Au Pairs are often from another country.
Au Pairs live with the host family, learning about their culture and language. In exchange for the lodging, food, and the experience, the Au Pair provides childcare and associated services.
Au Pair's stipends typically average just under $200 a week, or $800 a month, according to Glassdoor.
It's often a leap of faith to become an Au Pair, as you're also putting your trust in the host family. Many Au Pairs use a placement agency, which requires interviews, references, and screening.
Au Pairs must also obtain a visa or satisfy any other entry requirements to be in that country, which is normally disclosed by the placement agency.
If you're interested in becoming an Au Pair, visit any one of the numerous recruiting agency websites.
14. Teacher (of any kind)
If you have a knack for teaching others a skill, you may be able to be a teacher and travel at the same time. Teachers are always in demand. You can be a yoga teacher, a computer programming teacher, a ski instructor or anything in between.
Your skills are in demand somewhere in the world and oftentimes schools have term-limited contracts to fill. Either during peak seasons or as an ongoing need throughout the year. You can hop around to different schools in different locations teaching what you love.
And if you can't find a school that offers a position in a field you are an expert in, you could set up your own class. As an entrepreneur, you could rent out a yoga studio to teach your own yoga classes, for example. Or you could teach the teacher, providing training services to those who teach other students.
At the most basic, you could also be a substitute teacher for a K-12 school. The assignments change daily, and you're often paid a substantial daily rate, sometimes $100 a day or more.
Salaries can vary wildly as a traveling teacher and the subject field you're in. The best thing to do is to first identify a need in your field and then go from there. Some teach jobs require certification, so be sure to see if you need to pursue additional certificates before being a traveling teacher.
15. Bartending
Wherever you go in the world, there's a neighborhood bar to keep the locals happy. Every one of those bars requires a skilled bartender to recommend drinks, serve customers, and build a robust beer, wine, and cocktails list.
But being a service industry job, bartending jobs are often high turnover jobs. Chances are, if you're skilled at bartending, you'll be able to snag a job anywhere you go.
Furthermore, elite bartenders (mixologists) often compete in cocktail making competitions, making them very desirable in major metropolitan cities. These mixologists can command a salary premium working behind the bar. But they can also make great money consulting for bars as well.
According to jobshadow.com, a mixologist can make $200-$400 a shift. As a consultant, they could earn $100-$500 a recipe.
Either way, bartenders rely on tips to keep their occupation sustainable. Tips in the hundreds of dollars are not unheard of during every shift.
To become a bartender, you'll need to study up on drinks. You may be able to get a foot in the door by becoming a barback first. As with any job, you'll need to work your way up and demonstrate to the bar owner that you have the chops to interact with his or her customers.
16. Busking/Street Performer
Believe it or not, there are a lot of people who make a living busking around the world. Whether they're performing a musical instrument or putting on another type of performance for the crowd, busking can be lucrative for those who can put on a unique show or demonstrate unsurpassed talent.
For performers, busking also gives them a chance to either break into the industry or try out new projects. And It also allows them to hone their craft and build a following.
According to Mentalfloss, many celebrities first got their start busking. Including, Rod Stewart, Tracy Chapman, Robbin Williams, and B.B. King.
While salaries vary wildly for buskers, Time magazine interviewed one successful busker who made $21.22 an hour.
This occupation isn't for the faint of heart. It takes hard work, dedication, and time dedicated to honing your craft. But if you build a following and catch a good opportunity, the upside potential is very high.
17. Freelance Graphic/Website Designer
If there's a most obvious occupation that could be completely location-independent, it's freelance graphic and website designers.
The work is one part creative and one part analytical. But the only thing you need to get the job done is a laptop, software, and an internet connection. As long as you can market yourself and find new clients, you can complete the work anywhere you want.
Freelance graphic and website designers need to stay abreast of software and design developments in the industry. That means constant re-training and re-familiarization with new software. And being a freelancer, you're also responsible for health care, taxes, and the like.
On the flip side, you could take your job to a low-cost country, raking in pay at the rate of a higher-wage country. Your clients will never know the difference if you're at home or on a beach in the Caribbean.
According to Glassdoor, the average salary for these kids of freelancers is about $56,000-$60,000 a year.
If you'd like to become a freelance graphic or website designer, it's useful to have some experience working at an office-based design job or design agency first. Once you've got the foundational skills down pat, you'll need to learn how to strike out on your own and build up clientele.
There are many books and resources available on how to become a freelancer. Many freelancers also write about their experience online through their own personal blog.
18. Truck Driver
Many Americans tend to ignore the logistics of how items get to a store for purchase. It normally involves truck drivers as the essential link between a distribution warehouse and the local store, bringing products to customers in need.
In fact, according to Time magazine, "…80% of U.S. communities depend on truck drivers for the delivery of everyday goods."
Truck drivers traverse America and sometimes across land borders into Canada and Mexico as well as well. They could be carrying products for sale, chemicals for transport, postal mail, or anything else you could think of.
The arrangement between the truck driver and its employer can vary wildly. Some truck drivers are sub-contracted, meaning they use a company's truck to deliver the company's goods. Others are owner-operators, which means they own and operate their own truck, picking up assignments and contracts along the way.
Whatever the arrangement, being a truck driver puts you on the road for hours and days at a time. While you are away from your family, you get to see all of America and maybe more.
The average salary in 2015 for a truck driver that works for a private fleet is $73,000 a year, according to CNN Money.
To become a truck driver, you'll need to obtain the appropriate licenses to drive a truck. You'll also need to attend truck driving school. Given the shortage of truck drivers in America, some trucking companies offer guaranteed schedules or high base pay to get you in the door.
If you're interested in becoming a truck driver, be sure to check out job posting for companies that run their own fleet and also trucking businesses for openings.
19. Railroad Worker
While this is a pretty broad label, railroad workers can travel along the tracks to complete their jobs. Some work on the track itself, others work on the trains.
Occupations in the railroad industry include conductors, yardmasters, locomotive engineers, switch operators, and yard engineers. Every one of these jobs is essential to ensure that goods and passengers flow across our vast nationwide network of railroads.
Whatever the job, rail aficionados will be well served to consider a job in the railroad industry. The median pay for railroad workers is $59,780 and there are about 105,500 Americans working in the industry, according to the Bureau of Labor Statistics.
To become a railroad worker, you'll need to have a high school diploma to start. To work on the locomotive, you'll often start with on-the-job training.
As a yardmaster, there are training programs to attend. Rail yard engineers have a combination of on-the-job training and training programs to attend. And there's also a certification for engineers from the Federal Railroad Administration.
Jobs can be found by visiting the major railroad company websites.
20. Be a "Rental Foreigner" in China
Renting a foreigner is a phenomenon in China that shows no signs of letting up. Chinese companies often hire White or foreign looking individuals to stand in as a pretend CEO or other important figure to lend credibility.
This could be a mainland Chinese company looking to gain traction on the international stage or a local real estate development looking to woo new buyers into their community.
From an outsider's perspective, it could be seen as a deceitful occupation. But for Chinese businesses, it's business as usual. Especially in a country where creating a fantasy world of pomp-and-circumstance is important.
CNN interviewed a few of these actors. One pretended to be an "architect from New York…giv[ing] design plans for a new museum to local officials."
Another actor "was paid 2,000 yuan (about $300) to fly, along with a couple of Russian models, to a small city in the central province of Henan where he delivered a speech for the grand opening ceremony of a jewelry store there."
Bottom line, being a foreign actor in China is a good way to make some extra cash while learning all about a new country. If you can put aside your moral scruples, then the work may also prove to be interesting as well.
21. Roadies
Often the invisible hands behind a concert, roadies have the job of working with famous bands to make sure their tours go off without a hitch. As the band visits city after city, roadies are responsible for moving equipment, setting up musical instruments, and anything in between.
Jobs include sound engineering, stage hands, lighting technicians, and more. But more likely than not, you'll start out your roadie career moving equipment; the bottom of the roadie totem pole.
You'll need the appropriate skills to work each job as a roadie. Especially when it comes to technical positions like sound engineer.
Pay can vary wildly. According to careersinmusic.com, roadies can expect to be paid $80 to $400 a show. According to a 2015 Wall Street Journal story, roadies average $57,000 a year, with some cases making up to $200,000 a year for larger name celebrities.
If you'd like to be a roadie, be prepared for a long ride. You'll need to start with smaller, no-name bands and then work your way up by networking. Check out sites like Careers in Music for more information.
22. Travel Videographer/Photographer
Being a traveling creative professional can be lucrative. Especially when that job involves being a videographer or photographer focused on the world of travel. If your job is to document the art of traveling, you must travel to do the work.
A travel videographer or photographer should not be confused with a traveling videographer or traveling photographer. Being able to transport yourself to a shoot is not a unique skillset. However, appropriately capturing the beauty of a locale is a unique skill.
Jobs in this area can vary wildly. You could work for production company that's responsible for producing a show about traveling. Or you could actually be hired by a tourism agency to be a capture their country in the best light. Or you could take photos and videos while traveling and sell them to various outlets for money.
Whatever the deal is, having a good creative eye is essential in a job like this. You'll never know where you'll end up, but you need to make sure you capture that locale in the best light.
Finding a job as at travel videographer or photographer is not for the faint of heart. You may want to build up a portfolio of work to show to potential clients. Or, you may want to work at a travel marketing or tourism agency first to develop contacts in the industry while honing your skills on the side.
23. Athletic Scout
How did the most famous sports players become famous? By having their talent recognized by a scout.
Athletic scouts travel the country year-round to find the newest talent playing in the field or on the court. It takes a keen eye, sharp intuition, and a good understanding of sports and player performance stats to be a good scout.
Of course, all of this traveling means you'll be watching hundreds of local sports games. Which means a lot of sitting for the traveling and game watching portion of the job. But you'll be handsomely rewarded for doing so.
The average salary of a professional sports scout is $56,681 a year, according to payscale.com.
To become an athletic scout, it takes one party skill and one-part luck. You'll need to start with a college degree and have extensive experience playing sports yourself, along with proper certifications.
Then, you'll need to find a job as a part-time talent scouter. Sometimes, that means working independently or with a team. You'll cultivate a relationship with the team itself and build trust with them that you can identify good potential talent.
Next, you'll need to build your contact list as you travel. Coaches want to trust that a scout has a good eye and great reach within a pool of talent.
Summary
No matter which of these jobs you choose, you can rest assured that you'll get to travel as a part of your job. That means you'll get to see the country or the world while getting paid. Some jobs involve much more labor than others, but either way, you won't be stuck in a dimly lit cubical farm again!
Have you performed one of these jobs before? Share your experience below in the comments so others can learn more about your cool job!