Looking for cheap baby clothes?
If you've got a baby, you know how expensive they can be. Diapers, formula, daycare, clothes — they all cost money.
According a USDA report, it's not uncommon to spend between $12,000 and $20,000 per year on child rearing.
We can show you how to cut costs in one area: baby clothing. There are several ways you can get baby clothes on the cheap.
Where to Buy Cheap Baby Clothes
You don't need to pay full price for your baby's clothes. Instead, check out some of the ideas below for getting cheap baby clothes.
When my four kids were little, I used almost all of these ideas. I didn't shop online much, because there weren't many online stores then.
However, I did use the other tips. Some ideas may work better for you than others.
Combine one or all of the tips listed to get great deals on all of your baby's clothing. There's just no reason to pay full price.
1. Look for Cheap Online Stores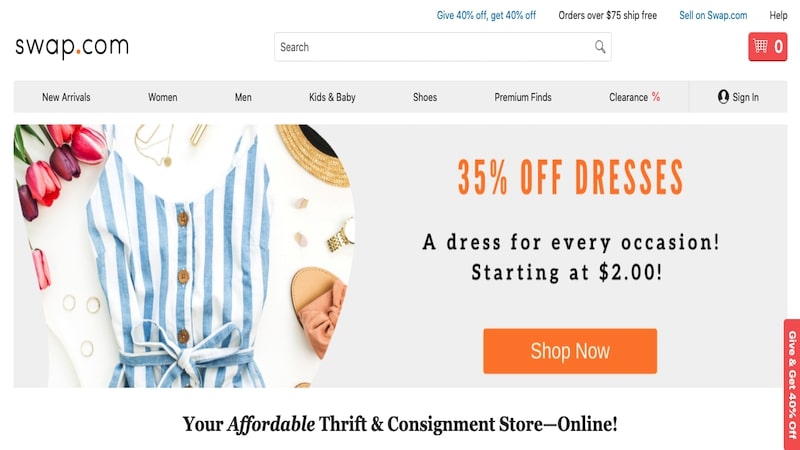 We live in a day where online shopping is common. It's not surprising that there are online stores that sell cheap baby clothes.
Stores like BabyMallOnline sell baby clothing at value prices. They even have a low flat-rate shipping price.
You can find great baby clothing prices at Amazon, too. If you're okay with used clothing, check out swap.com. It sells gently used clothing for people of all ages.
2. Use Cashback Shopping Sites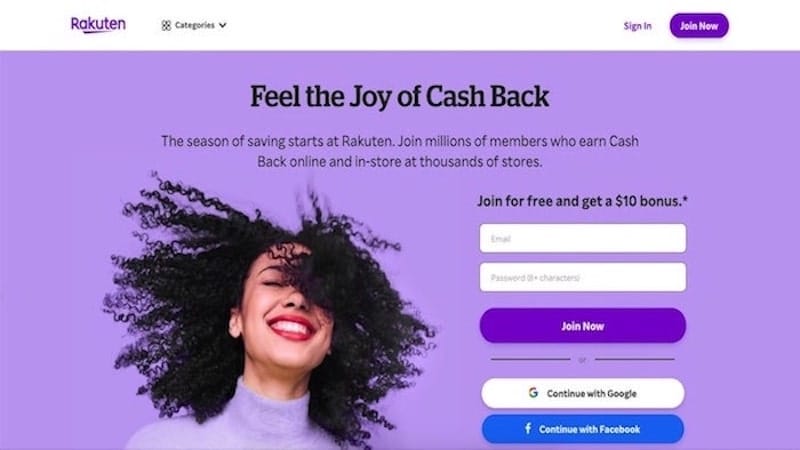 Since you're shopping online, you can save even more money by using a cashback portal. Rakuten gives you up to 40% cash back on online purchases.
All you need to do is join Rakuten (for free) and shop via its portal. The portal will connect you to your favorite stores.
After you buy, Rakuten will credit you for the cashback amount for the store. Each store has varying cashback amounts. Here are some examples of how much cash they give you back from each store:
6% at Kohl's
8% at Macy's
Up to 10% at Walmart
1% at Target
Rakuten partners with over 2,500 stores that give cashback.
You may have heard of Swagbucks as a way to earn some cash on the side by taking surveys and polls. Swagbucks has an online cash back shopping portal, too.
Join Swagbucks to earn money online and to get cash back refunds when you shop online for baby clothes.
3. Shop at Garage Sales
Garage sales can be a great place to get cheap baby clothes. If you know which sellers have kids a bit older than yours, even better.
One of the best ways to get great deals at garage sales is by shopping citywide sales. Some cities set a weekend aside where they encourage residents to have sales.
This means you can stay in one city and find dozens of garage sales. Sometimes the city or sale sponsor puts out a catalog of sale holders.
The catalog allows for sellers to mention what they're selling. This makes it easy for you to find homeowners that are selling baby clothes.
Tip: Don't be afraid to haggle when buying at a garage sale. Ask sellers if they'll take "$X" instead of the sticker price.
Many sellers are happy to come down in price. They just want the items gone. Another tip is to keep track of homes with kids a year or two older than yours.
This is especially useful when shopping citywide sales. You can visit the same sales year after year to get great deals.
When I lived in the suburbs, I had a friend who held a sale every year. Somehow, she managed to keep her kids' clothes and toys in great shape.
And, she priced them well. Many of the same people flocked to her house every year at the citywide sale. They got great deals on nice clothing, she got lots of cash.
4. Buy From Friends/Family Members
Do you have friends and family members with kids a bit older than yours? If so, ask if you can buy baby clothes from them.
Or maybe their kids are long out of the baby stage but they still have the clothing. Most of the time, family members and friends will give you a great deal.
After all, they're no longer using the baby clothes. And you're offering to give them money for the clothing. They might even hand the stuff over for free.
5. Search Facebook Marketplace
Facebook Marketplace is a popular place to find cheap clothing. This is because it's such a hot social media venue.
That, and it's free to list and sell on Facebook. Navigating Facebook Marketplace is easy. When you sign on to your Facebook account, a link for Marketplace will be on the left sidebar.
Click on it, and all Marketplace ads will show up. After that, go to the left sidebar again. You'll see a bunch of categories. Click on the "Family" category.
The drop down box will show you what is for sale in the "Family" category. Click on "Baby & Kids".
From there you can browse the listings. Or, you can use the search bar at the top of the Baby & Kids page. You can type in "baby clothes" or whatever you need.
When I searched for baby clothes in my area, I found a ton of great deals. One mom was giving away a dozen baby sleepers for free! Another mom was selling a table full of girls' baby clothing for $40.
Check the Facebook Marketplace site for your area for great deals. Some people form sellers' groups, so you may even be able to find a group in your area.
Also, there is another feature on the side bar that allows you to narrow your search so that it only shows listings close to home or work. That way you won't have to drive far to get your bargains.
6. Browse Craigslist and Similar Sites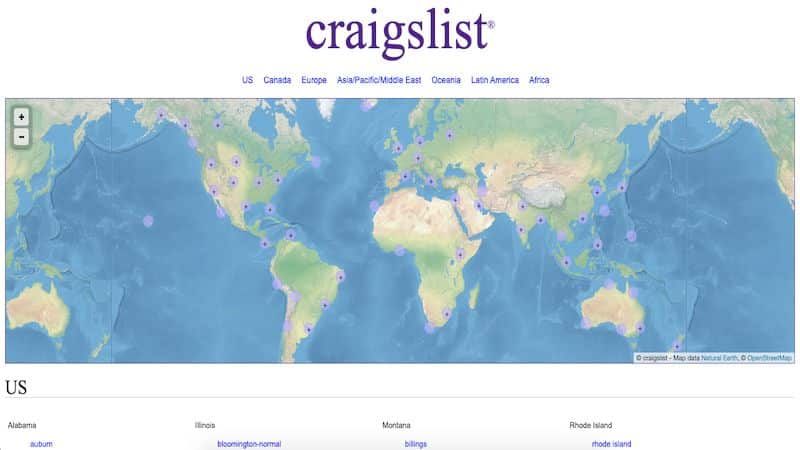 Craigslist can be another great place for finding baby clothes bargains.
Sellers like to list on Craigslist and similar sites because they're free to list on.
By searching Craigslist and sites like it, you'll have access to lots of potential bargains. Each site has a different way of organizing listings. However, most of them have some sort of a category section or search bar.
Be sure to use safety precautions whenever meeting up with someone for a sale. Tell others where you're going and meet in a public place.
7. Browse or List on Freecycle
You could also check Freecycle for free baby clothes. Freecycle is a nonprofit organization with over 9 million members.
It lets people give (and get) stuff for free to keep good items out of landfills.
Note: You do have to be a member of Freecycle to browse listings. However, it's free to join.
Another bonus of Freecycle is that you can list things you want or need, too. For instance, you could post a notice asking for baby clothes in the sizes you need.
8. Check Local Thrift Stores
Do you have thrift stores in your area? There are chain thrift stores such as Goodwill and Savers.
Many smaller nonprofit organizations have thrift stores, too. The stores set the items out for sale at discounted prices.
Hint: In my experience, I've found that for-profit thrift stores like Savers and even nonprofit chains like Goodwill tend to charge higher prices.
Their offerings are more expensive than smaller, nonprofit thrift stores — at least where I live.
If you have the option to shop at a non-chain thrift store, I'd recommend checking it out.
However, the chain stores typically have sales, such as:
Buy one, get one free
Half off certain items
75% off certain categories, such as housewares
When I checked my local Goodwill, it was having a half-off sale for kids' toys and clothing on Thursdays.
I'd recommend visiting the chain stores on their sale days to save the most money.
9. Go to Local Group Sales (like ECFE sales)
You may be able to find local group sales in your area. Groups such as ECFE (Early Childhood Family Education) and similar groups host large sales. They usually hold them on an annual or semi-annual basis.
These sales often take place in a school auditorium or other large venue. A group dedicated to educating little ones will ask its members to participate in the sale.
They charge an entry fee for sellers, or take a portion of profit. Sellers are able to get rid of baby clothes they no longer need.
Buyers get to shop a huge room with dozens of tables of baby clothes and other items for sale.
10. Shop the Clearance Racks
When my kids were babies, I found SO many great deals on the clearance racks. I'd check them every time I was at at the store.
Since I usually shopped Walmart or Target, the clearance prices were super low. I'd get outfits for $2, $3 or $4.
Hint: Buy big and buy off season. For instance, let's say you have a six-month-old. Clearance stuff usually runs with the season.
If you have a new baby born in September, buy her 12- or 18-month-old clothes for the following year. That way you'll have some sale outfits she can wear the following fall.
You can save a lot of money by buying Christmas, Easter or other special occasion outfits ahead of time, too.
Same goes for buying winter jackets or snowsuits ahead of time. Just be sure to buy big enough to cover any growth spurts.
If my kid was going to be 12 months old at Christmas, I'd tend to buy a clearance dress in an 18-month-old size. It won't hurt if the outfit is a little big. And you can't pass up the money savings.
I know it can feel risky to buy so far ahead. People worry about buying the wrong size.
But you can always sell the clothes online if they end up not fitting or you don't want to use them. You might even be able to get more than what you paid for them, since they're new with the tags on.
I bought lots of my kids' clothes this way and it almost always worked out. You get to know your kids and their growth patterns. That makes it easier to plan ahead.
11. Take Advantage of Sales and Coupons
Stores like Kohl's and JCPenney often have percent-off coupons in their mail ads. These coupons sometimes apply to sale items, too.
If you get a 30% coupon from Kohl's and combine it with clearance rack purchases, you could save a LOT of cash.
Check weekly ads and your store's website for coupon and sale information.
12. Make a Barter Deal
You may be able to barter with someone who has a kid older than yours. How about exchanging babysitting time for baby clothing? You watch your friend's kid(s) for a set period of time, she gives you her baby clothes.
Or, ask a friend or family member with kids a bit older than yours if there's something they need or want. If you've got the item, they may be willing to take it in exchange for some of their baby clothes.
Note: the IRS requires that people report barter income. See this IRS barter fact web page for more information.
Summary
With all of these ways to get free or cheap baby clothes, there's no reason to pay full price. There are just too many ways to get great deals.