My oldest daughter and I both wear contacts, so I'm always searching for cheap places to get contact lenses both online and in-store.
If you've got vision issues as I do, you know that glasses and contact lenses can take a bite out of your budget.
We've shown you where to get cheap eyeglasses. Now we're going to share where to find cheap contact lenses so that you can have your vision and save money at the same time.
Editors Picks:
Get exclusive Costco member offers.
Free shipping on orders over $99.
Offers 25% off your order and free shipping.
Where to Get Affordable Contact Lenses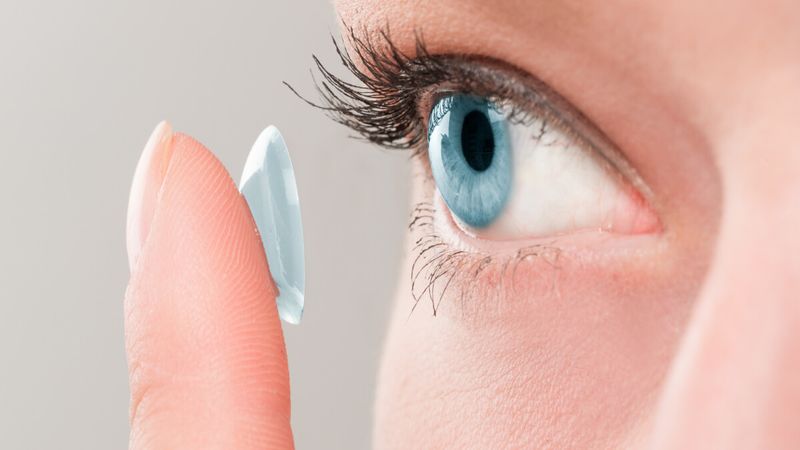 Going to a traditional eye clinic to get contacts can be expensive, even if you do have vision insurance to cover some of the costs.
Luckily, several discount contact lens companies will sell you replacement lenses at a lower price than traditional eye clinics do.
Note that with most every contact lens retailer, you need to provide a current (typically within one year) contact lens prescription.
A contact lens prescription is different than an eyeglass prescription. The eye exam and subsequent order need to be done by a licensed eye care professional.
Here are some great discount retailers that will help you get contact lenses at a discount.
| | | |
| --- | --- | --- |
| Company Name | Types of Contacts | Best Feature |
| Costco | Disposable, sphere, torical, multifocal | Add'l member benefits |
| DiscountContactLenses | Disposable, gas permeable, colored, torical, multifocal | Sells contact care items |
| ContactsDirect | Disposable, colored, tinted, toric, multifocal | Student discount |
| Walmart | Disposable, gas permeable, multifocal, toric, colored and more | Widely available |
| Contact Lens King | Disposable, colored, toric, multifocal | High service ratings |
| Walgreens | Disposable, gas permeable, multifocal, toric, colored | Free shipping |
| AC Lens | Disposable, gas permeable, toric, multifocal | Discount coupons |
| 1-800 Contacts | Disposable, gas permeable, toric, multifocal, colored, tinted | Online exams |
| WebEyeCare | Disposable, toric, multifocal, colored | Satisfaction guarantee |
| GlassesUSA.com | Disposable, toric, multifocal, colored | Largest online retailer |
| Scout | Disposable, toric, sphere, multifocal, colored | Low prices |
| LensDirect | Disposables, toric | Auto-refill discounts |
1. Costco
Costco is a popular provider of discount contact lenses. You can get all kinds of contacts from Costco, including:
Daily
Bi-weekly
Monthly
Quarterly
Sphere
Toric
Multifocal
They even sell colored contacts. Costco offers several different brands of contact lenses for sale too, including Acuvue, Biofinity, BioTrue and more. They've got their own Kirkland brand of contacts as well.
Some Costco stores have optometry clinics in-store. This makes it super easy if you need to get an eye exam before you order contacts. Plus, their clinic prices are lower than what most traditional eye clinics charge, even if you have vision insurance.
Note that you have to be a Costco member to take advantage of their discount contact lenses and eye exams.
Membership typically runs around $60 a year. But between the discounted prices on contacts and everything else, you'll likely still save money, even with the membership fee.
2. DiscountContactLenses.com
DiscountContactLenses.com says it's a no-nonsense discount contact company dedicated to providing exceptional service. Like Costco, they offer a variety of contact types, including:
Daily disposables
Weekly disposables
Monthly disposables
Rigid gas permeable lenses
Colored contact lenses
Toric (astigmatism) lenses
Multifocal lenses
And more. They also offer a variety of lens brands including Acuvue, Bausch and Lomb, Biofinity, Dailies and others as well.
You'll get free shipping on orders when you spend over $99, and DiscountContactLenses.com guarantees the lowest prices too.
Note: This company also sells contact solutions, eyeglasses (through their sister site DiscountGlasses.com), contact care items and contact lens cases too.
3. GlassesUSA.com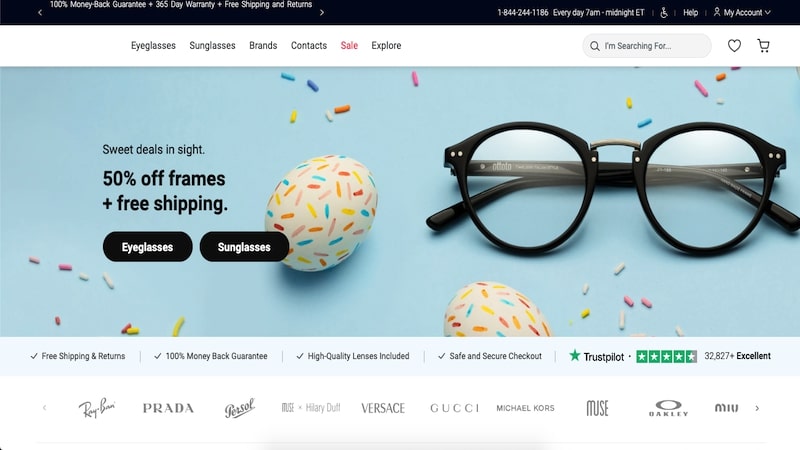 The GlassesUSA.com website says it's the largest online eyewear retailer. They sell daily wear contact lenses, single vision, multifocal, colored lenses and more.
And you have access to all of the popular brands with this site. Acuvue and Air Optix are available here, as well as Biofinity, Biotrue and more.
GlassesUSA.com offers great deals such as: Free shipping and free returns, and a 100% money-back guarantee as well.
Plus they offer 25% Off Contacts with code CONTACTS25. And Get 70% Off Frames With Your Contacts Order with code CONTACTS70.
One other thing I liked about this site is that they had an abundance of deals when I was shopping for contacts.
4. ContactsDirect
ContactsDirect is your standard full-service online contact lens ordering company. They offer lens types such as:
Toric
Daily disposables (daily, weekly, monthly)
Colored and tinted
Multifocal
And more. Also, they offer the usual brands like Biofinity, Dailies, Air Optix and others. Bonus: ContactsDirect is a UNIDAYS member, which means that university students get 15% off all orders.
5. Walmart
We've purchased contact lenses from Walmart several times, and we're always happy with our purchases. Contact lenses from Walmart cost us about 30% less than what our eye clinic charges.
You can go into any Walmart store that has a vision center and order your contacts there.
Walmart offers all different types of contacts, from conventional to disposable, toric, colored, multifocal and others.
And they have all of the brands such as Acuvue, Freshlook, Proclear, PureVision, Biofinity, Equate and additional ones too. Note that many Walmart stores have vision centers that offer discounts on eye exams, glasses and more.
In fact, along with contact lenses, we've gotten my daughter's eyeglasses from Walmart the last two times. She loves the styles they offer, and the eyecare team is great at finding just the right glasses for her–at huge cost savings to me.
6. Contact Lens King
Okay, the name may sound kind of cheesy, but you'll get over it when you see that you can get contact lenses for up to 70% cheaper than regular retail prices.
Contact Lens King has been in the contact lens business since 2004, so they've got the experience to back them up.
You can get all types of contact lenses from Contact Lens King, including:
Daily, weekly, and monthly disposable lenses
Toric (astigmatism) lenses
Multifocal and bifocal lenses
Colored contact lenses
And they have brands available, such as Air Optix, Acuvue, BioTrue, Dailies, Proclear and more. Contact Lens King has a long-standing history of providing excellent customer service too.
7. Walgreens
The well-known pharmacy Walgreens has also gotten into the discount contact lens game. Their regular website prices are a bit high; however, they nearly always have coupon codes on the site for 20-25% off regular prices.
You can shop the Walgreens site by brand or by contact type, and they offer the same types of lenses and brands that other sites do.
You can get multifocal, disposable, traditional, toric, colored lenses and more. Plus, they offer brands such as Purevision, Biofinity, Acuvue, Air Optix and others. You can get free shipping for your order as well.
8. AC Lens
AC Lens is another online pioneer in the contact business, with its first site starting up in 1995.
They're a competitive site in that they offer most of the same types of lenses and brands of lenses as the other companies listed here.
You can buy contacts online from AC Lens, including:
Daily, weekly and monthly disposables
Traditional hard contact lenses
Toric lenses
Multifocal lenses
And more–in all of the popular brands like Biofinity, Bausch & Lomb, Freshlook, Dailies and more.
AC Lens offers free shipping on orders over $99 and free returns. Plus, when I checked their website for this article, they had a coupon offering a 20% discount for new customers.
9. 1 800 Contacts
1800contacts is a well-known site that works hard on advertising. For that reason, you may have heard of them.
1800contacts carries a wide variety of contact types and brands. They also have an interesting feature: they offer online eye exams. Yes, you can get an exam right from your PC.
Note that the contact lens prices on this website aren't as low as they are on some of the other sites we talk about here. However, the company does offer a price match guarantee, which is great if you want to buy contacts online.
So if you're paying attention to prices, you should be able to use this company and get a competitive price at the same time.
10. WebEyeCare
WebEyeCare offers discount contacts and eyeglasses. Along with 24/7 customer service options, they have three important guarantees:
100% satisfaction
100% free shipping
Satisfaction guaranteed, 100%
You'll find all of the well-known contact lens brands and contact lens types at WebEyeCare. They also have a rewards program in which you can earn points toward future purchases.
11. Scout by Warby Parker
Warby Parker has an intriguing start-up story. A pair of lost eyeglasses–and subsequent inability to afford new ones–led some college students on a mission to offer eyeglasses and cheap contacts at revolutionary prices.
The company quickly evolved and grew, and like Coastal, they now give away a pair of eyeglasses for every pair bought from the site.
Warby Parker eventually started offering contacts as well. They offer the popular lens types and lens brands you'll find on other sites.
However, they now offer their own brand of contact lenses: Scout by Warby Parker. You can try Scout contact lenses for as little as $5 when you take advantage of the Warby Parker website discount.
12. LensDirect
LensDirect has discount contact lenses, although they're somewhat limited in their offerings compared to some of the other sites we've mentioned here. This company offers:
Daily, weekly and monthly disposables
Toric lenses
That's about the extent of the types of lenses they offer. However, they do offer several brands, including Biofinity, Air Optix, Acuvue, Soflens and more.
LensDirect also offers a deal when you sign up for auto-refill: $5 plus 5% off your order. As an auto-refill customer, you can set your contact lens shipping schedule to ensure you never run out of contacts.
What to Consider as You Shop for Contact Lenses
As you shop for cheap contact lenses, it's important to consider several things. First, make sure that when you buy contact lenses, the ones receive in the mail match the prescription your eye doctor has prescribed for you.
Even a small change in numbers can affect your vision or eye comfort level. Second, be sure you're choosing the type of contact your eye doctor recommends, and purchase accordingly.
For instance, you may need a specific type of contact lens that's meant to accommodate a certain issue, such as astigmatism. Plus, there are hard contact lenses and soft contact lenses.
The types and brands of contact lenses you have to choose from are vast, so be sure you're double-checking what you need before you place your order for cheap contacts from somewhere other than your regular eye clinic.
Also, most of the sites and companies mentioned here can work with your vision insurance and are FSA (Flexible Spending Account) compatible.
This means you can use FSA money to purchase your cheap contacts if you haven't reached your FSA limit yet.
Lastly, be sure to double-check your order when it arrives. Ensure you've received the right product, and that you were charged the price you were quoted.
If you find something wrong, call the company you got your contact lenses from right away.
Summary
You don't have to pay a high price to have great vision.
By shopping around, you can find affordable contacts in the name brands you love.