Every once in a while, we all need to find a notary. A notary is someone who verifies your identity when you sign legal documents and verifies that you understand what you're signing and are willingly signing it.
You might need a notary when signing a contract or deed.
You may have to do a bit of research to find a notary near you. However, notary services do not have to be expensive.
There are many cheap and free options for all of your notary needs. If you are interested in making your next notary process more affordable, then keep reading.
Places to Find a Cheap (or Free) Notary
Instead of paying a huge fee to get your signature notarized, you can find affordable options in your area. It may take some effort to find these more affordable options, but you can potentially save a lot of money if you need to get things notarized often.
Once you find a free or cheap option, you will be able to use that option for a quick turn around in the future
1. Your Place of Employment
It may surprise you to know that you have a notary working in your office. Of course, not every company has a notary available but many people have become a notary for a variety of reasons.
If someone in your office is a notary, then they may be able to notarize your papers in a quick and affordable way.
It is likely that you have a notary in the office if you work at a large organization.
2. Hotels
Many hotels offer affordable notary services to hotel guests. If you absolutely need a notary, then you could contact a nearby hotel and ask about their notary services. They may be willing to assist you if you are a member of their rewards program.
3. AAA
If you are a AAA member, then you may have free access to a notary. Many AAA branches have free notary services available to their members. Call your local branch to see if this is an option for you.
4. Campus
If you are a student, then you should ask around campus to find a notary. Many colleges have free notary services available to their students.
Although it is not usually advertised, you can ask a counselor or campus library desk to help you find out more about your school's notary offerings.
5. Military base
If you are a part of the military, then you likely have access to free notary services. Many officers are even authorized to act as a notary for other members of the military and their dependents.
Even if you are not a part of the military, you may be able to use the notary services offered on a military base. However, you will need to be authorized to go onto the base in some capacity.
6. Local Government Offices
Most local government offices such as city hall or the courthouse will have a notary on staff. Usually, these notary services are available to the public.
Typically, you will need to pay a small fee in order to use their services. Check with your local government offices to find out an exact price before you decide to drive down there.
7. Your Bank
Many banks have a notary on staff, although they're not required to. Smaller banks and local credit unions are even more likely to offer free notaries because it is a relatively easy way to add value to their customers.
If you are already a member of the bank, then you will likely have free access to their notary services. If you are not a member of the bank, then you will probably have to pay a fee.
It may be worth opening a free checking account with no fees in order to gain access to a free notary, especially if you anticipate a large need for a notary.
8. Public Library
Public libraries are not just places filled with books and magazines. In addition to a great selection of free entertainment, public libraries offer a large range of services.
One of these is notary services. Some libraries offer them for free, while others charge a small fee. Either way, it might be a good option for your notary needs.
You can find out if your local library offers a notary service by checking out their website or giving them a call.
Even if you do not use the local library for notary services, you may want to check out their other services as options to save money.
9. Organizations
If you belong to any kind of organization, then you should see if there is a public notary available. Many groups offer this service to their members as a way to add value to the membership.
10. Your Real Estate Agent
If you already have a real estate agent, then you may already know an affordable notary. Many real estate agencies have a notary available for their own business purposes.
If you really need help getting a document notarized, then your real estate agent may be able to help you out.
11. Your Insurance Provider
You likely have home or auto insurance (or both). If you have insurance of any kind, then you may be able to use that company to assist with notarizing documents.
Although it is not a common method, you could ask your insurance agency for help notarizing a document if you are really in a bind. Usually, notaries are happy to help.
12. UPS Store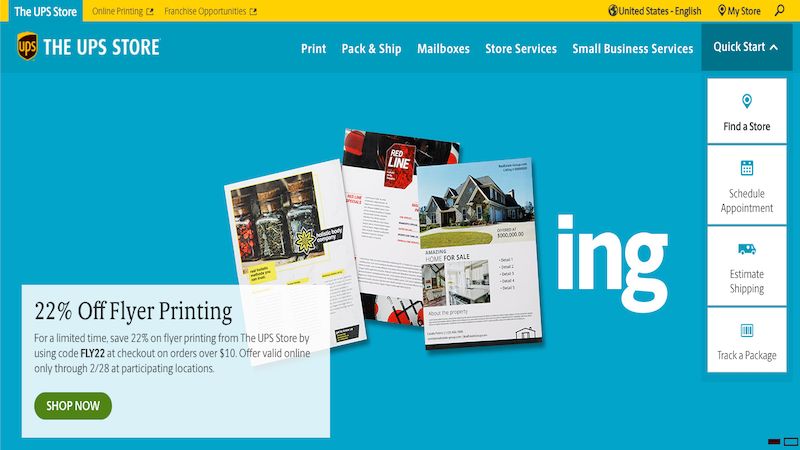 UPS offers notary services to its customers. You do not need to have a mailbox through the UPS store in order to use this service.
It may seem odd to get something notarized where you mail your packages. However, UPS stores offer a wide variety of business services, including notary services.
One thing to note is that you will not find a notary at every overnight delivery service store. A prime example is Fedex. The company stopped offering notary services after an employee notarized a forged signature.
13. Police Station
Many police stations offer public notary services to their community. Not every police station does, but it is worth calling your local police department to find out.
If a police station does offer notary services, then there will likely be a small fee attached.
14. Phone Books and Online Directories
If you have not been able to find an affordable notary through any of these other options, then look in a local directory.
You can find a notary in a local phone book, a Google search, Notary.net and 123Notary.com.
Through one of these searches, you should be able to find an affordable notary near you.
15. Notarize
Notarize is an online company that offers notary services to its customers. You can get a document notarized online in 3 simple steps:
You just take a picture of the document in their app
Verify your identity with your ID and then
Connect to a notary that is available 24/7
The best part is that it only cost $25 and takes about 15 minutes. This can be a great option if you need a notary outside of normal business hours.
How to Find a Notary While Abroad
If you happen to need a notary while you are traveling aboard, then you may have a more difficult time. Although it will be more of a challenge to find a notary whose services are recognized in the U.S., it is not impossible.
You can also have a document notarized by a local foreign notary and then have the document authenticated for use in the United States. There is a simplifies process for this in the 116 countries that are party to the Hague Apostille Convention.
One thing to note, if you need to find a notary on a cruise ship, then that may be an impossible task. Notaries are only allowed to witness your signature on documents while located in the state where their license was issued.
While on a cruise ship, you are likely floating through international waters, so notaries are unable to witness your documents. Your best option while on a cruise is to attempt to make one of the options below work for you while the ship is in port.
If you know that you will be abroad for an extended period of time and are aware of a need for documents to be notarized while you are gone, then you may want to give someone the power of attorney until you return home.
This will allow your trusted person to sign documents for you, instead of you having to go through the hassle of finding a notary while on your trip.
16. Military Base
If you are able to get authorized to get onto an overseas base, then you should be able to find a notary on the base. There are military bases throughout the world, so this may be an option.
17. The U.S. Consulate and Embassy
Every U.S. Consulate and Embassy offers notary services. You will likely need to make an appointment in order to use these services. Also, this option is not necessarily cheap or free.
However, it is a secure way to notarize a document if you absolutely need it done before you return to the states.
Things to Avoid in a Notary
There are many affordable options when it comes to a notary. Of course, we all love to save money.
However, there are some things that should be avoided when it comes to finding a notary. Never compromise the integrity of the transaction in order to save a few dollars.
Virtual Notary
Many companies are now offering virtual notary services. Although this sounds like a great idea in our very digital world, most states will not accept a virtual notarization.
Virtual notary services are often expensive, too. Since most states will not accept the document, it is not worth the expense.
Someone Who Overcharges
Of course, some places will charge more than others. However, you should not allow someone to rip you off. Most states have set limits for the amount that a notary should charge you. Only a few states have no limit.
The range for fees is between $2 and $10. Check out this list to see what the limit is for your state. Do not let someone overcharge you for a notary service.
Shady Notaries
As with all things, some notaries are shady people. Some will offer to do things that are not in agreement with their duty. If a public notary is offering to perform an illegal act, then just find another notary.
A few of the illegal things include notarizing your document without you physically present, drafting the document that you are having notarized, or not recording the transaction.
Trust your judgment. If something does not feel right then you should move on to another notary.
Summary
Notaries are public servants who will help verify your signature on legal documents. Although their services are not always free, there are many cheap and free options available.
It may take some time and effort to find the most affordable notary in your town. However, it may be worth the upfront time investment if you anticipate a need for many notary services in the future.
I would recommend looking into all of your options before deciding on a notary for long-term use. Cheap is great, but there is likely a completely free option available to you somewhere.
Even if you only save a couple of dollars on each notarized document, that can add up depending on your need for notary services.