Looking for where to buy cheap furniture? Look no further.
It can be expensive to furnish your home or apartment, yet affordable furniture stores do exist.
If you know where to look, you can get great furniture pieces at low prices, no matter what your style. Check out these affordable furniture stores to help you get the best deal on your furniture pieces.
Where to Buy Cheap Furniture
These affordable furniture stores can help you get furniture for cheap. Some of these stores are online-only stores, while others are local stores with locations all across the country.
1. Wayfair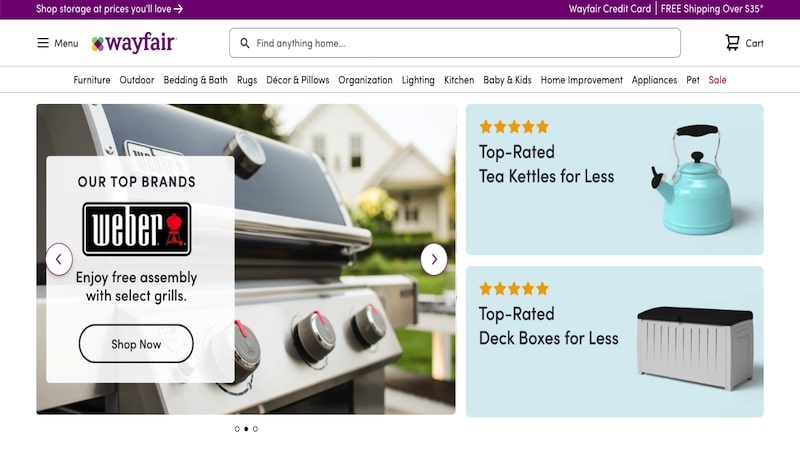 Wayfair is one of the world's largest online destinations for shopping for things for your home. What started in 2002 as an e-Commerce store has morphed into a multi-billion dollar shopping mecca.
Wayfair sells everything from sofas and tables to lighting and baby furniture. They sell indoor and outdoor furniture and even pet furniture.
Some other types of furniture and accessories they offer include:
Coat racks and blanket ladders
Bedroom sets
Office chairs and desks
Espresso machines, microwaves and toasters
Sheds, greenhouses and trellises
You can find most anything home related on this site.
Are you remodeling your home? Wayfair sells renovation materials as well, such as flooring, fixtures and appliances.
Wayfair offers free shipping on all orders of $49 or more if you live in the contiguous United States.
2. Overstock
Overstock started in 1999 near Salt Lake City, Utah.
They sell indoor and outdoor furniture pieces, including:
Living room, kitchen and dining sets
Bedroom pieces, sets, mattresses and armoires
Buffets and sideboards
Pub sets
Office desks, chairs and storage pieces
Plus, a host of other items, including bedding, dishes and other kitchen necessities and outdoor furniture. They even have a jewelry selection. Apparel and baby gear round out the offerings on Overstock.
They also have coupon deals on the site that can help you get furniture for even cheaper. If you sign up for their email list, you'll get a coupon for an additional 12% off (as of this writing).
Overstock offers free shipping on orders over $45 to the contiguous United States and most orders ship within 1 to 2 business days. Alaska and Hawaii residents will have to pay shipping costs. Orders under $45 cost $4.95 to ship to anywhere in the contiguous U.S.
3. Dot & Bo
Dot & Bo was founded in 1998 as Auctiva.com. Now, Dot & Bo is part of MoreCommerce, a subsidiary of Alibaba Group.
This eCommerce store focuses on four areas of furniture:
Living room
Kitchen
Office
Bedroom
You'll find sofas, chairs, accent tables and accessories for sale in the living room area. The kitchen selections include barstools, high back chairs, kitchen and dining sets and more.
The bedroom section includes bedroom pieces including beds, dressers, accent tables and chairs. And the office section includes office chairs, storage pieces and some desks.
You'll also find other items on Dot & Bo such as decor items, lighting, bedding and rugs. Also, they have a "gifts" section that sells pictures, home accessories and other things.
Because this is an eCommerce site, some items ship for free and others do not. Shipping costs seem to vary depending on the item as opposed to a set cost of certain items. Sometimes, they have special deals where everything ships free as well.
4. AllModern
AllModern sells affordable furniture that is, well, modern, of course. While most of their items focus around modern and contemporary decor, they also have some farmhouse style pieces thrown in the mix.
You'll find just about any type of furniture you need on this site, including:
Sofas and sectionals
Living room sets
Dining room sets
Kitchen tables, chairs and barstools
Office furniture
Bedroom furniture
AllModern has outdoor and entryway furniture, and they have some baby and kid furniture with a modern flair too. They are a little light on farmhouse pieces, but the ones they offer are nice.
Plus, you can find lighting, decor and pillows, rugs and a few kitchen and bath home improvement items. And they offer wall art for under $75.
AllModern gives you free shipping on any purchase over $49, and their website says furniture ships free. The site also boasts 2-day shipping on most items. AllModern is a subsidiary of Wayfair.
5. Amazon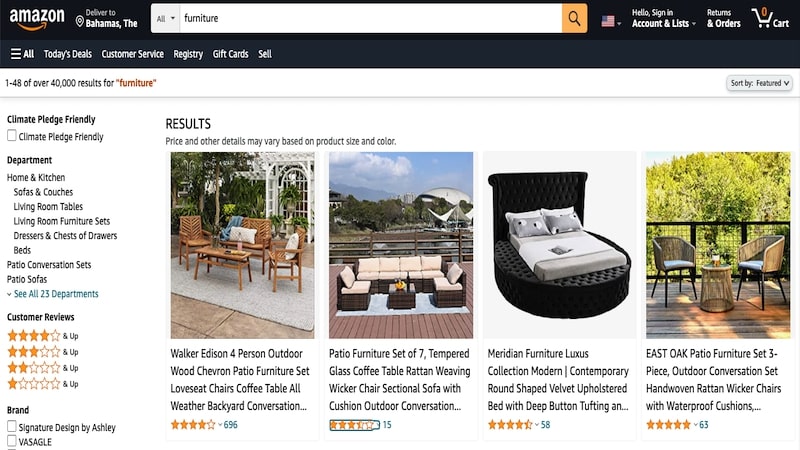 Good old Amazon. They never cease to fail for all of our shopping needs. And that holds true for affordable furniture as well.
I probably don't have to tell you that the list of furniture types you can find on Amazon is endless. From sofas to bedroom sets, to patio furniture to dining sets – it's all there.
One good thing about buying furniture from Amazon is that you can take advantage of their Amazon Home Services program. This program gives you the option to hire a handyman (or woman) to come and assemble your piece, should it come unassembled.
You'll pay for this service of course, and it's not cheap. But it's a nice bonus if you're not interested in assembling it yourself. As a pricing example, I looked at a small farmhouse style storage cabinet on Amazon.
When I added it to my cart, Amazon offered to send out an assembler for $112.30. That was almost as much as the cart itself cost. But again, the convenience is worth it – and necessary – for some buyers.
Shipping is free on most Amazon furniture pieces – especially if you're an Amazon Prime member. And they'll set it inside your doorway; however, they won't move it to another room for free.
6. Big Lots
Big Lots started way back in 1967, in the state of Ohio under the name of Consolidated Stores Corporation. Their headquarters are still in Ohio, and they have over 1,400 stores in 47 U.S. states.
Their furniture selection runs the gamut, including:
Sofas, chairs and living room sets
Beds, nightstands, dressers and bedroom sets
Kitchen and dining pieces sold separately and in sets
Baby and kids room furniture pieces
Entryway furniture
Futons
Outdoor furniture and more
Big Lots is similar to a big box store; however, they don't carry some items such as clothing. For that reason, they can focus on offering a lot more in the furniture department than typical big box stores.
Note that Big Lots does charge delivery and shipping fees for furniture pieces. When I added a sofa to my Big Lots cart, they added on a $149 delivery fee.
So if you want to avoid that jump in price, you'll want to go to a store location and pick up your furniture piece yourself.
7. Target
Big box chain stores like Target can be some of the best places to find cheap furniture. One of the great things about buying furniture at big box stores (besides the great price) is that you have shopping options.
You can buy the furniture online, shop and purchase in-store, or both. You may want to look in-store to find what you want, and then purchase online to have the item shipped.
This way, you can avoid having the haul the furniture pieces yourself. Target has furniture in the following areas:
Living room
Kitchen
Dining room
Nursery
Kids bedroom
Office
Outdoor
Plus, there was even a section for entryway furniture when I checked the Target website. This section featured entryway benches, coat racks and shoe storage pieces.
Target sells sofas, bedroom sets and just about any other type of furniture you could want on their website. However, their in-store selection will be much smaller for logistics reasons.
Target offers free shipping on website orders of $35 or more, or they'll ship to a local Target store for free as well.
8. Walmart
Walmart is another big box store with some great furniture selections. As with Target, the Walmart furniture selection is much larger online than you'll find in-store. Online you'll find everything from sofas to bedroom sets, outdoor furniture, baby and kid bedroom furniture and more.
Walmart also carries patio and outdoor furniture, as well as office furniture. In addition, accent tables, entertainment storage and traditional storage furniture are available.
Walmart's in-store selection tends to focus on self-assemble furniture pieces such as bookcases. Some stores have a few accents chairs, bar stools and other items. However, you'll find the biggest selection in Walmart's online store.
Furniture at Walmart tends to run a bit cheaper than at Target. And if you believe the online reviews, many of the pieces are well made to boot.
Walmart will ship free on any orders over $35, often in just two days. But the two-day delivery option may not apply if you're buying furniture from one of Walmart's online shopping partners.
Plus, they'll ship your furniture pieces to your local Walmart store as well.
9. IKEA
I'm one of the few people who has never stepped foot in an IKEA store. But my many friends who shop there tell me it's a terrific value. As I viewed their online selections, I did find that many of their furniture pieces are inexpensive.
Here are some examples of what IKEA has to offer:
Sofas for as little as $449, loveseats for just over $300
Bed frames for $299
Dressers for as little as $99
Dining sets for as low as $89
IKEA sells mattresses, kitchen accessories and more too. One thing about IKEA is that they do charge shipping and delivery fees. The fees start at $39.99, depending on demand and the distance to the closest IKEA distribution center.
Also, note that many IKEA items come with the need to be assembled. The good news, though, is that IKEA has partnered with TaskRabbit to help you with your assembly needs. TaskRabbit can help you with any of your furniture assembly or handiwork needs.
They've got set assembly pricing for IKEA items to save you money on the help you may need. This could be a great feature to take advantage of if you're not interested in assembling your purchases on your own.
10. HomeGoods
HomeGoods has store locations throughout the United States. Notably, they don't have an online store, as they believe strongly in the brick-and-mortar store shopping experience.
HomeGoods has furniture selections that run the gamut: living room, dining room, bedroom and more. They've got accessories as well, such as small appliances, bed linens, rugs and other home items.
Besides, they sell outdoor furniture, accent tables and other things. With no online shopping, you don't have to worry about online shipping fees. However, HomeGoods will charge you to deliver items you buy in-store to your home and office.
Currently, HomeGoods partners with the company GoShare to do home delivery. As such, the price you'll pay for delivery varies, and GoShare will give you online estimates for their delivery services.
You can always buy items and take them home yourself, however.
HomeGoods is owned by TJX Companies, which happens to own discount stores such as TJ Maxx, Sierra Trading Post and Marshalls. This means they're well-versed in finding and offering good deals for shoppers.
11. Bob's Discount Furniture
Bob's Discount Furniture was started in 1991 in the state of Connecticut. Today they have over 100 store locations in the U.S. Some states they operate in include, Connecticut, California, Illinois, Wisconsin, Missouri and many others.
You'll find all kinds of furniture at Bob's, including:
Living room pieces and sets
Bedroom pieces and sets
Kitchen and dining pieces and sets
Office furniture
Kids bedroom sets
Also, Bob's also has a minimal selection of outdoor furniture. However, they didn't have any baby furniture that I could see. You can find other items at Bob's too, such as decor items, accent tables, benches, lighting and lamps and mattresses.
Note that you will pay shipping charges for furniture you purchase through their website. You can avoid this fee if you choose to pick up the piece at one of their store locations.
Bonus: Bob's Discount Furniture store has a serious commitment to recycling furniture and shipping packaging. They'll even pick up your old mattress if you buy a new one, and bring it to their recycling center.
12. Ashley Furniture
Ashley Furniture HomeStore was founded way back in 1945 in Chicago, Illinois. Today they have over 600 stores in the United States and their headquarters are out of Wisconsin. They've also got a couple of hundred stores in other countries in the world.
Ashley Furniture sells just about every type of furniture piece you could want. They offer a large selection of living room, dining and kitchen, and bedroom furniture. Besides, they have outdoor furniture, storage pieces and mattresses for sale.
In keeping with the tiny house trend, Ashley also has a section on its website for small spaces. This section features selections that fit into smaller living rooms, dining rooms and bedrooms.
Ashley Furniture will give you free shipping on smaller, lighter things such as home decor items. However, on heavier items such as furniture, you will pay a delivery fee.
The delivery fee includes putting the furniture piece in the room you want it in, unwrapping it and setting it up. If you want to avoid this fee, you're best off going to the store in person and picking up the item you purchase.
13. Birch Lane
Birch Lane is a lot like Wayfair. They've got a variety of furniture pieces at affordable prices for every type of decor.
The site sells pretty much everything from bedroom sets to accent pillows. Shipping costs vary based on the size of the piece. As far as return policy goes, you can return most items within 30 days of purchase.
They'll either give you a refund or a store credit.
14. Zulily
You've probably heard of Zulily for clothes, but did you know they sell furniture too? Note that Zulily mostly sells accent pieces such as end tables, coffee tables, ottomans, and similar items.
You won't find a lot of large furniture pieces here, however.
15. Joss & Main
Joss & Main is another popular discount furniture site. They sell everything from sofas to dining room sets to bedroom pieces.
As with other sites, they have a generous return policy, and shipping charges depend on the size of the piece.
The prices are affordable and the variety of design styles the site has is impressive.
16. TJ Maxx
TJ Maxx is a discount chain with over 1,000 stores in the United States. The store's furniture pieces are mostly limited to accent pieces such as chairs, dining chairs, occasional tables, etc.
However, you might find a larger selection at your local store location. Shipping costs are based on how much you spend. The company's return policy is generous, and you can return online purchases to your local TJ Maxx store location.
17. Goodwill Stores
My daughter loves shopping at Goodwill Stores. Along with great deals on clothing, you can find great deals on furniture pieces as well.
The thing about shopping for furniture at Goodwill store locations is that it's really hit and miss, since all store items are donated. You might go to one location and find great deals on quality furniture pieces.
On the other hand, you might go to another location (or the same location on a different day) and find nothing appealing in terms of furniture selections.
However, it might be worth your time to check in at your local Goodwill store on occasion. You never know what you might find.
18. Apt 2B
Apt 2B is an online store that offers modern furniture at affordable prices. The site sells a wide variety of living room, dining room, and bedroom furniture.
The site also sells accent pieces and other home decor items. Consider this a value-priced site for those who want higher end furniture.
19. Article
Article is another online shop that sells modern, higher end looking furniture at affordable prices. They've got it all: sofas, bedroom sets, dining room sets, and accent furniture.
They've got a wild deal on delivery too: $49 per delivery no matter the size of the order, or they'll ship for free if you spend over $999.
You've got a 30-day return window if you decide you don't want to keep an item. However, the company will charge you a $49 delivery fee to return what you don't want.
20. Cost Plus World Market
Cost Plus World Market has some really interesting furniture designs at affordable prices. The store's selection runs the gamut: living room, dining room, bedroom furniture and more.
Shipping methods and costs vary depending on the piece(s) you choose. You can shop in-store as well if there's a World Market location near you.
The company has nearly 300 locations in the United States.
Summary
Whatever your furniture needs, you can always find stores to get furniture for cheap. Or if you want to save even more money on furniture, you can also try Craigslist and similar sites, garage sales or thrift stores.
So no matter what your furniture needs are, it's clear you can find great deals on inexpensive furniture. Whether you're shopping online or in person, there's something affordable for nearly every budget.