Do you want Internet access anywhere you go without draining your cell phone data plan?
A cheap mobile WiFi hotspot plan can connect your tech devices to the Internet. So it's possible to get fast 4G LTE mobile WiFi connection speeds almost anywhere in the United States.
That's fast enough for online streaming plans and general Internet services.
Your monthly MIFI (Mobile Wi-Fi) hotspot plan may cost less than your cell phone bill. You can also use your hotspot whenever you leave home without using your phone data.
Our Top Picks
Cheap Mobile Hotspot Plans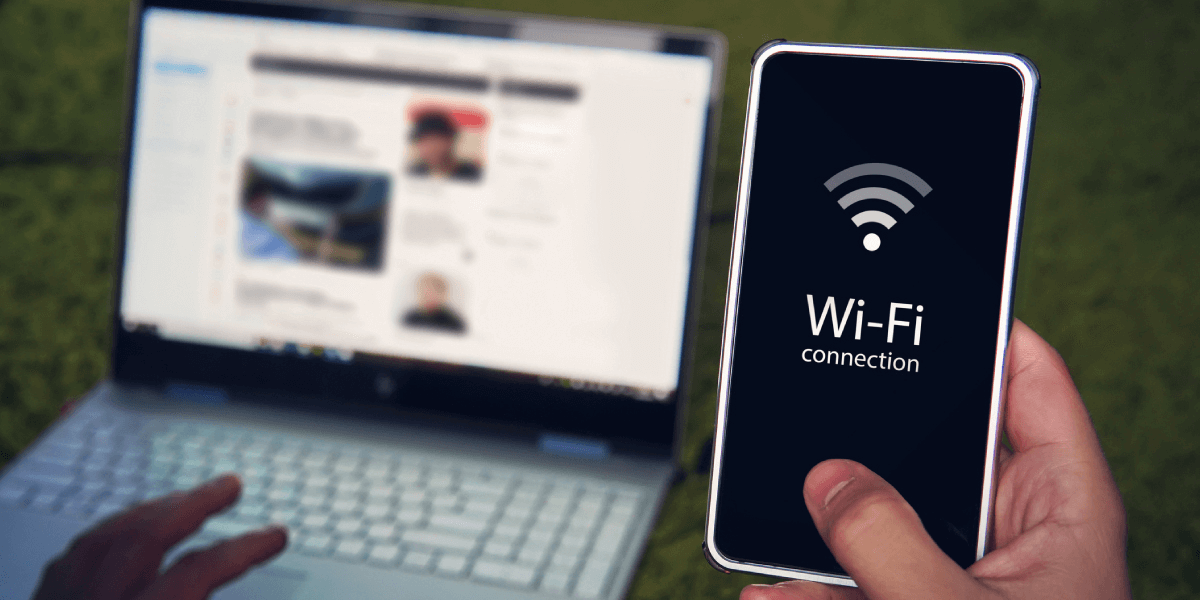 Most hotspot plans charge a flat monthly fee and don't require a contract. In most cases, the only upfront cost is buying a hotspot modem. A hotspot typically costs less than $100.
Some hotspot plans require you to use your cell phone. In some cases, you can bring your own device to save money.
Each mobile WiFi hotspot plan will either use T-Mobile, AT&T or Verizon. Besides the monthly price, check the coverage map to find your best option.
1. Mint Mobile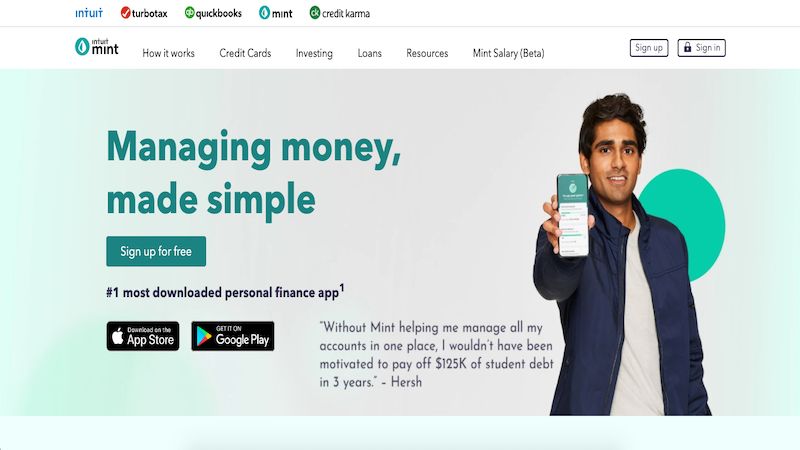 Mint Mobile offers free mobile WiFi hotspots when you get your cellular phone service through Mint Mobile.
The amount of data you have to use on your Mint Mobile hotspot depends on the amount of data available in your Mint Mobile Cellular plan.
However, if you have Mint Mobile's Unlimited plan, you only get 5GB of mobile hotspot data per month. The Mint Mobile cellular phone with (WiFi hotspot) plans are as follows:
Mint Mobile Mobile Data Plans
4GB per month of data with unlimited talk/text: $15
10GB per month of data with unlimited talk/text: $20
15GB per month of data with unlimited talk/text: $25
5GB per month of data with the Unlimited data phone plan: $30
Note that you have to have a hotspot-capable phone for this plan to work. Mint Mobile has hotspot-capable phones for sale on the website. Or you can bring your own phone to the company.
Network Used: T-Mobile
2. AT&T
AT&T offers contract and prepaid wireless plans. Thankfully, their cheap mobile hotspot options fall in the prepaid category. This means you pay by the month and don't have a contract.
They are also currently offering a free hotspot through the link above.
You have your pick of three monthly data plans:
3 GB: $25 ($10 per additional 1 GB)
10 GB: $50 ($10 per additional 1.5 GB)
18 GB: $75 ($10 per additional 2 GB)
Up to 10 devices can connect to the hotspot device at once. It's possible to bring your own hotspot device or tablet to AT&T. Also, another option is purchasing a device from AT&T.
3. FreedomPop
FreedomPop is a leader in the low-price movement for mobile WiFi hotspots and cell phone plans. You can buy a mobile hotspot for only $39.99 that lets you connect up to 10 devices.
You will enjoy 4G LTE service via the AT&T networks.
The Basic 500 MB mobile hotspot plan is one of the very few ways to get free Internet. You get 500 MBs of free 4G WiFi each month. This plan is enough for basic web and email usage but too little for streaming.
FreedomPop Mobile Data Plans
For the first month, you get 2 GB of 4G and 3G hotspot data as a free trial! After the free trial ends, you will choose a monthly plan option.
Below are the current FreedomPop monthly plan options:
Basic 500 MB (4G only): Free
Pro 500 MB (4G and 3G): $6.99 per month
3 GB (4G and 3G): $28.99 per month
4 GB (4G and 3G: $34.99 per month
Download speeds are up to 1 MB per second for the free plan and up to 5 MB per second for paid plans. Paying $9.99 monthly for the FreedomPop Premier plan gives you download speeds up to 25 MB per second.
This faster speed is ideal for streaming video. You can also rollover up to 20 GB of unused data with the Premier add-on.
One downside to FreedomPop is their limited coverage area. You should have good reception in large cities and east of the Mississippi River.
However, coverage is sparse across the western United States. On the upside, they offer up to 50% off android and iPhone and devices.
You can read our FreedomPop review to learn more about cheap cell phone and WiFi hotspot access.
Networks Used: AT&T
4. Boost Mobile
Boost Mobile offers a single mobile WiFi hotspot plan of 50 GB of monthly data for $50. This is one of the best deals for 4G LTE coverage. It's also possible to add mobile hotspot to your prepaid mobile phone plan.
Your only option with a standalone WiFi hotspot is $50 a month for 50 GB 4G LTE data. You will need to buy a Boost modem for $49.99 when you join.
The mobile hotspot boasts a battery life of ten hours and connects up to ten devices at once.
You can also add mobile hotspot to your phone with a Boost Unlimited Plan. The hotspot feature is free on any phone plan that costs at least $50 a month.
Otherwise, you can pay $5 a month for 1 GB or $10 a month for 2 GB of data.
Network Used: T-Mobile
5. Cricket Wireless
Cricket Wireless is a prepaid network owned by AT&T and–as you already guessed–operates on the AT&T network. You can get a data-only hotspot or add a hotspot to select phone plans.
The cheaper option is buying the standalone hotspot device. Cricket offers the Moxee Mobile Device for $79.99.
There are two different monthly data plans:
20 GB Simply Data: $35
40 GB Simply Data: $50
Cricket's mobile WiFi hotspot plan costs more than T-Mobile but less than Verizon. Your coverage area can also be better than T-Mobile in rural and metro areas.
Mobile Hotspot
A second option is adding mobile hotspot to your phone. This feature costs an extra $10 a month for 10 GB of hotspot data. You can add hotspots to the Unlimited plans starting at $55 per line.
Cricket offers a $5 monthly discount if you enroll in auto-pay.
6. Net10 Wireless
With Net10 Wireless, you can enjoy prepaid mobile hotspot access. It's possible to choose a plan with any of the four WiFi carriers.
Net10 recommends the best carrier when you join for the best data coverage.
You will have your pick between GSM and CDMA network coverage from one of these four providers:
Your mobile hotspot device only costs $9.99. Net10 can be one of the best plans if you are trying to live cheaply.
Net10 Wireless Data Plans
Once you pick out your hotspot device, you can choose from one of four plans:
1 GB: $20 every 30 days
2.5 GB: $30 every 30 days
5GB: $50 every 60 days
Net10 offers different pricing plans that can fit any budget. The best deal can be paying $50 every two months for 5 GB of data. You can save $5 a month compared to the 2.5 GB plan and get the same amount of data.
Add-On Packs
If you need to "top off" your data balance in between billing dates, you can also buy add-on packs too. Net10 add-on packs don't expire, and the unused data rolls into the next month.
You have two add-on pack options to choose from:
Network Used: AT&T, T-Mobile, Verizon
7. Family Motor Coach Association
Do you RV? If so, can join the Family Motor Coach Association (FMCA). Club membership costs $85 per year. Benefits include discounts on travel essentials like RV insurance, roadside assistance and WiFi.
Mobile hotspot plans are available with Verizon.
FMCA Connect-on-the-Go
For Verizon WiFi service, check out the FMCA Connect-on-the-Go plan. You pay $0.01 for your hotspot when you enroll in a two-year plan. Your monthly rate is $49.99 for 25GB of 4G LTE service.
After reaching the monthly high-speed data cap, you get unlimited data at a reduced speed of +/- 200kbps. This speed is fast enough for checking email and surfing the web but not for streaming a movie.
International WiFi plans are not included in FMCA's partnership. Although you can contact Verizon to add a plan when you RV abroad.
As you're locked into a two-year contract, there's a $175 early termination fee. If you're a new Verizon customer, you will also need to pick up your device at a corporate Verizon store.
Existing Verizon customers can receive their device with two-day shipping (excluding P.O. boxes).
8. T-Mobile
With T-Mobile Simple Choice Prepaid Mobile Internet, you can get up to 22 GB per month of 4G LTE network speeds. They even offer one-day passes if you only need the Internet for a single day.
The base price for a mobile hotspot device is $72. This device cost is one of the highest. However, you can also bring your own modem or tablet to save money.
Data Plans
If you only need mobile hotspot access for a day, you pay $5 per day for 500 MB of 4G LTE access.
For ongoing hotspot access, you should consider one of these monthly plans:
2 GB: $10
6 GB: $25
10 GB: $40
14 GB: $55
18 GB: $70
22 GB: $85
T-Mobile is known for having some of the fastest 4G LTE speeds. If T-Mobile serves your area, you might try them out.
9. Google Fi
Did you know Google has its own cell phone company? It's called Google Fi and partners with T-Mobile and U.S. Cellular for nationwide coverage.
Google Fi doesn't have a standalone mobile hotspot yet. So you will need to use your phone's mobile hotspot, which is free. You also have access to millions of free public hotspots across the world.
Flexible Plan
What makes Google Fi cool is that you may get free data. For instance, a single person only has to pay for the first 6 GB used each month.
Each GB of data costs $10. The first 15 GB monthly is at 4G LTE speeds. All data after 15 GB is slower the 4G LTE.
For each line, you get unlimited talk and text. The first line costs $20 monthly. All additional lines cost $15 per month plus. Then you pay $10 per GB of data up to the monthly plan cap.
The most a single person will pay is $80 per month. You can have up to six lines on any Google Fi plan. Your highest monthly bills is $275 if you have six lines and exhaust your monthly data allowance.
And if you travel the world, you don't pay international data roaming charges. You still only pay $10 per GB in over 200 countries.
Unlimited Plan
Each person gets 22 GB of high-speed data every month. All excess data is at a slower speed for the rest of the billing cycle.
A single line costs $70 and six lines costs $270 per month. This plan can be cheaper if you're a heavy data user.
10. Tello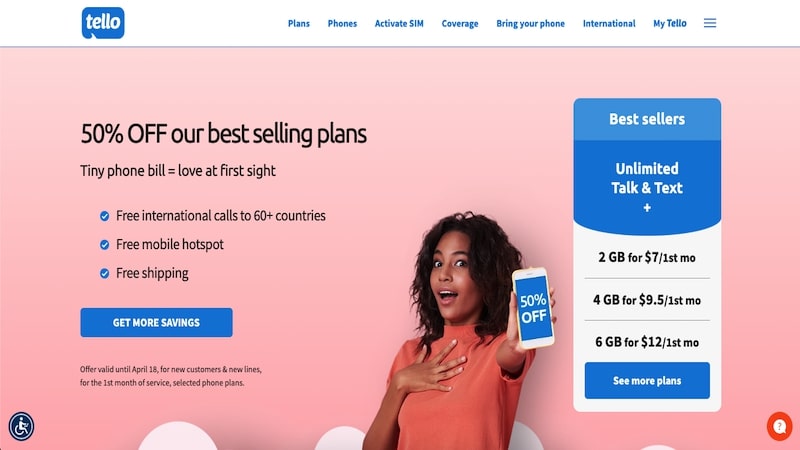 A prepaid phone plan with free tethering is Tello. All plans include unlimited talk and text. You can make free international calls to Mexico, Canada and China. Tello uses T-Mobile to provide phone and data service.
You can choose from one of five monthly plans with 4G LTE data:
1 GB: $10
2 GB: $14
4 GB: $19
6 GB: $24
8 GB: $29
25 GB: $39
You get unlimited 2G data speed after using your monthly 4G data bank.
All plans renew monthly. Although you can change data plans or cancel at any time fee-free.
11. Xfinity Mobile
Xfinity Mobile provides phone service through the popular internet and cable provider. The cell phone plan includes options to add mobile hotspots. It's an option whether or not you are an existing Xfinity customer.
Here's how the price breaks down per line:
1 line is $45 per month with unlimited 5G data
2 lines are $80 per month with unlimited 5G data
3 lines are $100 per month with unlimited 5G data
4 lines are $120 per month with unlimited 5G data
When you use this phone service, your device will automatically connect to over 18 million hotspots around the U.S. Without any activation fees, there's nothing holding you back from this treasure trove of hotspots.
12. Republic Wireless
Republic Wireless is another popular carrier with discount cell phone plans. They don't provide mobile hotspot plans. However, you can turn your phone into a hotspot. Tethering your phone to a device is also possible.
The basic talk and text monthly fee is $15. You pay $5 for every 1 GB in data. Essentially, you spend $20 per month for 1 GB of data.
Republic lets you purchase up to 15 GB monthly. This is a decent option if you don't need a regular hotspot.
Otherwise, you're better off using a different provider to get more data for less money.
13. NetZero
You might know NetZero for offering free home Internet. They also provide mobile WiFi hotspot plans of up to 8 GB per month. Their 200 GB data plan is free but only lasts 12 months.
A NetZero hotspot device has a one-time $59.95 fee. Although you can bring your own device to save money.
Check the coverage map as they primarily serve the eastern United States and the Pacific coastal states. If you live in a NetZero service area, you can save some money on your monthly WiFi subscription.
NetZero Data Plans
Surprisingly, NetZero is one of the few carriers that also lets you bring your own modem hotspot. It must be an eligible model of course. There may still be a small fee to purchase a NetZero sim card.
You have your choice of six different monthly data plans:
200 MB: Free
1 GB: $17.95
2 GB: $27.95
4 GB: $45.95
6 GB: $63.95
8 GB: $79.95
Besides the Free Plan (200 MB per month), you pay an additional $3.95 monthly fee.
The Free Plan is also only available for the first 12 months. After that, you will need to upgrade to a paid plan. Overall, the NetZero plans are expensive. However, their free 200 GB plan is good for basic web surfing.
14. Straight Talk Wireless
You can sign up for a Straight Talk Wireless plan at your local Walmart or also online. They partner with AT&T, Verizon and T-Mobile to provide nationwide coverage.
A mobile hotspot costs between $9.99 and $19.99 depending on which model you choose. Straight Talk only lets you connect up to five devices at once.
Many other hotspot plans allow you to connect up to ten devices at once.
Data Plans
Your data purchase is good for either 30 days or 60 days. You get a small discount by purchasing a 60-day package like other WiFi providers.
If you're going to at least 4 GB of data each month, go ahead and spend more upfront to save money long term.
1 GB: $15 every 30 days
2 GB: $25 every 30 days
4 GB: $40 every 60 days
5 GB: $50 every 60 days
7 GB: $75 every 60 days
None of the data plans require a contract and you can switch plans at any time.
Don't forget to join the Straight Talk rewards program. You earn points by paying your bill and even playing games. The rewards points you earn are redeemable for service plan credits and other add-ons.
Free Hotspot Data
You can get 10 GB of hotspot data if you pick the $55 per month Ultimate Unlimited phone plan. The phone hotspot isn't available on the AT&T plans.
Networks Used: Verizon, T-Mobile
15. H2O Bolt
H2O Bolt uses the AT&T network and provides 4G LTE and 2G hotspot coverage. Opting for a 30-day plan instead of the 10-day option gives you a 10% discount when you sign up for auto refills too.
With the AT&T network coverage, you will enjoy hotspot access in most of the U.S.
A mobile hotspot will cost $29.99 from H2O Bolt.
Data Plans
H2O Bolt offers four different data plans. All four plans split your monthly data between 4G LTE and 2G network speeds (For example: 4 GB = 2 GB 4G and 2 GB 2G):
4 GB: $25 every 10 days
10 GB: $50 every 30 days
14 GB: $70 every 30 days
20 GB: $90 every 30 days
Because of H2O Bolt's unique pricing, these plans are good for minimal WiFi use. The 2G data speeds are sufficient for basic email and web browsing.
However, you should determine if the 4G and 2G combination is worth the subscription.
If it is, you can save 10% each month on any of the 30-day plans. For example, you'll pay $45 instead of $50 with the 10 GB plan or $81 instead of $90 if you decide to go with the 20 GB per month plan.
Network Used: AT&T
16. MetroPCS
MetroPCS offers both mobile WiFi and phone hotspot plans.
MetroSMART Hotspot
The MetroSMART Hotspot lets you connect up to 15 devices at once. Remember that ten is the maximum number of devices for most carriers.
This hotspot plan costs $35 per month for 10 GB of LTE data.
MetroPCS offers three data top-up packages:
15 GB per month: $45
20 GB per month: $55
30 GB per month: $75
Monthly Phone Plans
The two Unlimited phone plans offer built-in mobile hotspot data:
$50 Unlimited Plan: Includes 5 GB of hotspot data
$60 Unlimited Plan: Includes 15 GB of hotspot data
Both unlimited plans include 100 GB of Google One storage. You also get free Amazon Prime membership with the $60 Unlimited Plan.
Network Used: T-Mobile
17. Verizon Wireless
Although it's not the cheapest plan, Verizon Wireless is one of the most reliable. Your smartphone may already include mobile hotspot. You can also get a WiFi hotspot device that connects up to eight devices at once.
Data plans vary between 2 GB and 100 GB each month.
Single device plans start at $10 a month for 1 GB of data. And shared data plans start at $20 monthly for 2 GB of data. Plus, hotspot devices have a one-time cost starting at $19.99 with a two-year contract.
The largest plan–40 GB per month–costs $150 per month. This cost might be worth it if you're a small business or live in a rural area.
18. Ting
Ting is known for its low-cost voice and text plans. You pay for the minutes and texts that you use. A single device plan costs $6 per month. Your monthly voice, text and data charges hinge on your monthly usage.
For example, you may only pay $18 per month if you use 100 minutes and 100 text messages.

Ting can be an easy way to save money on phone plans. However, Ting only offers a tethering and no longer offers mobile hotspots. This may be a good option if you need more data for a one-time trip.

You pay $20 a month for 1.1 GB up to 2 GB of data. Each additional GB costs $10 per month.
Summary
Mobile WiFi hotspots let you enjoy internet connections almost anywhere, including coffee shops to grandma's house. Plus, the best hotspot plans can even deliver enough data for online jobs.
Your personal hotspot can provide fast and reliable Internet access to your apple or android devices.