I love to entertain. I also love to save money. Therefore, it's been a bit of a hobby of mine to come up with cheap party food ideas.
Hosting a large get together on a budget became a bit of a specialty for me over the years.
Here are some of my favorite party foods that taste great but aren't expensive. With a little creativity, you too can host a shin-dig and satisfy everyone's taste buds.
Brunch Ideas
Brunch menus can be cheap if you choose the right foods. Here are some ideas.
1. Egg Bake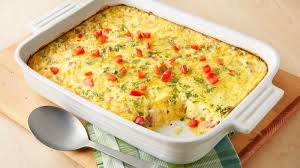 I got this recipe over twenty years ago from a friend at work, and my entire family still loves when I serve it.
Ingredients
8 slices of bread, cubed
5 c. shredded cheddar cheese
1 16 oz. tube Jimmy Dean sausage
2-1/4 c. milk
12 large eggs
1/2 t. ground sage
1 can Cream of Mushroom soup w/ 1/2 can milk
Directions
IMPORTANT: You need to start this the night before you need it as it sits in the fridge overnight, unbaked.
Grease a 9×13 pan or baking dish. Spread cubed bread into pan. Brown sausage and spread that evenly over cubed bread. Sprinkle cheddar cheese over top of sausage and bread.
In a large bowl, beat eggs and milk thoroughly. Pour over cheese/sausage/bread mixture. Cover with tin foil and refrigerate overnight.
In the morning before baking, mix mushroom soup and 1/2 can of milk together thoroughly in small bowl. Spread evenly over egg bake. Bake at 325 degrees for 1 to 1/5 hours or until golden brown. Serve hot.
Note: If you'd like, you can add mushroom slices over sausage before you add the cheese. You can also add diced green pepper and/or onion in as you're browning the sausage.
Also, we often change this recipe up. For instance, we'll use ham instead of sausage, and add spinach, broccoli or other veggies.
2. Fruit Salad
Fruit salad is another one of those food items that can be expensive or it can be cheap. To make it inexpensively, you simply need to choose the right ingredients by shopping on sale.
Fruit salad works in just about any combination of fruits. We typically use grapes (on sale) as a base.
We then add in fruits such as:
Blueberries
Strawberries
Mandarin oranges
Sliced bananas
Raspberries
Melons of some sort such as Watermelon, Cantaloupe or Honeydew
Again, we buy the fruit based on what's on sale so it's affordable. With fruit salad, you don't necessarily have to have a large variety of fruit. I served a fruit salad yesterday with only Mandarin orange slices and strawberry slices. It went over great.
Just shop around the sales and try to have somewhat contrasting colors to make your table colorful.
Another super affordable brunch menu item exists in any variety of baked goods. You can make muffins, cinnamon rolls, corn bread, banana bread and more.
3. Banana Bread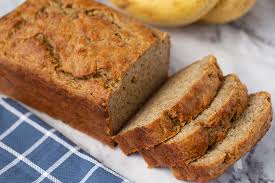 Baking homemade is key to keeping costs down. I'll share my great grandmother's banana bread recipe here since it's a long-held family favorite. It's also cheap as well as super easy to make.
Ingredients
3 overripe bananas
1 c. sugar
2 well-beaten eggs
2 c. flour
1/2 c. vegetable oil
1 t. baking soda
Directions
Preheat oven to 350 degrees. Grease two 8×4 loaf pans. In large bowl, mash peeled bananas well. Add in eggs, vegetable oil, sugar, and baking soda and mix well. Add in flour and mix thoroughly. Pour half of the batter into each loaf pan.
Bake 35-45 minutes or until a toothpick inserted in the center comes out clean. Note: add 1/2 cup chopped walnuts or chocolate chips for extra flavor if desired. Cool somewhat before removing from pan and before slicing and serving. This recipe can also be used with a muffin pan to make 12 muffins.
4. French Toast
French Toast is another great, cheap brunch idea. Just mix eggs and milk in a large bowl as if you were making scrambled eggs. Add some ground cinnamon for extra flavor.
Coat both sides of each piece of bread with the egg mix. Fry it on a greased griddle on both sides, like you'd do with pancakes. Once both sides are golden brown, the bread is done.
Serve with butter, and syrup or jam. Keep warm on a baking sheet in the oven or use a chafing dish to keep it warm.
Lunch or Dinner Ideas
Lunch or dinner menus for parties can be costlier for you as the host, but they don't have to be. Here are some great cheap food ideas for lunch and dinner parties.
5. Pasta Bar
A pasta bar is one of my favorite things to serve at parties. Here's what you'll need:
Two or three varieties of pasta (Trader Joe's and warehouse club stores like Sam's sell it for $1 a pound or less).
Two or three varieties of sauce – I serve a basic red sauce from a jar, and this homemade Alfredo Sauce.
A basic garden salad.
French bread with butter ($1 a loaf at Walmart).
You can serve a lot of people for a little bit of money with the pasta bar option.
6. Baked Potato Bar
Another super affordable party meal option is the baked potato bar. Here are some options for serving:
1 large baking potato for each guest, and a few extras just in case some are extra hungry.
Butter and sour cream (hit the warehouse clubs for the best value).
Miscellaneous toppings. Some suggestions include shredded cheddar cheese, sliced green onions, bacon crumbles, chopped broccoli pieces, red pepper, ham, parsley, and BBQ sauce.
You can also add other items to your toppings list or ask each guest to bring a certain topping. Serve buffet style, with each guest adoring their potato as they please
7. Taco Bar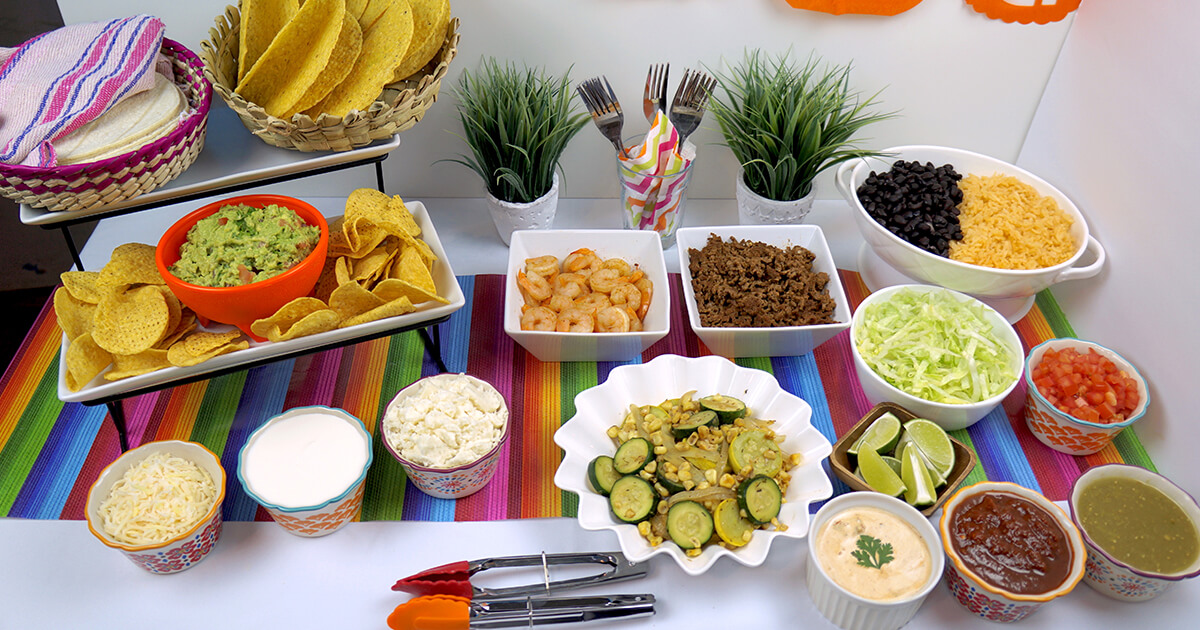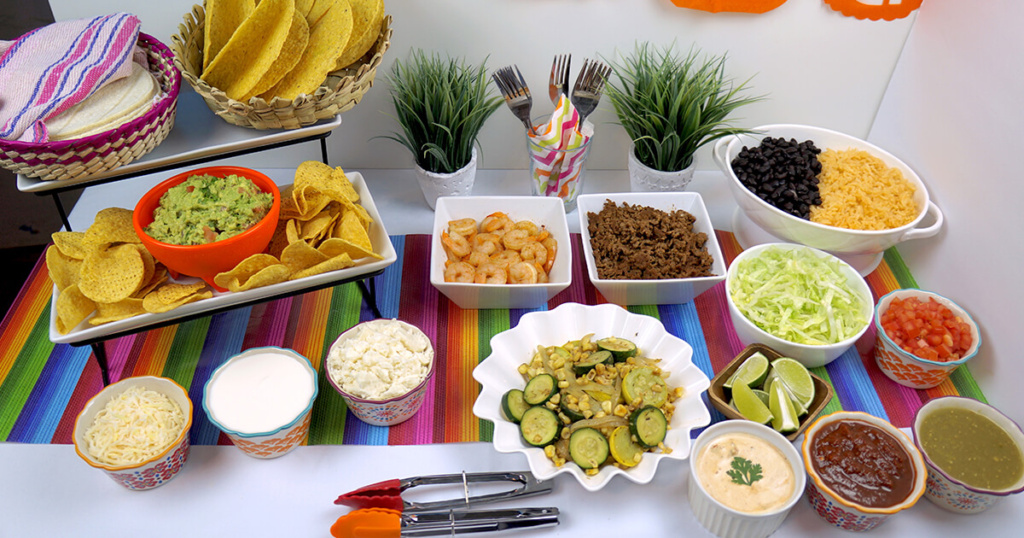 Taco bars always go over well and are pretty cost effective at parties. Ingredient ideas include:
Soft and hard taco shells (we make homemade soft taco shells – it's super cheap that way)
Prepared, seasoned ground beef (buy on sale)
Shredded lettuce
Shredded cheese
Diced tomato
Salsa and sour cream
Some other topping ideas can include chopped cilantro, diced jalapenos or guacamole. Serve buffet style.
Now, here are some specific recipes I serve at parties sometimes that are relatively inexpensive and go over well.
8. Sloppy Joes
You can't beat sloppy joes for a good, cheap party meal. I always buy buns at the warehouse club or at Aldi, and I buy the beef on sale. Here's the recipe I use.
For each pound of ground beef, you'll want to add:
1/3 c. ketchup
1/4 c. water
1 t. Worcestershire sauce
1 t. salt
1 small onion, finely chopped
Brown the beef and onion together. When fully cooked, add remaining ingredients to pan, mix well and simmer until hot. Keep warm and serve in a crock pot for convenience when serving at a party.
9. Hot Roast Beef Sandwiches
If you can get your roast on sale, this is a party food that will get rave reviews every time. I've never served it without getting multiple compliments.
Ingredients
5 lbs. chuck roast
3 c. water
1 t. Worcestershire sauce
10 fresh garlic cloves, pressed
4 beef bouillon cubes (you can skip these and just add more salt and garlic if you'd like)
2 T. salt
1 onion, chopped fine
Directions
Put all ingredients into a crock pot and cook on medium for at least twelve hours or overnight on low. Pull apart with a fork as it gets tender and add more water, salt and garlic if necessary. Serve with chips or any kind of salad.
10. Italian Pasta Casserole
This is a recipe that varies a bit from the traditional pasta bar. Basically, you're spicing up the pasta before you serve it. It's cheaper and easier to prepare and serve than lasagna, too.
The recipe listed here will serve at least six guests. Simply multiply if you're serving more.
Ingredients
1 jar of your favorite red sauce – we use Rinaldi
1 lb. of pasta (I use a basic Fusilli or Penne)
1 c. shredded mozzarella cheese
1/2 pound chopped, cooked Italian sausage or ground beef
1/2 onion, chopped fine
Ground Parmesan cheese for topping
Directions
Preheat oven to 350 degrees. Cook and drain pasta as directed. Place in greased 13×9 pan. Add all ingredients except Parmesan and mix well. Top with desired amount of Parmesan.
Cook until cheese is golden and bubbly. Serve with French bread and/or garden salad. Transfer to a crock pot to keep warm, or use a chafing dish.
Appetizer Ideas
If you're choosing to serve appetizers at your party, you'll be glad to know there are lots of frugal choices. Here are some of my favorites.
11. Veggie and Dip Bar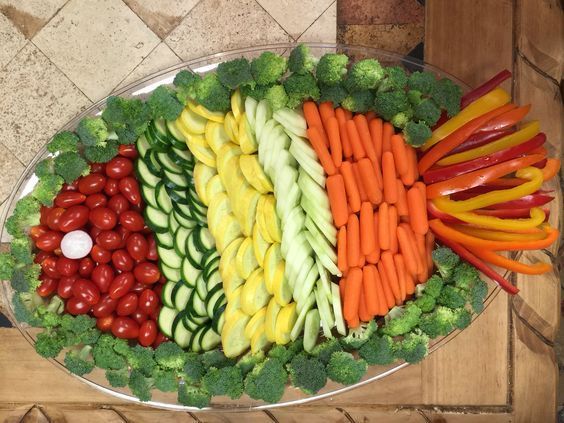 If you're willing to put in a bit of work, you can serve this inexpensively. The key is to buy and chop the veggies yourself instead of buying them pre-chopped. Note: If you have a warehouse club membership, the pre-chopped ones will be super affordable.
Arrange a variety of chopped crispy veggies on a platter. Some ideas include:
Carrots
Celery
Green pepper slices
Grape or cherry tomatoes
Cucumber slices
Serve with dips such as hummus, guacamole and this homemade ranch dip:
12. Homemade Ranch Dip
I started making this homemade ranch dip when I learned our son was allergic to chemical preservatives and additives. I get lots of compliments on it.
1 – 16 oz. container sour cream (I use Daisy)
8 oz. of real mayonnaise or whipped cream cheese
2 t. garlic powder
1 t. salt
1 t. pepper
2 t. parsley flakes
Blend all ingredients well and place in Tupperware container. Cover and chill in the refrigerator for at least two hours before serving.
13. Cheese, Cracker and Fruit Tray
This is an appetizer that can be expensive but doesn't have to be. Here are some tips on how you can serve cheese, crackers and fruit cheaply.
Get your crackers at a store known for low prices, such as Aldi. They have a knockoff brand multi-variety cracker box that tastes terrific. They also have knockoffs of Ritz and other popular cracker brands.
Buy cheese in bulk and slice it yourself. Pre-sliced cheese is very expensive!
Buy accompanying fruit that's on sale. Check your ads and buy around what's on sale.
Make homemade dips and cheese balls if you're serving them with the crackers. You can find many great recipes online.
Make this a savory dish by adding olives, artichokes on skewers. Again, buy when on sale and a little goes a long way.
By using these tips, you can serve a beautiful display of cheese, crackers and fruit for cheap.
14. Deviled Eggs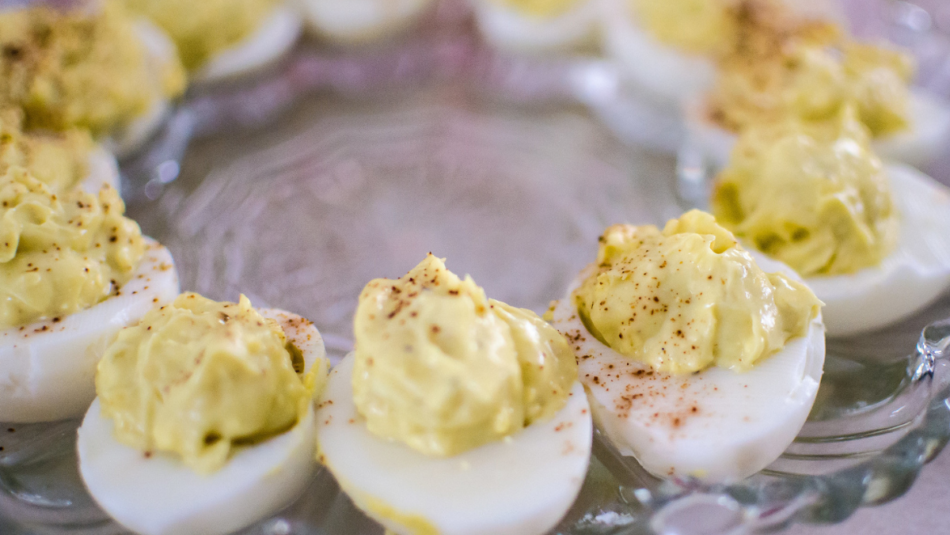 Deviled eggs are another cheap appetizer that goes over well. You can get 18 eggs for about $2 at this writing, and the accompanying ingredients shouldn't cost any more than another $1 or so. For $3 or so you can serve 36 deviled egg halves.
You can use your favorite recipe for the insides. Hint: Use real mayonnaise and a spicy brown mustard instead of yellow mustard for an extra kick.
15. Mini Quiches
Here's another great, inexpensive appetizer you can serve if you have a mini muffin pan. We like to serve mini quiches at brunches and dinners alike. We'll serve them as appetizers also.
Hint: make a homemade pie crust for the bottoms instead of using store bought – it's much cheaper.
Ingredients
6 large eggs
1 c. milk
1/2 c. sliced green onion
1 c. bacon crumbles (you can use finely diced ham too)
3/4 c. shredded cheddar cheese
1/2 c. finely diced red pepper (optional)
1 or 2 homemade pie crusts, uncooked
Salt and pepper to taste
Directions
Preheat oven to 375 degrees. Grease mini muffin pan. Cut 2 & 1/2-inch size circles from dough (we use an inverted glass to do this). Press circles down into muffin cups.
Make scrambled egg mix in a large bowl by mixing eggs and milk. Add in cheese, onion, meat and red pepper. Salt and pepper to taste. Spoon mixture into muffin cups on top of dough.
Fill nearly to top, but not quite. Bake for 15-20 minutes or until egg is set and quiches are golden brown. Serve!
16. Chips, Pico de Gallo and Guacamole
Another appetizer that is a cheap party food and will get rave reviews from guests is tortilla chips with homemade Pico de Gallo. If you have a little more you can spend, make homemade guacamole dip too.
Here are the recipes for each.
17. Pico de Gallo
This recipe is delicious and refreshing. People always make comments about how great it is to have that fresh veggie taste with the chips.
Ingredients
6-8 Roma tomatoes, diced
1/2 bunch fresh cilantro, chopped
1 red onion, diced fine
Salt and pepper to taste
Directions
Simply mix the ingredients together in a large bowl, cover and chill for 1 to 2 hours before serving. Note: you can add other ingredients to this recipe too such as corn, black beans and green pepper. This will make it more of a Cowboy Salsa type of a recipe, but it will still taste great!
18. Homemade Guacamole Dip
Here's another simple but delicious recipe. We make this when we're having Mexican food if I can find avocados on sale.
Ingredients
4-6 large, ripe avocados (they should be fairly soft)
1/2 red onion, chopped fine
1/2 bunch fresh cilantro, chopped
1 t. garlic powder
1 t. ground cumin
1 t. chili powder (you can use Chipotle chili powder for an extra kick)
1 t. salt
Juice from 1/2 of a fresh lemon
Directions
Remove the skins and pits from the avocados and place the avocados in a large bowl. Mash thoroughly with a potato masher or fork.
Add in remaining ingredients and mix thoroughly. Chill for one hour or serve immediately. Note: Avocados can be expensive; we usually only make this if I can find them on sale.
Dessert Ideas
What's a party without dessert? Here are some cost-effective dessert ideas for every party occasion. However, let me start with a tip: It's almost always cheaper to do homemade when you're talking dessert.
And bonus: it's the healthier choice as well. Now, onto some dessert options.
19. Famous Chocolate Chip Cookies
Okay, I hesitate to share this recipe as I have a reputation for making the best chocolate chip cookies EVER. Nearly everywhere I bring these cookies, I've got someone begging me for the recipe. I'm not sure I want to share this status, but here goes.
Ingredients
2 sticks butter, softened (real butter only – organic if possible)
3/4 c. brown sugar (I use C&H – it's got the best flavor)
3/4 c. white sugar
5 c. flour
2 eggs, beaten
1/2 t. pure vanilla extract
1/2 t. pure almond extract
1 t. baking soda
1 t. salt
1 c. milk chocolate chips
Optional: ½ c. chopped walnuts
Directions
Preheat oven to 375 degrees. In a large bowl, mix all ingredients except flour and chocolate chips, thoroughly. Add flour and blend well. Pour in chocolate chips and blend well again. Mix in walnuts with chocolate chips if you are using them.
Drop by rounded teaspoonfuls onto an ungreased cookie sheet. Hint: I use Pampered Chef's small scoop for this part and it works perfectly.
Bake for 8-9 minutes or until the edges are golden. Let cool on the cookie sheet for 5 minutes before transferring to a cooling rack. Makes roughly 36 cookies.
Note: I use organic butter, sugar and flour in all of my baking recipes. Costco sells these items for cheaper than I could buy non-organic at a regular grocery store.
20. Cakes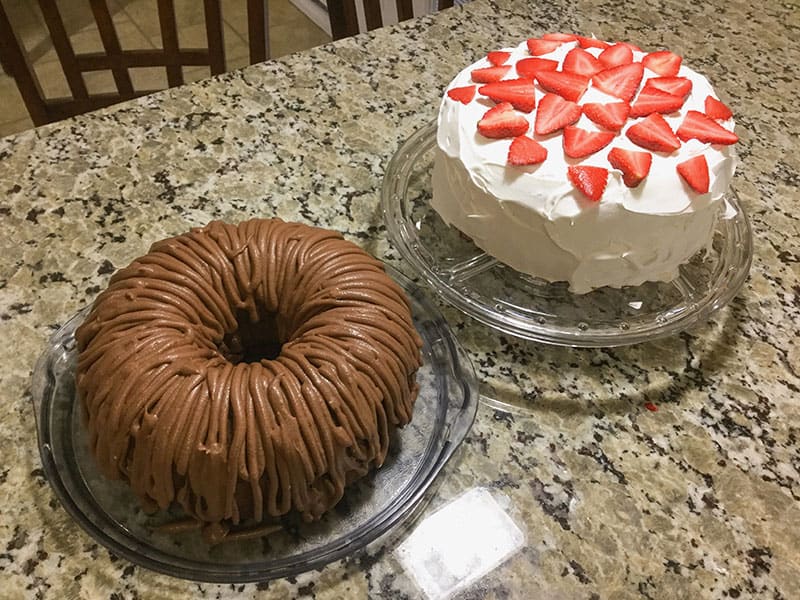 Cake mixes usually run about $1 or so if you can get them on sale, and they'll serve at least 12 people. You can buy frosting in a can or find a homemade frosting recipe online. Decorate in a way that fits in with the theme of the party.
Note: if you're serving a large number of people, the warehouse clubs are usually the cheapest for bakery cakes. And they taste great. Order well in advance, especially during the summer season.
21. Sweet Bar Buffet
Another inexpensive option for party desserts is to serve a bar buffet. Bake a variety of different bars, throw in some ice cream and serve on a separate table. Some bar ideas include:
Brownies
Lemon bars
Chocolate chip bars (hint: you can use the cookie recipe above and simply press and bake it in a 9×13 pan)
Rice Krispy bars (add peanut butter and top with melted chocolate chips for an extra flair)
You can add your family favorites too for more variety. Or, to save even more, have each attendee bring a pan of their favorite bars.
My Favorite Cheap Party Food Ideas
There are several keys to feeding a crowd for cheap. Some involve the types of food you choose to serve, while others involve how you get them. Here are some of my favorite cheap party foods, and ideas for making great party foods for less.
Your Party Determines Your Food Choices
The first tip I have for feeding a crowd on the cheap is to know that the type of party you're having is vital. For instance, if you're having a baby shower or wedding shower, finger foods are perfectly acceptable.
However, if you're having a bachelor party or football party, you'll need food with more substance. By knowing who your guests are and what the appropriate food choices for them are, you'll plan a better party.
As such, you'll spend your money on food that fits in with the theme and avoid waste.
Choose a Time of Day that Fits in with Your Budget
Choosing a time of day that fits in with your budget is important too. With some events, such as football games, you can't choose your time.
However, with other events, such as holiday parties or showers, you have more flexibility. Time is important because different times of the day require different types of food.
As an example, if you hold a baby shower at noon your guests will expect a full lunch. However, if you hold a shower at 2 it's perfectly acceptable to serve finger foods.
Therefore, if you're on a super tight budget you can plan your party at a time when people won't be expecting a full meal. But I'll also share some ideas here for feeding a full meal on the cheap, so never fear.
Plan Your Guest List Carefully
Your guest list is also important to having a frugal food budget when hosting a party. Be sure your guest list is limited to those you really want to invite.
For instance, when you're planning a wedding you can keep the guest list to first cousins instead of inviting every last known relative.
That doesn't mean you can't have a crowd; just know that with more people comes a bigger food budget. Be thoughtful about your guest list and your food budget will stay lower.
Choose Foods that Fit the Scene
Another tip for throwing a frugal party is to choose foods that fit the occasion. Example: throwing a football game party for the guys requires hardy foods like meatballs and subs.
If you buy dainty tea sandwiches and vegetable salads, you may be throwing away a lot of food. Choose foods that fit the guest list and the party event to avoid food waste as much as possible.
More Tips for Throwing a Cheap Party
There are other things you can do to serve food cheaply at parties as well. Here are some of the tips I use to feed a crowd for less.
Buy Your Food on Sale
Buying your food on sale is vital. After you've planned your menu (I suggest doing this well in advance) start keeping an eye on sales flyers.
Then start stocking up as you find things you'll need on sale.
For instance, I'm throwing a high school graduation party for my oldest daughter this year. I bought paper plates in January when they were on sale at Sam's Club. I also started stocking up on soda in March.
Whenever I see a sale on something I know I'll need for the party, I buy it. Remember to keep expiration dates and storage in mind when you do this. You don't want to serve expired soda at a party or buy only to realize you don't have storage capacity.
Note: if you have a bigger family or entertain a lot, a deep freezer (zero temp) is a must. This will allow you to freeze meats and other items for as long as a year without getting freezer damage.
I buy a quarter of grass fed, no-antibiotic, no-hormone beef every year for $4.50 a pound since we have a bigger family. I can stock up in this capacity only because we have a large freezer that ensures the beef will keep.
Being able to buy in such a large quantity saves a ton of money on our grocery bill.
You can save too if you keep an eye on the sales and stock up in advance on what you need.
Beware of the Beverage Budget
One of the most expensive parts of a party food budget is beverages.
Ways you can lower your beverage budget for parties:
Don't serve alcohol; make it a bring your own event
Only serve beer and wine
Buy soda on sale
Serve frugal beverages such as lemonade, punch, coffee and water
Serve soda in 2-liter bottles instead of individual cans
I've used all of these ideas at parties before and they go over just fine with guests.
Bonus: Make a game out of it by setting a budget and see if you can beat it.
Know Which Stores Sell Cheaper
Knowing which stores sell what types of foods for cheaper is another bonus that will help you save cash. I do most of my party food shopping at Aldi, Walmart and Sam's Club or Costco.
However, you need to know which items at which stores have the best deals, and which don't.
Soda is ridiculously expensive at Sam's Club, so I never buy it there. However, I always get cakes there because they're delicious and dirt cheap.
Conversely, chips are super cheap at Sam's, and astronomically prices at other grocery stores in our area. Therefore, I almost always buy chips at Sam's Club.
Knowing where the items you need are sold at the cheapest prices will help you keep your food budget low.
Ask for Help
Another option for keeping your party's food budget frugal is to ask others to pitch in. Now, I'd be careful in this area and practice good etiquette rules before doing this.
As an example, you don't want to ask random guests to bring food to a wedding. However, if it's a smaller wedding you could ask parents or close friends to bring a salad. Or you could ask a baker who is a close friend to do the cake at a discounted price.
If you're throwing a party with close friends and family, asking them to bring a dish is perfectly acceptable. And it will help you cut down on food costs.
The key to success here is to use wisdom and check etiquette rules as to what is acceptable.
Taking your relationship with loved ones into account is key as well. If your family is super casual, they likely won't mind helping with food at all.
Summary
With a little ingenuity, it is entirely possible to throw a party without spending a lot of money on food. Just get creative and combine your favorite menu items with the other tips I've mentioned above.
As I have learned, the more you practice at throwing a great get together with these cheap party food ideas, the better you'll get at it. Cheers to hosting a great party.