The heyday of extreme couponing is passed (thank goodness), but that doesn't mean people still aren't using coupons! Coupons are a great way to try out new products as well as save on the items your family already purchases on a regular basis.
If you want to get started with couponing but aren't sure about the steps to take, consider this your intro to couponing for beginners. Class, let's get started with Couponing 101!
How to Start Couponing for Beginners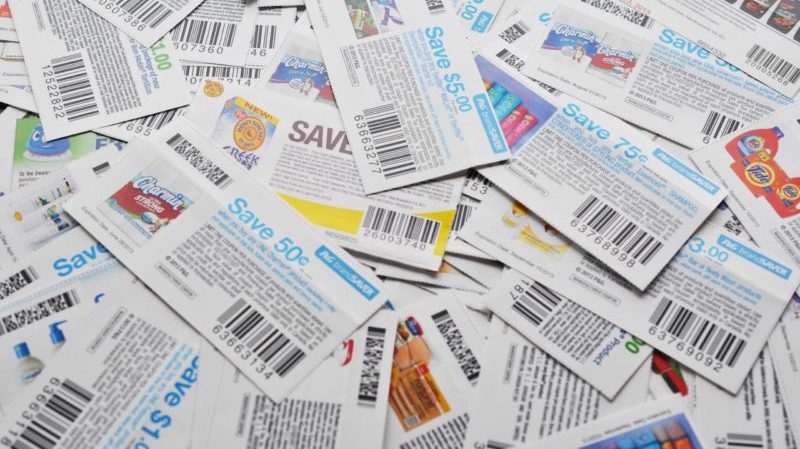 There's a lot that goes into using coupons – in fact, whole books have been written about it! – but this how-to will give you a solid overview of the basics.
Figure Out Your Why
The first question you need to ask yourself is why do you want to start using coupons?
It's important to determine what you're ultimately trying to achieve with couponing so that you can keep your "big picture" goal in mind. This helps you stay motivated and not get bogged down in the details.
Perhaps you're working to save for a family vacation. Maybe you're hoping to move from two incomes to one so you can stay home with your kids. Or possibly you're just not interested in paying full price if you don't have to (this is me!).
Whatever your motivation, you'll want to keep two things in mind: first, what your family regularly needs and uses; and second, sales and coupons on those items.
This will keep the whole experience of couponing for beginners manageable and in the proper perspective.
Understand Sales Cycles and Stockpiling
Before you clip a single coupon, you first need a primer on understanding a store's sales cycles. Why? Because most of the time you'll save a bunch by simply buying items when they're on sale! Coupons are really just the icing on the cake in most circumstances.
For example, say the full price of a box of cereal is $3 and you have a 50¢ coupon. If you use the coupon when the cereal is at full price, you'll pay $2.50.
But if you wait a week or two for a sale, you might see the price drop to $2, and then you can use the coupon to pay just $1.50 a box. Score!
Store Sales Cycles
You've probably noticed that different items go on sale at different times in the year. Sales of fresh produce are probably most noticeable as the seasons change.
But you'll also find great deals throughout the year on grilling and picnic items in the summer, baking items around the holidays, healthy foods at the beginning of the year, cleaning items in early spring, etc.
Beyond the sales on seasonal items, almost everything goes on sale over the course of a 6- to 12-week period. If you see, say, your family's favorite peanut butter on sale this week, buy a few to keep in your pantry to get you through until the next sale.
As you progress in your coupon knowledge, you may want to keep a price book of your typical purchases to help you notice these sales cycles.
I personally just compare a store's sales to one store, like Aldi or Walmart, and buy from the other store when they beat Aldi or Walmart's price. Keep it simple!
Setting Up a Home Stockpile
As you start to pay attention to how frequently your typical purchases go on sale, you'll get a better sense of how much you want to stock up each time it hits that low price.
You don't need to stock up for the apocalypse. Rather, simply buy a few extra of your favorite items when they are on sale. It's OK to build up your stockpile gradually!
Bonus: having a stockpile on hand cuts down on last-minute trips to the store to buy toilet paper, spaghetti sauce, or whatever your "must-haves" are because you'll already have them available.
Some of the easiest items to stockpile include canned beans, flour, frozen fruit and veggies, oatmeal, pasta, rice, sugar, yeast, and other ingredients like these that keep for a while and can be used to make a wide variety of meals.
It also helps to have a stockpile of cleaning products, deodorant, paper towels, shampoo, and the like.
How to Find Coupons
Now that you understand your "why" and a little bit about sales cycles and stockpiling, it's time to actually get to clipping those coupons!
There are two different types of coupons:
Store coupons are issued by the store and can only be used at that store. You'll find them in the store's weekly ad, on their website, or maybe sent to you in the mail. They usually have the store's logo or the words "Store Coupon" on them somewhere.
Manufacturers' coupons are issued by the manufacturer and can be used at any store that accepts them. These are typically found in newspaper inserts, websites, etc. They almost always have the words "manufacturer's coupon" on them.
The best part? You can usually use both a store coupon and a manufacturer's coupon to save big! This is called "stacking" in coupon lingo. For more information on stacking, read our post on How to Stack Coupons (And How Not To).
Here are the most common places to find coupons nowadays:
1. Sunday Newspaper
Yes, the good ol' Sunday newspaper is still where most manufacturers distribute coupons. You'll usually find several coupon inserts nestled in with all of the weekly ads.
These come from P&G (Procter & Gamble), Save, and SmartSource. As you gain experience with couponing for beginners, you may want to purchase multiple copies of the Sunday newspaper so you have more coupon inserts on hand.
Get started on a subscription to your local newspaper and save by signing up through DiscountedNewspapers.com. You can also browse Groupon for deals on newspaper subscriptions.
RELATED: 10 Ways to Get Free Newspaper Coupons
2. Online Printable Coupons
Besides coupon inserts, you'll also want to browse the internet to find printable coupons for the products you love.
Websites like Coupons.com, PGEveryday.com, SmartSource.com, Pillsbury.com, and BettyCrocker.com can help you supplement your coupon collection.
If there's a product that is your family's absolute favorite, it can't hurt to check out the manufacturer's website to see if they have any printable coupons available or to sign up for their mailing list.
3. Digital Coupons
As technology advances, retailers and manufacturers are moving more toward digital coupons, often called e-coupons.
These can be store or manufacturer's coupons and are typically added to your store's loyalty card. At checkout, you'll see the savings automatically come off if you've bought products to which those coupons apply – no scissors necessary!
For more ideas on how to find coupons, read our posts on the 11 Best Ways to Get Coupons and the 18 Best Coupon Apps to Save Money.
How to Organize Your Coupons
Now that you've found your coupons, you'll need to keep them organized. Otherwise, what's the point in clipping them if you can't find them?!
Here are a few different ideas for organizing your coupons:
1. Coupon Binder
Hard-core coupon users prefer the coupon binder method because you can bring all of your coupons with you wherever you go. You'll clip all of your coupons, then file them in plastic baseball trading card size holders inside a zip-up binder.
If you choose this method, you'll need to stay on top of your stash by regularly purging expired coupons.
2. Full Insert Method
I like to save time as well as money, so I prefer the full insert method. If you choose this method, you'll write the date you received your coupon inserts and then file them. I keep my coupon inserts in separate hanging file folders in a file crate.
Then when I'm ready to shop, I search for the coupons I want in a grocery coupon database like Coupon Tom. Once I know where the coupons are that I'm looking for, I can pull out the individual inserts and just clip coupons as I need them.
3. Coupon Box
If you still want to have all of your coupons with you in the store but you don't want to lug a huge coupon binder around, the coupon box is your best bet as it is much more discreet.
You still clip the coupons you need, but you store them in envelopes by category inside of a plastic box.
That way when you're at the store and you see an amazing sale on toilet paper, you can pull out your paper products envelope to see if you have any coupons available.
4. Store Binder
I use the full insert method in conjunction with a small expandable coupon binder that is separated by store. It's super compact, but it keeps all the coupons I need for a particular shopping trip at the ready.
Filing coupons by the store at which you intend to use them is a great way to keep track of store coupons from the weekly ad or that print from the register, too.
For more information, read our post on How to Use Coupons: Keeping Your Coupons Organized.
How to Use Coupons
Don't just clip every coupon available to you and head to the store! I guarantee you'll spend way more money than you had budgeted and you'll probably bring home a bunch of stuff your family doesn't need. Here's what to do instead:
Step 1: Choose ONE store. Yes, there are sales available at just about every store out there, but you'll quickly become overwhelmed and burn out if you try to shop every sale at once. Instead, pick just one store.
As you get used to the process, you may add another store or two to your rotation, but if you start small, you're not a wimp. After all, any amount of money you save is good, right?
Step 2: Page through that store's weekly ad. Note the items your family uses that seem to be at a decent or good price. You can circle the prices, star them, or use a highlighter – whatever you need to help the best deals stand out.
Remember, once you start paying closer attention to sales, it will be quicker and easier for you to find the best deals.
Step 3: Pull the corresponding coupons from your coupon stash. Again, a grocery coupon database like Coupon Tom lets you quickly search for coupons for the items you want to buy.
Then you just need to clip the coupons from those particular inserts or, if you've already clipped them, pull them out.
Step 4: Make a list. You can, of course, just bring your marked-up ad with you to the store, but that can be a little cumbersome.
I like to create a separate list either on a pad of paper or on my phone. I'll write down the item name, price, and any quantity limitations, and mark if it has a coupon available.
At this time, I'll also jot down the items we need that aren't on sale and do a quick search to see if there are any coupons available for those, too.
Step 5: Shop and save. Head to the store and get shopping! At checkout, hand over your coupons and/or your store's loyalty card and see what you've saved. Remember, it's OK to start small!
If you run into issues, be polite and calm. You can always just skip purchasing an item if there are problems with a particular coupon, or ask to speak with a manager.
To help you keep track of your savings with coupons and shopping sales, download our Free Savings Tracker.
Use it as a guide to stick to your monthly budget or to brag to a friend about just how much you've saved over the past several months or years. It's very motivational!
Common Couponing for Beginners Pitfalls
1. Remember that coupons are a marketing tool.
It's easy to get excited about using coupons, and that's why manufacturers create them! Coupons are a form of advertising, a way to get you to spend your hard-earned cash on something you might not otherwise purchase.
A manufacturer may offer a high-value coupon for a brand-new product to get you to fall in love with it and continue to buy it. That's great if it fits a need or solves a problem in your life.
But like I said before, keep in mind how much you're spending, not just how much you're saving.
You might have saved 75% on your purchase, but you had to spend $100 to do so when your normal shopping trip only runs you about $75. And how much of what you bought is something you're actually going to use?!
2. Some items NEVER go on sale or have a coupon.
As you get more familiar with coupons and sales, you might resolve to never buy anything unless it's on sale or has a coupon.
Well, I hate to break it to you, but there are some items that never go on sale or have a coupon available. You might be waiting for a long time to pick up your family's favorites!
Remember your "why" and the other people you're shopping for. Let's say you haven't bought ice cream for a few months because it hasn't been on sale and you haven't seen any coupons (typical for the winter months).
If your husband has been begging you to pick up his favorite flavor since August, you can pony up the few bucks to bless and surprise him instead of holding out the sales that come along with warmer weather.
3. Get familiar with your store's coupon policy.
Most stores have a coupon policy available on their website. These generally list the different conditions under which coupons will be accepted and also when they will NOT accept coupons.
For example, some stores do not accept printed coupons for free products.
To find your store's coupon policy, you can check the website or just do a quick search for "[insert store here] coupon policy" – they're usually pretty easy to find.
It's helpful to print it out and bring it to the store with you for reference as you're shopping or even to educate a cashier (I've done it!).
4. Use coupons correctly.
Be sure you use coupons on the correct items. If a coupon says it's for Green Giant frozen vegetables, it's not OK to use it on the canned variety. If you have a coupon good on a box of diapers, don't use it on a jumbo pack.
Also, keep in mind that copying or altering coupons is never OK, and watch the expiration dates, too! There are a few stores that may accept expired coupons up to a certain point, but don't try to sneak one in otherwise.
5. Get help finding deals.
While couponing is not as widespread as it used to be, there are still many blogs out there that highlight great deals at your favorite stores, including pointing out sale prices, unadvertised deals, clearance prices, and all of the coupons that go along with them.
To find a website that does the deal-finding for you, just search for "[insert store here] weekly deals" or "[insert store here] coupon matchups" to see if any bloggers are covering your favorite stores.
Another option: social media! Facebook has about a bazillion groups for coupon users. Find one that applies to your favorite store or region and see how other shoppers are saving. Don't be afraid to ask questions – most couponers love to share their expertise with others!
Summary
Hopefully, this couponing for beginners guide has helped you see that using coupons and shopping sales is an easy way to save money on the items your family needs.
Give it a try, and before you know it, you'll be passing on your favorite tips and tricks to all of your friends!