I swear that I always get the best ideas when I'm out running. Maybe it's the blood flow finally hitting the brain or the chance to get away from other distractions and just think.
Whatever the case, the inspiration for today's recipe came while I was out running the other day.
I've been seeing these ads from Starbucks about sous vide egg bites and I really dig the idea of nourishing, portable breakfast ideas.
I tend to just be a cereal or oatmeal kind of gal, but there are times when you want something a bit more hearty to "stick to your ribs!" Today's Egg Bites Recipe fits the ticket.
Not only are these egg bites delicious to make – they are easy. Even better, they are budget-friendly (but what else would you expect from a frugal living blog)?
This recipe is also extremely versatile. Change up the protein, cheese, or veggies to suit what you have in your pantry, your tastes, or whatever diet you're on.
Here's what you'll need to make 12 egg bites:
9 large eggs
4 pieces of bacon
1/2 cup shredded cheese of your choice
1 red bell pepper, finely minced
1 onion, finely minced
2 tablespoons half and half or milk
Salt & pepper, to taste
Start by heating your oven to 350°.
In a pan, fry up that bacon to desired crispness. I like mine fairly crisp, so that means an extra minute or two. Using a slotted spoon, remove the bacon onto paper towels. I decided to fry up my veggies in some of the bacon grease (yum!), so I left some of that in the pan, ready to go!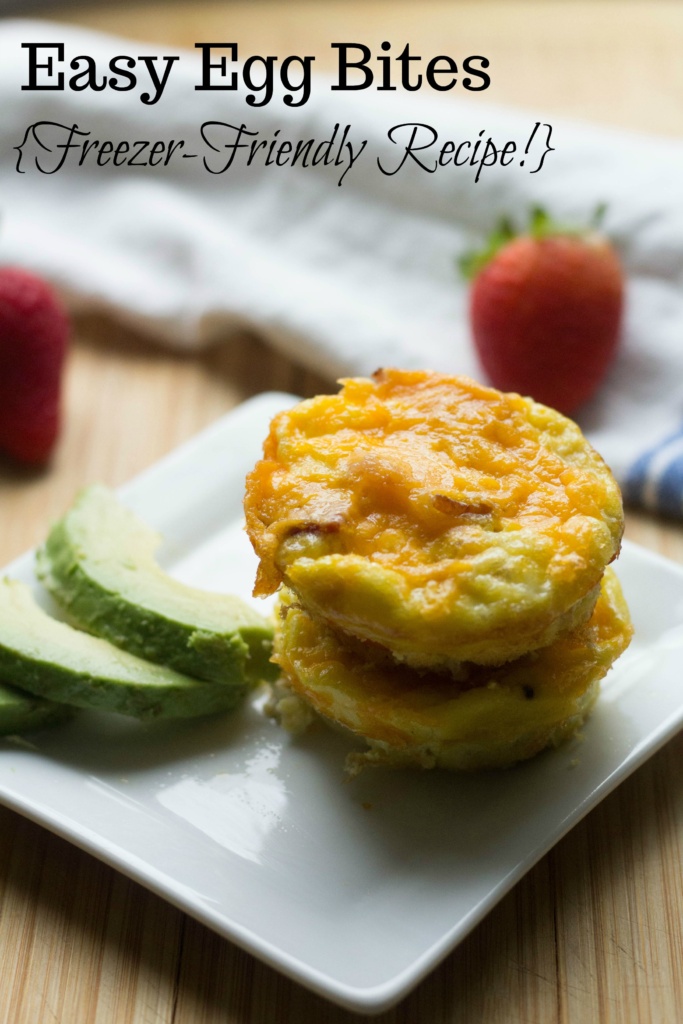 I made sure to mince my veggies extra small since these are going in muffin tins.
Cook your veggies until nice and soft, seasoning with salt and pepper. I gave mine a good 5 minutes.
While your veggies are cooking, crack open those eggs in a bowl and whisk!
Add in the half & half or milk (or just omit if you prefer to keep dairy-free!), and a dash of salt and pepper. Set aside.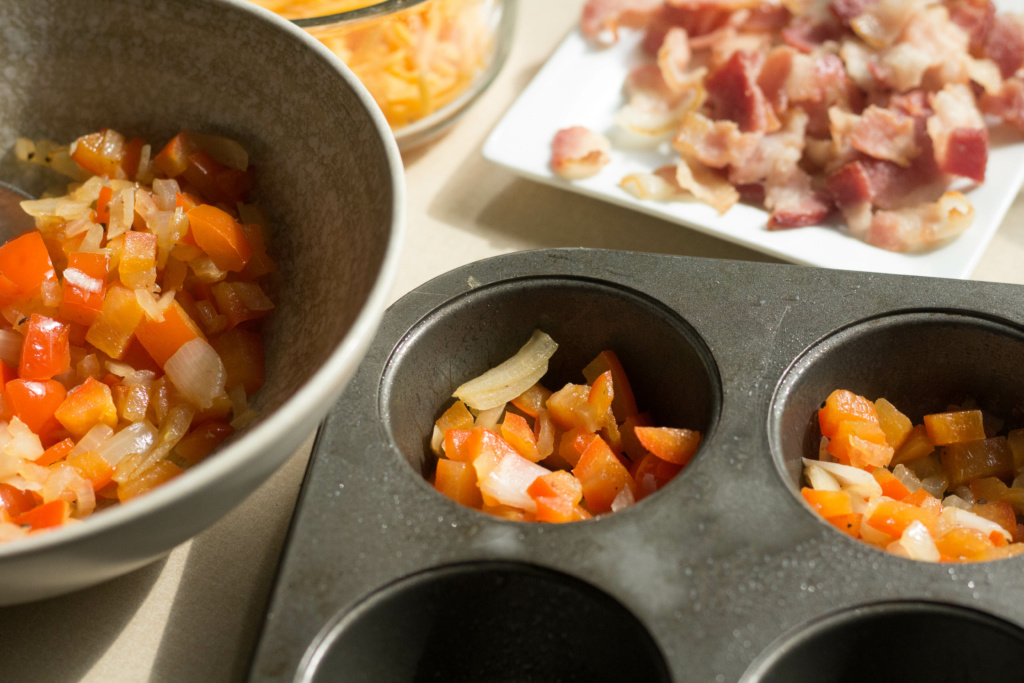 Now when I contemplated this recipe, I thought "if we mix up all the ingredients with the eggs and then pour into the muffin cups, it might be easy… but the fillings might not be equal! And this thought bothered me! To get around this, here's what I did. Into each muffin cup, I first placed about 1 tablespoon of my veggie mixture. It worked out just about perfectly!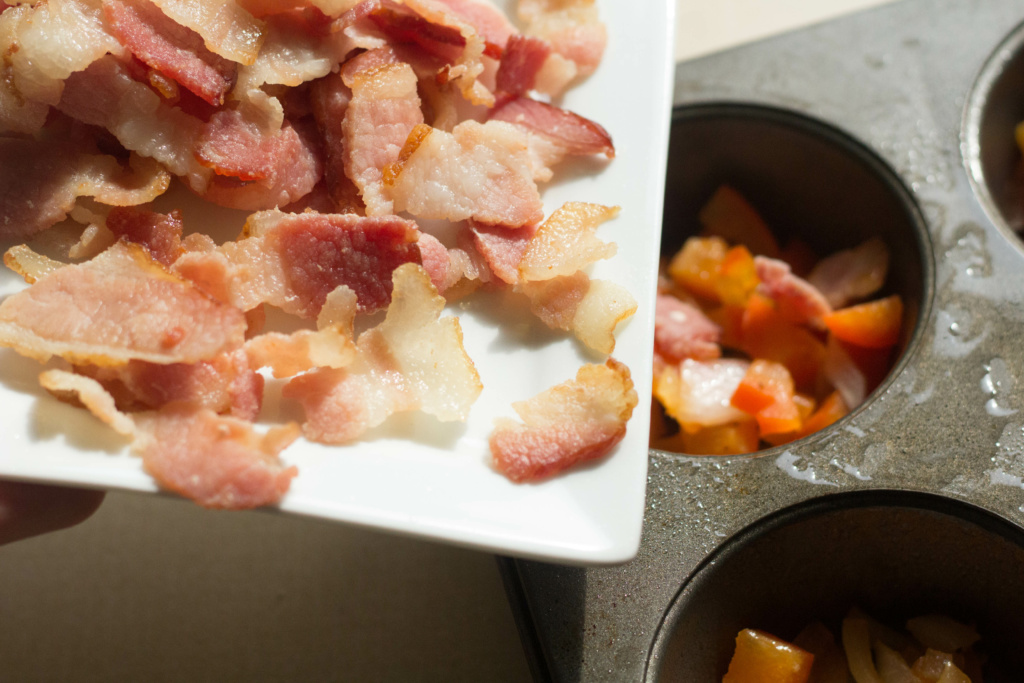 Next, divide the bacon up evenly on top of the veggies.
Now your muffin tins are ready for the egg mixture!
I ended up pouring about 1/3 cup of the egg mixture on top of each tin. Perfect! Into the oven they go.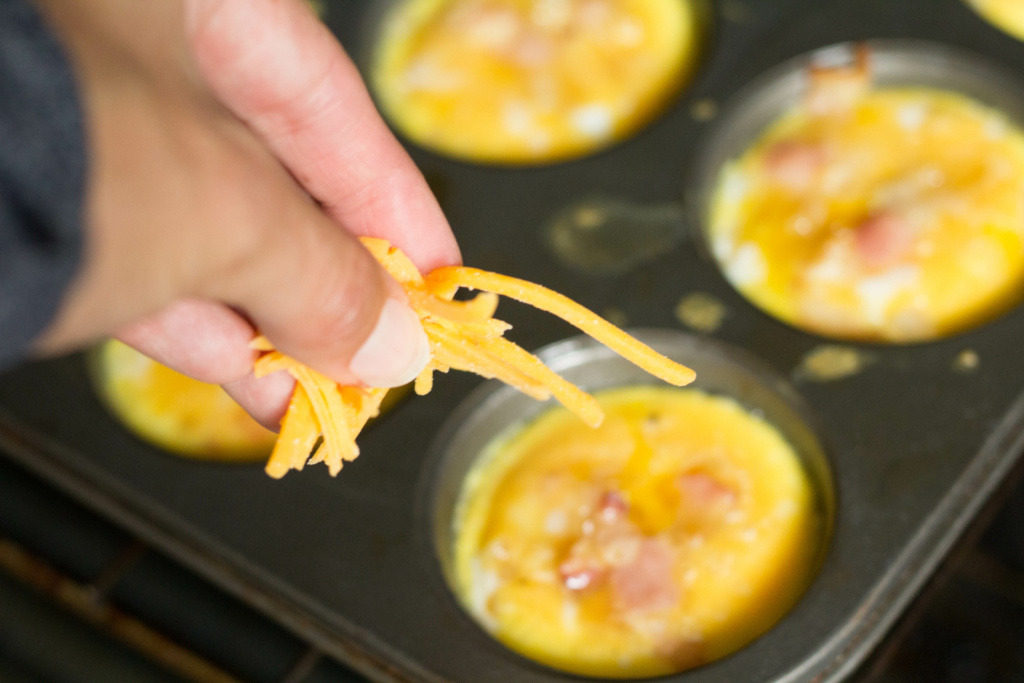 After about 10 minutes, my egg bites were close to being set, so I put a tablespoon of cheese on top of each.
Again, you could have just stirred it into the egg mixture, but I like to really taste a definite cheese layer – so this was my solution! When topping, try to keep the cheese in the center of each egg bite.
This will help them from sticking to the pan.
After another 5 minutes or so, my egg bites were done! You'll know they are done when a knife comes out clean. Mine also were bubbling around the edges a bit and had raised up a little past the muffin tin.
You'll want to remove your egg bites from the muffin tin as soon as it's cool enough to handle so they don't stick. I found a knife around the edges and a spoon popped them out easy enough. But take care so they don't break!
Now, you can certainly chow down on these puppies right away – and MAN, they are delicious! However, if you are hoping to freeze them, allow them to cool to room temperature. (Don't worry – it won't take more than 20-30 minutes. You can also flash freeze them on a cookie sheet if you'd prefer.)
Here's how I froze my egg bites: I put two into a sandwich bag and then the sandwich bags into a large, gallon-size freezer bag. This way, I can just grab and defrost what I need on the quick!
I hope you'll consider some of the ways you could change up this recipe to suit your tastes. My son thought sausage would be better than bacon. You might swap some of the whole eggs for egg whites. You could add herbs. Change out the veggies for what you have growing in your garden. Cube up some ham and try that instead. You could also easily prep this for batch cooking. Enjoy!
Looking for more healthy and delicious breakfast ideas?
Chorizo Breakfast Burritos (Freezer-Friendly!)
And, for hundreds more of delicious ideas – follow my Project – Breakfast Pinterest board!