If you're having a baby soon, or have a baby now, you might be excited to learn that there are dozens of ways to get free baby stuff. This Department of Agriculture study says it costs over $230,000 to raise a child from birth to age 18.
And this study from NerdWallet suggests that it costs at least $20,000 for baby's first year.
Why not cut down on that cost by getting free stuff for your baby? You can save tons of money on child-rearing by taking advantage of the free resources we'll share here.
How to Get Free Baby Stuff
If you can take advantage of some or all of the free resources we have here, you could potentially save thousands of dollars as you raise your baby.
Keep in mind that some of these free products might require you to pay a small shipping charge.
If that's the case, we've noted it in the coordinating section.
1. Free Baby Products from Walmart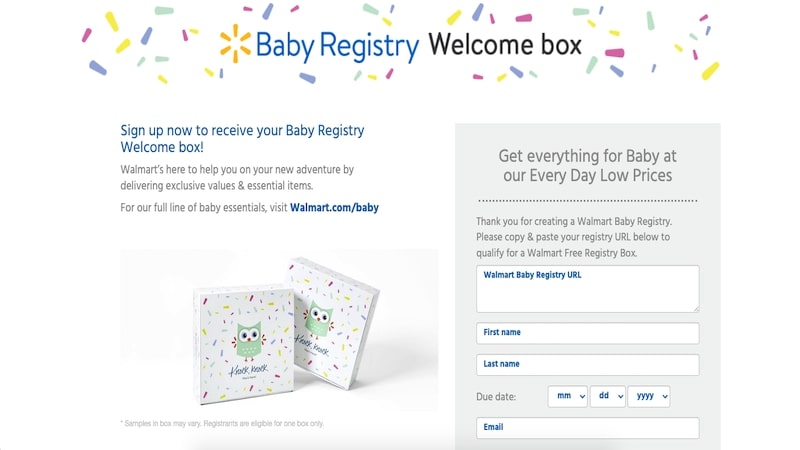 When you sign up for the baby registry at Walmart, you qualify for a free Walmart Baby Registry Welcome Box. The items in the box you'll receive will vary. Still, you'll get a bunch of samples of different types of baby items, such as:
Diapers
Formula
Washing items
Feeding items
And more. The Walmart Baby Box items change every few months, so you'll likely get different free baby stuff with different baby registries. There's no cost to get your Walmart Baby Box, but you may have to pay a small shipping charge.
2. Free Baby Samples from Target
As with Walmart, you can register for your baby with Target. Target will give you a free box with over $80 worth of coupons and samples when you sign up for the Target baby registry.
Baby box contents will vary, but you can expect coupons and free baby samples of items such as formula, baby food, diapers, wipes, and more.
3. Free Baby Stuff from buybuyBABY
buybuyBABY is a popular baby store that has gift registry services. When you register your baby at Buy Buy Baby, you can go to any buybuyBABY store and get a free goodie bag.
Your free goodie bag from buybuyBABY will have a discount coupon for a purchase at buybuyBABY. Plus, you'll get free samples of baby products you can use for your baby and yourself.
4. Welcome Box from Amazon
Like other stores, Amazon has a great baby registry. And when you register your baby on Amazon, they'll send you a free baby welcome box worth up to $35.
The Amazon baby registry welcome box contains gifts and samples for both parents and babies.
Note that to qualify for Amazon's baby welcome box, you need to be an Amazon Prime member and have over $10 in qualifying purchases from your baby registry.
5. Diapers from Pampers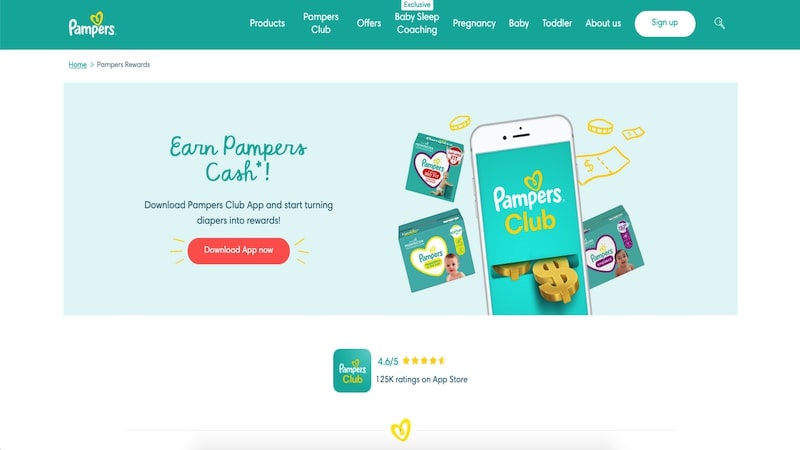 When you sign up for the Pampers rewards program, you can earn points every time you buy Pampers diapers. Just scan the code on the pack of diapers, and you'll start earning points.
Then, you can use your points to get free diapers and other items from Pampers. You can also use your rewards points to get other things, such as store gift cards and entries into cash sweepstakes.
6. Formula from Similac
Similac has a program called the Similac StrongMoms Rewards program. With this program, you can get up to $400 in savings. Here's how it works.
After you sign up, you'll start receiving coupons for Similac products in the mail (i.e., free money toward formula). When you use the coupons, you'll earn rewards points. You can use your rewards points to get free money toward more Similac products.
7. Enfamil Products
There is a way you can get free baby stuff from Enfamil as well. Simply sign up to join Enfamil Family Beginnings program. When you join, you'll get up to $400 in gifts and be entered in a sweepstakes contest to possibly win free formula for a year.
Some of the free things you get from the program include formula samples, discount coupons, and other special offers.
8. Free Nursing Cover
Udder Covers makes adorably cute nursing covers in a variety of styles. They also have nursing shirts, nursing pillows, and other nursing accessories.
When I chose a nursing cover and used the code FREEUCOVER1, I got a $35 credit on a $35 nursing cover!
Note: You can also add personalized embroidery to your nursing cover for an additional cost.
Keep in mind that you may have to pay shipping fees for the product.
9. Free Formula From Nature's One
Nature's One makes an organic formula for babies. They will send you a free 12.7-ounce can of the formula for you to try out with your baby.
If that type of formula doesn't work well for your baby, you can call customer service, and they will help you try another kind of Nature's One formula.
Note that you will have to pay $5.95 for shipping for the free formula.
10. Free Baby Leggings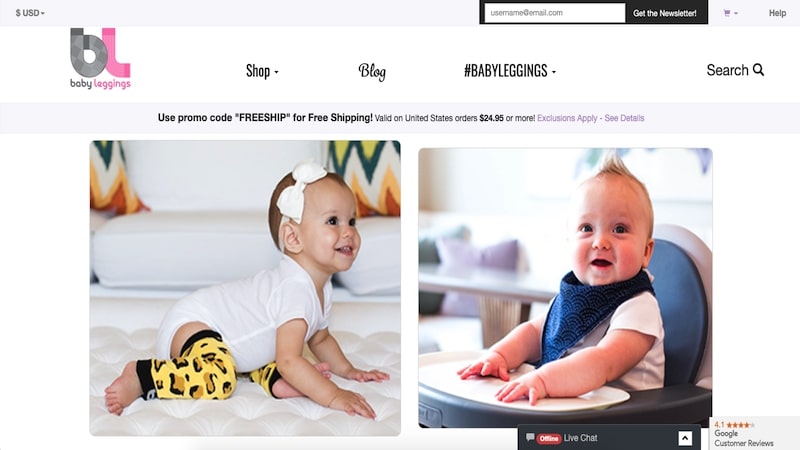 Baby Leggings sells cute pairs of leggings (more like leg warmers) for babies in a variety of designs. I used the code GIVEME5FREE and got a $50 discount added to my cart.
The leggings are $10 a pair, so that means you can get five pairs free. As with other offers, you will have to pay shipping costs for the leggings. At the time of this writing, shipping was $14.99.
11. Free Rewards from Huggies
The Huggies diapers rewards program will give you points every time you buy Huggies diapers and wipes–wherever you buy them. All you have to do is submit/scan the receipts from your purchases.
You can use your points to get free baby stuff like gift cards to your favorite stores, free diapers or free baby toys.
12. Free Baby Stuff from Hey, Milestone
The Hey Milestone gives free boxes of samples (one per mom per year) to new moms. Your Noobie Box will contain a variety of new items such as:
Diapers
Baby ointment
Pacifiers
Breastfeeding supplies
Or other items. The Hey Milestone contents vary for each order and what they have available at the time. Note that there is a calculated shipping fee to have your free baby samples delivered.
13. Free Breast Pumps
The Affordable Care Act (ACA) has some language that specifies that insurance companies in the Marketplace must cover the cost of a breast pump, either rented or owned.
See the Affordable Care Act's page on breastfeeding benefits for more information.
14. Free Baby Sling
Seven Baby sells baby slings in a wide array of styles. When I used the promo code FREESLING4ME, I got a $40 credit added to my cart. That is enough money to get one free baby sling.
They do charge a shipping and handling charge for your free sling. Mine was $12.99. This company also sells wraps and pouches. For an extra cost, you can have your sling embroidered with a name too.
15. Free Nursing Pillow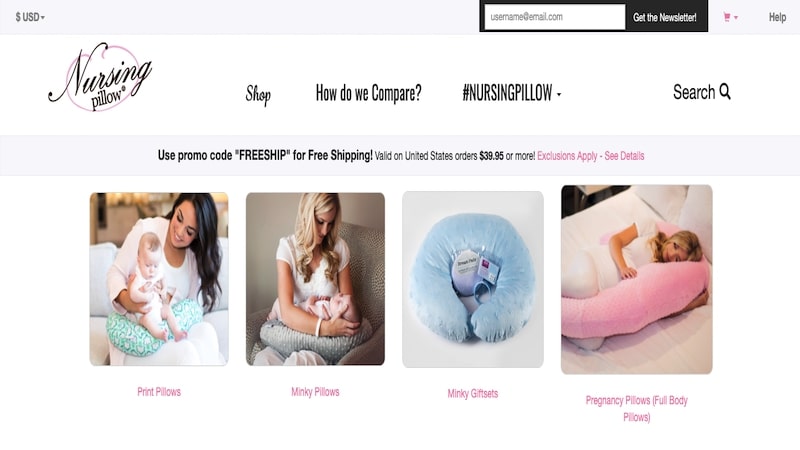 Nursing Pillow sells nursing pillows, pregnancy pillows and more.
When I visited the site and used the promo code GIVEME1FREE, I got a $40 discount added to my cart, which is how much it costs for many of the nursing pillows they sell.
There is a $14.99 shipping and handling cost to get your pillow delivered to your home.
16. Free Carseat Canopy
The Canopy Couture company will give you a free car seat canopy credit for $50, which will cover the cost of many car seat options. All I had to do was use the code COVER4BABY to get my free car seat cover.
They had an additional deal where you could get a second cover for just $10 at the time of this writing. There was a shipping cost of $14.99 when I went to place my order.
17. Free Pacifiers
CustomPacifiers makes pacifiers that you can customize with your baby's name or other cute names. I used the promo code KCL30 to get three free custom pacifiers.
These pacifiers are 100% BPA and PVC-free. And you can choose from dozens of styles and colors. Note that there is a $15.99 shipping charge with this offer.
18. Ask Family and Friends
It never hurts to ask family and friends if they have any baby clothes or other baby items they want to give away. Many people will be glad to have a quick way to declutter their homes or storage areas from things they no longer need.
If you're not comfortable asking for a straight-up gift, why not suggest a trade of some sort? Maybe your friend or family member wants something you have and no longer need.
Or perhaps you can offer to babysit or do some other tasks for the free baby stuff they give you. Be creative and find a way to make a deal that makes everyone happy.
19. Visit a Freebies Site
There are dozens of sites devoted to giving your free stuff. One, in particular, is called Freebies for Baby. Freebies For Baby will keep you up-to-date on all of the free baby stuff you might be eligible for when you have a baby.
Check out this article about freebie sites that can help you find more free stuff for you and your family.
20. Check With Your Doctor's Office
As a new parent, you'll probably be making regular visits to your doctor's office for well-child checks.
Doctor's offices often have samples of baby formula and diapers, so don't hesitate to ask if they've got any available for you to take home.
21. Visit Garage Sales on the Last Day
Many garage sale holders are eager to get rid of everything on the last day of the sale. For that reason, you might be able to score some free baby stuff if you hit a garage sale at the right time.
Expert tip: Save yourself some time by focusing on community-wide garage sales. Then, check the community ad for sales that specify that they've got baby clothes.
And don't be afraid to ask if they've got anything they're willing to give away for free. Getting free baby clothes can save you a ton of money in the long run.
Even if an item isn't marked "free," you might be able to get it for nothing.
22. Check Craigslist and Facebook Marketplace
Craigslist and Facebook Marketplace often have free baby items. You might find these items under the "free" section or the "baby" section on either site.
Most free baby items on these sites are used, but many of them are in great shape. Babies grow so quickly that parents hardly have a chance to use some things for very long.
Check out other sites like Craigslist, where you might be able to find free baby items as well.
23. Visit Your Local Life Care Center
Many communities have life care centers that are dedicated to helping people care for their babies. These centers can provide everything from free baby care items to free parenting classes.
The life care center in my city offers varying free products every day. These items come mostly from local donations, and may include:
Diapers and wipes
Baby clothes
Car seats
Strollers
Playpens
Nursing accessories
And more. Some life care centers have tasks you need to do to qualify for the free items, such as taking a free parenting class. Do an internet search of "life care center near me" to get more information on how you can take advantage of free baby items in your community.
Summary
There are many options for getting free baby stuff for your baby. You can find free diapers, formula, baby accessories, and you can even get free toys.
Give your budget a boost by checking out the suggestions above to get free stuff for your baby before you go and buy new items. You never know what you might be able to score.