Get on top of your finances this year with these free budget printables!
Is it time to get organized with your budget? Or maybe you've got a good budget in place, but would like some place pretty to track your savings or debt payoff?
I'm so excited to share that I've had a wonderful designer put together a series of beautiful and practical free budget and financial planning printables just for you!
How to Print and Use These Free Budget and Financial Planning Printables
To print any of these, simply click on the image below. The printable will appear in a new tab. From there, right click or locate the "print" button from your browser's toolbar.
Some of these printables you'll want extras of! For instance, if you have more than one savings goal? Print 2 or 3 Savings Trackers!
Pick and choose whichever printables are helpful OR you can print them all and make a financial planning binder and notebook! We've even included a themed cover for you below if this is your end goal.
Prefer digital budgeting? Read all about my favorite digital budgeting system, YNAB (You Need A Budget) and get a FREE 34-day trial HERE!
With that, here are the printables and a little bit about how you might use each of them. Enjoy!
Free Monthly Budget Tracker Printable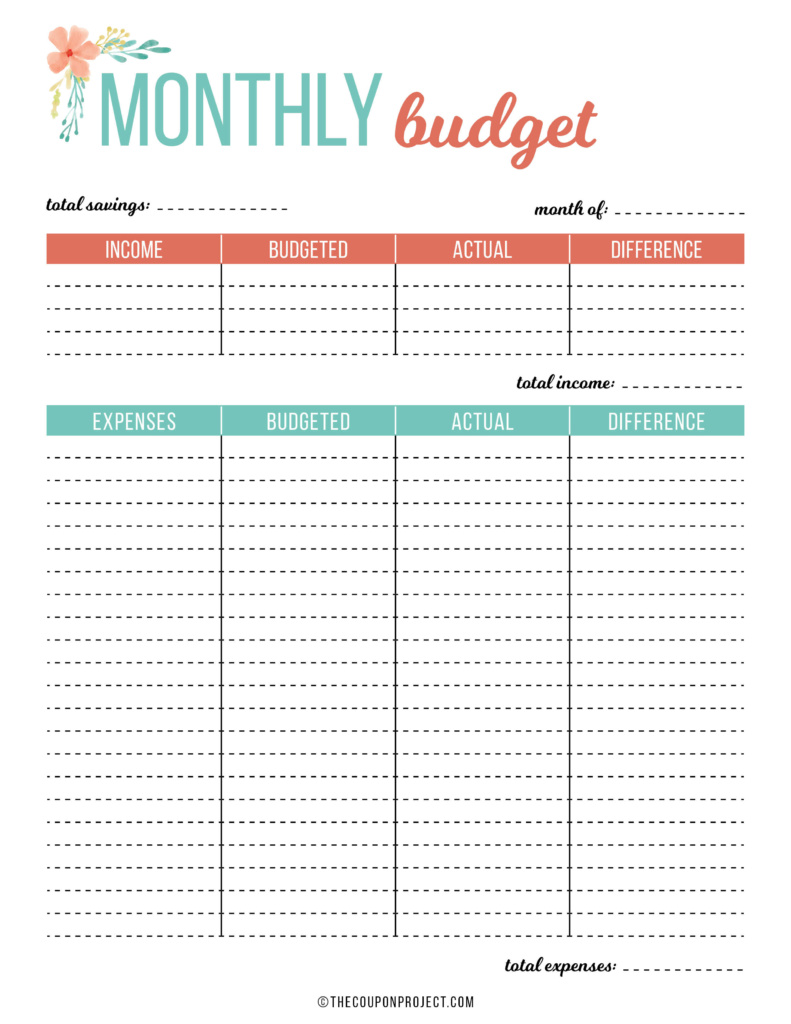 Monthly Budget. Use this sheet to tally up your income and expenses for the month. This printable is a great way to get a quick "snapshot" view of how your spending and planning measured up in a month.
Free Bill Payment Tracker Printable
Bill Payment Tracker. Never forget another bill – for an entire year!
Simply write in the description of the recurring bill ("medical insurance," "mortgage," "car payment"), enter the amount and due date, and fill in the bubble once it's paid! This is an awesome printable to see it all at a glance.
Free Expense Tracker Printable
Expense Tracker. One of the best ways to figure out where all of your money goes is to track it! Write in the description of what expense you took care of, what category it falls under, and the date and amount. Seeing it all on one page can be startling – or inspiring!
Free Savings Tracker Printable
Savings Tracker. This printable will help you track your savings goals. If you have multiple savings accounts or multiple goals, you can print a sheet for each.
Free Debt Payment Tracker Printable
Debt Payment Tracker. Use this sheet to make traction on paying off debt! Each sheet has space for you to track two different loans or debt accounts, but you can certainly print more as needed.
Free Yearly Finances Tracker Printable
Yearly Finances. Use this planner to track your goals for the year. What will motivate you to succeed? Write it down and commit to it!
After each month, you can come back to this printable to note what your income and expenses were. Seeing your finances at a high level like this may illuminate things in a different way.
Free My Finance Planner Cover Printable
My Finance Planner. Print this out and you can slide it inside the front page of a notebook or binder, on top of all your other free financial planning printables!
I hope you're just as excited as I am about these beautiful printables! May they help you become organized and achieve your important financial goals this year.
Like this post? You might also enjoy: