A bank account gives kids the chance to learn real-world money management skills. Combining this with a free debit card lets you teach your child about responsible spending habits.
Free debit cards for kids and teens can be an excellent tool to help your child understand critical financial lessons. They can also teach your child about the importance of avoiding bank fees.
Here's a closer look at the best free debit cards for kids.
Top Free Debit Cards for Kids
Chase First Banking is a free checking account starting at age of 6.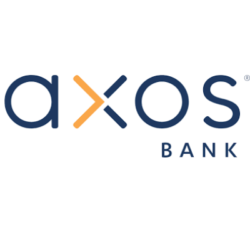 Axos First Checking has a debit card with minimum age of 13.
Copper Teen Banking has a minimum age of 13 and $10 deposit.
Whether you are looking for an interest-earning card, financial literacy tools or a credit-building option, these debit cards for kids offer minors an opportunity to open an account and start practicing money management skills.
In alphabetical order, here are the best no-cost debit cards for kids.
1. Axos First Checking
Axos First Checking has a joint checking account for teens and parents. It's available for teens that meet the age requirements of being 13 to 17 and has no monthly fee.
The main perk of this teen checking account is the interest-earning feature. It's a useful way to encourage your child to save money and watch it grow.
If you are concerned about your child overspending, the daily transaction limits of $500 for debit purchases and $100 for cash withdrawals will come in handy. Plus, you'll get real-time updates on all your child's debit card activities.
The extensive parental controls and security options that come with this checking account will even help keep your child's funds safe while they learn money management skills.
Although there are limited features, this free debit card for kids provides a solution to educate them about important financial lessons. Without extra bells and whistles, kids can focus on understanding the basics of money management.
Learn more: Axos Bank Review
Pros
Earns interest
Small daily usage limits
Cons
Minimum age of 13
Limited features
2. Capital One Money
Capital One Money provides a joint checking account for kids and parents that has no monthly fee. Kids that meet the age requirements of being between eight and 17 can open this account. Plus, the account offers debit cards and a mobile app.
Better yet, parents don't need to be existing Capital One customers to sign up. This makes it easy to get this card for your kid.
As a parent, you can:
Track account activity
Lock your child's debit card
Within the mobile app, teens can set savings goals and monitor their financial health.
A key feature is that the balance within the teen's account will earn interest. This is a great way to encourage building savings within their account since they are at the perfect age to start learning methods of putting their money to work for them.
Ultimately, these straightforward tools offer teens the chance to learn essential money management skills.
Pros
Earn interest
Available for ages 8 to 17
Cons
Relatively low interest rate
3. Chase First Banking
Chase First Banking offers a kids debit card for children ages six to 17. However, one of their parents must hold a qualifying Chase checking account to get this Visa debit card.
Similar to prepaid debit cards, parents can transfer funds into their child's account with one-time or recurring transfer options. You'll have the option to set limits on how much your child can spend and where.
If your child needs more money, they can send a request for you to approve. Plus, parents can take advantage of account alerts to monitor their child's spending.
There is no ATM fee when you use this card at a Chase ATM, making it one of the best debit cards for avoiding fees.
Within the Chase app that is available in both Google Play and Apple App store, teens can set up savings goals and complete chores to earn money. This helps them learn the value of earning money and working towards their financial goals.
Chase disclaimer: Opinions expressed here are author's alone, not those of any bank, credit card issuer, airlines or hotel chain.
Learn more: Chase First Banking Review
Pros
Fee-free Chase ATMs
Set spending limits easily
Establish savings goals
Cons
Connects to one parent account
No direct deposits
4. Copper Teen Banking
Copper is specifically designed for teens between the ages of 13 to 18 and has no monthly fee.
Teens can accept funds into their accounts through an automated allowance or their direct deposit from work. The account also ties to Google Pay, Apple Pay, Venmo and CashApp for seamless money movement.
As a parent, you can monitor your child's debit card transactions in real time and set up chores for completion.
Copper even offers extensive in-app literacy information to help your child learn more about money. Plus, your teen can earn $3 for each friend who opens an account using their referral link.
Keep in mind that there is a $10 minimum opening requirement for this account.
Learn more: Copper Banking Review
Pros
Literacy tools
Referral program
Payment options
Cons
App online
No phone customer service
5. Current
Current offers free banking to teens 13 years of age and older. As a parent, you can transfer funds directly into your child's account and set limits on their spending. This is similar to prepaid debit cards.
You can even get debit cards for your kids with no monthly fee.
Within the app that is available in either app store, you can:
Block merchants
Set custom spending limits
Receive alerts when your teen makes debit card purchases
Current also allows parents to assign chores and automate allowance payments. Plus, multiple family members have the ability to add funds to the card.
There is no ATM fee at over 40,000 ATMs, making this one of the best debit cards for avoiding fees.
If your teen is driving, the worry-free instant gas hold removals will help when it comes to budgeting for gas when they use their Visa debit card.
This account also offers savings features. This is one of the best debit cards that provides automatic round-up saving options and savings pods to work towards financial goals.
Learn more: Current Review
Pros
No ATM fee at 40,000+ ATMs
Instant gas hold removals
Round up savings
Cons
Lacks physical branches
No joint accounts
6. Jassby
Jassby is a virtual debit card for kids that has no monthly fee and a strong focus on financial education.
Within the app, you can set up real earning opportunities for your children. For example, you can assign household chores with predetermined financial incentives attached. As your child completes tasks, they'll earn money.
Plus, they can propose their own opportunities. This allows the connection between work and financial rewards to be established at a young age.
Children can set up savings goals on their own. Additionally, they'll have the ability to spend and give their funds.
The digital debit card can connect with Apple Pay, Google Pay and Samsung Pay for easy spending.
When kids make smart money decisions, they can earn Jassby rewards. These can be redeemed for real cash, providing more incentives to make good financial choices.
Additionally, there is an extensive learning component within the app that can help kids build a solid foundation of financial knowledge.
Pros
Rewards program
Monitor spending
Cons
No physical card
Doesn't allow cash deposits
7. Mazoola
Mazoola offers a mobile wallet for kids that comes with a virtual debit card.
Within the Mazoola app, there are a variety of parental controls that help it function like a prepaid debit card for your child.
Parents can:
Create chores
Authorize retailers
Set spending limits
Suggest a budget
Monitor their child's spending in real-time
On the child's side of the app, kids have the power to make purchases without the need for a physical debit card.
Kids can:
Set savings goals
Build a budget
Earn allowance through chore completion
Mazoola takes your child's privacy seriously. The app is Children's Online Privacy Protection Act (COPPA) compliant, which means your child's information is extremely secure.
With the help of Mazoola, kids can learn how to build a budget that works for their goals at an early age.
The exceptional privacy considerations and parental controls are a major perk for many parents. However, the lack of a physical card can make teaching money lessons a bit more complicated.
Pros
COPPA compliant
Budgeting tools
Cons
No physical card
Doesn't have ATM access
8. Nationwide First Checking
Nationwide Bank's First Checking account is available for kids ages 13 to 17. It's a joint account with one parent or legal guardian.
With this bank account, kids can earn interest on their funds. This provides them with a great incentive to build savings.
However, there is a minimum account balance of $50 to get started.
If you are worried about kids overspending with this debit card, there are built-in limits to prevent that. Specifically, it comes with a daily transaction limit of $500 for debit purchases and $100 for cash withdrawals.
This means that you won't have to deal with overdraft fees if you choose this card for your kid.
The account comes with plenty of mobile banking tools, including:
Online bill pay
Free mobile deposits
A switch kit
Unfortunately, there aren't any built-in financial education resources. As a result, you'll need to provide your child with other resources as they learn about personal finance and responsible money management.
Luckily, that doesn't have to be a dealbreaker since there are countless financial literacy resources out there. Plus, you can offer your own money insights to your children.
Pros
Earns interest
No overdraft fees
Cons
$50 minimum deposit
No financial literacy resources
9. Till
Till is a free financial literacy app that comes with a debit card. The platform has the stated goal of building smarter spenders.
Kids of any age can use the banking app and get a debit card, but the 'Family Owner' must be at least 18 years old.
Within the app, Till teaches kids how to manage their funds in real-life situations. It provides spending insights to help kids learn what money moves make the most sense for their financial goals.
Kids can set savings goals and learn to make tradeoffs between spending and savings. They can build up their savings by completing chores or accepting direct deposits from a part-time job.
The direct deposit is an excellent feature for working kids.
With these built-in training wheels, kids can learn to make more confident money decisions as adults.
The biggest downside is that Till is only available for iOS users. This means that kids will need a compatible phone or tablet to manage their Till account.
Pros
Savings goals
Spending insights
Cons
No cash deposit option
Only available on iOS
10. Step
Step is an online banking option for kids ages six to 18. Parents must sponsor their children's accounts, making it slightly similar to a prepaid debit card. There is no monthly fee.
What sets Step apart from other options is the ability to build credit. Each month Step reports your payment activity to the credit bureaus. This feature allows your child to start building credit at a very young age.
Length of credit history is a factor in determining your credit score. This means that the earlier your child starts building credit, the more positively it can impact their overall credit health.
The fact that this kids debit card allows them to build credit is a huge benefit since a good credit score is essential later on in life.
Fortunately, there's no way to overdraw the account. This means that teens won't be able to get themselves into debt while building credit.
Teens can accept funds into their account in a few ways, including:
Transfers from parents
Direct deposits
Cash deposits at around 70,000 retail stores
The flexible options, direct deposit capability, ample controls and credit-building capabilities make this a great option for teens.
Learn more: Step Card Review
Pros
Build credit history
Set savings goals
Cash deposits allowed
Cons
Doesn't have rewards
No interest
11. Firstcard
Firstcard is a Mastercard debit card for college students. Cardholders earn up to 15% cash back on select purchases made with the Mastercard debit card at its 27,000+ partner retailers.
Firstcard makes it easy for college students to earn cashback. They know that students are busy and don't have time to find promo codes or activate offers. That's why Firstcard automatically credits a student's account with the earned cashback for every eligible purchase.
Firstcard doesn't have a minimum balance, and students can easily manage their accounts online or via text messages.
Pros
It makes banking simpler for college students
Helps college students save just by covering their everyday expenses
Cons
Students must be 18 years old or older to apply
Firstcard is a financial technology company, not a bank. Banking services provided by Lewis & Clark Bank, Member FDIC. The Firstcard debit card is issued by Lewis & Clark Bank, pursuant to a license from Mastercard. Cash back at select merchants.
FAQs
If you aren't sure whether or not a debit card for kids is right for your child, these frequently asked questions might be able to help.
Are debit cards for kids safe?
Yes. A debit card is generally considered safer than cash because you can cancel a lost card. More specifically, free debit cards for kids often include parental controls that make them safer.

Plus, the child can only spend the funds available in the account. Without access to a high spending limit associated with a credit card, there's no danger of your child racking up debt. 
How do I choose the right kids debit card?
The right debit card for your child varies based on your goals. A few things to look for include parental control limits, built-in safeguards for children and unique features.

Additionally, check out the age limits before signing your child up for any debit card for kids.
Why should my child have a debit card?
Free debit cards for kids lets your child start building good financial habits at a young age. The reality of using a debit card has real consequences on their bank balance. 

Although you could teach your child similar lessons with cash, our modern world often relies on online banking skills. Access to a free debit card allows your child to learn the basics early. 
Is it better to use a debit card that comes with monthly fees?
It depends. Cards that come with monthly fees, like the BusyKid Visa Prepaid Spend card, do offer more features that can help your kids learn more about personal finance.

However, you'll have to decide if these features are worth the monthly fees that they come with or if free debit cards for kids would be better.
Summary
The best free debit cards for kids and teens are a great option to teach your child money management skills. Using a debit card responsibly is an important lesson for kids to learn.
As a parent, these cards give you the chance to help your child make wise purchasing decisions by ensuring they don't overspend. Ultimately, they provide a safe way to teach your child basic financial skills that will help them succeed later on in life.