DoorDash is a food delivery app that is becoming more and more popular every day. Would you like to know how to get free food on DoorDash?
Then keep reading to find our tried and true tips about how to get DoorDash to give you a food delivery for free.
4 Ways to Get Free Food on DoorDash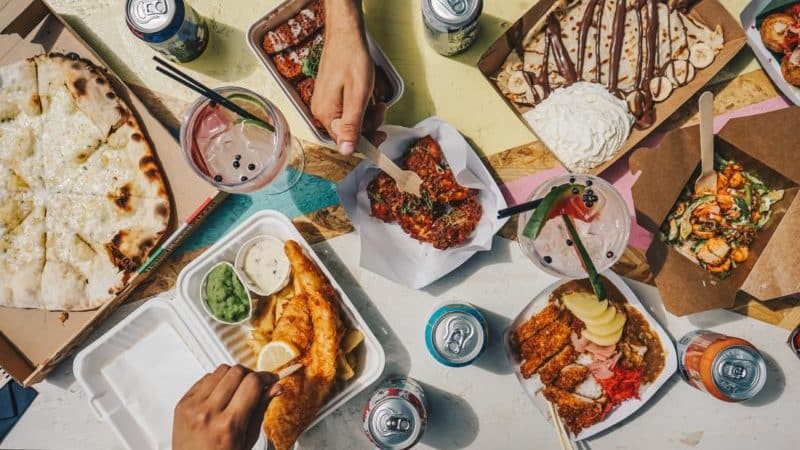 The following ways to get free food on DoorDash really do work. Check these ideas out and see which ones are best for you.
Bonus: After we share how to get free food on DoorDash we'll share other ideas for getting free food elsewhere.
1. Use DoorDash's Referral Program
One easy way to get free food on DoorDash is to utilize DoorDash's referral program. You start by finding your personal referral code on your DoorDash account after you sign up.
Then give that referral code out to family and friends (or share it on social media) and ask people to sign up using your referral code.
Your referral will have to complete the following tasks in order for you to get credit:
Create their first-ever DoorDash account
Sign up using your personalized referral code
Place an order minimum as instructed
Once they've completed the above steps, you'll get DoorDash credits from that referral. You will get a confirmation once your referred person has completed the signup requirements.
Your DoorDash credits will be applied to your account within 24 hours and will automatically be applied to your next DoorDash order.
The referral credit bonus applies to the first 25 customers that you refer that successfully place a qualifying order using your personal referral code.
Finding 25 people that will sign up using your personal referral code should be fairly easy. Just share how much you love DoorDash with everyone you know.
And don't hesitate to tell them that you have some referral goals and need 25 people to sign up. People generally like helping friends and family out when they can.
Bonus: If you want to refer and get credit for more than 25 people, contact DoorDash's affiliate program team at affiliates@doordash.com to get an affiliate link.
If you have a large social media following this could be a great way for you to earn a little extra cash each month.
See DoorDash's Terms and Conditions page for more information on the DoorDash referral program.
2. Take Advantage of Email Marketing Campaigns
DoorDash has an option when you sign up (or in your profile after you sign up) to opt-in for email marketing campaigns.
While I realize that you're probably getting more than enough emails, it's important to know that DoorDash's emails can get you free food.
DoorDash's marketing emails give you the potential to get free food in a couple of ways.
First, certain restaurants in your area might have promotions going at any given time. For instance, a restaurant might have a promotion for a free appetizer.
Or they might offer up a buy one, get one free deal. Maybe a restaurant will have a deal for a free order of a new menu item.
Keep an eye out for random freebie deals once you opt-in to the email marketing campaign and take advantage of the deals that fit your taste buds.
Also, if you're a foodie like I am, you probably know that the U.S. is famous for having special "food holidays" throughout the year.
Some examples of these holidays include "National":
Donut Day
Ice Cream Day
Hamburger Day
Spaghetti Day
Pizza Day
And more. When a food holiday is approaching, DoorDash and its restaurant partners work together to share coupons for free food that correlate with the upcoming national holiday.
For instance, National Ice Cream Day might be preceded by coupons for free ice cream. National Pizza Day might have free pizza coupons showing up in your email inbox.
Sign up to opt-in for the email marketing campaigns and take advantage of some of the free food offers that come your way.
Related: 51 Fast Food Apps To Get Free Food
3. Get Free DoorDash Gift Cards
Another way to get free food on DoorDash is to get free DoorDash gift cards. Luckily, there are many ways you can get free DoorDash gift cards.
Several companies give away free gift cards to DoorDash and other companies when you sign up for an account and complete microtasks on their site.
For example, Swagbucks gives you points (called SB) for doing tasks such as:
Taking surveys
Watching videos
Searching the net
Playing games
Shopping online
And more. Once you've accumulated enough points you can go to the Swagbucks rewards store and use your points to get free gift cards for DoorDash.
And if you ever get tired of DoorDash food don't worry: You can get gift cards for hundreds of other retailers and restaurants including Walmart, Target, Amazon, Domino's Pizza, and more.
There are dozens of other easy ways to get free gift cards for completing tasks as well. As an example, you can take surveys on Survey Junkie.
Survey Junkie is one of the highest-rated survey sites around and has been in business for over 20 years.
PrizeRebel is another site that will give you free DoorDash gift cards. Simply take surveys on the site and earn points that can be used to get free gift cards from a variety of retailers.
If you know all of the sites that give away free gift cards you could have an endless supply of free gift cards that will feed your DoorDash needs.
Note that with this method, some free gift cards are digital and some are physical. So you may have to wait for your free gift card to arrive via U.S. mail.
4. Get a New Customer Sign-Up Bonus
A fourth way to get free DoorDash food is to sign up as a new customer. If you haven't yet created a DoorDash account, go ahead and sign up using a specified DoorDash link that includes a signup bonus.
When you sign up for a new account using the specified link, you are eligible for the stated bonus which can sometimes be as high as $20 or $30 per new customer.
That bonus can equal a lot of free food depending on which restaurants you frequent. And when you combine it with the other ideas mentioned here you can get free food on DoorDash for an endless amount of time!
Note: There isn't a signup bonus offer currently available (that we could find), but you can get a $0 Delivery Fee on your first order!
Well, that covers all of the legit ways to get free food on DoorDash. Next, let's talk about other ways you can get free food.
With rising food prices and other inflation factors, it's helpful to know how to get free stuff!
Other Ways to Get Free Food
Here are a few tips you can use to get free food, whether you want to get free food because you have a need or if you're simply wanting to save a little more money.
Check With Community Agencies/Nonprofits
Most communities have at least one food shelf, while larger communities sometimes have several food shelves.
And before you stop yourself thinking you won't qualify, think again. While there are some food shelves that give away only to lower-income individuals and households, there are also many that have no income requirements.
One of the easiest ways to find food shelves in your area is to visit Findhelp.org. Findhelp is a non-profit website that shares links to many types of assistance, from food shelf locating to financial assistance.
When I visited Findhelp and typed in my zip code, I found several links to various food-providing organizations from local food shelves to food pantries to pop-up grocery store locations.
Pop-up grocery stores such as Fare For All in Minnesota provide food at highly discounted prices. As an example, Fare For All sells fresh produce and frozen meat at up to 40% of retail prices.
They bundle the food into packs ranging in price from $10 to $30. Similar pop-up grocery stores exist around the country.
And if you have a heart for what organizations such as Fare For All and local food shelves do, you can always volunteer to help at their facilities and give a little back in exchange for your free and discounted food.
Sign Up For Restaurant Rewards Programs
Another way to get free food is to sign up for rewards programs at restaurants you like. Most chain restaurants have loyalty programs designed to reward you with free food.
For instance, IHOP has a rewards program where you can earn one PanCoin for every $5 you spend at an IHOP location.
After you've earned three PanCoins, you can turn them in and get a free short stack of three pancakes.
Applebee's Bar and Grill gives away a free appetizer when you sign up for the restaurant's email list.
And you'll get information on promos, deals, and freebies when you're on their email list. My recommendation would be to sign up for the rewards programs for all of your favorite restaurants.
That way you'll be the first to know when your favorite eatery is giving away free food.
Work at a Restaurant
One of my favorite ways to get free food is to work at a local restaurant. I learned this trick when I was just 15 years old and I haven't looked back.
My very first job was at a local fast-food chain restaurant. One of the perks of working at the restaurant was that I got a free meal for every shift I worked.
When I "moved up" to working for a local ice cream parlor the rewards moved up as well. Employees could get their free meal for each shift and a free ice cream treat of their choice.
These types of perks still exist in the restaurant world. From free meals for completed shifts to random freebies at locally-owned restaurants, free food abounds if you're willing to do the work to find out where.
Check out job openings at local restaurants and bars near you to take advantage of free food for employees, and make some extra money in the process.
Work at a Grocery Store
Another way you could get your hands on some free food is to work at a local grocery store. Grocery stores, including chains like Walmart and Target, offer employee discounts to workers.
And while you may not consider a discount free food, in essence, it really is. If you're paying $22.50 for $25 in groceries because you used your grocery store employee discount you've just scored yourself $2.50 in free food.
And the more you spend, the more you save. In addition, groceries are a necessity. Most people spend hundreds of dollars per month at the grocery store.
When you get a 10% or 15% discount on your food as a grocery store employee, that can really add up to a lot of free food.
Think of it: If you're spending $500 a month on groceries at a store where you get a 15% discount as an employee, that equates to $75 per month in free food.
Check with grocery stores near you for openings and ask about any employee discounts on purchases.
Summary
As you can see, we've provided four legit ways how to get free food on DoorDash. However, as we've shown here, there are also many other avenues for getting free food.
Along with using the ideas mentioned above for getting free food on DoorDash, you can work at a restaurant or at a grocery store and get free food via your employee discount.
And you can always take advantage of local food shelves and similar pantry types and discount grocery organizations to get free food any day of the week.
Whether you're getting highly discounted food or altogether free food you're still saving yourself and/or your family loads of money.
Find the right "free food" avenues for you and for your family and use them heartily. Doing so will help you save money on food and increase your ability to save money for emergencies and for your individual financial goals.
Use the DoorDash tips, work at a restaurant or take advantage of rewards programs to get free restaurant food when you can. Use the other tips to get other types of free food.