With unlimited minutes and free long distance phone plans, most cell phone plans today don't charge extra for domestic phone calls. That's not usually true when you need to call somebody in a foreign country.
Thankfully, there are ways to make free international calls to nearly any country in the world to connect with family, friends, and business clients.
Our world gets smaller and smaller every single day. A few years ago, it was a novelty to call somebody in a foreign country. Thanks to technology, it's almost commonplace for certain businesses and for families that have relatives in another country.
If you have ever traveled overseas, maybe you can benefit from one of these apps too. With free wifi hotspots, you can send text messages or surf the web for free. Now, you can make a phone call too without paying exorbitant fees, assuming your phone even works outside the U.S.
Our Top Picks To Make Free International Calls
| | |
| --- | --- |
| COMPANY | KEY FEATURES |
| Skype | Available for Android and iPhone |
| What's App | Send documents up to 100 MB |
| Face Time | Best option for iPhone users |
How to Make Free International Calls
Free international calls are possible because of Voice Over Internet Protocol (VOIP) technology. If you listen to a podcast where the host is interviewing a guest from overseas, they are most likely communicating via VOIP.
Teaching English online to international students also uses VOIP technology. Although we might primarily use the Internet for email, streaming our favorite tv shows, and maybe even an online side hustle, international calls are another modern marvel.
Many of these apps work with your smartphone or computer, so it's possible to make audio-only and video calls for free from any internet-connected device.
1. Skype
Skype is a free app for Android, Apple, and Windows devices. If you need to send text messages or call a cell phone or landline, you will have to pay a monthly fee. So in a nutshell, Skype to Skype international calls are free, but Skype to traditional phones cost money.
2. WhatsApp
Another commonly used app is the Facebook-owned WhatsApp. You can make voice or video calls plus send SMS messages to anybody else with the app.
WhatsApp also lets you send documents up to 100 MB in size which can make this a perfect app for business too. In fact, there even is a WhatsApp for Business platform that helps businesses easily connect with their customers.
3. FaceTime
If you're connecting to another Apple user, you can use the built-in FaceTime app. You will need a wifi connection to make the call, but audio and video calls are free. FaceTime only works between two Apple devices and is incompatible with all non-Apple devices.
4. Viber
Viber is one of the most popular apps for free international calls. You only have to choose the person from your Viber contact list and click "Free Call." Or, you can also open the Viber app and choose the person you want to call or chat with for free too.
5. Rebtel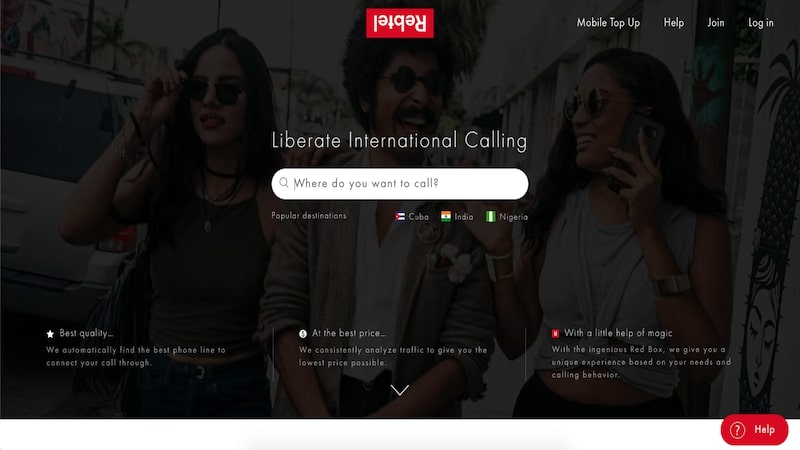 What makes Rebtel cool is that you can make free international calls to over 53 countries without a data or wifi connection. Rebtel uses local numbers to complete the call to other Rebtel users.
If the person you're calling doesn't live in one of these supported countries, you will both need to connect to wifi or a minimum 3G data connection.
6. IMO
Many VOIP apps require a 3G cellular connection or using a wifi network. IMO supports international calls where only a 2G connection is available. Even though you might have 4G LTE everywhere you go, other countries are thankful just to have the internet.
If security is a primary concern, IMO voice and video calls are encrypted. The app even supports encrypted calls up for up to six participants. How's that for a party line?
7. PopTox
We know that it's possible to make free international calls when you call another app user. PopTox makes it possible to call a regular cell phone or landline for free! The call recipient doesn't need the PopTox app for you to make the free phone call.
You can call from your computer or the mobile PopTox app and only need an internet connection. Although PopTox offers free phone calls, there is a limit to how many calls you can make each day. For unlimited calls, you can pay by the minute after reaching your daily limit.
8. LINE
LINE lets you make free international calls up to five minutes to almost any phone number in the world. The call recipient isn't required to have the LINE app. Your free phone call can be up to five minutes long after watching a brief advertisement.
Besides supporting international phone calls, the LINE app also lets you share text messages, photos, videos, and stickers with your friends inside the app. If you're looking for an app that doubles as a social media platform, LINE is an excellent option.
You can also use LINE to read the news and get special coupons too.
9. Vonage Mobile
Vonage was a pioneer of the original VOIP movement and they still offer international calling for residential and business landlines. Vonage Mobile is their free app that lets you make voice and video calls to other Vonage Mobile users.
It's also possible to share video messages for free too when you don't want to make a phone call.
This app is available for Android and Apple phones and tablets with a 3G+ or wifi internet connection.
10. Tango
You don't need to know how to dance to use Tango, but it can make the app more fun. In addition to voice and video calling, you can play games with others or wear a digital mask.
Tango supports free international calls in the following countries:
United States
Canada
Mexico
India
You can all other international destinations for a nominal fee which can still be cheaper than your current cell phone provider.
11. VoipBuster
VoipBuster offers free pc-to-pc calls and mobile international app calls. This app doesn't support video calls or text messages and is for basic communication only. For voice only calls, VoipBuster can be a good option.
12. VoipStunt
The same company which owns VoipBuster also owns VoipStunt, but these two apps serve different countries. If one app doesn't offer free calls to your country of choice, see if the other apps does.
VoipStunt lets you make free in-app phone calls on your phone or computer to other VoipStunt users. These online calls can be an unlimited length which is also very beneficial.
This app doesn't support text messaging or video messages, so that is one negative quality if you need a more extensive app.
13. Voxofon
While you were still thinking you would never buy a smartphone, Voxofon was one of the first apps to offer free international calls in 2008. Now that smartphones are commonplace, it speaks volumes that Voxofon is still around and relevant today! Plus, they are still providing free calls.
The Voxofon app works on any mobile or computer devices and calls between app users are free. You can also send text messages, pictures, and video for free too. Voxofon also provides the option to call international cell phones and landlines too.
14. WeChat
Need to make a phone call to China? You might consider WeChat which is one of China's most popular apps and doubles as a social media platform.
To put the popularity of WeChat into perspective, Facebook is the most popular social media network in most of the world. However, WeChat is arguably more popular in China.
WeChat offers free international calls and group video calls. It can be downloaded to your Android, Apple, or computer devices.
15. Google Voice
Google Voice is the most limited app on this list as you can only make free phone calls between the U.S. and Canada. If you're okay with this, you might like this app because it's powered by Google.
You can even get a free phone number so you don't have to share your current cell phone number either.
16. Phone.com
When you need a beefier connection for international business calls, consider Phone.com.
This is a paid service, but you enjoy the following perks:
Complimentary 1-800 number
Voice to email
Fax to email
Call routing
Auto attendant
Hold music
HD conferencing
SMS/Text Messaging
You won't get many of these options with a free international calls app. The small investment can be worth it if you're serious about building relationships with international customers.
FAQs
How do VOIP apps make free international calls?
Most apps only allow free international calls when you call another person in the app. If you have ever FaceTimed or Skyped anybody, you are already familiar with this principle.
You communicate over the internet instead of regular telephone lines which cost more to maintain and VOIP apps pass on the savings to you!
To offer free calls, many apps need to show advertisements and rely on premium subscribers to subsidize the cost of free phone calls.
Some apps don't show any advertisements–like WhatsApp–but this is usually because they are owned by a large company like Facebook with deep financial pockets.
What is the best app for free international calls?
There are many apps, but the best app mostly depends on what country you are trying to call and which video features you need. Some countries block certain apps so you have to find an authorized app to complete the phone call.
Once you find an app that works, your next step is deciding what features you need. Do you only need to make voice phone calls with one person or do you also need video, conference call, and text message capability too?
As apps continue to improve their performance, these additional features are becoming more commonplace.
Do you need an internet connection to make free international calls?
Yes. Most apps require a minimum 3G cellular data connection or connecting to a wifi hotspot. As internet availability and bandwidth speeds in other portions of the world increase, this barrier is gradually being removed.
It's easier and more affordable to make an international call than ever before.
The one exception is the Rebtel app when you're calling a supported country that they can dial a local number in. But if the person you're trying to call doesn't live in one of the 53 countries, you will both need an internet connection.
Do free international calls support video calls?
Most of the apps mentioned here let you use video chat too for free. You will both need to use the app and have an adequate internet speed to support video. If you have a poor connection, you might only be able to make a voice only call.
Do cell phone plans offer free international calls?
Your cell phone plan might offer free international calls. You usually have to pay more money for these plans, but it can be more cost-effective than paying by the minute without a plan.
And, if none of the free apps mentioned here work for you, this can be a decent alternative too.
Do I need a special phone to make international calls?
Your current smartphone can make free international calls. It only needs to have a compatible operating system to download and launch the app. If you're calling from a business phone and need advanced features, you may need to buy a VOIP phone.
You can find VOIP phones at Phone.com that will let you conduct business with everything you need from a business phone.
Can I call any international phone number for free?
Some apps let you call any international cell phone or landline for free. You may only have a few free minutes before you need to start paying for the call. If you need to talk for more than five minutes, try to make an app-to-app call whenever possible so the call remains free.
Can I make free international calls from a computer?
Many apps let you make free international calls from your computer or to a computer. All that matters is that you both talk to each other with the internet-powered app. One of you can talk on a smartphone and the other on a computer and your call will be still free.
Related: 12 Best Fax Services Near Me to Fax For Less
Summary
There are many apps that offer free international calls with app-to-app voice and video communication. All you need is a reliable internet connection and you may never have to pay for international phone calls ever again!
This is a handy tip to remember when you travel abroad or simply need to talk to clients from your own home office.