Are you interested in getting free internet?
If you're unhappy with the cost of your monthly internet bill, you may want to try some of these ways to get free internet.
By taking advantage of options you might be able to save hundreds of dollars each year.
How to Get Free Internet
Check out these options to get internet for free. You might be surprised to find more than one option that might help you save money on internet costs.
1. Xfinity Residential
Xfinity Residential now has an Affordable Connectivity Program (ACP). Qualifying customers can receive a credit of up to $30/month for their internet and mobile services, or they can potentially qualify for Free Xfinity Internet.
Enjoy speeds up to 100 Mbps for only $29.95/month or see if you qualify for free.
You're eligible to participate if you (or someone in your household) meet one of the following requirements:
Your entire household income is at or below twice the federal poverty level (for example, $55,500/year for a family of four, $27,180/year for an individual).
You participate in certain federal assistance programs such as Lifeline, SNAP/EBT, Medicaid, or free and reduced-price school lunch.
Check the ACP to see a full list and to see if you qualify.
Note: You may have to show proof of income, like a tax return or three consecutive pay stubs, when you apply for ACP.
2. FreedomPop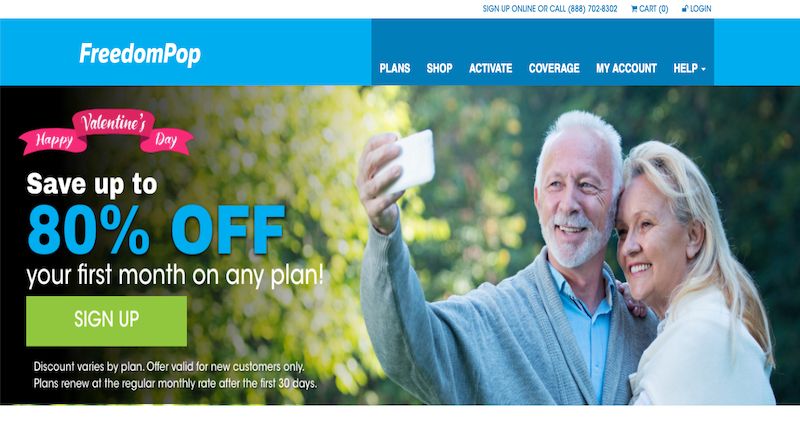 FreedomPop carries one of the most generous plans to access the Internet for free. They send you a small wireless router access point. You carry the device with you and turn it on when you need Internet access.
The device is super convenient and works wherever you are, letting you browse as long as you want.
They ask for a deposit on the device, but as long as you return the device within a year you get a full refund. If you decide to keep using FreedomPop you keep the device and they keep the deposit as payment for the device.
FreedomPop allows you 500MB of FREE data each month with their free plan. This should cover the needs of most light users, however, if you need more data you may want to switch to one of their other plans.
For example, they have a 2GB plan as low as $9.99 per month if you prepay 12 months. Even though the other options at FreedomPop aren't free, they may cost you less money than your current Internet service plan does.
3. NetZero
NetZero is one of the oldest Internet providers available. It works differently than FreedomPop. With NetZero you access the Internet via CD installation or downloaded software instead of using a mobile router.
NetZero limits its free Internet access to 10 hours a month, so this option will work best for light users as well. NetZero has a "no obligation" policy, which means you don't have to sign a contract to use their services.
They do feature other monthly plans that carry a monthly fee if you're interested in more available Internet access.
NetZero also has mobile data plans that are super affordable. If you want to have Internet access on your phone but don't want to pay a lot, here are some of their options.
200 MB of data per month: totally free
500 MB of data per month: $17.95 per month
1 GB of data per month: $27.45 per month
2 GB of data per month: $45.95
The free option could be great if you use little to no data on your phone. You'd have data for emergencies or rare access need, and get it for free.
4. Juno
Juno is another carrier that offers free Internet as well as a variety of paid Internet access plans. Their free plan is limited to ten hours per month and is good for light users. Juno also offers the no obligation, no contract policy.
5. National Chain Stores
Another way to get free Internet access is to take advantage of nearby national chain stores and businesses that offer free Wifi. Many national chain stores and restaurants offer free Internet access for customers.
Most popular nationwide chains that offer free Wifi:
McDonald's
Panera Bread
Starbucks
Whole Foods
Marriot Hotels
Dunkin' Donuts
Buffalo Wild Wings
Office Depot
Target
Barnes and Noble
Best Buy
Apple Stores
Note that you might be tempted to spend money if you're using free Internet provided by stores and businesses. For that reason, you may want to be careful to plan ahead regarding your shopping.
Commit to not doing any unplanned shopping while you're taking advantage of the free Wifi available at stores and other locations.
Other places where you might find free Internet access in your area might include airports and other local non-chain businesses. Most non-national businesses have a sign posted if they offer free Wifi.
Since you're likely visiting at least one of these national storefs or businesses on a semi-regular basis, it might be helpful to take advantage of their free Internet access.
6. Wifi Free Spot
To help you track down local and national businesses in your area that offer free Wifi Internet access, you can check out a website called Wifi Free Spot.
This site has a directory that can be accessed by clicking on the state or country you're in and will show you all of the free Wifi places in that state or country.
The great thing about the Wifi Free Spot website is that it can be really useful if you're traveling and want to find free Internet access in the area you're traveling in.
7. Your Local Library
Most local libraries have computers that allow you to access the Internet for free. All you have to do is become a library member, and for public libraries that's free as well.
Granted, you will have to be at the library to get Internet access, but the library has added benefits. It's super quiet and you'll have very few interruptions. You may not always have that quiet of an environment at home.
As a bonus, you can borrow free books, magazines and DVDs to bring home while you're there.
8. Everyone On (Connect2Compete)
Everyone On is a non-profit organization that is dedicated to helping low-income families get Internet access for free or cheap. When you go onto the site you can hit the red "find offers" button at the top of the site.
Bonus: If you qualify for this program you may be able to get super cheap devices as well. Qualifying individuals and families can often get cheap laptops or other devices.
Note: You do have to qualify with certain low-income standards or be eligible for certain public assistance programs to qualify for this deal.
9. Check With Local ISPs
Although they don't like to advertise this fact, many local ISPs do provide ways to get free Internet service. They may have offers for free Internet service for a certain time period with bundle packages.
Or, they might offer free Internet service if you bundle and use dial-up instead of faster ways to connect. Check with your current ISP for deals. Then, check with competing Internet Service Providers.
You never know what kind of offers they might throw your way to get you to switch over from a competing company.
10. ISP in Area
If you're looking for other options to get free Internet access, check out the ISP In Area. This is a search engine site that will help you search by state or zip code to find free Internet in your specific area.
It's totally free to use and can be a great catch-all site for finding free Internet whether you're at home or on the road.
FAQs
Summary
If you are interested in saving money on your Internet bill, one of the ways mentioned above might be right for you. Every dollar saved means more money toward your financial goals.
And if these free Internet options don't work for you, at least try and find a more affordable plan. One of the best ways you can find more money in your budget is to do a Challenge Everything budget.
This is where you go through each item in your budget and try to reduce or eliminate it. For instance, shop around to find lower rates on Internet service and car insurance. Or, drop your gym membership and work out at home.
Similarly, you choose to eat at home instead of at restaurants. Or, you forego expensive salon trips for DIY hair and nails. Making these spending adjustments might be challenging at first.
However, you just might find you like not spending money better than giving it away for things you can do cheaper. Try it for a few months and see.
By minimizing your Internet costs and other expenses, you free up money for financial goals. Wouldn't you rather pay less for Internet and pay off your mortgage early? Or pay less for car insurance and save more for retirement?
If you can swing it, cheap or free Internet access may work just find for your needs. Combined with other lowered expenses, cheaper (or free) Internet access just might help you achieve your financial goals faster than you think.