Did you know that there are several legit free movies websites out there?
Obviously, there are a ton of sites like Netflix, but many of them require a subscription and those monthly fees can add up. Luckily, there are a ton of legit websites that allow you watch movies for free.
We have done a lot of research and below we will go through only legitimate free movie websites.
Some of these option may have ads or a limited selection, but you will be able to watch movies 100% for free.
Top Sites To Watch Free Movies
With all the technology and apps that are around, it's never been easier to find great movies that you can stream or download instantly.
Plus, with all of these free movie websites there is a massive selection of movies. Whether it's an older film or a new release, there is an option for everything.
1. Pluto TV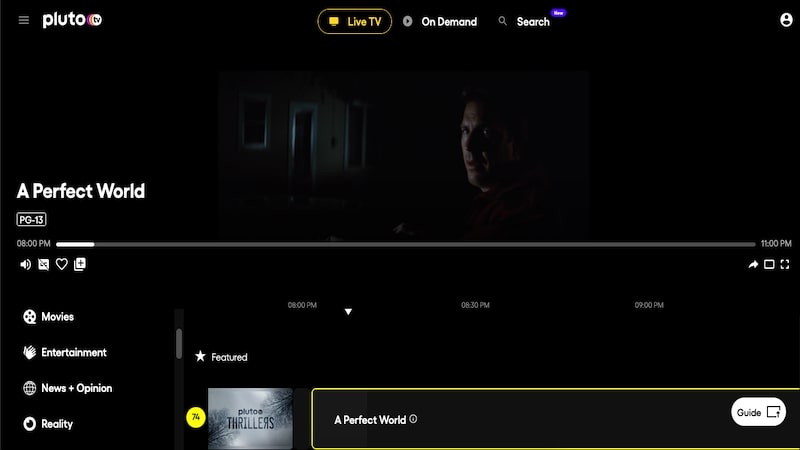 Pluto TV is one of the many free movies websites that can help you cut the cord and watch awesome shows and movies.
It offers 75 different channels for movies, live TV and internet videos.
If you just want to watch TV you can do it without creating an account. If you want to watch movies you have to register, but the service is still 100% free.
Free does come with a price in the form of commercials. To watch free movies check the different channels and see what is available with commercials.
Pluto TV also has options if you want more specialized channels. While these do cost, it's a great alternative to cable instead of paying extra on unwatched channels.
Advantages to using pluto include how easy it is to use and how it feels the same as a TV channel guide. It also lets you start and stop movies to watch when you want. The site includes on-demand movies, music, TV shows, new and internet videos.
A few disadvantages include the live can't be watched again on-demand. Meaning, you will need to sit and watch it or lose it. Additionally with a few dozen channels to choose from, this may have limited choices. And for those that need subtitles, that is not an option.
On the upside, you can stream Pluto TV on several devices, including your computer, mobile device or TV.
2. Crackle
Crackle is a legitimate free website that is super popular for watching your favorite movie and TV shows. If you've ever used a Roku device you have probably seen the app already.
Crackle contains Sony Pictures TV and movies within the app. You can choose from classics that you watched as a kid or opt for newer ones, as there is a large selection.
Plus, you can watch old and new TV shows.
A few advantages to using Crackle include lots of video player options. they have a huge selection of films with good video quality compared to others that may seem a bit more grainy. Plus their mobile app is easy to use.
A few disadvantages include the large amount of ads displayed.
3. Popcornflix
I've personally used Popcornflix for a while and am a huge fan of the streaming service. What makes it different is that it is sponsored by the largest independent distributor of motion pictures.
It has a huge selection of over 1,500 movies!
Plus, it offers classic films going back to the John Wayne era, as well as modern movies. And you can use Popcornflix with Apple TV, Roku, Amazon, Xbox, and mobile devices.
A few advantages of using Popcornflix include a movie stream site just for kids. All movies play in a large video player making it easy to watch on any device. Additionally you can make GIFs from scenes.
4. Tubi TV
Tubi TV is another popular and legit free movie websites. It also has a huge selection, with over 7,000+ movies from the biggest studios in the world.
Tubi TV makes it super easy to watch TV and movies on almost any device you own. You can watch classics or modern films, and even new releases.
The app makes it easy to sort and find the best show by date or genre.
Like anything "free" in life, there is a price to pay in the form of ads. It's still not bad considering the huge selection, and it has fewer ads than other platforms.
Main advantages include a huge selection of movies. More than most. The subtitles can be enabled for most movies. Plus they have a ton of genres to find movies that you won't find anywhere else.
A few disadvantages include ads that show throughout the movies. They seem to be shorter than most.
5. Vudu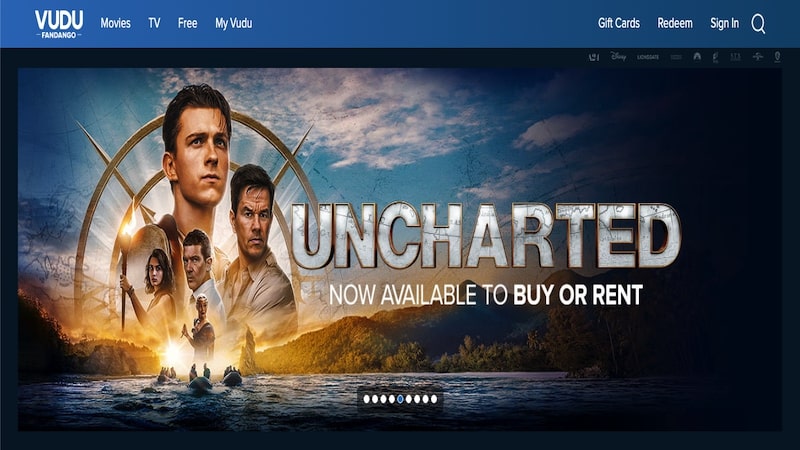 Vudu offers free movies and TV shows with advertisements. The paid version, which I'll cover below, doesn't have any ads.
One downside to Vudu is that all movies aren't actually free. Make sure you use the menu to find the free ones, as there is a good-sized selection.
If you do want to buy a movie you won't have ads and they are only a couple bucks.
A few advantages of using Vudu include a huge selection of high-quality movies, most are well-known and popular. Movies can be filtered and sorted in a number of ways. They also allow you the option to buy and rent movies.
Disadvantages include possible ads while watching. Not every movie on Vudu is free to watch.
Related Article: 14 Top Wall Street Movies
6. YouTube
YouTube is another option for movies but tends to be used more for watching podcast shows, learning shows, and the latest cat videos.
But you can watch movies for free if the person posting them has adjusted the playback speed, audio or video quality. Otherwise, it is a violation of copyright to post the movies.
If you want to splurge, for $3–$4 you can watch the entire film without ads and the picture is an amazing quality.
Sometimes you'll find the full-length versions for free, but they might get removed so I recommend watching them quickly.
The advantages of using YouTube include viewer ratings. Some free movies are hosted on on official YouTube channels. You can watch online or with an app.
Disadvantages include not all movies are in high-quality. In fact, watch for movies that may have copyright infringements.
7. Classic Cinema Online
Classic Cinema Online is your time machine back to old movies. You can watch silent films or ones dating back to the mid-1900s.
While the selection isn't huge, it includes lots of family-friendly films from the good old days.
Advantages to using Classic Cinema Online include no ads on most movies. They have a huge variety of movie genres, including a selection of silent films.
Disadvantages include sorting movies can be difficult. Movies may be lower quality and some movies even get taken down. There are no TV shows and you can only watch online since there is no app.
8. CONtv
CONtv is a free movie website that specializes in anime movies. It also has a good selection of comedy and gaming options.
CONtv offers content that isn't available on most websites, as it focuses on materials in the public domain, meaning movies and games that have no intellectual property rights.
The main benefits to use CONtv include great sorting options to help you find the movie you want. The site works on multiple devices. They also partner with STARZ, HBO, BBC and other big media companies.
A few disadvantages include some movies have subtitles embedded into the video and can't be removed. Additionally, some ads can run for over a minute.
9. Overdrive
Overdrive is a platform that lets you rent movies, ebooks, and audiobooks 100% free. I actually saw this service when I got my library card earlier this summer. (Yes, I'm that cool.)
While the selection isn't huge, it's still a great option.
The catalog isn't the biggest and you might have to reserve a title and wait your turn, but it's free and offers a selection of materials.
The advantages of using Overdrive include a family-friendly site and it is 100% free.
Disadvantages include a first come, first serve product that is only offered online. It is based on local libraries.
10. Internet Movie Archive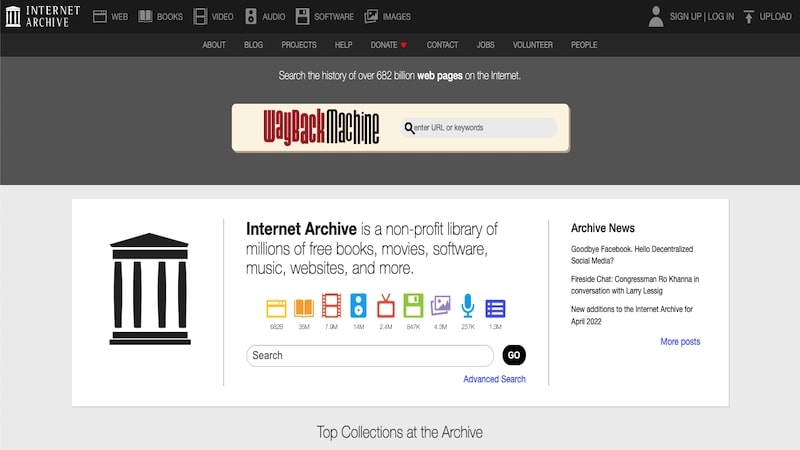 The Internet Movie Archive is another free movie website that focuses on older films. You're not going to find a Transformer film here (but who really wants that anyway).
You're more likely to find a Charlie Chaplin movie with Internet Movie Archive. It also offers TV shows (old and new), short films, trailers and a few other options.
One caveat: It has an adults only selection so make sure you double-check before letting your kids watch.
Advantages of using Internet Movie Archive include a wide variety of films compared to others. Videos can be downloaded which is very rare. It is easy to sort features to navigate the big selection. Movies can be sorted by view, title, date, archived and creator.
Disadvantages include adult films, older films and only offered online.
11. Top Documentary Films
Top Documentary Films is a site all about documentaries. As a documentary geek, I'm a huge fan of this one! It has films on almost any subject, both old and new.
You can learn about conspiracy theories (there are some great ones on here), history or the natural world with National Geographic.
Advantages to using Top Documentary Films include great categories to choose from and learn. They have an email service that will alert you when new titles are available. Most movies have zero ads and are super high quality.
A few disadvantages include they mainly have documentaries and are only available online.
12. Veoh
Veoh is another legit free movie website that has an enormous selection of films. All you need to do is create an account and register for free. They make it very easy to get started!
One major perk is that most of the movies don't show any ads. As you browse for options, you'll find plenty of sorting features that make it easy to find your next movie.
However, the selection of English online movies and shows is somewhat limited. Additionally, there is a limited number of genres to choose from.
13. Free Movies Cinema
Free Movies Cinema is public domain website that has a ton of movies, including smaller budget movies and bigger ones as well. It has categories for drama, horror, fantasy, documentary, action and much more.
You can watch the free movies online by using their viewer but there is no app. Unfortunately, it can take a very long time for the movie to begin playing.
On a positive note, the site has a good mix of classic and newer movies. Many of the movies and short films are available for streaming in HD. Plus, most of the movies and shows don't have any ads.
14. Yidio
Yidio is a hybrid of a free movie site and a movie search engine. It features a free movie section, but also allows you to type into a search bar and find movies that are available for a small fee.
This is a great way to save time as it might get exhausting looking for a one-off movie or TV show. When looking for something to watch, you can filter them by genre and MPAA rating. Plus, you'll easily see the Rotten Tomatoes score, which is helpful if you actually believe these scores.
The downside is that not every single movie on the site is free, and many movies on the site are low quality. Additionally, you may get taken to an external website or have to deal with pesky ads.
15. Kanopy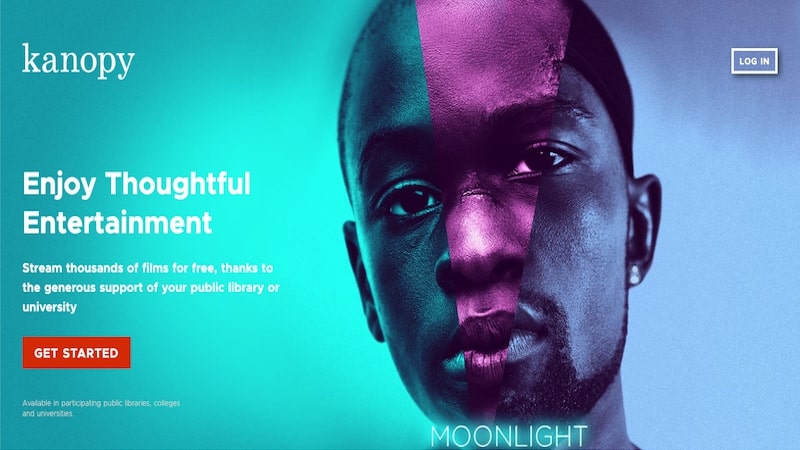 Kanopy is another legit free movie website that has over 30,000 films available. And it's 100% free with a library card from a participating library.
Through Kanopy, you'll find thousands of free videos. And since the local library is giving you access, you won't find any ads within the movie. However, you must have a local library that supports Kanopy to get access.
16. Reelgood
Reelgood is an app available on the Google Play Store and Apple App Store. The app strives to be a streaming hub for all of your subscriptions, including free ones!
With Reelgood, you'll be able to easily find out what movies and TV shows are free somewhere. Instead of accidentally paying for a movie, you can check with Reelgood to make sure there isn't a free option out there.
The Reelgood app connects to all of your streaming services to help you find free legal movies. You'll have access to over 2,000 free movies and shows through the platform.
One drawback is that Reelgood is only available in the U.S. and U.K.
17. Archive.org
Archive.org is a site that advertises millions of free movies, books, software, songs, and more.
Most of the digital archive includes movies uploaded by users, which includes many films from the public domain made in the 1930s and 1940s. So, you likely won't find popular movies from today on this site. But on the plus side, everything on Archive.org is free to watch.
With access to over 6,000 free movies and shows, Archive.org is worth checking about. But you might not like that original content from the public is mixed into the platform.
18. Open Culture
Open Culture offers over 4,000 movies. The library includes classics, indies, westerns, documentaries, and more. You'll be able to watch content directly in your browser.
The site includes an interesting mix of movie options. It's an especially good option if you are interested in foreign films. The downside is that you'll only be able to watch shows through your internet browser.
19. Vimeo
Vimeo is a video sharing platform, which means users upload their own content. On the platform, you'll find plenty of content from independent filmmakers. In fact, there are literally thousands of free movies and short films available on the site.
Although most of the content is newer, some older classics are available on the site. But you definitely won't find any movies from the silver screen on this site.
20. Film Chest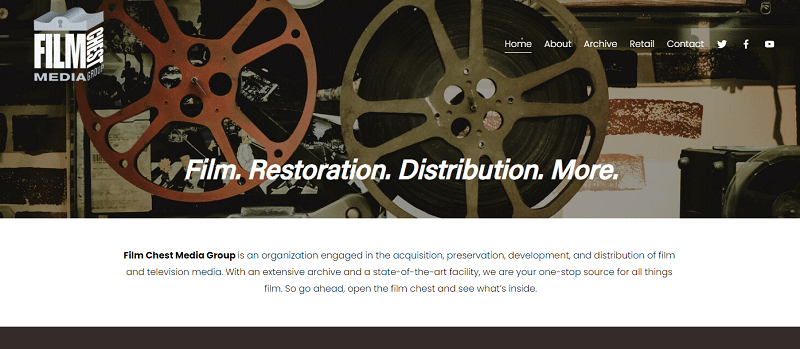 Film Chest is an organization that focuses on preserving films. Within its online archive, you can find a treasure trove of over 2,000 films available.
The majority of the site is dedicated to classic films from the 1930s and 1940s. But some foreign films are available.
A big drawback is that many of the links on the site are broken, which means you won't find the movie you are looking for. Plus, you can only watch these videos in your browser.
21. CW TV
The CW Network gives fans the chance to watch their favorite shows online. You can watch through your browser, iOS device, Android device, or most streaming devices.
If you love the CW Network, then this might be the right place to stream for free. You'll get easy access to the latest episodes of your favorite shows. However, you'll have to suffer through commercial breaks.
22. Hoopla
Hoopla gives you access to your public library's digital movie collection. Additionally, you'll find access to eBooks, audiobooks, music, and TV shows through Hoopla.
You can stream the available titles to your computer, smartphone, or tablet. But you'll need a library to get started.
23. Western Mania
If you have a hankering for free Westerns, then Western Mania is the right spot for you. You will find dozens of Westerns available for free.
You can watch through your browser or one of the many supported streaming devices, which include Roku, Apple TV and Amazon Fire TV. Like the Westerns themselves, the Western Mania website has an outdated look that can take some time to get used to.
24. IMDb TV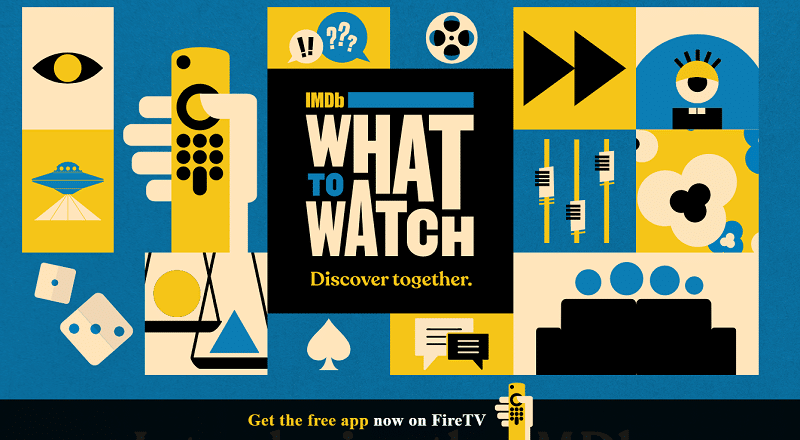 IMDb TV focuses on helping Amazon Prime users find something fun to watch. Through the app, you can find movies that interest everyone in the household. For example, you can take a quiz to find the perfect movie for the night.
You'll need an Amazon Prime membership. But once you connect to Amazon Fire, you'll find plenty of free movie options for the evening.
Great Alternatives to Free Movie Sites
While these are great free movie websites, sometimes they might not have everything you want for entertainment.
Here are some great resources that aren't free but are super cheap to help you find awesome new TV shows and movies. While they do cost money, they are affordable and can hang with any budget.
Amazon Prime
As I'm sure you know, Amazon, the trillion-dollar company, is taking over the world.
When you sign up for Amazon Prime, not only do you get free 2-day shipping but you also get a membership for free movies and TV.
It has a combination of old and new TV shows, movies, documentaries, and much more. Not to mention, Amazon itself is branching out to create its own exclusive series and movies that are 100% free.
Lifetime Movie Club
Lifetime Movie Club is a good option if you're a big fan of the cable network and want to drop a lot of your unused cable channels.
For only $4 per month, you can watch Lifetime movies and shows on any device with no commercials.
Hulu
Hulu is another great site to get movies and TV shows. It costs only $5.99 per month with no contracts.
A huge perk when joining, besides no ads, is that you get access to the entire Hulu catalog.
This includes shows from national TV networks like Fox, ABC, NBC and others. And the selection of movies and shows is gigantic!
Pureflix
Pureflix is a great app that allows you to stream movies without having to worry about inappropriate content for your children. It features Christian and family-friendly movies,
TV shows and documentaries. Before you commit to Pureflix, make sure to take advantage of their 30-day trial to ensure it's a great fit for you and your family.
Netflix
How could I not include Netflix on this list? While the price has steadily risen over the years, it's still 100% worth it in my opinion.
The site continues to have amazing original content and a huge library for any genre you're looking for.
With its low monthly price, it's a great way to cut cable and start saving money on your budget.
Frequently Asked Questions
If you still have questions, read on, we have answered the most popular questions below.
Summary
As you can tell, there are dozens of free movie websites to choose from. Thanks to technology, it's never been easier to watch amazing free movies and TV shows.
I recommend experimenting with a few based on the typical movies and shows you plan to watch.
If you hate the ads or want an even bigger selection, check out some of the paid features to spend a few bucks each month. Let's get real, it's still a fraction of the price of cable!