Looking for the best places to get cheap razors?
Thankfully, there are several ways to buy cheap razors that can leave a close shave without sacrificing quality.
Shaving is a personal care activity most of us can't avoid. Here are several ways to spend less money buying the same razor blades you might already use.
Top Places to Buy Cheap Razors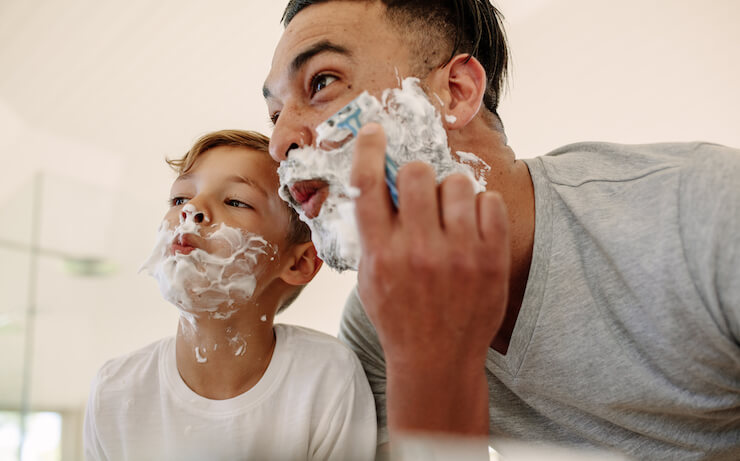 Your local store may offer cheap razors but you may have to settle for disposable razors that may have fewer blades or a lower-quality grip handle.
You might find similar razors online for a competitive price. These razor systems may provide a better shave as well.
1. Dollar Shave Club
Online shaving clubs are reshaping the razor market to make it easy to get affordable razors that are expensive in local grocery stores. If you like options, you might like Dollar Shave Club.
Its pricing is reasonable and straightforward. You can choose how often you want to receive replacement cartridges and other hygiene items.
You can cancel penalty-free or reduce the shipping frequency if you don't replace your cartridges as quickly as they send them.
The service has you answer a short quiz about your shaving routine to recommend a shipment frequency. You can also purchase a $5 starter set.
Dollar Shave Club Plans
Dollar Shave Club offers two different blade sizes, with an average cartridge costing between $2.00 and $2.50.
4 blades: Four cartridges for $8 each month ($2.00 per cartridge)
6 blades: Four cartridges for $10 each month ($2.50 per cartridge)
You can get a $1 discount on each four-pack when you enroll in auto-shipments.
If you enjoy Dollar Shave Club's razor blades, you can also purchase (almost) all things personal hygiene.
You can choose to only get cheap blades at Dollar Shave Club if you prefer.
2. Harry's
Harry's is another monthly shave club sending razors to your doorstep. Its only option is a 5-blade razor.
But you can choose between a weighted rubber or metal reusable razor handle. And you can add other shaving and hygiene supplies to your order if you desire.
What Harry's lacks in razor blade sizes, it tries to compensate for by offering different handles and accessories. Plus, Harry's tries to provide a more upscale-looking product. If you like a sophisticated yet modern look, Harry's might be the best option.
If you want to spend the least money possible on quality razors, however, Harry's isn't the cheapest option. This is because Harry's only offers 5-blade cartridges, which are more expensive than cartridges with fewer blades.
Dollar Shave Club offers razors with fewer blades that cost less. Your razor doesn't have as many blades but you spend less as a result.
If you like a 5 or 6-blade razor, though, Harry's can be the better deal. Especially if you like the handle and add-on accessories.
Plus, you might prefer their more flexible shipping schedule. Unlike Dollar Shave Club, which mails new razors each month, Harry's ships them less often. This is fine if you don't shave frequently.
Shaving Plans
Harry's offers one-time orders and recurring plans:
Choose a starter box (one-time cost of $15 or $25, depending on your razor handle)
Then, get 16 cartridge refills every two-to-five months (as low as $1.75 per cartridge)
They will send you a starter set that contains a reusable razor handle, one razor cartridge and shave gel. You can choose either the rubber or chrome handle.
You can either buy cartridge refills once or enroll in an auto-refill plan for a 6% discount.
One-time razor costs are below:
4 cartridges: $9
8 cartridges: $16
16 cartridges: $30
Auto-refill plan costs are below:
4 cartridges: $8
8 cartridges: $15
16 cartridges: $28
How often you receive replacements depends on your shaving frequency. Harry's asks this question during the onboarding process.
Shaving once a week means new replacements every five months. If you shave daily, expect your next shipment in two months.
Like other shaving clubs, you can also purchase shaving accessories.
You can modify or cancel your shaving plan at any time at no extra cost.
Shipping is free on all orders above $15. Your starter order qualifies for free shipping, too.
Core Plan
Loyal Harry's users can save additional money by joining the Core Plan. This loyalty plan costs $15 per year.
Core members enjoy these exclusive benefits:
10% discount on all orders
Free engraving on chrome handles
Expedited shipping discounts
Early access to new products
Exclusive Core member-only products
3. Gillette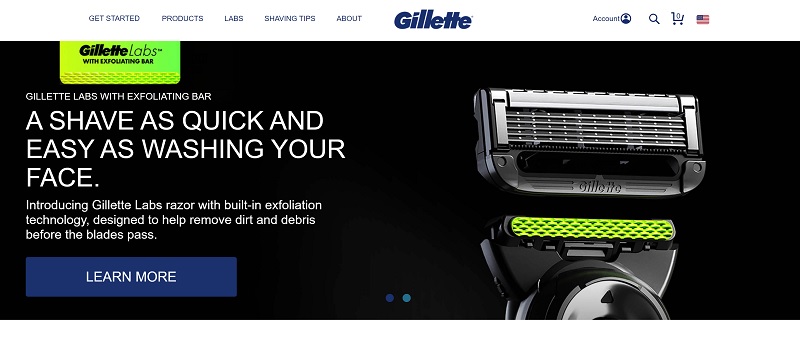 Not to be outdone by online-only clubs, razor-behemoth Gillette offers its own service plans. Maybe you only like to use Gillette razors and are hesitant to try another brand.
Here's your chance to stay loyal to your brand while saving money. This shaving platform has more razor options than most services.
Signing up for a Gillette subscription means you get every fourth order free. You can also do one-time orders, but then you don't enjoy the free order benefit.
Pricing for these Gillette razor series:
Gillette Mach 3 ($7 first order then $10 for 4-pack refills)
SkinGuard ($12 first order then $15 for 4-pack refills)
ProGlide ($15 first order then $18 for 4-pack refills)
Heated Razor ($200 first order then $25 for 4-pack refills)
Shipping is free for most reusable razor refills. Including the 25% discount, each Mach 3 cartridge costs $1.75 and each ProGlide cartridge costs $3.75.
The site also offers Mach3 and SkinGuard starter sets for $10 and free shipping. You get a reusable handle, two blades, shaving cream, and a travel-friendly blade cover.
If you're eco-conscious, the Planet KIND starter kit costs $20 with free shipping. This package contains a reusable handle and eight five-blade cartridges.
Gillette isn't the cheapest shaving plan. But it can be a cheaper way to buy your Gillette cartridges. You save time by not having to drive to the store.
4. Dorco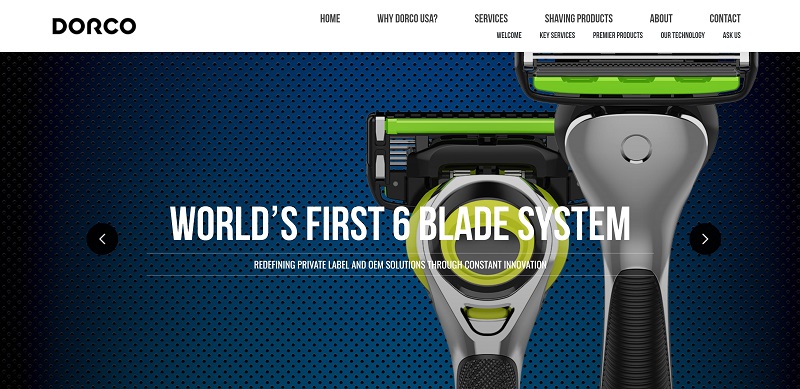 Another online company that sells reusable razor systems for men and women is Dorco. You can only buy their razors on Amazon and they have favorable customer ratings.
The brand sells refillable men's and women's razors.
You might like Dorco if you want one-time orders instead of signing up for a monthly shave plan. Their razors can qualify for free Amazon Prime shipping too.
First-time buyers can buy a reusable handle plus 10 cartridge starter set for any blade size. Each blade size only offers one refill option.
The number of refill cartridges can be as many as 16 refills or as few as 12 cartridges 7-blade.
Here is price list for the different blade options:
Three blades: $14.99 starter set and $19.99 for 16 refills ($1.25 each)
Four blades: $18.99 starter set and $21.99 for 16 refills ($1.37 each)
Six blades: $21.49 starter set and $24.90 for 12 refills ($2.08 each)
Seven blades: $29.99 starter set and $30.99 for 12 refills (2.58 each)
There are several razor options regarding the number of blades. All Dorco razor cartridges fit the same handle.
So, if you decide to switch between a 4-blade and 6-blade cartridge, you can use the same handle.
Dorco's prices are competitive with the recurring shaving plans. But you might pay a few cents more per cartridge refill because you're not on a recurring shaving plan like Dollar Shave Club or Harry's. It can depend on which razor you choose.
You might also be able to buy disposable razors from the Amazon store. The cost is higher than reusable cartridges. For example, the Dorco 6 Plus costs $2.22 per razor which is approximately 20 cents more than a 6-blade refill cartridge.
5. Dollar Tree
If you only need disposable razors, Dollar Tree is a good place to buy cheap razors locally. You can visit your local store, or shop online to see more inventory and find potentially better prices.
You can get name-brand disposable razors like Barbasol and Bic. Blade sizes for the different brands range between two blades and five blades. Each razor might only cost between 20 cents and 50 cents.
You will have a hard time finding disposable razors at a lower price. But remember that these products may not have the same quality as high-end disposable razors.
When shopping online, see if there's a minimum buy amount. For instance, to buy disposable Bic razors for 50 cents each, you have to buy a case of 36 (72 total razors) to get the best price.
Other brands aren't as restrictive and might only require you to buy four 5-count packages to order online.
Depending on the product you buy, you might be able to pick up the item in-store for free. Otherwise, expect to pay shipping costs.
Dollar Tree only ships the razors to the address of your choice. For the best deals, in-store pickup might not be available..
Besides Dollar Tree, you can also search other online dollar stores where you can get cheap razors.
Dollar Tree is good for people who want:
Low-cost disposable razors
The option of buying in-store instead of online
6. Shop Local Stores with Digital Coupons
Another way to save money on razors is by using digital coupons and shopping rewards. When shopping with the Ibotta app, your local store might have razor discounts.
To capture the savings, activate the offer in Ibotta and upload a picture of your receipt.
You can read our Ibotta review to learn more about saving money each time you buy groceries.
Other receipt scanning apps and microtask websites may offer similar deals. You will need to buy razors and take a picture of the store receipt to receive a rebate as a cash or gift card reward.
In addition to these shopping apps, see if your grocery store or another digital coupon app offers extra savings on shaving razors.
This option is good for:
One-time razor orders
Trying new razor brands
Shopping local to inspect razors before buying
7. Look For Free Razor Samples
Sometimes you can find free razor samples online at online freebie sites.
If you like the sample, there's usually a coupon to save money on your first cartridge refill.
Browse your local retail stores, including Walmart and Target, for free product samples, too. College students might find free samples at their campus bookstore each semester, as well.
You may not always be able to find free samples. It's possible to find discounts or sample boxes too.
Looking for razor samples is good for:
Trying new razor brands
Potentially getting free razors
How Much Do You Pay for Cheap Razors?
How much you pay for a razor primarily depends on two factors:
Number of blades
Whether the razor handle is disposable or reusable
Disposable Razors
Disposable razors are almost always going to be cheaper than cartridge refills. But the shave quality might not be as good and the razors will be less durable. Expect to pay as little as 20 cents for a 2-blade razor at Dollar Tree.
But more upscale ones can cost closer to $1 at dollar stores and up to $2 online.
Reusable Razors with Cartridge Refills
It can make sense to buy razor cartridges from one of the options on this list. You can enjoy a better quality shave while spending less than you might for your current razor refills.
Shaving plans can be cheaper than making one-time orders. To minimize costs, make sure you cancel or pause your shipping plan if you receive more refills than you use.
Dollar Shave Club and Harry's can be the cheapest options as you can pay as little as $5 per head.
However, Dorco tends to have the cheapest reusable razors with blades costing as little as $1.25 each. You can also make one-time orders or Amazon Subscribe and Save orders to enjoy this low price.
Summary
Buying cheap razors doesn't mean you have to sacrifice quality. Thanks to shaving clubs and other online markets, you no longer have to pay the high prices your grocery store or drug store charges for quality razors.
Depending on where you buy your razors from, the system may let you use different blade sizes with the same reusable handle.
This flexibility lets you save money and also find the best razor for your shaving needs.