I have to say, when I was asked to write an article for this subject I was a little surprised. Free shoes? Companies actually give away free shoes?
In many cases yes, they do. What I've found is that shoe companies – primarily athletic shoe companies – will sometimes give free shoes to people who sign up to be product testers.
In other words, they're looking for people who will try the shoes out and give their opinion on performance, style, comfort, etc.
How to Get Free Shoes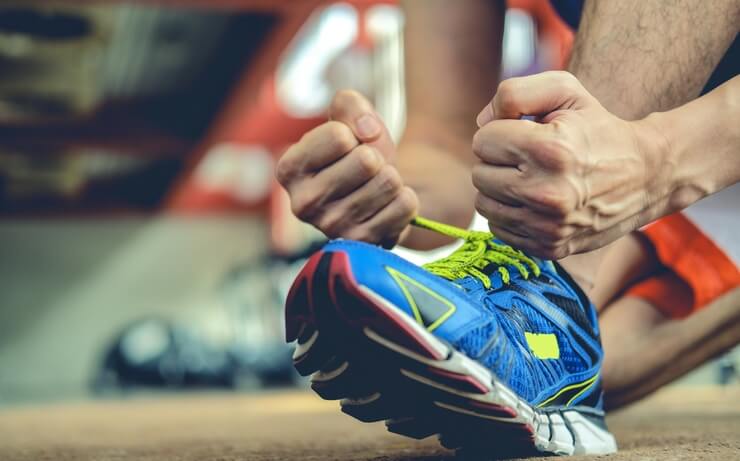 The rules of participation for product testers will vary with each company.
Some companies allow you to keep the shoes you test, provided you submit feedback according to their specified parameters. Other companies ask that you send the shoes back for analysis by developers.
In the cases where you're asked to send the shoes back, the company may keep them indefinitely. Otherwise, they send them back to you to keep when they're finished with the analysis.
Still other companies may send you other items to keep in exchange for your feedback. This can include as a new pair of shoes, or a gift card.
Either way, you could seriously reduce the amount of money you spend on shoes if you participate in one or more of these programs. Here's the scoop on the shoe companies we found that will give people free shoes.
1. New Balance
New Balance athletic shoes, like the others you'll find listed here, are some of the most popular athletic shoes on the market.
If you go to the New Balance web site product testing page, you'll find instructions for signing up to be a product tester.
New Balance product testers are asked to test new product prototypes that are sent directly to them. As a product tester, you'll be asked for honest feedback regarding the shoes you're sent.
After you return your feedback, that information is given to the Research and Development department at New Balance. They use this information to improve the quality, fit and performance of the product.
2. Asics
Asics is the brand of running shoe I tend to wear mostly. As a result, I was excited to find them on the list of companies that give away free running shoes.
Currently, the Asics shoe testing/giveaway programs only run programs in New Zealand and certain parts of Europe.
The New Zealand program is called Roadtester. Those who apply to and are accepted to the Roadtester program will be sent free shoes and potentially other products in order to test the endurance, comfort and quality.
Roadtester participants are then required to give feedback on the items they've been given to test. That feedback will be shared with the Roadtester community and the Asics team.
Asics also has another testing program based in Europe.
While there are many countries on that can test Asics, the United States is not one of them. It sounds like this program is open to apply for at various times throughout the year depending on the company's needs.
As with the Roadtester program, you'll be given shoes or other products to wear and test the quality and effectiveness of. When the test time period ends, you'll need to give your feedback on the product.
3. Nike
The infamous Nike shoe company also has a product testing program where they use feedback from participants in order to design better shoes or other products.
When you sign up to be a product tester for Nike, you can choose to be sent shoes, apparel or both. All potential applicants have to fill out the application that pertains to them in order to be considered for entry into the program.
There are three available applications for potential product testers. Applications vary based on the tester's age range.
The application age ranges include:
Ages 18 and above
13 through 17 years of age
Kids 12 and younger (parents must fill out this application)
Note that the application for testers age 13 through 17 must be completed with a parent and have parental permission.
Once you're approved you are sent shoes or other products for testing. After you wear the product for a specified period of time, you are required to login into a feedback account and share your experience.
Nike then requests that you send back the product for analysis by the Research and Development department.
After you return your tested product you are eligible to be sent another product for testing.
Note: if you live near a Nike test center you could qualify to test products at the center as well.
4. Brooks
The Brooks running company also has a product testing program in which applicants can potentially receive free shoes and other products.
If you're interested in testing Brooks running shoes, you need to meet, among other qualifications, the following testing requirements: You need to be 18 years or older and live in the continental United States.
You need to know your personal gait (are you flat footed, high arched or neutral, for example) and running shoe size.
Furthermore, you need to be willing to give clear and detailed feedback on the products you use and test, and be committed to wearing the shoes for running only.
In other words, no using them for working around the yard. For more information on the company's testing program you can go here to the Brooks product tester website page.
5. Red Wing Shoes
If you are looking for work boots, Red Wing Shoes could be a great option. Plus, they are often looking for product testers for those work boots.
The company product tests applicants need to live within a 60-mile radius of one of their two manufacturing plants in Red Wing, Minnesota or San Jose, California.
Approved product testers will then be sent new boots to test in the workplace to see how they hold up, what the comfort level is, etc.
After a specified time period the boots are sent back to the company for analysis. You as a product tester will be asked to give clear and detailed feedback on the product.
Red Wing Shoes pays for all shipping costs, and also compensates testers for quality feedback performance. In most cases, they'll compensate you by sending back the boots you tested to keep.
This company only allows those who wear certain shoe sizes to participate. At this writing that includes sizes 8M and 10M for women, and sizes 9M, 11M and 13M for men.
According to the website those are the only sizes they test at this time, so this is a non-negotiable qualification for their product testers.
6. Saucony
Saucony shoe company also look for product testers to try out free shoes and other athletic apparel as well. When you go to the Saucony product tester application page, you'll be asked a number of questions to determine if you qualify for the program.
Saucony seems very interested in having runners participate in the program, as the application includes many questions about running habits.
These questions include:
What types of races applicants participate in
The types of terrain they run on
What their run time numbers are
The application also asks if you participate in other types of sports, such as aerobics, walking, studio classes, etc., so they may be interested in having athletes interested in those types of sports become product testers as well.
The site doesn't say whether or not you'll have to return the shoes after you wear them, or if you can keep them. You do need to be at least 18 to participate in Saucony's product tester program.
If you live in the greater Boston area, you do have an option to participate in on-site testing at their development location.
7. Under Armour
Under Armour accepts applications for product testing for adults and children (with parental permission) alike.
Information for product testing was pretty limited on the site; it will just bring you straight to a sign-up page where you enter your email to begin the process.
The information I did find states that after you wear the shoes for a few weeks you will return them at Under Armour's expense, however it didn't state if there was any further compensation or not.
8. Columbia
We wear a fair amount of Columbia apparel at our house. However, I had no idea they made footwear as well. This link will take you to the Columbia product tester application page.
At this writing they are actively seeking participants to test both footwear and other types of sports apparel as well.
The product tester information sheet (choose "learn more" to find it) says that it requires all test products to be returned.
However, it also has a somewhat vague paragraph with the subtitle "incentive" that talks about how it recognizes the need for testers to be compensated.
That said, it doesn't go into any further details about what types of incentives the company may offer.
It only states that they do have incentives for their testers. If you like Columbia sportswear this could be a good gig for you.
Summary
As you peruse the different sites that ask for product testers for shoes and other items, it's important to read the fine print.
Participation according to the specific test center rules is very important in order for the product tests to be accurate and helpful to each company's Research and Development division.
So, it's smart to know exactly what each company will expect from you before signing up to be a product tester.
This way you can be sure you have the time to fulfill all of the obligations regarding wearing the shoes, giving feedback on the performance of the shoes, and returning the shoes for analysis (by the specified due date) if required.