In this review we will go look at GoHenry which is a money app for kids with a debit card. We will go over what it is, how much it costs, and the pros as well as cons.
Read on to find out if GoHenry would be a good fit for your family.

Summary
GoHenry is a money management account for kids that comes with a debit card, savings pods, and parental control features. Overall, the concept is great and GoHenry has a variety of features that make it a great product.
Pros
Teaches kids to work for money
Helps kids learn how to budget
Has a charitable giving feature
Great parent control features
Cons
Limited ways to fund child accounts
Some limits on point-of-sale usage
More expensive than some competitors
What is GoHenry?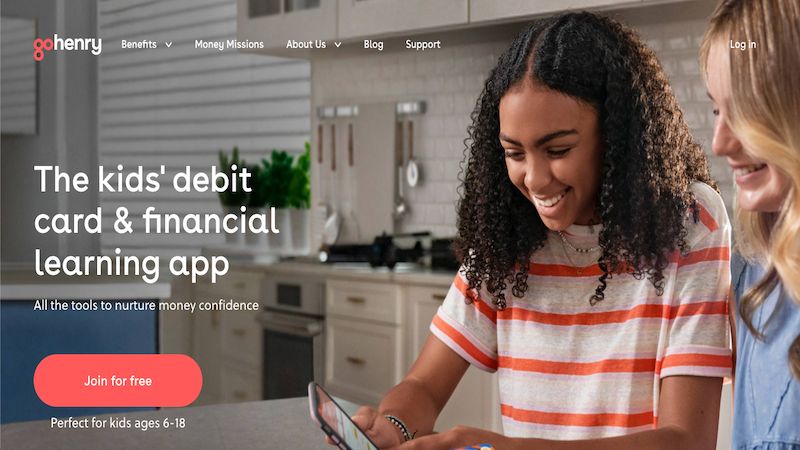 GoHenry is a fintech company that was created in 2012 and now has over 1.5 million members strong and is helping kids everywhere to learn about money.
GoHenry features a debit card for kids that can be used in a variety of fashions. The GoHenry app is available for Android, iPhone, iPod, and iPad touch products.
On the GoHenry website, the company says that 92% of parents surveyed said that GoHenry has helped their kids be more confident with money.
Who is GoHenry For?
GoHenry is for anyone who has kids ages 6 to 18 that they want to teach how to earn and manage money.
There are a number of features with GoHenry that can help your kids understand that money doesn't grow on trees.
And GoHenry's system is set up to help parents use a number of helpmeets to teach kids the ins and outs of money management.
How Does GoHenry Work?
GoHenry is fairly easy to set up and manage. And once you get it set up, you can use the features in any combination that works for you.
Here's how the app works.
Open an Account
You'll start by opening a GoHenry account in your name. This parental account is the main hub for all other accounts.
From there, you'll open up GoHenry accounts for each of your children. Note that there is a limit of four child accounts that can be tied to a parent account.
If you want more than four children to use the system, a second parent or guardian will have to open an adult account to be the hub for the other child account(s).
Set a Weekly Allowance
GoHenry gives you an option to set a weekly allowance for each child. The allowance can be tied to completed tasks or simply given without having to complete tasks.
This allowance amount will get transferred from your GoHenry account to your child's GoHenry account on the day of the week you specify.
There are other options for funding your child's account as well. We'll talk more about those later on.
Related Article: 10 Best Allowance and Chore Apps for Kids
Set Spending Limits
GoHenry is set up so that you as the parent can set spending limits for each of your child accounts.
These limits can be defined in a number of ways:
Daily limits
Per transaction limits
Where they can use the card (ATM, in-store, online)
Weekly limits
And more. In addition, if a child tries to spend more money than what is in their GoHenry account, the transaction will be declined.
That means they can't go into debt and they can't overdraw their account.
Help Your Kids Manage Their Money
The wide variety of features GoHenry has are designed to help your child(ren) learn to manage money well.
GoHenry can help your kids understand the "work equals money" concept through paid task lists.
Also, GoHenry has a savings feature that can help your child save money. Finally, the app has a feature that allows your children to give a portion of their money to charity.
All of these features work together with you so you can help your children know how to manage money once they enter adulthood.
Next, let's talk in depth about GoHenry's features.
GoHenry Features
Your GoHenry account has a number of customizable features that can help you teach your child to manage money in the way that works best for you.
Parent Account
As mentioned earlier, you will need to open a GoHenry parent account to be the center hub for all child accounts.
Note that you'll need to link a debit card from your bank to your GoHenry account.
Funds transferred from your debit card to your parent account are transferred immediately. And there's no fee to transfer money from your debit card to your parent account.
If you need a bank account, check out our article on the best bank accounts for kids.
Parental Controls
There are a host of parental controls included with your GoHenry membership. First, you have the ability to choose how your child gets money put into their account.
Add Money
As mentioned earlier,you can set up a weekly allowance for your child in order to fund their GoHenry account.
Another option is to require them to earn money for their account via completed tasks. When they complete their tasks, money is transferred into their GoHenry account.
GoHenry also has a Quick Transfer button you can use to transfer money to a child's account at any given time.
Note that you cannot add money to your child's account from a PayPal account.
Also, your child cannot set up a Direct Deposit to a GoHenry account.
So if your teen makes money online or has another type of job, you'll have to put the money into your bank account or their own bank account and then transfer to the GoHenry account.
Spend Notifications
GoHenry's Spend Notifications feature enables you to get an instant text notification when your child uses their debit card.
The card also has an instant block/unblock feature you can use to help stop usage of the card if need be.
This feature can be helpful in cases where your child's card is lost or stolen, or if they are attempting to make an unapproved purchase.
Child Account
GoHenry's child account helps your child to have the freedom to earn and manage their money while still being under the helpful eye of a parent or guardian.
Earn
Although it's not required, you can set up tasks to have your child earn the money they'll be managing.
Parents create task lists through their GoHenry parent account. Children can mark the tasks as done when they are completed.
Parents also have the option to set a control that only allows parents to mark tasks as completed.
When tasks are completed, the earned cash is transferred to the child account on a weekly basis along with any allowance amount you've set up to give.
In other words, your child will only get paid for work they have completed, and the money is transferred automatically at the end of each week, making it ultra-easy for parents.
Save
GoHenry has a "save" feature that allows kids to set up an unlimited number of savings goals. When they use this feature, they'll get a savings "pod" for each goal.
When your child views their GoHenry account, they'll be able to see how much money they have saved for each goal.
Spend
Your child will get a free debit card with their GoHenry account. They can use their debit card at an ATM, for online purchases, or in-store.
However, you as the parent can modify where your child uses their debit card. The debit card will only work within the parameters you set for your child.
And they can only spend up to the dollar amount that's available in the account.
Note that your child will have the ability to transfer money from one of their savings pods into their spend account.
Give
GoHenry partners with the Boys and Girls Clubs of America to help your child learn to give.
Your child can give small amounts of money as they wish to this charity whenever they wish.
Using the Give feature can help them understand the importance of giving to those less fortunate.
Money Missions
Money Missions is the newest GoHenry feature.
Using the app, your child can complete Money Missions lessons that are designed to build confidence, literacy and curiosity in your kids.
Money Missions lessons help your kids to learn more about earning money, saving, investing, responsible spending, credit management and more.
When your child watches the animated videos or plays a game, they earn XP (points) and badges while learning about responsible money management.
The videos and lessons are targeted toward your child's age, meaning that there is something for every kid whether they're 6, 18 or anywhere in between.
How Much Does GoHenry Cost?
GoHenry's Family plans are set at $9.98 per family (for up to 4 children), and the individual child is priced at $4.99. Families with 3 or 4 children can pay one low rate for everyone.
Your monthly membership fees are taken directly from your GoHenry account.
If there aren't enough funds in that account to cover your membership fees, GoHenry will take the money from the debit card that's tied to the account.
Note that GoHenry also charges a fee for ATM use; $1.50 for domestic ATM use and $2.00 for international ATM use.
This fee is in addition to any fees the ATM owner might charge when your child uses an ATM to get access to their money.
Other fees for GoHenry include a $4.99 fee for an option custom debit card for your child. The standard debit cards that come with the child account are free.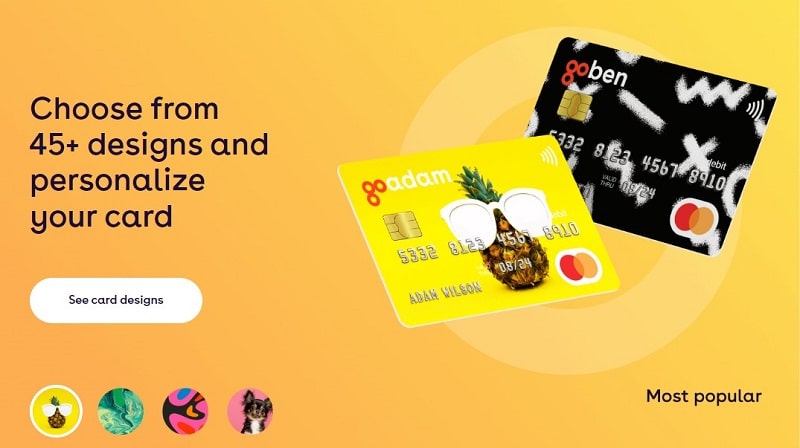 Referral Program
GoHenry does have a referral program. If you refer a friend who signs up with your referral link, you and the friend will each get $10 deposited to your parent account.
Referring friends to sign up could be a good way to offset some of the monthly cost of GoHenry.
Next, let's go over some frequently asked questions regarding GoHenry.
FAQs
When it comes to debit cards for kids, there are lots of questions that come to mind. Here are a few common questions asked.
Is GoHenry safe?
GoHenry uses 256-bit encryption just like the banks use. In addition, your GoHenry funds are FDIC insured through Community Federal Savings Bank.
What customer service options does GoHenry offer?
The only option for customer service on the GoHenry website is an email contact form.

However, I did find a customer service number through Trustpilot: 1-877-372-6466.

Note that the website states that the company will respond quickly to contact form inquiries.
How do I replace a lost GoHenry card?
GoHenry has a feature to order a replacement card right on the app. Go to 'Cards' and select the name of the child that needs a new card.

From there you can click on 'New' and on 'Replace a lost card'. You'll get the replacement card within business days.

Note that replacement cards for custom cards may take longer to receive and will be subject to an additional $4.99 fee.
Is it easy to cancel a GoHenry account?
You can cancel your GoHenry account at any time since there are no contracts involved.

Note that when you cancel your account, you'll get a 3-day "cooling off" period in case you change your mind.

After that three day period is up, your account will be closed permanently and cannot be reactivated.

All funds in any GoHenry accounts will be transferred to your linked bank account with 7-10 days of closing.
GoHenry Reviews
GoHenry's Trustpilot ranking is 4.2 out of 5 stars with over 2.2K ratings. GoHenry has a rating of B- from the Better Business Bureau
Here are some snippets of reviews about GoHenry on Trustpilot.
Overall, most reviews regarding GoHenry were positive. The chief complaints on both the BBB and on Trustpilot revolved around three issues:
Not receiving the debit cards in a timely manner
The limits as to which banks you can transfer money from
General usage of the debit cards
Some users were frustrated that the child debit card doesn't always work at places where alcohol is sold.
For instance, the card might not work at a restaurant where alcoholic beverages are available.
Also, the debit card can be used to buy gas for a car, however, it can't be used at the pump. Instead, your child will have to use the 'Pay inside' feature at the gas station.
Many complaints revolved around not receiving debit cards in a timely manner, or not receiving them at all.
Note that on Trustpilot, GoHenry did take the time to respond to 99% of the negative complaints. To me, this shows a commitment to resolve customer issues.
Related: GoHenry Vs Greenlight: Which Is Better?
Summary
GoHenry can be a useful tool for teaching your kids how to earn and manage money. You might find the monthly fee a bit much to swallow–especially if you have multiple kids.
There are other apps out there that charge one monthly fee no matter how many kids you have.
But overall, the concept is great and GoHenry has a variety of features that make it a great product.
Have you ever used GoHenry? We'd love to hear about your experience. Feel free to share in the comments section.
For our readers in the UK, Go Henry UK is offering a 2 months free promotional offer.