Want to know which is better: Greenlight or goHenry? You've come to the right place.
As a parent, you want to set your child up with the skills they need to successfully navigate their adult life. One of the most important things they will need to know is how to effectively manage their money.
Luckily, these debit cards for kids can help your children learn the ins and outs of financial literacy. These cards can teach your kids financially healthy habits that will serve them for the rest of their lives.
Quick Comparison: Greenlight Vs GoHenry
Greenlight and GoHenry are two of the most popular money management tools for children. Here's a closer look at each of these options to help you decide which one is best for your family.
Greenlight
GoHenry
Monthly fee (starting)
$3.99 per child
$4.99 per child
Payment network
Mastercard
Mastercard
Minimum Age
None
6 years old
Features
App for iPhone and Android
Automatic payments
Ability to turn cards on and off
FDIC-insured
Investing component with Greenlight+ and Max
Round-up feature that saves spare change
Set spending controls
SIPC-insured investments
Up to five kids
App for iPhone and Android
Automatic payments
Ability to turn cards on and off
Custom card option
FDIC-insured
Set savings goals
Set spending limits
Up to four kids
What is Greenlight?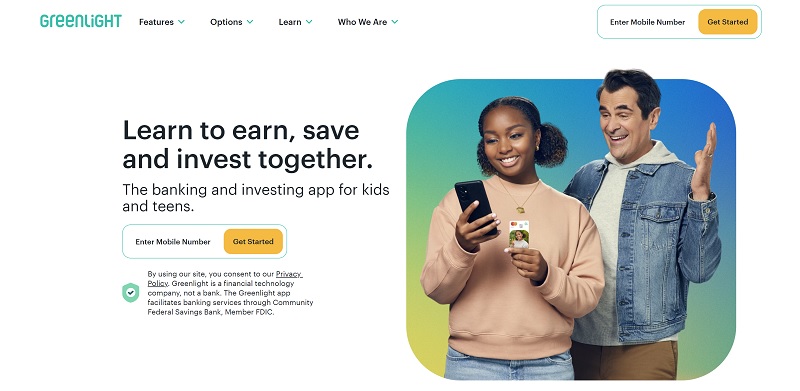 Greenlight offers a debit card for kids that is designed to teach them about money management. As the parent, you'll have control over how your child can use this card.
Children of any age can use this account without a minimum balance requirement.
The debit card provided by Greenlight can be used anywhere that Mastercard is accepted. Within the platform, you'll find several tools to help you teach your kids about spending and saving money.
These tools range from alerts to spending controls and more.
What is GoHenry?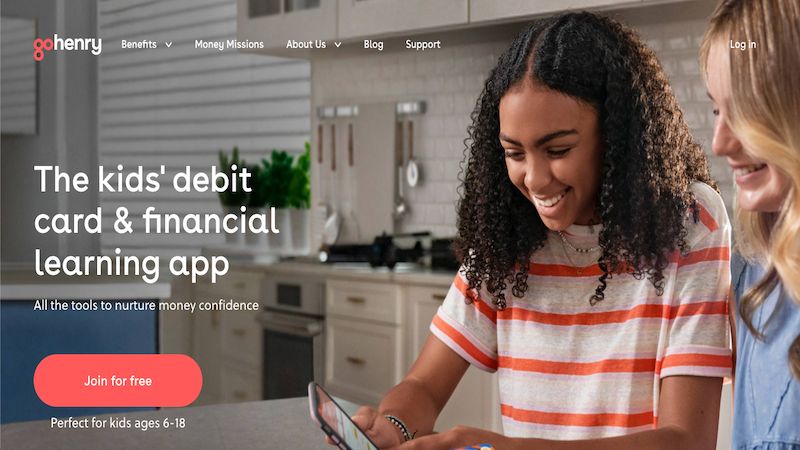 GoHenry was launched by a group of parents with the goal of helping their kids become effective money managers. Parents with children ages six to 18 can take advantage of what GoHenry offers.
Within the app, you can use the controls to set up money management learning opportunities for your children. When in possession of the GoHenry debit card, your kids can make purchases anywhere that Mastercard is accepted.
Greenlight vs. GoHenry Similarities
At their core, Greenlight and GoHenry have very similar objectives. Each app aims to provide a platform for parents to help their kids learn about effective money management.
The platforms will allow your kids to learn about finances and teach them how to make sound money choices for their lives.
Beyond their core missions, they have some similarities in terms of features and functionality.
Alerts
When you set your child up with either debit card, you'll receive real-time alerts about any spending activity. With these alerts, you can monitor your child's spending to see what is happening within their account.
Allowances
Both Greenlight and GoHenry have the option to create a set allowance distributed from your account regularly.
You can also choose to set up a pay-per-chore system. In the pay per task option, you can select how much your child can earn for each chore.
Spending Controls
Greenlight and GoHenry both provide some spending controls.
With Greenlight, you can set customized spending limits for each child. Additionally, you can set store-level spending controls that let you completely eliminate the ability to spend at particular stores.
Additionally, Greenlight gives you the power to turn off your child's debit card at any time from the app.
GoHenry also allows you to set spending limits for each of your children through daily limits, transaction limits, weekly limits and store-level limits. If you need to stop any spending, you can block and unblock the card at any time through the app.
Donations
Giving is an important part of money management. Neither Greenlight nor GoHenry overlooks this critical component to successful money management.
GoHenry partners with the Boys and Girls Clubs of America. Through the app, your child can give small amounts of money whenever they want to.
Greenlight offers more charities for children to donate to. Your child will have the option to donate to specific charities that matter to them.
Free Trial
Greenlight provides a free 30-day trial to help you decide if the tool is right for your family. If you don't think that the platform is a good fit, you can cancel at any time.
GoHenry also offers a free trial for one month. You'll have the chance to cancel if you don't like the features offered through the app.
Greenlight vs. GoHenry Differences
Of course, not everything about these platforms is identical. In fact, there are several notable differences to keep in mind as you explore the options.
Making Learning Fun With Money Missions
Both Greenlight and GoHenry make learning about finances more accessible to children and teens. Where GoHenry sets itself apart is that it integrates fun into the core of its financial learning platform through Money Missions.
Money Missions are in-app lessons designed by teachers and financial experts to help kids build their financial literacy. All of the basics about money are built right into these missions.
Kids who use the platform will learn about earning, saving, investing, smart spending, credit, security and more.
With GoHenry, children can watch animated videos, take quizzes and earn points while learning how to manage their real money. They can unlock new levels and add to their badge collection as they build their money skills.
Plus, they will even receive a certificate of achievement for each Money Mission level they complete.
If your child enjoys games, then Money Missions can be the right tool to make learning about money fun.
Price
The first big difference between these two platforms is the pricing.
Greenlight Price
Greenlight costs $4.99 per month for up to five separate child debit cards. If you want a custom card, you'll pay $9.99. Expedited shipping on this is $24.99.
If you want to upgrade to Greenlight's Invest or Max options, the cost can be up to $9.98 per month.
Additionally, while the first replacement card is free, subsequent replacement cards cost $3.50.
GoHenry Price
GoHenry's Family plans are set at $9.98 per family (for up to 4 children), and the individual child is priced at $4.99. Families with 3 or 4 children can pay one low rate for everyone.
Additionally, you'll encounter a $4.99 fee if you choose to create a custom debit card for your child.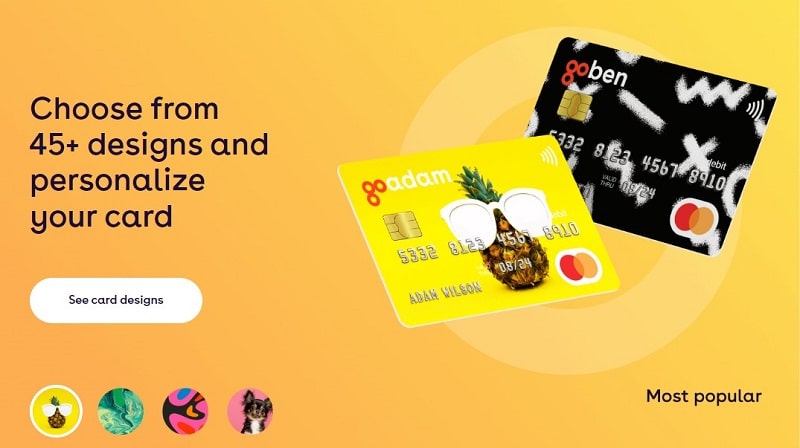 Cash Back and Savings Rewards
Cash back rewards can be a smart money move for your finances. Greenlight highlights this option for your children.
If you upgrade the Greenlight Max level, your child will earn 1% cash back on purchases they make with their prepaid debit card.
Additionally, Greenlight rewards your child for choosing to save. When your child saves money, they will earn 1% with a linked bank account or 2% with the Greenlight Max option.
Since saving is a foundational tool for money management, these rewards can set up smart savings priorities for years to come.
Unfortunately, GoHenry doesn't offer a rewards structure for your child's saving or spending habits.
Savings
Building savings with an interest rate is a good way to encourage savings. You'll find that both Greenlight and GoHenry offer a way to promote savings.
With Greenlight, you can set up a customizable interest rate for your child's account. As the parent, you will pay the interest rate. The goal is to teach your children about the power of compound interest.
Greenlight offers a round-up feature to help your child build savings. The platform will round up any purchases to the nearest dollar and put the difference in their Save account so that they can watch their savings grow over time.
GeHenry also promotes savings through parent rewards. You'll be able to set up this reward through a task.
For example, you could create a "save $10 a month" task for your child. If they hit that savings goal, the reward attached to your task will hit their savings account.
Investing
GoHenry is exclusively focused on helping your child master money management with banking products. With that, kids can spend, save or give money.
Greenlight takes the opportunities for money management lessons to the next level with investing options. Using Greenlight Invest, your child can learn about investing for their future as a part of their financial education.
Kids can buy investments through a SIPC-insured account. As the parent, you'll have the ability to approve each investment transaction before the trade goes through.
If you want to help your kids learn about investing in a controlled environment, Greenlight is a great option. But, keep in mind that this feature will cost an extra $7.98 per month.
Identity Theft
GoHenry does not offer any identity theft protection.
However, Greenlight provides identity theft protection services for your children. Although this feature requires an upgrade to Greenlight Max, it could be worth it.
Additionally, Greenlight offers cell phone protection against theft and damage if you use a Greenlight debit card to buy the phone.
Number of Account Users
Greenlight allows more children to be added to the account. You can add up to five children. The flat fee for the entire family makes this a more affordable option for large families.
GoHenry requires a monthly fee for each child. You'll also only be able to add up to four children to your GoHenry account.
For example, if you add four children to your GoHenry account, you'll have to pay a monthly fee of $15.96 for the family.
Families with fewer children won't see too much of a cost difference between the two platforms. But large families will find a large spread that could be the deciding factor.
Who is Each Debit Card Best For?
Depending on your specific needs, one card may be superior to the other for your family.
If you are a parent seeking simple features to help your child master the basics of money management, then GoHenry is a great option.
With solid financial literacy tools, your child will build a solid foundation of money management skills.
Otherwise, if you are a parent who wants your child to take things to the next level with investing and smart spending opportunities, then Greenlight is likely a better fit.
The foundational financial literacy tools are built into Greenlight. But your child can take things a step further with investing opportunities.
Additionally, the size of your family may come into play. If you have several children, then you might find that Greenlight offers a better price. But for families with one child, the costs are more affordable with GoHenry.
Summary
A prepaid debit card can be a useful tool to help your child establish smart money management strategies that carry into their adult life. Although there are plenty of options, the right fit for every family is different.
Take some time to consider which features are most important for you and your children before moving forward with Greenlight, GoHenry or one of the many other alternatives.