Have you heard of Groupon Select? It's a membership for Groupon customers who want to make the saving process even easier on Groupon.
When you sign up for Groupon Select, you'll pay $4.99/month for automatic savings on just about every deal they offer. You'll see your Groupon Select discount automatically applied at checkout while your membership is active.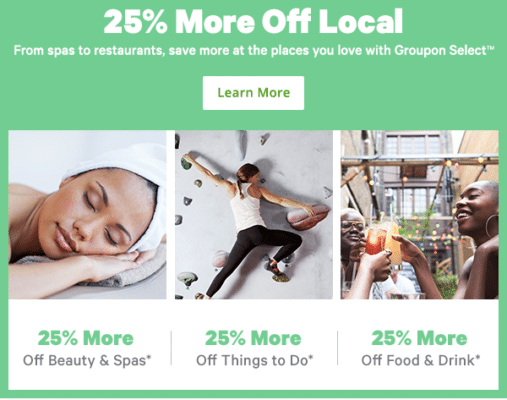 Groupon Select Membership Savings
Here's what you'll save:
25% off Local (restaurants, massages, mani-pedis, and much more)
10% off Travel (flight-inclusive vacations, tour packages, hotels)
10% off Tickets & Events (Concerts, Live Shows)
Remember, these savings are automatic, so you won't need to wait for a sitewide coupon code. This is great news as sometimes certain deals can sell out quickly!
Groupon Select Membership Benefits
Other things I like about it:
NO Maximum Discount. So you know how the coupon codes normally come with an exclusion like three uses per person and/or a $50 maximum discount? You won't have to worry about that anymore. Use your discount as many times as you like with NO cap on the savings you can get per deal.
There a few exclusions to the Groupon Select discount: Groupon+, Goods Marketplace, and Getaways Market Picks.
How to Get Started with Groupon Select
Groupon Select offers a membership for $4.99 per month and everybody in the US can sign up for the program. Sometimes they offer promotions like a free first month or a gift card after your first payment is made.
I've saved $29.25 through Groupon Select already since joining in December, and I'm a pretty infrequent Groupon user (maybe one per month). So it's already more than paid for itself!