Yesterday, I spent several hours cleaning up my refrigerator, freezer, and pantry. In the process, I was reunited with a few ingredients I hadn't considered using in awhile.
Case in point:
Barley.
Barley is a whole grain that you can buy for super cheap in bulk bins (such as at WinCo). So what's so great about barley? I decided to do a little research for you:
One serving of cooked barley (1 cup) provides you with a whopping 6 grams of fiber and 12% of your daily iron intake.
Barley is a good food source of vitamins B1 (thiamin) and B3 (niacin).
Barley is rich in trace minerals, such as selenium.
Barley has a low glycemic index – which means it won't spike your blood sugar. In fact, barley has been found to have a lower glycemic index even than oats! This is particularly useful if you're diabetic.
(Online sources of my facts: here, here, and here.) I feel it's worth mentioning that barley is unfortunately, not a gluten-free grain. So if you have Celiac Disease or are wanting to follow a gluten-free diet, you'll want to steer clear.
I think part of my reluctance in cooking stuff like this is I don't plan ahead. If I'm hungry NOW, I'm not going for a bin of barley! I also suppose barley a soup ingredient, and I don't make soup every night. Last night it occurred to me that maybe I could make it for breakfast. And guess what? You can!
Ingredients
1 cup dry pearl barley
4 cups water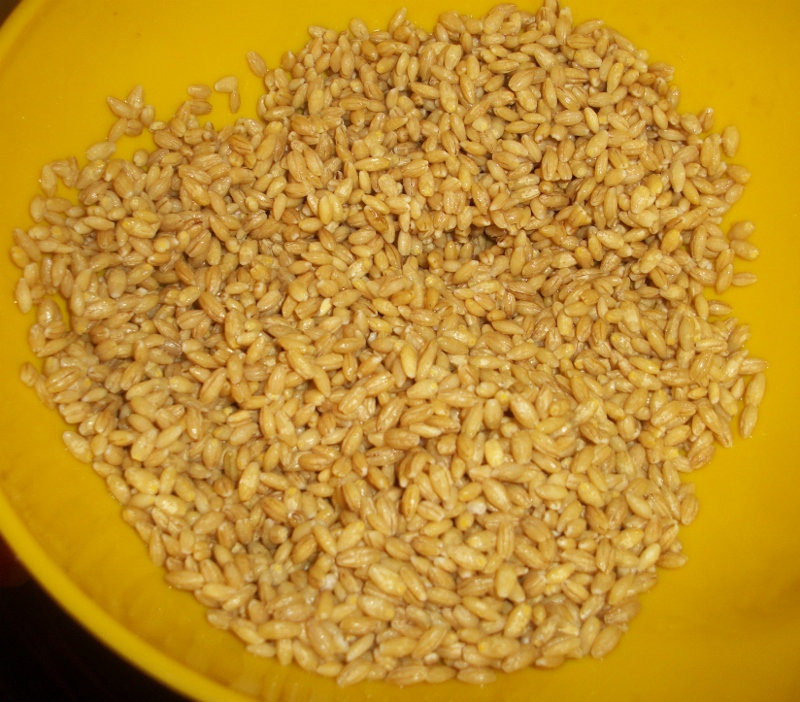 Start by rinsing and sorting 1 cup of dry pearl barley. This will set you back probably $0.40 – $0.50 total if bought in bulk.
Next, add it along with 4 cups of water into your slow cooker. Alternately, you could add no-sugar added apple juice if you wished. I didn't have any, so plain old water for me!
Now if you are making this for breakfast, all you have to do is turn it to low before you go to bed. It takes 6-8 hours to cook. I tend to sleep more towards the 8 hours of that range, so I turned mine on at 10:30 last night and woke up just prior to 7 this morning. (OK that's like 8.5 hours, but what can I say? I need my sleep!)
Here's what I woke up to:
Talk about some expansion! That one cup of barley completely absorbed those 4 cups of water and gave me….
Four cups of cooked barley. This will easily last me several days. I'll just pop the leftovers in the fridge.
Here's how I enjoyed mine:
I added sliced strawberries, blueberries, a dab of brown sugar, cinnamon, cardamom (my favorite spice!), and a splash of So Delicious coconut milk. It was…heavenly! It definitely reminded me of oats, but it was just creamy. Very filling and delicious. And to think that entire pot of it cost me just a few pennies!
Other topping ideas: pistachios, slivered almonds, seeds (chia or ground flax), dried fruit (raisins or goji), milk (or milk substitute), fruit of all kinds, canned pumpkin, a dollop of Greek yogurt. Other thoughts?