Get some budget-friendly tips for hosting a frugal fondue party at home!
How to Host a Frugal Fondue Party
One of my very favorite dinners out is fondue! However, if you've ever visited a fondue restaurant, you know that it isn't exactly the most budget-friendly night out.
Several years ago, my girlfriends and I decided just to do our own fondue night in. What resulted was a night of deliciousness – for a lot less money.
Now that fall is here, I thought it would be the perfect time to share the tried-and-true easy cheese fondue recipe I've been using with you.
I've made this recipe for book clubs, as an appetizer for holiday meals, and just for a fun dinner. Not only it is easy, it only requires a few easy-to-find ingredients.
Here is what you'll need:
2 cups shredded sharp cheddar cheese
2 cups shredded Swiss cheese
1 1/4 cup beer or dry white wine (I like using Hefeweisen)
1/4 cup flour
dash of garlic powder
As far as what to dip in your fondue? It's really up to you. My personal favorites are cubed French bread, cubed Granny Smith apples, and fresh vegetables (I like broccoli and baby carrots).
This recipe gets thrown together quickly, so gather everything you'll need in one spot. Start by mixing the two cheeses and toss with the 1/4 cup of flour.
Heat your fondue pot and pour in your beer or white wine. If you don't have a fondue pot, you could just as well use a saucepan over the stove.
Once your beer or white wine is starting to bubble, toss in a handful of cheese and stir until melted. Keep adding handfuls of cheese until it's all melted and smooth in consistency. Finally, toss in a pinch of the garlic salt and stir.
That's it!
The whole thing should take you roughly 5 minutes and then it's ready to serve. Delicious! Your only problem will be not devouring the whole pot within minutes. (Trust me, it's *that* good!)
After the cheese fondue, surely you'll want some chocolate fondue too! No worries, I've got you covered with an equally simple (and delicious!) recipe.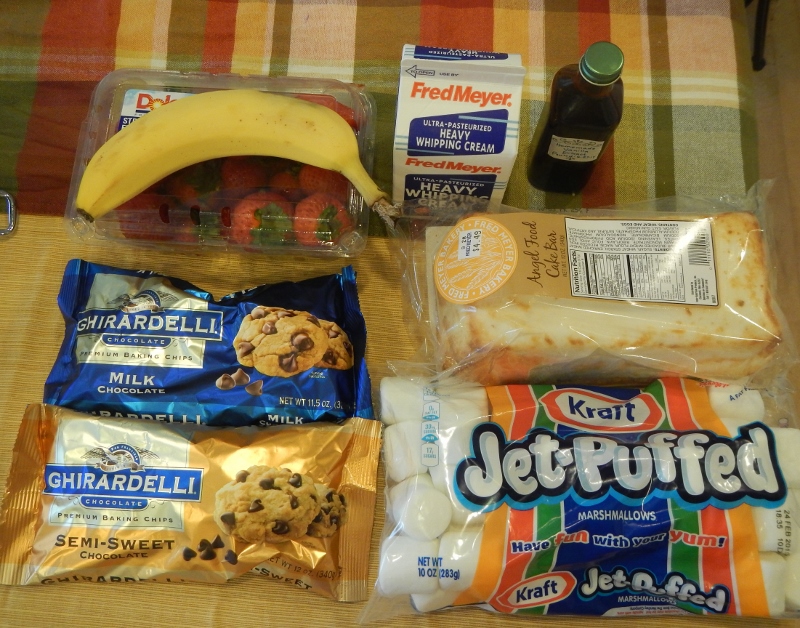 Here is what you'll need:
1 1/4 cup heavy cream
1 bag milk chocolate chips
1 bag semi-sweet chocolate chips
1 tsp vanilla extract (I used my homemade version)
What to dip in it? I picked up a bag of Jet-Puffed Marshmallows and a small angel food cake from the bakery. I also chopped up a banana and I love fresh strawberries!
Other ideas include pretzels, pound cake, and other fruit. Be creative! (I mean, can you really go wrong dipping anything in chocolate?)
Start by heating your cream in a fondue pot or saucepan. Heat until gentle bubbles form.
Very similar to the cheese fondue, you're going to dump in handfuls of the chocolate chips at a time, and stir until melted. Continue this process until all the chips have been added. Finish with a teaspoon of vanilla.
As with the cheese fondue, assembling the chocolate fondue shouldn't take you more than a few minutes – and it's absolutely delicious! Now if you really want to kick this recipe up a notch, add a shot of your favorite liqueur – perhaps Kahlua, Bailey's, or Grand Marnier!
Make Your Own vs. Eating Out
By shopping at Fred Meyer, I was able to put my fondue on the table for a fraction of the cost than buying out. For fun, I thought I'd provide a breakdown of my costs versus eating out:
Of course, it is difficult to compare apples to apples here, but pretty much any way you slice it, having your own frugal fondue party is going to save a killing over going out. (And I think it tastes every bit as good as the restaurant version, too!)
A final way to keep the cost down even further is to ask your friends to contribute. Tell your friends you'll make the cheese and the chocolate if they can provide the bread, apples, veggies, and pound cake.
Fondue Equipment
As you can see from the pictures above, I used a simple saucepan to create my chocolate fondue, but if you want to get fancy and pick up a fondue pot or fondue set, check out the best-selling products on Amazon here!
This Cuisinart Electric Fondue Maker gets great reviews and includes fondue forks, or if you're using your own saucepan you can pick up this set of 6 Trudeau Fondue Forks, color coded to help you figure out whose is whose.
I'd love to hear from you: have you ever hosted (or attended) a fondue party? Any ideas you'd add to my recipe? Please share!