WARNING: Gross mildew pictures ahead. If you are eating or are overly sensitive to disgusting things, you might want to skip this post.
For awhile now, I've been really discouraged about my shower.
You know you try this product or that to clean it, but it just NEVER looks clean? Well, that's why I got it into my head about a week ago to re-grout and re-caulk the entire thing.
A little background, about me. I'm not a DIY'er. I usually leave tasks that involve trips to the Home Depot or power tools to the Husband. But I thought, "Angela, why don't you do this yourself? It will be good for you. You might just learn something." So that is exactly what I did.
I debated calling this post "How to re-grout your shower," but it's more "How I re-grouted my shower." I'm not a pro (as you'll soon discover), but my goal here today is to inspire you to take up a task or two around the house you've been putting off. It might not be so scary/hard/expensive as you thought.
How to Re-Grout and Re-Caulk Your Shower – Step by Step
Yeah, folks. It was that bad. I don't care what you say, all the baking soda, vinegar, bleach, or Scrubbing Bubbles ain't gonna clean that.
So I started by removing all the caulking. This was a rather tedious project, but not difficult. I just used a razor and slipped it under the sides of the caulking.
This was both disgusting and delightful at the same time. Disgusting, for the reasons you might imagine and delightful knowing I was actually finally addressing the root of the problem!
Apparently I didn't take ANY pictures of me removing the grout. Sorry guys! I have to admit, this was a rather messy process and it wasn't so easy to drop, stop, and pick up the camera. But I can tell you I used a tool very similar to the one pictured above (found on Amazon for about $5).
I paid about $2.98 for it at Lowe's (you can see it in the photo below lying on the shower floor). The idea is to go over all the existing grout and wear it down a bit. You can also use a power tool for this, but I opted for the cheapie method. 😉
While this part of the process wasn't difficult, it was time consuming and messy. One of the best things I did was to bring the shop vac into the bathroom to suck up the bits of caulking and grout dust as I went.
I would say I spent about 3 hours or so removing the grout and caulking.
After that, I went over the gaps where mildew had been with a solution of bleach water and a stiff brush. You could also use vinegar, too. From here, I let everything sit and dry for a full day.
The new caulking and grout must be applied on DRY surfaces.
Next up: the new grout! So my pal Eric recommended I used Spectralock Grout (Amazon link). Apparently it's good for bathrooms…
In addition to the tub pictured above (PART AB) – Amazon link, you need to buy some color (PART C) – Amazon link.
This is where I admittedly started to get a little nervous. I don't know why I get nervous about these things, but I do.
Maybe I'm afraid I'm going to screw it up and then we're going to have to pay big money to fix my mistakes, I'm not sure. So I took a deep breath, read the instructions and started. Here's my grout all mixed up:
I mixed all the contents of the bucket and the color together. The instructions said I could've used a little less color if I wanted a "wetter" application and in hindsight, I wish I would've gone that route. My mixture turned out a bit gritty.
I used a cheapie $3 grout float for this project, but there are fancier ones, too. To be honest, this part did NOT go as pretty as the YouTube videos promised.
Maybe it's because the grout spacing in my shower was so small. Or maybe it was because my mixture was a bit grittier than I anticipated. Or maybe….who knows, but the project started turning messy and I had a mini panic attack right there in the shower.
What didn't help is that you only have a short window of time to apply the grout and clean the grout of the tiles. So no pressure, Angela, but the clock is ticking.
In my moment of panic, I thought about going to my husband, calling him in for reinforcement. Then I thought to myself, NO. I WILL do this. The whole point was for ME to learn to do this, and I will get it done, come hell or highwater.
With my new found resolve, I developed a new grout application technique. It's called using your finger and jamming the grout in the cracks. (Contractors of the world, observe.)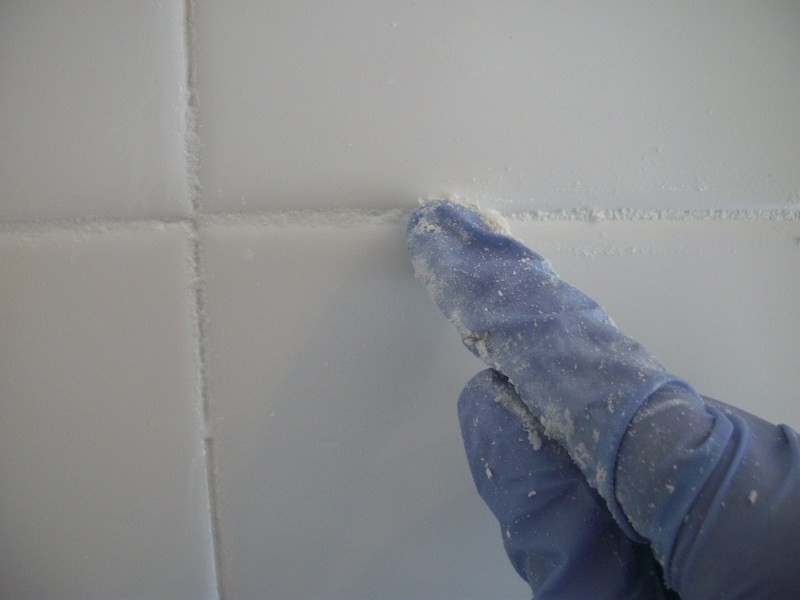 Depending how frustrated you are, you could REALLY give this grout "the finger" if you know what I mean, but I choose to keep this site family-friendly, so we'll move along.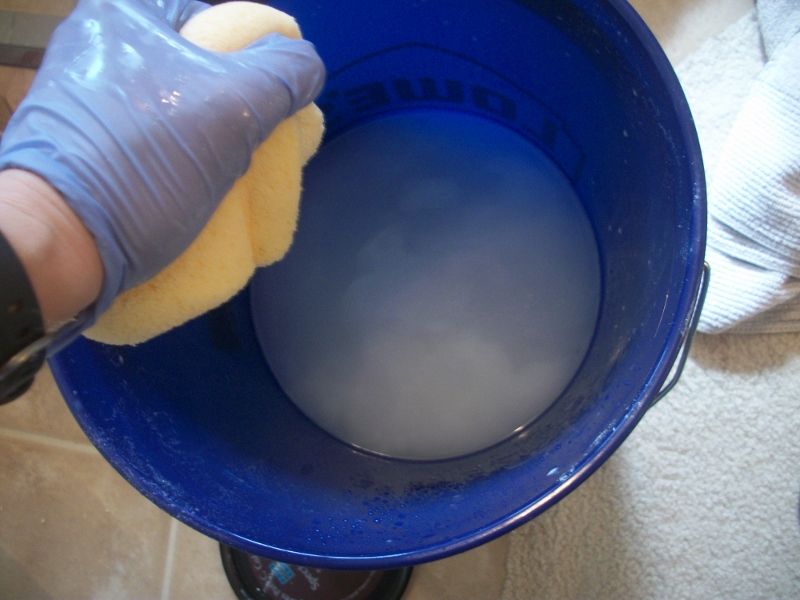 Now you will notice the grout makes a mess on your tile. You'll want to clean this up! Make sure to have a bucket of vinegar-water solution and a clean sponge prepped. After the grout has set for about 20-30 minutes, wring out your sponge really good and lightly go over the tile in circular motions.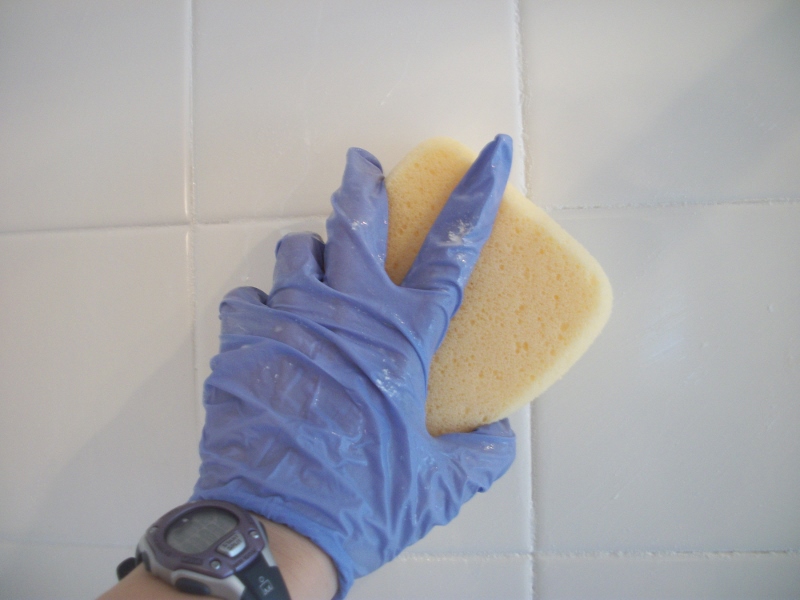 After about an hour, go over the entire surface a second time for a final cleaning. I have to admit, at this point, I was pretty darn proud of myself that I'd not panicked and completed the grouting!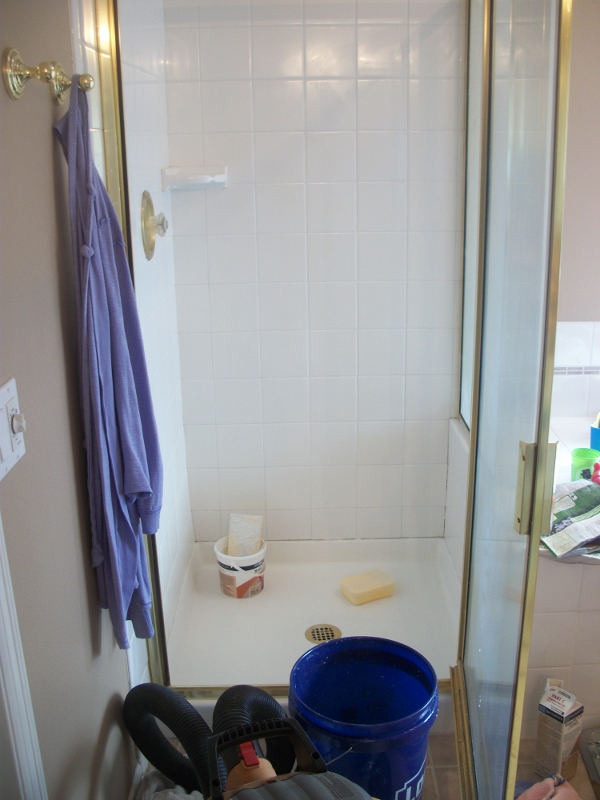 I let the grout sit for yes, another day, before caulking. Again, you don't want the caulk going on a wet surface! Now, I'd NEVER caulked before, but I found this short YouTube video very helpful for how to load a caulking gun. Oh! And make sure you're using caulk specific for a shower/tub – you want something that can withstand the water.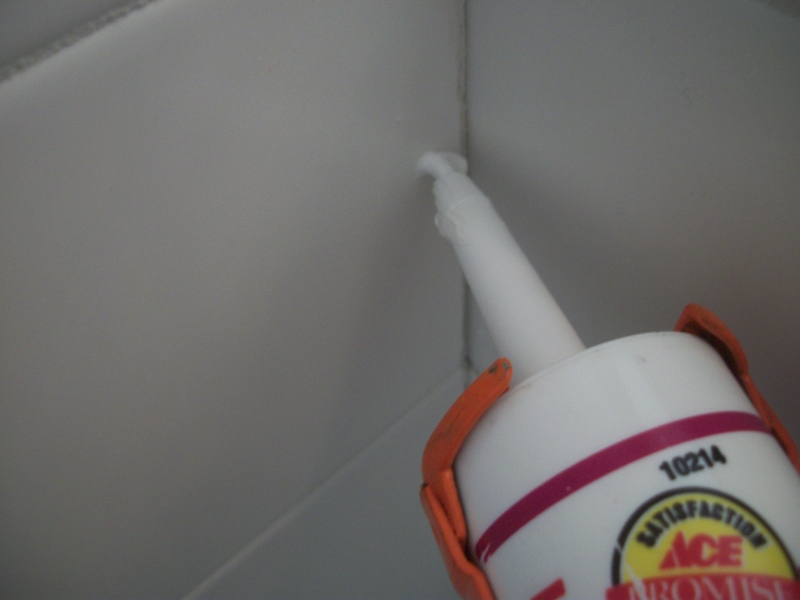 (I did a better job than that, but I was trying to take a picture with the other hand to give you an idea.)
So word to the wise, when you cut off the tip of the caulking, start small. I suspect I cut mine just a little too big because I had a pretty thick thing of caulking shooting out. And also, get ready. When you place the caulk into the gun, caulk may just start oozing out. This happened to me and I was completely unprepared. Messy! PS – If you don't have a caulking gun, this one on Amazon is priced around $10 and gets great reviews.
Basically you are going to apply gentle pressure on the gun and move the caulk down over the areas you want caulked. I then just used my finger to smooth the caulk down (dipping it every now and then in a bowl of warm water). You could also use a tool, but I didn't think it was necessary.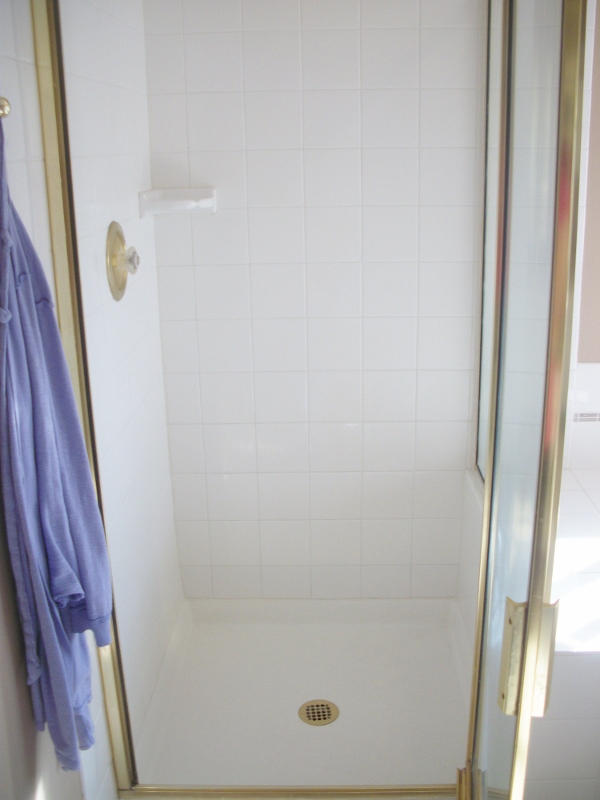 Let the caulk dry for 72 hours before using. At this point, I'm sooooo ready to use my shower again! (And my friends were about to say the same!)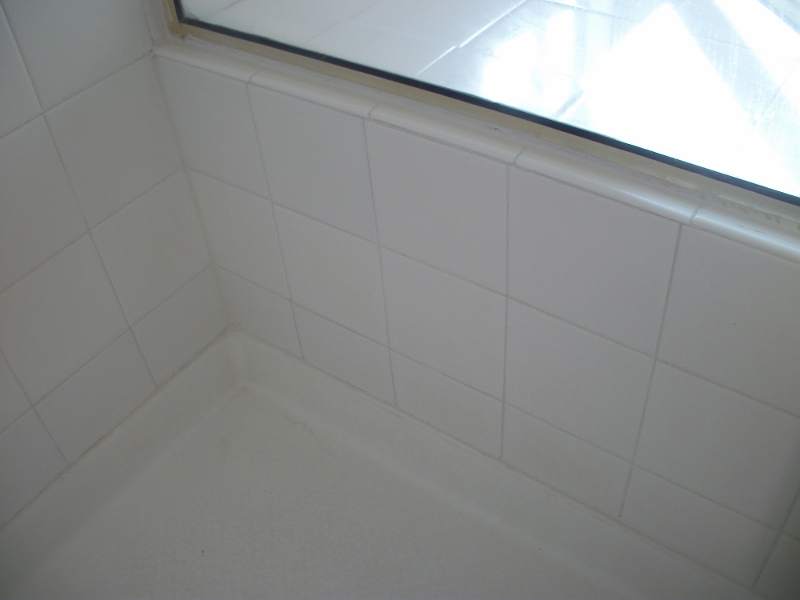 Oh hey look – it's NO mildew! How awesome is that?!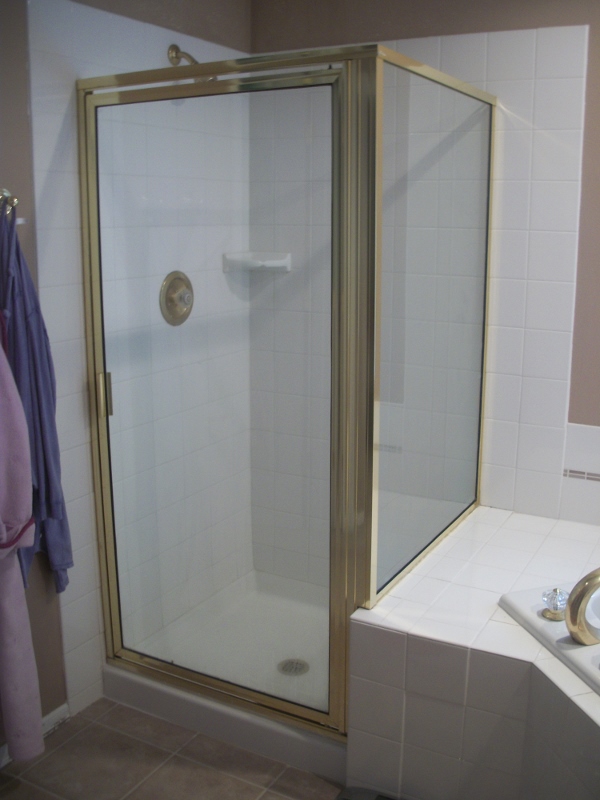 Not gonna lie. I'm proud of myself! I feel empowered to tackle other projects around the house that I've previously been intimidated about.
Let's observe the final results, shall we?
And one more…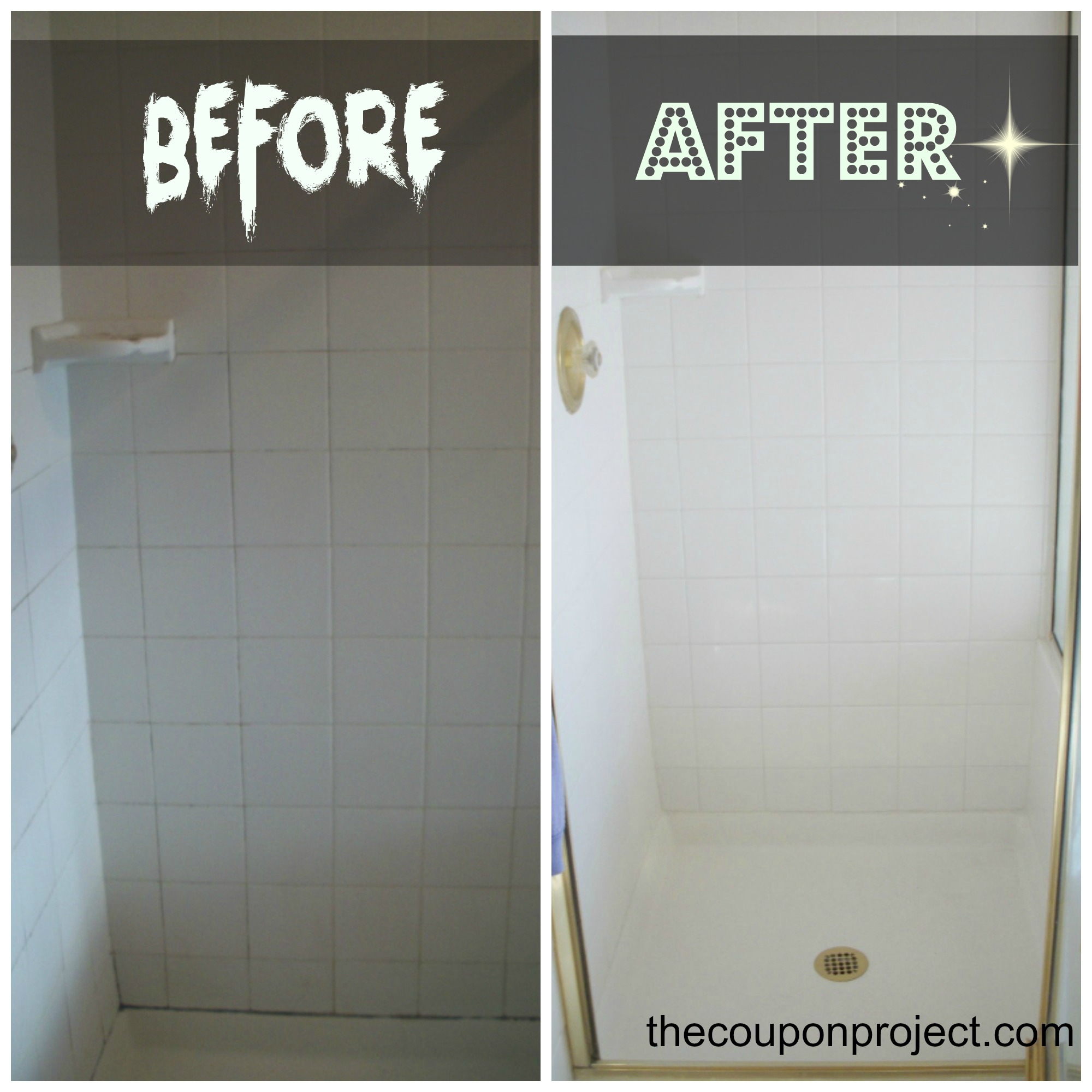 EDITED TO ADD: The total cost of supplies spent on this project was right around $50, so not bad methinks!