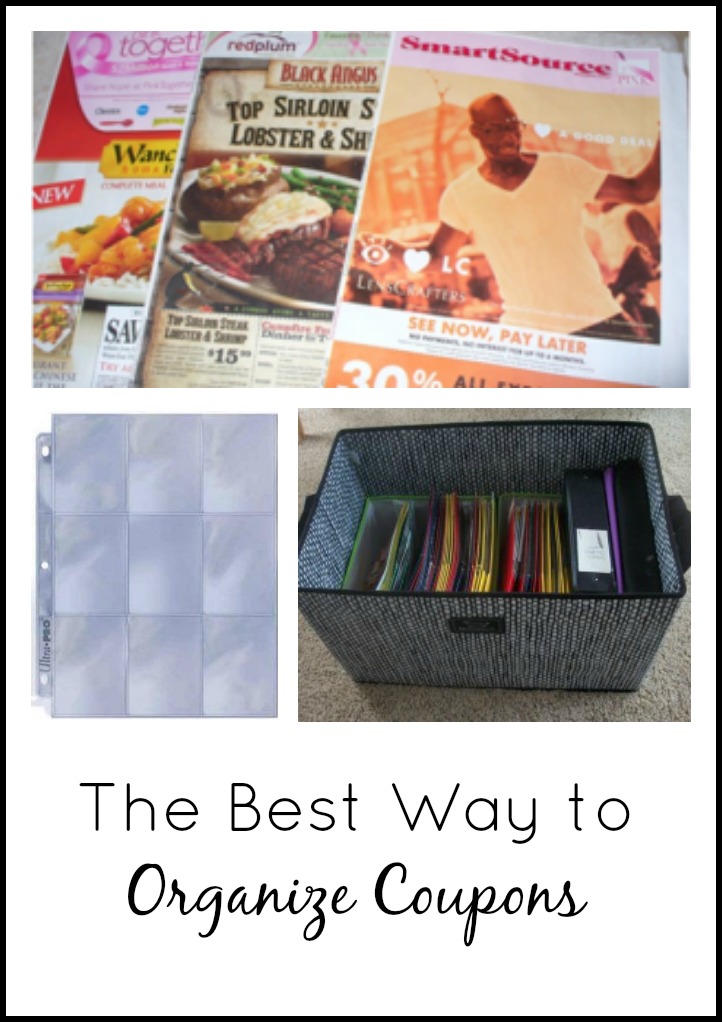 Are you new to couponing, or maybe you're wanting to develop a better system for doing it? This post is all about the best way to organize coupons, but please make sure to check out my How to Use Coupons page for more step-by-step posts on getting started with coupons.
Coupon Organization: What NOT to Do
You want to get more serious about using coupons. Great! The first step is to avoid these not-so-helpful strategies. Are you guilty of any of these?
#1: The Clip 'n Forget Method. You have good intentions, so you clip your coupons, but then don't have a plan of where to put them, so they tend to end up in a forgotten pile that goes into a junk drawer somewhere.
#2: The Bottom of the Purse Method. You find a good coupon at a store or get one at checkout, so you put it in your purse for "safe keeping" only to discover it three months later when you're cleaning said purse – and the coupon has long since expired.
#3: The Forgotten Folder Method. You decide the best place for your coupons is in a neat and tidy folder in your home office. Only problem is you never consult this folder before making your grocery trip.
While a bit tongue in cheek, the point I want to drive home is that coupons will not save you any money if they are not organized or easy to retrieve. On the flipside, it's entirely possible to create an overly complicated system that stresses you out every Sunday when new coupons arrive (I know because I've been there, done that).
Your goal will be to create a system that both keeps your coupons organized and is easy for you to maintain.
Three Basic Coupon Organization Ideas
Over the years, I've identified three different organizational methods that work well for most couponers. The one that's right for you will gel with your style, how you like to shop, how many coupons you intend to use, and how much time and effort you wish to devote.
Organizational Idea #1: The Coupon Binder
Even if you've never clipped a coupon in your life, chances are you've seen someone carry around one of these puppies at the store. You may have been inspired by them, or sworn you'd never be that crazy.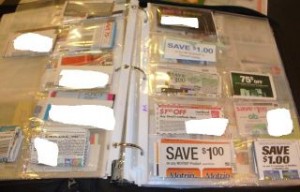 Let's chat a little bit about how this method works and why you'd choose to go this route.
Supplies needed: a large binder and plastic inserts (Amazon links)
Clip your coupons and file away weekly
You can also add coupons you find in stores and get in the mail
Don't forget about coupons you can print, too – head to the "Print Coupons" tab above for legitimate, free coupons
Keeps your coupons at-the-ready should you find deals in stores
Organize by category or alphabetically
Keeps them neat and tidy
I personally have used coupon binders for the better part of four years now and I have to say I like the feeling of finding a deal and knowing I have the coupon right then and there to use. However, I found clipping and organizing EVERY coupon from my insert was a huge time waster. These days, I ONLY clip the handful of coupons I think I'm likely to use (or may want to use if I find a deal). I spend about 20-30 minutes every Sunday this way, and my coupons stay neat and tidy. I carry mine in the store in a reusable grocery bag, so it's discreet.
You'll need to purchase some pocket sleeves such as these ones (Amazon link). I've used both the sports card and business card size and I definitely recommend the sports card – your coupons will require less folding and stay tidier.
I also recommend a good quality binder, preferably one that zips up like the one pictured here (Amazon link). I also like a binder that has pockets for couponing essentials such as scissors, calculator, pens, rebates, receipts, etc.
The disadvantages of this system? It's important you stay on top of pulling the expired coupons out! A good time to do this is at the start of the month as many coupons tend to expire on the last day of a month. If you use lots of food and products with coupons, you could easily spend more time clipping and filing into a binder than my 20-30 weekly minutes.
Organizational Idea #2: Folders/Filing
If the binder method is not for you, you could simply file your inserts away each week. On the spine of each insert in tiny print is the week date. You can use a sharpie or thick marker and write the date across the front or put the inserts into file folders. (I have some I picked up for $0.09 around back to school time a couple years ago.)
I have stored the folders in one of these super cute, durable Bungalow bins before. Here's a similar one, selling for $20 on Amazon right now. I definitely recommend something sturdy like this to support all those folders and coupons!
Here's how to retrieve the coupons you need, under this system:
#1: Use my coupon matchups as a guide! When I share the deals I'm finding at the stores with you here at The Coupon Project, I'm telling you which date and which insert you'll need. For instance, if I say the $0.50 off soup coupon is from the 10/14 SmartSource, you can refer to your 10/14 file or folder, find that SmartSource insert and flip through to clip the coupon.
#2: Use a coupon database. There are several online FREE coupon databases you can use. I prefer the one at Hot Coupon World, but there are others at Deal Seeking Mom and Hip2Save as well. Suppose you're looking to see if there is a coupon for Bic razors. You could go into one of these databases and type "Bic" or even just "razors" to see what comes up. Use the results as a guide to refer back to your inserts. IMPORTANT: coupons and their values may vary by region, so just because the database says a coupon was put out on a certain date, does not mean your local paper got it.
This method has its pros and cons. On the plus side, once you've created your folders or filing system, managing your coupon inserts is a breeze each week. It's perfect for the couponer who has limited time and/or gets many inserts and clipping all those coupons would be very time consuming.
A couple disadvantages to consider: you'll be doing a lot of thumbing through for coupons when you need them, which can be tedious. Also, this method is not very portable. If you find an unexpected deal in a store, you're often out of luck.
Organizational Idea #3: Coupon Box
One method I'm seeing used more and more is the coupon box.
I've personally dabbled with this and love how portable the system is! Reader Sarah also shared with me how she uses the coupon box method to keep her coupons tidy:
Here's what she has to say:
"When I first started couponing many years ago I started with a binder and baseball card pockets. After a year, the binder got too heavy, large, and awkward. You could never fully see what the coupon was for and the expiration date. I switched to a box and have loved it ever since. I have a box that is wide enough to store the weekly circulars (on the left side) and the coupon policies (on the right side) as well as the coupons in the smaller envelopes, #6 3/4 business envelopes (which you can find at the dollar store!). I fold the flap of the envelope in and tape an index card vertically to the outside of the back of the envelope. This allows me to color code and categorize the coupons….
…In the front of the box I'm able to keep an empty envelope box which stores scissors, calculator, a pen, pulled coupons paper clipped by store, and any rainchecks I may have. Target has its own set of envelopes filed by category in the back of the box. The box is locking and has a handle for easy carrying. It'll fit in the top of the shopping cart or if you have little ones, in the bottom. It is made by Snapware, which you can find at Walmart or Fred Meyer. Mine is 13.5"D x 9.5"W x 6"H."
If you're interested in trying this method, I found a Snapware Smart Store System on Amazon with many different sizes of boxes, including the size Sarah mentions (14 x 9 inch).
Thanks, Sarah!
How I Manage My Quick Coupon Trips
I want to share one additional layer of coupon organization I do.
See this cute little "purse?" Well inside, it's not really a purse!
It's an accordion-style coupon organizer! I've used one of these for several years now and it's great for those quick shopping trips when I don't want to lug my entire binders around. What I do is designate a store for each section. This way I can easily manage my rebates and store coupons/rewards.
When I'm planning a shopping trip, I can also gather all the coupons I need from my binders, filed inserts, printables, etc., and place them into the appropriate folder. I even have a couple sections for high value/favorite, and freebie coupons that I want to keep tabs on.
If you are a light coupon user? You could potentially use this as a standalone method to organizing your coupons. The advantage of this organizer? It's easy and cute and doesn't scream, I'm a crazy couponer!
Here's one example of a super cute coupon organizer I found on Amazon. It's neat and tidy and fits perfectly into your purse.
Organizing Your E-Coupons
I'd like to end this post with a quick section on organizing ecoupons because it's fast becoming a way that more and more people are using and redeeming coupons.
By e-coupons, I mean the coupons that you load to your store reward or loyalty cards that come off at checkout. Now, when you go to a site like Fred Meyer, you can see many coupon offers you can easily load to your card.
It can be tempting to want to load all of them – after all, why not? My problem is when I do this, I often forget what I've loaded. Instead, I prefer to take a look at the e-coupon sites of a store JUST PRIOR to making a shopping trip out. I add just the ones I think I want to use (or the ones I think might make a good deal!), and then either print the list of coupons I've loaded (most sites give you this option) or jot them down, usually on the grocery shopping list I've created.
I find by being more deliberate with the ecoupons I'm loading and loading them just prior to shopping, I'm more apt to actually use them!
If you liked this post, I also encourage you to check out these related posts on coupon organization:
How to Organize Your Coupons in Less Than 30 Minutes a Week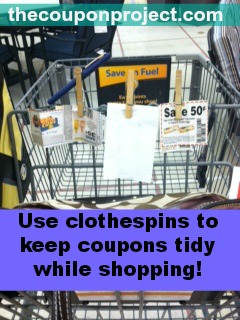 Use Clothespins to Keep Coupons Tidy
Finally, I encourage you to sign up for my daily emails. They are free to receive and include additional money-saving tips and coupon deals.