My wife and I love to watch movies, especially if they are cheap. There are so many options available these days to see movies and some are more expensive than others.
Top Cheap Ways to Watch Movies
To help you sift through all the different choices, here are 10 ways you can watch movies for less.
1. Movie Screenings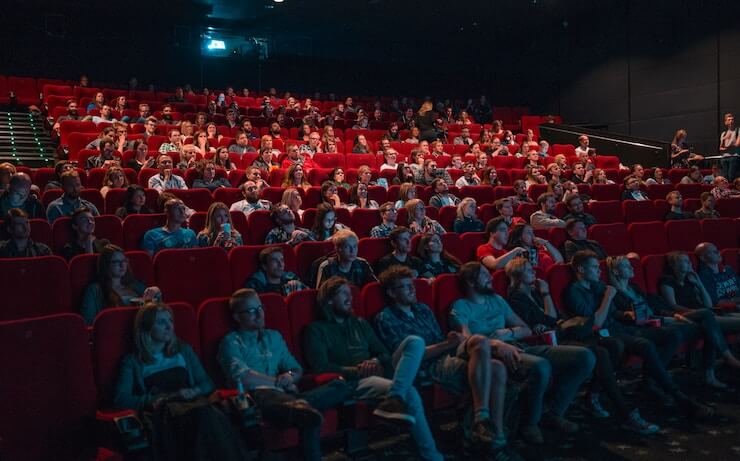 There are two companies that I have signed up for, that allow you to watch movies for free before they are released to the public.
To find out more, check out my previous post on how to watch movies before they are released for free by going to movie screenings.
2. Redbox
Redbox has movies you can watch via stream, on demand, or via kiosk rental. This is the cheapest method that I have found to watch a new release for around $1.49 per night.
They also offer the Blu-ray versions of movies as well if you pay a little more per night. Rental periods last for 24 hours and then you can return the movie to any Redbox kiosk.
3. Shop at a Thrift Store
Thrift stores have DVD movies for sale for really cheap. When you shop at a Goodwill or other thrift store, it's not uncommon to find movies for $2 or less. And you own it!
There can be some risk here of getting a damaged DVD, so always open the case and check the back of the DVD for scratches.
4. Dollar Theater (Now the $3 Theater)
If you like to watch movies on the big screen, this is a great way to do it for less. Most that I have been to are $3 or less, the only draw back is that these movies have been out for a while.
Do an internet search for "cheap theater near me" to find $3 movies near you. You could also see movies at the regular theater on special deal days.
Or you could go to a weekday matinee showing for cheaper prices.
5. Netflix
For $9.95/month you can stream a huge library of movies on Netflix. It's a nice alternative to cable TV, which can be expensive.
We've had Netflix for years and love it. The only challenge is that there are not many new releases available.
They do have some TV shows that you can only watch on Netflix like Stranger Things and Longmire if you are looking for a good TV series to watch.
Related Article: 14 Best Movies About Wall Street
6. Drive-in Theaters
We have a drive in theater in our area and if you go on Tuesdays it is only $4.50 per person.
Keep in mind most Drive-in's movies are double features which means you can actually watch two new releases for $4.50. Not too shabby.
7. Vudu
Vudu is a streaming service that allows you to rent movies without leaving the house. They have most new releases and costs about $3.99 per rental.
They also have a "movie of the day" that you can rent for $1, so if you are not too picky this could be a very inexpensive option.
Vudu also has a large selection of movies you can watch for free, but most are pretty obscure/older titles.
There's no subscription with Vudu, you just pay to watch what you want to watch.
8. Buy a DVD lot on Ebay
You can often buy a group of 20 DVDs on Ebay for less than $30 and you own the movies.
This can be a great way to start a movie collection, the only downside is you may end up with movies that you don't like.
Also, recently I have gotten into minimalism, so I prefer having a digital copy of a movie than having a physical copy of one.
But if you prefer owning movies outright this can be a great way to get them for cheap.
9. Go to Pawn Shops
I am not a frequenter of pawn shops, however, I do know that you can pick up DVDs relatively cheap. This is a great place to get movies somewhere below $2 per DVD.
And most pawn shops have a wide selection to choose from.
You may want to call in advance if you are looking for a specific movie. That way you won't drive all the way there only to be disappointed if they don't have it.
10. Costco Deals
About once a year Costco has a deal where you can buy AMC Gold Experience tickets for $6.50 a piece.
So if you like going to the nice theaters, even the dine-in locations, you can watch any movie for up to 50% less than the normal price.
We stock up on these whenever they become available.
11. Get Hulu
Hulu is another streaming service that is relatively cheap. You can get a basic Hulu subscription for just $5.99 per month.
The one thing about Hulu is that the shows and movies do come with ads. If you want to watch ad-free you'll have to upgrade to the $11.99 per month membership.
Bonus: Hulu often has bundle deals where you can get a couple of extra channels, like Disney or ESPN, for just a bit more money each month.
12. Get Amazon Prime
Amazon Prime itself isn't terribly expensive at $119 per year. However, if you're a frequent Amazon shopper and want the Prime membership for the free two-day delivery anyway, it's a no-brainer.
When you get an Amazon Prime membership for the delivery deal, you also get access to Amazon Prime Video. You'll have free access to thousands of movies.
But even if you don't use Amazon for shopping and delivery, $10 a month or so for movies isn't a bad price.
Summary
There are lots of options to watch movies for cheap. Using the options above and not paying full price can free up a lot of money for other financial goals you might have, such as early retirement.
A full price trip to the movies each month or a subscription to cable or satellite can cost upwards of $100 a month. Why not watch movies for cheap instead.
Better yet, why not watch movies for free?