Have you ever thought about a career as a transcriptionist to make money online?
As a typist who writes out documents from recorded audio, you can work from the comfort of your own home. Plus, with transcription jobs, you can choose your own hours.
That means you can earn money early in the morning before kids get up, late at night after they go to bed or anywhere in between.
If you like the idea of working from home doing transcription work, read on for details on how you can start to make money transcribing.
How Much Money Does a Transcriptionist Make?
Transcription jobs are generally remote jobs that involve converting live or recorded audio files into text. You can earn real money transcribing files.
There are two types of transcription jobs online, including:
Verbatim
Non-verbatim (or intelligent)
Verbatim transcription jobs involve converting all text, even "umms, ahhs" and laughter. Legal transcriptionists are common in this niche.
Non-verbatim transcription jobs convert the relevant text and makes minor changes to grammar.
You can get jobs doing general transcription, medical transcription and legal transcription.
One of the great things about general transcription opportunities is that you can do the work anytime day or night. That means you can work around your schedule.
When working as a transcriptionist, pay styles vary by company. Some pay per audio or video minute, while others pay per video or per audio hour. Others pay per word transcribed.
However, when companies say they pay per media minute or per audio hour, that isn't the same as a true per-minute or per-hour rate.
Instead, it's an actual media minute. This takes you longer than one minute to transcribe.
What this means for you is that you have a lot of control over your income.
The better you get at transcription, the faster you'll be able to transcribe a media minute or audio hour. And that can mean a better pay rate for you.
As an experienced transcriptionist, regardless of if you are doing legal, general or medical transcription, you can often get paid anywhere from $15 to $25 an hour. A beginner transcriptionist may start out making less.
With some effort and experience, you can work your way up in the field and take on more lucrative transcription jobs. When it comes to making money online, the top monthly earnings from the best transcription jobs could replace your day job.
How to Get Started as a Transcriptionist
To get started as a transcriptionist, it might be a good idea to start with some training.
Learning the ropes from an experienced transcriptionist such as Janet from Transcribe Anywhere will help you understand what you need to do to perfect your transcription skills.
You might want to begin by asking yourself if transcription work matches your skill sets.
In order to be a successful transcriptionist, you need to have skills such as:
Good listening skills
Good typing skills
A detail-oriented and organized nature
Thorough knowledge of grammar and spelling rules helps as well. However, you can learn that via a quality transcription course. Plus, your typing speed and skills can improve with practice.
There are four main pieces of equipment you'll need to get started as a transcriptionist.
These include:
A computer
A high-speed, reliable internet connection
Transcription software or speech recognition software
A high-quality foot pedal
The foot pedal is for use in starting and stopping the audio file or recording as necessary. Although a foot pedal is not essential to work as a transcriptionist, it will be very helpful for you.
Starting and stopping audio transmissions with a foot pedal as opposed to with your hands will save you time.
The bottom line is that time savings in transcription often results in a higher rate of words per minute you can transcribe. A faster typing speed means that you can earn more money.
Where to Learn How to Transcribe
You can probably find work as a transcriptionist without taking a course. There are several companies out there that hire beginner transcriptionists with no experience.
However, those who take quality transcription courses will have a serious head start when it comes to getting higher-paying jobs.
Taking the Transcribe Anywhere course (or a similar high-quality course), will teach you how to be a successful transcriptionist before you even get your first job.
For instance, the Transcribe Anywhere course helps you by giving you:
Access to the best deals on quality equipment
Keys to valuable shortcuts
Time coding instruction
A guide to transcription styles
Links to the best software
Practice guides and tests
A step-by-step guide to finding work
And other valuable tools. Having this type of training and experience under your belt before you start means you'll have a head start over the competition.
There are plenty of online transcription jobs out there, but the best and highest paying ones go to transcriptionists who really know their stuff.
All courses vary in length of time, but the Transcribe Anywhere course usually takes two to four months to complete.
There's a time variance for completing the course because you can take the course at your own pace.
7 Companies That Hire Beginner Transcriptionists
There are a few different companies that hire beginner transcriptionists. Some online transcription jobs have qualifications that need to be met. For instance, a certain typing speed is required for the best transcription jobs.
Others companies in the transcription industry have assessment tests you need to pass before they give you work.
Note that most transcription companies hire transcriptionists as independent contractors. That means you'll be responsible for keeping track of your income and expenses.
Independent contractors are also responsible for paying their own taxes. For this reason, you'll want to be sure to put aside some of each paycheck into a savings account.
That way, you'll have money set aside when it comes time to pay your taxes.
We've chosen some of the better companies that hire beginner transcriptionists to highlight here for you. We'll share what their requirements are, what their typical pay rate is and other relevant information so you can start your transcription career.
1. Rev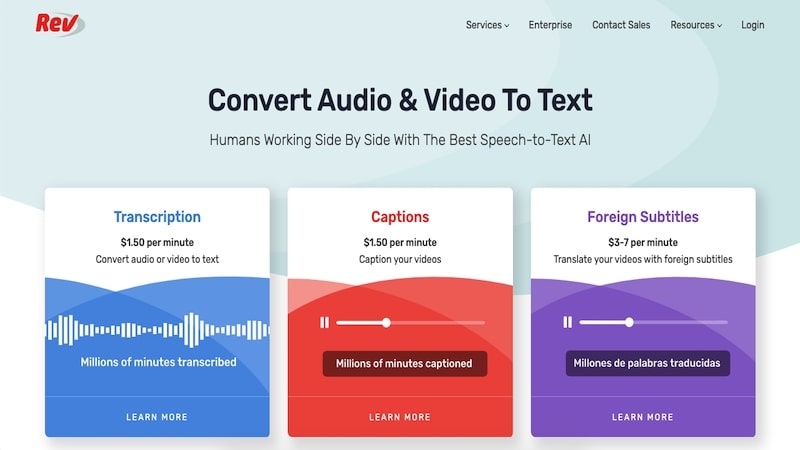 Rev is a transcription company that was started by five MIT classmates. The goal? To create a service without geographical borders for freelancers who desired work and clients who wanted services.
Pay rate: $0.30 to $1.10 per audio or video minute
Pay Frequency: Weekly via PayPal
Work Availability: High
Qualifications: You'll take a quiz to demonstrate your English and grammar skills, and also submit a transcription sample
Note that if you are fluent in a foreign language, you can work as a subtitle translator for Rev. This position pays a higher wage of $1.50 to $3.00 per audio/video minute.
Rev is regularly looking for experienced transcriptionists with decent typing skills, so this company is worth looking into if you want to get paid to type.
2. GMR Transcription
GMR Transcription was founded with the goal of integrating the latest technology into the transcription business and combining that technology with highly skilled transcriptionists.
Pay rate: Undisclosed; some estimates say $0.70 to $1.25 per audio minute, and pay is based on number of speakers in the audio, audio quality and turnaround time
Pay Frequency: Monthly via PayPal
Work Availability: High
Qualifications: Submit your résumé and then wait for qualification test instructions
Note that with GMR Transcription, you must submit two hours of audio work before you get paid.
This probationary period is where they assess the quality of your work. After you're hired, you must commit to working a minimum of four audio hours per month.
3. Daily Transcription
Daily Transcription has been providing transcription services for over a decade. The company is located in the USA and doesn't outsource its work. That means they almost always have openings for transcriptionists.
Pay rate: starting pay of $0.75 to $0.85 per audio minute
Pay Frequency: Weekly
Work Availability: Medium
Qualifications: Submit and pass a skills assessment test and transcription test
The company says their top transcriptionists make anywhere from $250 to $950 per week. This means that the monthly average earnings clock in at around $1,000 to $3,800.
It's safe to say that the better you are at transcription, the more jobs you'll get.
One nice thing about this company is that they support you by providing feedback when you first get started.
4. GoTranscript
GoTranscript was founded in Scotland. Although the company's base is in the UK, they hire transcriptionists from all over the world.
Pay rate: Up to $0.60 per audio minute
Pay Frequency: Weekly via PayPal
Work Availability: High
Qualifications: Transcribe a test job with passing results
GoTranscript's transcriptionists' average monthly earnings are around $150 a month, with their highest earner making over $1200 per month.
The company gives you six hours to transcribe ten minutes of audio, so there's plenty of time even for slower typers. You can work as much or as little as you want with GoTranscript.
And you can choose which jobs you want to do and which you don't. GoTranscript provides support and feedback to help you grow in your skills as well.
5. Way With Words
If you are looking for a transcription job, the Way With Words transcription service has locations in the United States, Canada, the United Kingdom, Australia and South Africa.
Pay rate: $0.45 to $1.73 per audio minute
Pay Frequency: Monthly via PayPal
Work Availability: High
Qualifications: Take and pass the assessment test
This platform offers paid on-the-job training, and you can work as many or as little hours as you like. Note that this company only pays once a month, just like GMR Transcription does.
For that reason, if you're counting on your transcription income to pay the bills, you'll want to manage your money using a budget.
Otherwise, you might find it difficult to go a full month in between paychecks.
6. CastingWords
CastingWords was founded in New Mexico. They sell transcription services in several languages. So, if you're bilingual, it means that you could have more opportunities for work.
Pay rate: $0.85 to $1.00 or more per audio minute
Pay Frequency: Weekly via PayPal
Work Availability: High
Qualifications: Take and pass the assessment test
Each job with CastingWords has a different pay rate. The company grades your performance on any given task. If your work on a job is graded too low, they discard the work, and you won't get paid.
If your work is acceptable, the higher the grade level of work you complete, you'll get a higher rate of pay.
As an example, Grade 5 work gets paid the base amount. Grade 6 work gets paid 1.5 times the base pay of a job. And Grade 9 work gets paid three times the base pay amount for a job.
So, the better quality transcription work you put out, the more you'll get paid. Of course, typing time is a factor, too, so keep that in mind.
7. CrowdSurf
CrowdSurf offers short transcription tasks you can do any time of the day or night. You have to sign up through Work Market, an online career site.
Once you've got your Work Market profile completed, you can sign up to work with CrowdSurf and receive audio files to transcribe.
Pay rate: $0.03 to $0.20 per audio minute, plus the potential for bonuses
Pay Frequency: Daily, through Work Market, where you can withdraw funds via PayPal
Work Availability: Medium
Qualifications: Take and pass the assessment test and hear within three to five business days
After you've passed your assessment test, you'll create a profile on the CrowdSurfWork platform. All available online transcription jobs will appear on the platform.
You can choose and complete work at your discretion, according to the guidelines listed for each available job. CrowdSurf is more of an entry-level company in the transcription world, but it's a great place to gain experience.
As you get better at online transcription, you can move up to work with higher-paying companies.
Summary
Making money from home as a transcriptionist is entirely possible. However, you'll earn more and enjoy online transcription jobs more if you take a quality training course.
Once you gain experience as a transcriptionist, you might be able to earn $100 a day or more in your work.
Depending on the number of words per minute you can type, and your accuracy in transcribing the media file, you can earn more with every week of experience.