Did you know there are legit ways you can make money from your Android phone?
There are several apps available that exist solely for the purpose of helping you make money in your spare time.
Some of these apps can help you make money with your phone in as little as a few minutes.
That means you can earn some extra cash when you're waiting to be seen at an appointment or on a morning break at work.
Tops Apps for Making Money with Android
There are several sites that help you make money with your Android phone. Here we'll share six of the most popular.
1. MobileXpression
MobileXpression is an app that will reward you for sharing your Android mobile browsing history for market research purposes.
You will earn reward points based on how many hours you browse each week.
The points you earn can be redeemed for prizes, including cash, gift cards, and more.
There are also weekly sweepstakes you can enter to win merchandise prizes.
2. Instacart
Instacart shoppers fulfill and deliver grocery orders to nearby customers. When you work with Instacart, you can choose to be a full service shopper or an in-store shopper.
As a full service shopper, you'll use your phone to fill the orders in the store and delivery the orders to customers.
As an in-store shopper, you'll shop and stage the orders for pick-up by the customer.
There are no set hours when you work with Instacart; instead, just open the app and choose the hours that work for your schedule.
As a full-service shopper, you'll earn a preset payment amount for each order you fulfill. You have the opportunity to earn tips from customers you deliver to as well.
Instacart in-store shoppers are Instacart employees that are paid an hourly wage. You'll be able to use the app to choose which shifts you take.
Learn More: Instacart Shopper Review: Is It Worth It?
3. Swagbucks
Swagbucks has paid out over $255 million to members since its inception. Here's how making money with Swagbucks works.
You complete a variety of activities on your phone (or on your PC or other device).
Some of the activities you can participate in include:
Surveys
Playing games
Watching videos
Searching the Net
For each activity you complete, you get rewarded points from Swagbucks. Those points can then be converted to give you money in two ways:
You can convert them into a cash transfer into your PayPal account
You can use them to get free gift cards to retailers such as Amazon and Walmart
One of the reasons using Swagbucks to make money with your phone is so popular is that many of the activities they have for members take only a few minutes.
Swagbucks gives out over 7,000 gift cards every day, so you know it's legit.
Learn More: Swagbucks Review: Is It Worth Your Time?
4. InboxDollars
InboxDollars is a rewards club that pays you cash for taking surveys, watching videos, searching the Web and more.
In fact, InboxDollars has paid out over $50 million to members to-date.
After you sign up to be a member (it's totally free to sign up, and they often give away bonuses of $5 just for signing up), you start completing activities, many of which only take a few minutes.
Some of the activities InboxDollars will pay you for include:
Taking surveys
Searching the Web
Watching videos
Shopping
Trying out new products and services
Each activity has a designated payout amount which is listed clearly on the site.
Once you've earned enough money, you simply request a transfer of your cash to your PayPal account.
Learn More: InboxDollars Review: Is It A Scam Or Legit?
5. Fetch Rewards
If you go shopping, you should download Fetch Rewards. Scan a receipt with your Fetch Rewards app and earn points each time you have a receipt. You don't have to activate offers before you shop or worry about buying specific products.
Be careful, though. Your points expire after 90 days if you haven't uploaded a new receipt within that time.
You can also earn bonus points if you buy qualifying brands. The offers change within the app often, so glance at it before shopping in case there's something on your list.
Fetch Rewards also offers the chance to redeem special offers or even upload restaurant receipts.
You'll earn 25 points per receipt at a minimum, but if you have any qualifying purchases, you may make more.
Once you have 3,000 points, you can redeem them for special prizes, including a cash payout and gift cards.
Learn More: Is Fetch Rewards Safe?
6. Drop
Drop is an app that helps you turn everyday purchases into cash rewards, and it takes very little effort on your part.
You simply link your debit and credit cards to the Drop app and go about shopping like you normally would.
As you spend money at your favorite stores, Drop gives you points that you can instantly redeem to get free gift cards.
Drop pays rewards at popular stores such as Tim Horton's, McDonald's and many more. Drop has given away over 300,000 gift cards to-date, and it's free to sign up.
7. Rakuten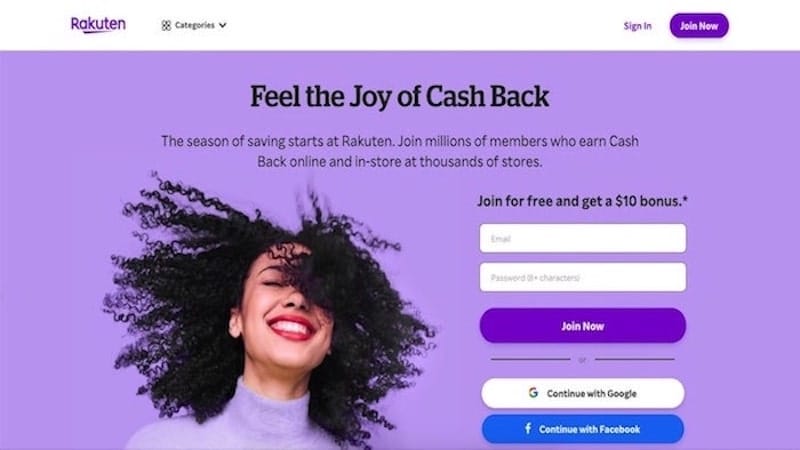 Rakuten gives you cash back of up to 40% on your purchases when you shop through their portal.
They have over 2,400 stores willing to give you discounts, including big box stores such as Amazon, Walmart and Target.
To date, Rakuten has helped members earn over $1 billion in cash back at their favorite stores. Here's how it works.
After you join and become a member (it's free to do so), you'll receive your customized login information.
The next time you want to shop online, you simply login to your Rakuten account, and from there access the stores you want to shop at.
After you make your purchases shopping through the Rakuten portal, the cash back you earned at each of the stores you purchased from goes into your Rakuten account.
At the end of each quarter, Rakuten sends you your total cash back earned, either via PayPal or via a check in the mail; the choice is yours.
Shopping through Rakuten is a great way to earn extra cash back as you shop, and you can then use that money however you wish.
Note: the company occasionally doles out sign-up bonuses. As of this writing they were giving away a $10 cash bonus to new members.
Learn More: Rakuten Review: Is Rakuten A Scam Or Legit?
8. Ibotta
Ibotta is a shopping portal that helps you earn cash back as you shop. Ibotta has paid out over $300 million in cash back rewards to its members so far.
Earning money with Ibotta is easy: you simply sign up to be a member, and they search the app for cash back offers before (or even after) you shop.
Ibotta helps you access money saving coupons and other offers from stores and manufacturers everywhere.
When you're done shopping you scan your receipt into your phone.
You can also link your rewards card to your Ibotta account and it quickly finds the purchases that coordinate with the offers you accepted.
Then Ibotta puts the cash into your Ibotta account, and you can in turn have your earned cash transferred into your PayPal account.
When I signed up for Ibotta I earned over $30 in just two weeks.
This can be a great way to take advantage of saving money on everyday purchases and abandon the tedious work of clipping coupons.
You can also link your rewards card to your Ibotta account and it quickly finds the purchases that coordinate with the offers you accepted.
Learn More: Ibotta Review: Can You Really Make Money Buying Groceries?
9. DoorDash
DoorDash provides restaurant delivery services to over 4,000 cities in the U.S., Canada, and Australia.
When you sign up to be a Dasher with DoorDash, you can choose when, how, and where you work.
You can work right in your own neighborhood, or even pick up gigs when you visiting other towns.
You'll get paid a pre-specified amount for each delivery you take. And you've got the option to earn tips as well.
Just apply on the DoorDash website and you can start delivering with your car, scooter, or (in select cities) bicycle.
Most Dashers can start working within just a few days of when they apply. Social Security number needed for applicants in the U.S.
Learn More: DoorDash Review: How Does DoorDash Work?
10. Rover
Rover is an Android app where you can make money taking care of animals. When you sign up to be a pet care specialist on Rover, you can create a profile to offer a variety of pet care services.
Some of the services Rover members perform include:
Dog and Cat sitting (long and short-term)
Dog walking
Drop-in checks on pets
With Rover, you get to choose which clients you take on and which types of jobs you take on. And you set your own fees.
Rover takes a percentage of the fee for each completed booking. You can expect to get started after Rover completes your application review and background check.
This usually takes five to ten business days.
Learn More: Rover Review: Can You Make Money Dog Sitting?
Summary
There are many ways to earn extra money with your Android phone. Some options take a little time but only have a small payout. Some take longer but pay more.
Choose the option (or options) from this list that works best for you and start making some more money from your phone today.