Looking for money saving apps to improve your finances? We've got you covered.
A GoBankingRates survey reports that roughly 69% of surveyed Americans have less than $1,000 in savings, we know that saving more money is a necessity.
But how can you save more cash when the money seems to fly out of your bank account so quickly?
Whether you're saving for an emergency, for retirement or for something entirely different, there's an app for you.
Top Money Saving Apps
The following list of apps will help you save more money with little effort on your part.
Since many of the apps listed are free to download, you can easily afford to save money. There's no risk for you to try them out and see how much money you can save.
1. Acorns
Acorns is an app that helps you use your leftover change to save more for retirement or other long term goals. Here's how it works:
You start by linking your checking account and credit card to your Acorns app. For every purchase you make, Acorns rounds the purchase up to the next dollar.
The rounded up amount is then invested into the Acorns account of your choosing. You can open a retirement account or a non-retirement account with Acorns.
You get to choose which types of transactions to round up. Or you can have all of your transactions rounded up. Plus, you can "Turbocharge" your roundups to get extra money into your Acorns account.
Acorns has a variety of investment portfolios to choose from, from conservative to aggressive. Fees are between $1 and $3 per month, depending on the plan you choose.
2. Trim
Trim is all about saving money, but it accomplishes this a bit differently than the other apps here. This app enables you to save by finding hidden charges on your debit card and credit card accounts.
Do you know those sneaky subscriptions that are automatically charged to your credit and debit card?
They may be things you forgot about, like magazine subscriptions, or the auto-renewal for your gym membership.
The Trim app seeks them out and asks you via text if you're interested in keeping the recurring charge.
If you're not, Trim will contact the billing company for you and have the charge or service canceled.
Trim can even work to get you lower rates on auto insurance and cable bills.
Trim uses bank-level security with 256-bit encryption and two-factor authentication to ensure your private information stays safe as it works to save you money.
3. Chime
Chime is one of the best apps to save money. It's a free online financial technology company that has two awesome savings features.
When you open a checking account and savings account with Chime, it can help you cut costs in two ways. First, Chime has an Automatic Savings Program you can join.
When you join this program, Chime will "round up" any purchases you make with your free Chime Visa debit card.
Then it will put the rounded-up amount into your Chime savings account.
Second, when you enroll in Direct Deposit, you can join the "Save When You Get Paid" program.
This program automatically transfers ten percent of all Direct Deposit paychecks into your Chime savings account.
4. Clarity Money
Clarity Money is now Marcus Insights. This app helps you cut costs by setting up automatic recurring deposits.
Then it puts those deposits into a high-yield online savings account.
The Clarity Money app also has a "goals" feature that helps you set specific savings goals.
5. Qapital
Qapital is a money saving app that helps you cut costs by using rule-based triggers to prompt savings deposits. You can use savings goals to help you create those triggers.
For instance, you can use fuel purchases to round up your savings account for a new car. Or you can use cable TV fees to round up and save for a new television.
Qapital has three different pricing plans to choose from:
Basic: $3 per month
Complete: $6 per month
Master: $12 per month
The basic account simply helps you save for your goals. The Complete and Master accounts offer investment help options as well.
6. Digit
Digit is an all-in-one app that helps you budget, save and invest. The app has an algorithm that analyzes your income and spending habits so you can put more money in your piggy bank.
When it sees that you have a bit of extra money, the app will transfer that money to your Digit savings account.
What's nice about Digit is that it typically transfers smaller amounts of money: between $5 and $50 or so.
The amount it transfers depends on what the algorithm sees and what savings goals you've set up.
Other apps with this same feature sometimes transfer $100 or more, potentially leading to users having too little money in their spending accounts.
At the end of your 30-day free trial, Digit costs you just $5 per month.
7. Joy
Joy is a free money-saving app that analyzes your bank account activity to help you find ways to save. As it analyzes your spending, it suggests amounts to transfer from your checking account to your Joy savings account.
Joy won't transfer the money automatically. Instead, it will wait for you to give your approval.
You can reduce or increase the amount of money Joy suggests you save for the day as well. Joy simply makes suggestions to help increase the amount of money you're saving.
8. UNest
The UNest savings app helps you save money for college in a 529 account. You can save in this account via automated deposits or occasional money transfers.
You can even allow friends and family members to transfer money into your child's college fund via the UNest app.
The money you deposit into your UNest account will be invested based on the length of time until your child starts college and other factors.
It costs just $3 a month to use UNest.
9. Upromise
The Upromise app is another app that helps kids save for college. This app lets you set college savings goals and reach those goals through automatic deposits.
As a bonus, Upromise has a Mastercard credit card to help reach college savings goals.
Purchases made with the Upromise Mastercard earn cash back that goes directly into your Upromise 529 college fund.
10. BusyKid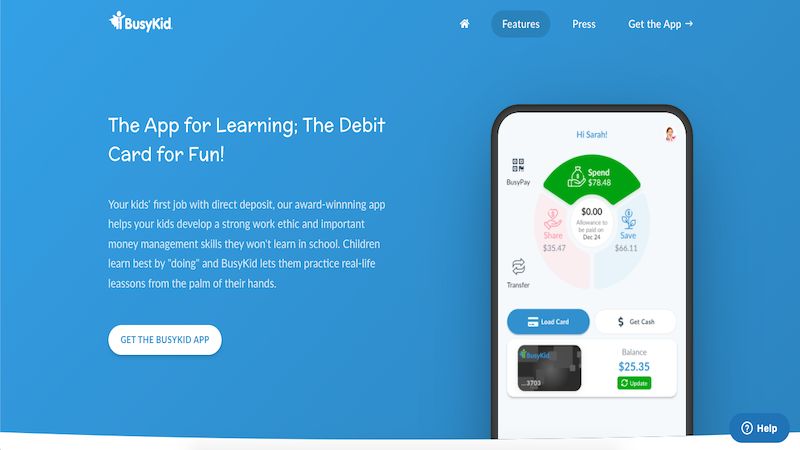 BusyKid is an app that helps kids to earn, save, donate, spend and invest money.
With the earning feature on the app, parents can set up regular or occasional chores. Kids complete the tasks and mark them on the app when they're finished.
Every Friday, the money kids earn is direct deposited into their BusyKid account (which is FDIC-insured). Out of every week's earnings, a percentage goes directly into your child's BusyKid savings account. It's essentially an automatic piggy bank.
Your child also has the option to donate money via the app too. Other features include a prepaid Visa spending card and the ability to purchase portions of stock shares.
There are no monthly fees for the BusyKid app. However, there are other fees associated with the investment account and with the spending card.
11. Capital One Shopping
Capital One Shopping is a price comparison tool that can help you save money on your online purchases.
In my opinion, it's better than any cash back opportunity. This is because you can potentially save money when you purchase instead of waiting for cash back.
And the best part is that it's absolutely free to use this tool. That's right! It will scour the internet for amazing deals on items while you are shopping. But you won't have to pay a dime for this assistance.
Capital One Shopping will search for discount codes, coupon codes, and more. If you are waiting for a good sale, you can take advantage of the price drop notification tool.
As you shop with Capital One Shopping, you'll earn credits. These credits can be redeemed for gift cards at many popular retailers.
12. Ibotta
If you want to save money on groceries, you should download Ibotta. The app makes it easy to earn cash back while shopping for essentials.
Ibotta has a simple framework. It starts by activating rewards in the mobile app. After you go grocery shopping, you'll scan your receipt. When your receipt matches up with the in-app rewards, you'll receive cash.
Additionally, it's possible to get rewards for your online purchases completed either with a credit or debit card.
You'll build up rewards in the app. Once you reach the $20 threshold, you can cash out via PayPal. If you prefer to cash out with a gift card, then you'll need to hit the $25 cash-out minimum.
Overall, this is a great way to cut costs on your grocery bill. Unlike clipping paper coupons, this modern option makes saving money on groceries more practical.
13. Upside
Upside offers an opportunity to get cash back while shopping around town.
You can use the app when buying gas, shopping at the grocery store, or dining at restaurants. With over 50,000 opportunities around the country, there's likely a chance to save in your area.
After downloading the app, you can see which retailers participate in your area. A few of the chains that participate include Shell, Marathon, Piggly Wiggly, Popeyes, and Valero. Even just the chance to save on gas makes Upside a valuable opportunity.
You can redeem your rewards via your PayPal account or have the funds deposited directly into your bank account.
Upside users have earned over $200 million. If you are thinking of signing up, that's an encouraging figure.
14. Shopkick
Shopkick is an app that rewards you with 'Kicks' for completing activities.
It's possible to earn points (also known as Kicks) by scanning barcodes at stores, watching videos, and shopping online. But you'll earn the most Kicks by making purchases through Shopkick.
Kicks can be redeemed for gift certificates or through PayPal. The minimum payout threshold is $5.
Although it can take time to build up Kicks, the payout can be worth it. Shopkick is an especially useful option if you enjoy browsing in stores and have some downtime to watch videos online.
15. Stash
Physical spare change may be a thing of the past. But that doesn't mean you have to forgo the simple savings strategy of tucking away a small amount of funds with each purchase.
Stash connects to your spending. Each time you make a purchase, the app will round purchases to the nearest dollar and save the difference automatically.
Basically, every time you round your purchases up to the nearest dollar, this turns your spare change into a way to save.
On top of building savings, Stash offers the chance to invest these funds. With the help of automatic savings and investing, you can watch your account balance grow.
The banking account Stash offers is FDIC-insured.
The downside to Stash is that you'll have to pay a monthly fee for this opportunity. Fees range from $3 to $9 per month. Depending on your situation, you might decide to tackle savings on your own to avoid the fee.
Stash Disclosure: Stash Banking services provided by Stride Bank, N.A., Member FDIC. The Stash Stock-Back® Debit Mastercard® is issued by Stride Bank. Investment advisory services offered by Stash Investments LLC, an SEC registered investment adviser. Investing involves risk and investments may lose value.
Summary
There's no shortage of ways to save money if you've got the right smartphone apps at your fingertips. There are a variety of apps available for all types of savings goals.
Plus, the fact that these apps are free means that you can actually afford to save money.
Whether you want to save for short term goals like going on vacation, or long term goals like saving for retirement, you can find an app to help.