Looking for the best online dollar stores? Instead of going to your local shopping center and hoping they will have what you are looking for, what about shopping at an online dollar store instead to save money?
Most of us browse the internet to save money on big-ticket purchases, but did you know you can find items for a dollar or less?
There are actually dollar stores online that can help you save money on small purchases, including name brands.
Continue reading to find a dollar store on the web that fits all your shopping needs. And, some even provide free shipping and a 100% money-back guarantee.
Top Online Dollar Stores
There are several sites to choose from, but here are the best ones.
1. Dollar Store
Established in 1996, Dollar Store prides itself on being the first true online dollar store. Products range in price from 50 cents to $2 per item.
The minimum order for Dollar Store is $50, and all orders ship from southern California.
I personally enjoy their large selection of socks and flip flops.
One unique feature is that you can pay for orders with dollars or bitcoin.
Trustpilot score: 3.7 out of 5 stars
2. RoseGal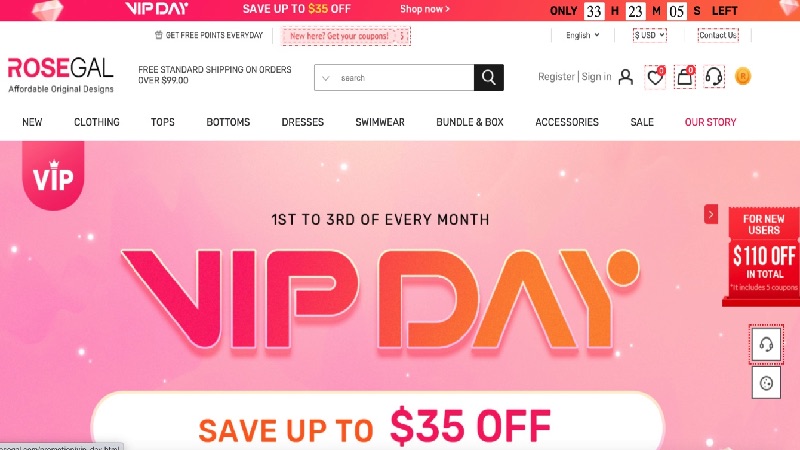 You will have a hard time find items for $1 here as the cheapest jewelry and fashion accessories start at $2. But, women might able to find some good deals on clothing with many pieces ranging from $8 to $30.
RoseGal also sells some men clothing and home and garden accessories. However, this site has the widest selection and deals on women's fashion.
Shipping is free for all orders to nearly any country in the world. And new shoppers can get 10% off their first order and accumulate points in the RoseGal rewards program.
Trustpilot score: 3.2 out of 5 stars
3. DHgate
If you are comfortable with buying directly from China, DHgate can allow you to buy items starting at 10 cents ($0.10) apiece.
DHgate sells almost anything you can imagine from fidget spinners starting at $1.11 to motorcycle riding helmets for $69. Items are sold by individual vendors with over 33 million product listings.
Shipping costs will vary depending on where the products ship from and the seller policy.
Trustpilot score: 2.2 out of 5 stars
4. Miss A
If you only want to shop for beauty products and cosmetics, Miss A offers many cosmetics, bathrooms, oils, and lots of fashion accessories for only $1.
You can also buy curated kits that are a bundle of products and some items cost more than $1 apiece. One of the kits you can buy is the "Barely Basic Kit" that consists of nine pieces and costs $20.
Miss A has free shipping on all orders above $35 to the United States. Thats a great deal for beauty supplies. They are delivered by the U.S. Postal Service.
Trustpilot score: 2.3 out of 5 stars
5. Five Below
Five Below is another fun shop where every item costs less than $5. You can visit an in-person store or shop online.
It's possible to buy toys, electronics, food, clothing, sports equipment, and party supplies online.
While most products allow you to choose the color (when multiple colors are available), Five Below will send you a random color for certain items like squirt guns.
Five Below only ships to the continental U.S. at this time.
Trustpilot score: 2.3 out of 5 stars
6. Dollar General
Dollar General is another dollar store that has a national physical presence in addition to being an online dollar store.
Dollar General has a few products for $1 while most of their inventory is priced below $6 per item. You can even activate a prepaid cell phone plan with Dollar General too.
They offer a wide variety of items from deodorants, office supplies, school supplies, home goods, household items and more.
Signing up for Dollar General's digital coupons can save you some additional money when shopping online.
Shipping isn't free, although you might be able to catch a break if you can ship to your local Dollar General store for free or can take advantage of a discount shipping code.
For example, you might be to enter a code to get free shipping to your house once you spend $40.
They also offer an AutoDeliver option similar to Amazon's "Subscribe and Save" that will give you a 5% discount on items your schedule to ship at regular intervals.
Trustpilot score: 1.9 out of 5 stars
7. Dollar Tree
Dollar Tree is one of the most popular dollar store brands because of their successful brick and mortar business. Everything is just a dollar at dollar tree when you shop in person or online.
They have free ship to store when you want to order online and want to save time by not combing the aisles for the products on your list. You can get exclusive perks if you join their Value Seekers Club.
Dollar Tree will also ship to your house, but, you will need to pay to ship. Dollar Tree also owns Family Dollar so you get twice as much to choose from.
Trustpilot score: 2.0 out of 5 star
8. H&J Closeouts
H&J Closeouts has been in business for more than 25 years. Now, you can get the same wholesale prices that the dollar stores pay before they mark the price up to $1 per item.
To take advantage of these savings, you will need to order items by the case.
If you are looking to give out keepsakes at a business conference or a public event, H&J Closeouts might be the most affordable online dollar store. Additionally, if you are in charge of ordering office supplies, this may be your store.
Most products sell for less than one dollar. They even have two sections for items that sell for 25-cents and 15-cents or below.
For example, you can buy misprint items for as low as three cents per item such as pens missing a clip or a misspelled company name.
Shipping is free on all purchases within the continental United States. They also ship internationally and to Hawaii, Alaska, and Puerto Rico for an additional fee.
Trustpilot score: No review
9. Dollar Fanatic
If you like shopping in bulk, Dollar Fanatic is an online dollar store that is worth a try. Everything is sold in bundles.
Movies can be sold in bundles of 12, meaning you will have 12 copies of the same title or a case of 48 graduation cap cookie cutters.
This is a great option if you own a store, flea market booth, or simply want a huge variety bundle.
You can buy a 200 wholesale bundle that contains a variety of items from several item categories (i.e. activity books, clothing apparel, clothes, movies, etc.) that retail from $1 to $5 per item.
They offer a bundle of 100 to 125 pieces of assorted miscellaneous merchandise for $50. Plus free shipping for over $50.
Dollar Fanatic also offers individual sale items much like the other dollar stores. All orders above $35, ship for free.
Trustpilot score: No review
10. 5dollarfashions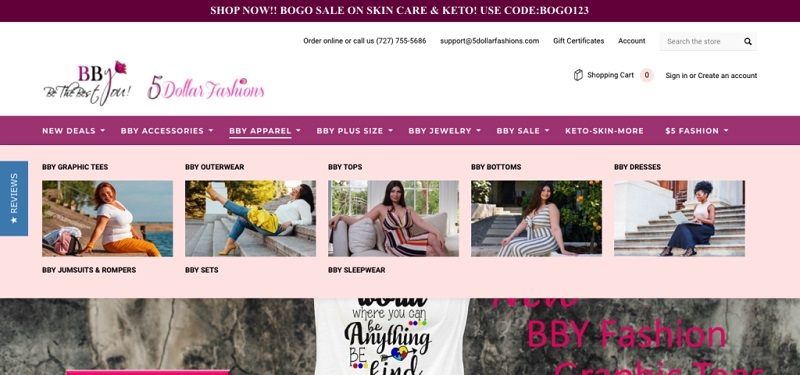 Ladies looking to save money and find clothing that starts at $4.88 will enjoy 5dollarfashions. There are many different fashion styles to choose from and they also sell fashion accessories such as sunglasses, purses, and jewelry.
5dollarfashions ships internationally if you have a PayPal account.
To qualify for free shipping, your order needs to be at least $200.
Trustpilot score: No review
Summary
As you can see, there are many traditional dollar store bargains that are also available online. These stores listed above are a great way to save.
Make sure to check the shipping and handling guidelines for each store to ensure you get the best savings.