Looking for the best online dollar stores? Instead of going to your local shopping center and hoping they will have what you are looking for, what about shopping at an online dollar store instead to save money?
Most of us browse the internet to save money on big-ticket purchases, but did you know you can find items for a dollar or less?
There are actually dollar stores online that can help you save money on small purchases, including name brands.
Continue reading to find a dollar store on the web that fits all your shopping needs. And, some even provide free shipping and a 100% money-back guarantee.
Editor's Top Picks:
Top Online Dollar Stores
There are several sites to choose from, and each option offers different products, price points, shipping options, and more. Sorting through them all can be overwhelming.
We've scoured the internet to find the best online dollar stores for all your shopping needs. Here are the top options.
1. Dollar Store
The Dollar Store prides itself on being the first true online dollar store. Products range in price from 50 cents to $2 per item.
The minimum order for Dollar Store is $50, and all orders ship from southern California.
They have a large selection of socks and flip-flops that is definitely worth checking out.
You can shop for many items at this store, including:
Hardware
CBD
COVID essentials
Household items
Seasonal items
Food
And much more
The site is incredibly easy to search by category. It even offers a keyword search feature, making it simple to find great deals.
You can add items to your wishlist if you aren't ready to buy now, making it easy to keep tabs on things you'd like to purchase once your budget allows for it.
One unique feature is that you can pay for orders with dollars or bitcoin. Plus, the site boasts that 60% of the products it sells are made in the United States.
For people with an entrepreneurial mindset, you can even own your own Dollar Store online. It's basically like a franchise opportunity, but it's run entirely online. Keep in mind there is a startup cost associated with this.
2. RoseGal
You will have a hard time finding items for $1 here as the cheapest jewelry and fashion accessories start at $2. But, women might be able to find some great deals on clothing with many pieces ranging from $8 to $30.
RoseGal also sells some men's clothing and home and garden accessories. However, this site has the widest selection and deals on women's fashion. In particular, it focuses on plus sizes.
Some of the items women will be able to find on the site include:
Dresses
Swimwear
Tops
Bottoms
Accessories
Shipping is free for all orders to nearly any country in the world. And new shoppers can get $110 off in total while accumulating points in the RoseGal rewards program.
There is even a sale section on the site that allows you to save extra money.
This company is committed to sustainability and avoids contributing to any unnecessary pollution. Its environmentally-friendly mindset makes it an excellent store to shop at for those who are socially conscious.
3. DHgate
If you are comfortable with buying directly from China, DHgate can allow you to buy items starting at 10 cents ($0.10) apiece.
DHgate sells almost anything you can imagine from fidget spinners starting at $1.11 to motorcycle riding helmets for $69. Items are sold by individual vendors with over 33 million product listings.
Other items you can buy include:
Cell phones
Sports equipment
Computers
Bags
Toys
Apparel
Shipping costs will vary depending on where the products ship from and the seller's policy. In addition, shipping times can vary substantially.
The site is easy to navigate and offers a handy favorites list feature. You can also look at your previously viewed items.
You can rest easy when you use DHgate as it promises secure payments, guaranteed refunds, and escrow protection on every order.
Learn more: Read our full DHGate Review
4. Miss A
If you only want to shop for beauty products and cosmetics, Miss A offers many cosmetics, bathrooms, oils, and lots of fashion accessories for only $1.
You can also buy curated kits that are a bundle of products and some items cost more than $1 apiece. One of the kits you can buy is the "Barely Basic Kit" which consists of nine pieces and costs $20.
Miss A has free shipping on all orders above $35 to the United States. That's a great deal for beauty supplies. They are delivered by the U.S. Postal Service.
The site claims that all orders ship within 48 hours with the exception of weekends.
There's even a Miss A Club that lets you earn rewards every time you make a purchase on the site. You earn one point for every dollar you spend. You can then redeem points for rewards.
Potential rewards include:
Free shipping
$5 off
A tote bag
$10 off
A sweatshirt
And more
Ultimately, there are lots of ways to save and cash in on rewards with Miss A, making it a site that is worth checking out.
5. Five Below
Five Below is another fun shop where every item costs less than $5. You can visit an in-person store or shop online.
The store's main focus is on having fun, and this theme is evident throughout the company's website.
With Five Below, it's possible to buy:
Toys
Electronics
Food
Clothing
Sports equipment,
Party supplies
While most products allow you to choose the color (when multiple colors are available), Five Below will send you a random color for certain items like squirt guns.
Five Below only ships to the continental U.S. at this time.
This company has a strong commitment to philanthropy. The company has raised over $30 million for charities.
It has donated to many organizations, including:
Toys for Tots
Kids in Need Foundation
St. Jude Children's Research Hospital
Reading Partners
And more. Five Below focuses on charities that support kids and teens. If that's something you appreciate, this site is worth checking out.
6. Dollar General
Dollar General is another dollar store that has a national physical presence in addition to being an online dollar store.
This store has a few products for $1 while most of their inventory is priced below $6 for each item, providing some great deals. You can even activate a prepaid cell phone plan as well.
Dollar General offers a wide variety of items, including:
Deodorants
Office supplies
School supplies
Home goods
Household items
And more. Signing up for the store's digital coupons can save you some additional money when shopping online.
To help you save time when shopping, the store even puts out a weekly ad highlighting their best deals.
One of the cool things about Dollar General is that they have a lot of name brands when it comes to food products.
Shipping isn't free on orders regardless of the amount, although you might be able to catch a break if you can ship to your local Dollar General store for free or can take advantage of a discount shipping code.
For example, you might be to enter a code to get free shipping to your house once you spend $40.
They also offer an AutoDeliver option similar to Amazon's "Subscribe and Save" that will give you a 5% discount on items you schedule to ship at regular intervals.
7. Dollar Tree
Dollar Tree is one of the most popular dollar store brands with low prices because of its successful brick-and-mortar business. Everything is just a dollar at Dollar Tree when you shop in person or online.
Some of the many items available at Dollar Tree include:
Toys
Decor
Office items
Health supplies
Personal care items
And much more. With all these available items, Dollar Tree is a great family dollar store for your needs.
They have free shipping to stores when you want to order online and want to save time by not combing the aisles for the products on your list. You can get exclusive perks if you join their Value Seekers Club.
Dollar Tree will also ship to your house, but, you will need to pay to ship. Dollar Tree also owns Family Dollar so you get twice as much to choose from.
Not only is Dollar Tree available online, but there are also physical stores available throughout the country. This can be great if you prefer to check items out in person before making a purchase.
Another helpful feature of this store is its blog. The Value Seekers Blog shares tips and tricks to save money, including DIY and gift ideas.
8. H&J Closeouts
H&J Closeouts has been in business for more than 25 years. Now, you can get the same wholesale prices that the dollar stores pay before they mark the price up to $1 for each item.
To take advantage of these savings, you will need to order items by the case.
If you are looking to give out keepsakes at a business conference or a public event, H&J Closeouts might be the most affordable online dollar store. Additionally, if you are in charge of ordering office supplies, this may be your store.
Most products sell for less than one dollar. They even have two sections for items that sell for 25 cents and 15 cents or below.
For example, you can buy misprinted items for as low as three cents for each item such as pens missing a clip or a misspelled company name.
You can search the site using:
Categories
Best Sellers
On Sale
New Closeouts
Shipping is free on all purchases within the continental United States. They also ship internationally and to Hawaii, Alaska, and Puerto Rico for an additional fee.
Related Article: 12 Best Fax Services Near Me to Fax For Less
9. Dollar Fanatic
If you like to shop online but want to buy in bulk to get low prices, Dollar Fanatic is an online dollar store that is worth a try. Everything is sold in bundles.
Movies can be sold in bundles of 12, meaning you will have 12 copies of the same title or a case of 48 graduation cap cookie cutters.
You can buy a 200 wholesale bundle that contains a variety of items from several item categories (i.e. activity books, clothing apparel, clothes, movies, etc.) that retail from $1 to $5 per item.
Given the wide range of items this site sells, they are a great family dollar store.
You can buy anything, including:
Smartphone accessories
Toys
Games
Tools
Keychains
Cleaning supplies
And more
They offer a bundle of 100 to 125 pieces of assorted miscellaneous merchandise for $50.
Dollar Fanatic also offers individual sale items much like the other dollar stores. All orders above $35, ship for free.
While the layout of the site may feel a little messier to most users, you can search for items or browse through categories.
10. 5dollarfashions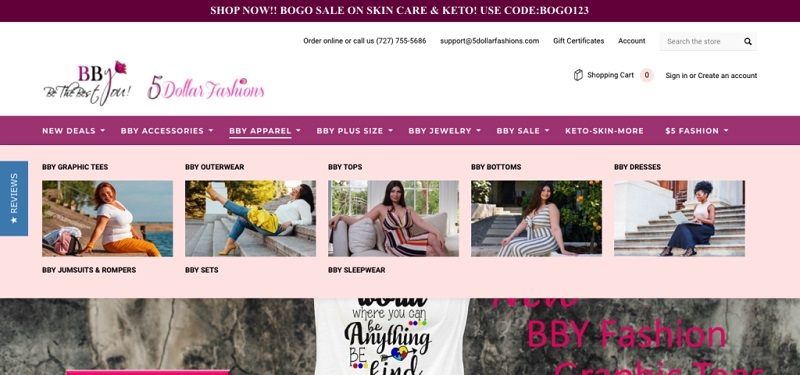 Ladies who are looking to save money and find clothing that starts at $4.88 will enjoy 5dollarfashions. There are many different fashion styles to choose from.
This site also sells fashion accessories such as:
Sunglasses
Purses
Jewelry
Skincare items
The site is easy to navigate by category or using a search feature. You'll have no problems finding what you are looking for.
It's even possible to narrow down your results by price so that you only see items that are within your budget.
When ordering from 5dollarfashions, you can get free shipping if you spend more than $75. 5dollarfashions ships internationally if you have a PayPal account.
If you want help placing your order, you can call customer service for assistance. Gift certificates are also available if you want to give the gift of savings to a loved one.
Better yet, 5dollarfashions offers a "Love it or Exchange it" program where if you aren't happy with your purchase, you can exchange it for something else. However, you only have 15 days to do so.
Frequently Asked Questions
Before using any of these online dollar stores, you may have some questions that can help you figure out which one is best for you. These answers might be able to help.
Are online dollar stores legit?
Yes! Online dollar stores are legit. Some even offer money-back guarantees, giving you added peace of mind that you'll receive the item you purchase.
Is everything at online dollar stores really just a dollar?
No. Not all items are sold for a dollar, but many dollar-store products are cheaper than you can get elsewhere.

Also, you may even be able to get free shipping on orders, which can save you money on gas.
What can I buy at an online dollar store?
The sky is the limit in terms of what these stores offer. You can buy anything from clothes to home goods to food to toys to gifts and more.
Do any of the online dollar stores also have brick-and-mortar locations?
Yes! Dollar Tree and Dollar General have physical stores you can visit.
How long does it take to receive items when I shop at online dollar stores?
It varies based on the store. Some will ship your items within 48 hours, while others take longer to pack your order. Certain stores fulfill orders from the United States, while others ship products internationally.

Generally, a good rule of thumb is to be patient. The savings you receive on the items makes the waiting process worth it, especially if free shipping is involved.
Are my payments for items secure?
In general, yes. Most sites use secure payment processing software, ensuring that your data is safe when you make transactions.
Summary
As you can see, there are many traditional dollar store bargains that are also available online. These stores listed above are a great way to save.
Make sure to check the shipping and handling guidelines for each store to ensure you get the best savings.
Also, don't be afraid to compare prices across similar stores. This can ensure you maximize your savings on the items you need.