Living in today's day and age, it is more important than ever to be caught up on current events nationally and all the happenings on a local level.
Of course, all this information can be found at your fingertips online. Even with that, there is still something so calming and refreshing about opening a crisp newspaper early in the morning while enjoying your freshly brewed cup of coffee on the patio.
The Pew Research Center estimates that there is still a locally focused circulation of just over fifteen million newspapers printed for each Sunday edition (roughly eight million for weekday).
Where to Find Newspapers Locally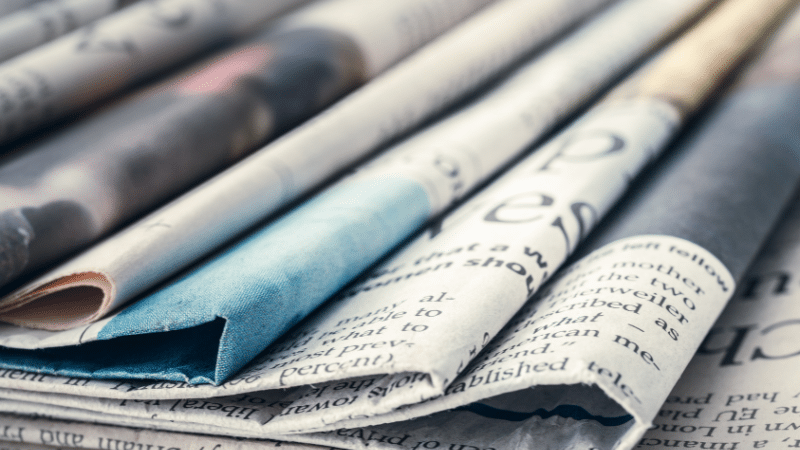 Thankfully, there are still plenty of locations near you where you can find both national newspaper publications and community periodicals or local magazines, etc. Here's our list.
Grocery Stores
Many local stores have you covered. Here's where to find newspapers near you.
Albertsons
Albertsons, based out of Idaho, operates just under 400 locations primarily in the western half of the United States.
Should you have one nearby you, then you will definitely be able to purchase newspapers from their establishments.
In fact, they have received national recognition from the Newspaper Association of America for being a top merchandiser of newspapers.
Giant Eagle
Located largely across the Rust Belt, Giant Eagle operates almost 150 stores and almost 500 stores across their family of brands.
If you want to purchase a newspaper, you can stop in and will find a generous selection.
H-E-B
Everything is always bigger in Texas! And H-E-B has almost 350 stores in the great state alone. Should you find yourself in Texas, make sure to stop in to buy a local newspaper. It truly is a Texas tradition.
Publix
Publix is a thriving regional grocery store chain in the southeast of the country with over thirteen hundred locations in 7 states.
Check with your local store for specifics, however they usually have both national and local publications for sale in the customer service area.
The Kroger Company
The nation's largest grocer is Kroger, founded in Cincinnati, Ohio. Currently with almost 2,800 stores spanning across 35 states. Under the Kroger Company family of brands include: Kroger, Dillons, Harris Teeter, Ralphs, etc.
Make sure you confirm with each individual location for more detailed information, but they will likely sell regional papers and the national publications as well.
Convenience Stores
Many local convenience stores have newspapers. Here's a few that may be close to you.
7-Eleven
Oh thank heaven for 7-Eleven. This convenience store is always open and ready to serve their customers.
So whenever you find yourself in the area of their nearly ten thousand operating locations, just know that you can buy a current periodical. While you are there, make sure to grab a slushie too!
CVS
WIth just over 9,600 locations across the country, chances are there is a CVS close by. When you stop in, you will be able to find tons of seasonal merchandise and other great deals through their loyalty card rewards program.
Of course, you will also be able to find a newspaper stand somewhere in the front of the store, usually by the door or the registers.
Dollar Tree
If you want to get your hands on just the Sunday paper, then head on over to Dollar Tree! Can you guess how much they charge you to purchase the publication?
Just a dollar and twenty five cents!
With over sixteen thousand stores in all 48 contiguous states, you know it won't be hard to find one!
Dollar General
Dollar General is also a phenomenal option to find the Sunday paper. There are literally thousands of stores to choose from across the country.
You definitely can't beat that price. Check with each store, as they may also have local publications as well!
Rite Aid
Originally, Rite Aid began as a service to grocery stores in order to provide health and beauty services to their clientele.
They have since evolved into a company operating over two thousand locations largely on the west coast and northeastern states of the country. Most likely they will carry regional publications and the selection will vary by location.
Walgreens
Another convenience store staple – Walgreens operates almost nine thousand locations in all 50 states. In fact, approximately 78% of all Americans live within less than five miles of Walgreens.
So finding a nearby store should be a breeze! Be sure to check with each individual store, but this might be the closest location to you which sells newspapers.
Bookstores
When it comes to bookstores, they typically have current newspapers. Here's where you can find them.
Barnes & Noble
The number one book retailer in the entire United States most definitely sells newspapers at all of their approximately six hundred locations covering all fifty states.
Barnes & Noble has access to most of the national publications: The New York Times, Washington Post, USA Today, The Wall Street Journal, The Chicago Tribune, and much more.
You will need to check with your local branch to see what, if any, local subscriptions they may have.
Books-A-Million
Books-A-Million began as a corner newsstand in Alabama right before the Great Depression. They currently are the second largest book retailer in the nation and still provide an emphasis on newspapers.
If there is one near you (250 stores in 32 states), make sure to pass by and grab some newspapers to keep you company.
Hudson Booksellers
Did you know that one of the largest bookstores in the nation doesn't even have a regular brick and mortar? The Hudson Group manages almost one thousand Hudson Booksellers locations, and virtually all of them are located within the terminals of an airport.
Let's be real, the airport is probably one of the best places to pick up a newspaper while you are on the go – the perfect entertainment for the drudgery of a flight.
Coffeeshops
Most major coffee shop franchises offer a great cup of joe and a paper.
Dunkin'
Ready for a lazy weekend morning? Stop by your local Dunkin' for a coffee, a donut, and a dose of current events.
Most Dunkin' locations will have some national publications for your perusal and perhaps some local magazines as well. They may not necessarily be for sale, but you will most likely have access to them while you are in store.
Starbucks
Is there a better pair to your morning coffee than a nice, crisp newspaper? I'll wait as you think of something…
So it just makes sense that you can get newspaper access at your local Starbucks. Keep in mind, though, that Starbucks recently ceased the sale of newspapers in their stores in order to decrease clutter.
However, they provided free digital access to most of the major publications as a recompense. Check with your local Starbucks to see what type of access to periodicals they might have.
Gas Stations
Next time you stop for gas, check out these stations that typically have newspapers onhand.
BP
Any nearby gas station is a great pit stop to pick up a newspaper. BP operates over seven thousand locations, primarily along the coasts of the country.
Most of their attached convenience stores are open twenty-four hours, so it is very easy for you to pop in and get the current periodicals.
Exxon Mobil
There are over twelve thousand Exxon and Mobil stations nationwide. Their hours will vary from location to location, but most are always open.
Be sure to find the newsstand area next time you are in the convenience store and stay up to date with the current news headlines.
Shell
Shell is the second largest gas station brand in the US. They operate over twenty-five thousand locations across the country.
Check them out if you are in a pinch trying to find the most recent newspaper edition.
Home Delivery
If you want convenience, consider home delivery. Have your paper delivered straight to your door.
New York Times
The price to receive the New York Times delivered to your home will vary depending on where you live and the frequency of delivery. However, the prices begin as low as five dollars per week for the first year.
It also includes unlimited access to their exclusive online content. They offer weekend delivery as well as weekday delivery.
USA Today
The most popular home delivery option to receive USA Today is $9.99 billed monthly for weekday delivery. If you pay for the whole year at once, the price is reduced to just $275 per year.
All print subscriptions include unlimited digital access to their online periodical content, including their e-Newspaper.
Wall Street Journal
Sometimes you just can't be bothered to leave your house to buy the most up to date edition of the newspaper. Well, if you subscribe to the Wall Street Journal, you can have their print edition delivered to your doorstep on a daily basis.
For $8.25 per week, you can receive daily delivery Monday through Friday plus the weekend edition and the WSJ magazine. This plan also includes a digital subscription to their online content.
If you are only interested in the weekend edition, the price is reduced to just $6.15 per week (also includes the online content).
Summary
Although it may not seem like it, there are still a plethora of locations to purchase newspapers, you just need to be on the lookout for them.
Perhaps you don't necessarily want to purchase a newspaper, you just want to stay up to date with the current happenings around the country and the world. If that's the case, you can always check with your local library.
There is a good chance they have both local publications and the national newspapers for you to sit and read. You can also try doctors offices, hair salons, banks or even hotels.
Pretty much any place with a waiting room will likely have some sort of periodical for your reading pleasure!