If you need physical checks, the obvious first stop is your bank. Unfortunately, this can be a costly solution.
Luckily, there are plenty of places to order checks online. The ample number of options means you'll have to sift through the providers to find the right one for your needs.
Let's take a closer look at the best places to order checks online.
Where to Order Checks
Although you can by without using paper checks for most things, it can be helpful to have them on hand. You never know when you might need to write a physical check to cover an expense.
If you are looking for checks, these are the best places to order checks online.
1. Carousel Checks
Carousel Checks states that you can save up to 80% off of bank prices. Fortunately, even with rock bottom costs, the company still seems to provide quality service.
Checks purchased through Carousel Checks are customizable. You can find everything from landscapes and animals to classic artwork and more. It's even possible to upload your own photo for a custom design.
Four boxes of duplicate checks cost just $55.96. That comes out to around 14 cents per check.
The checks offered by the company include micro printing for fraud prevention. Additionally, if you want EZShield protection, that is available for an extra cost.
Trustpilot rating: 4.4 out of 5
Pros
Range of popular designs
Trusted brand
Affordable prices
Cons
Long delivery times
Missing some popular character designs
Extra cost for some security features
2. Extra Value Checks
Extra Value Checks advertises the ability to take advantage of hundreds of check designs while saving up to 80% off of bank prices.
You can get four boxes of duplicate checks for just $47.96. That works out to around 12 cents per check.
Microprint and CPSA protections are available, as is EZShield protection. However, you will want to be prepared to pay extra for this perk.
If you need assistance placing an order or you have questions, it's simple to call Extra Value Check's customer service number for help.
Trustpilot rating: 4.4 out of 5 stars
Pros
Hundreds of check designs
Affordable prices
Positive customer feedback
Cons
Extra cost for some security features
Slow delivery times
3. Bradford Exchange Checks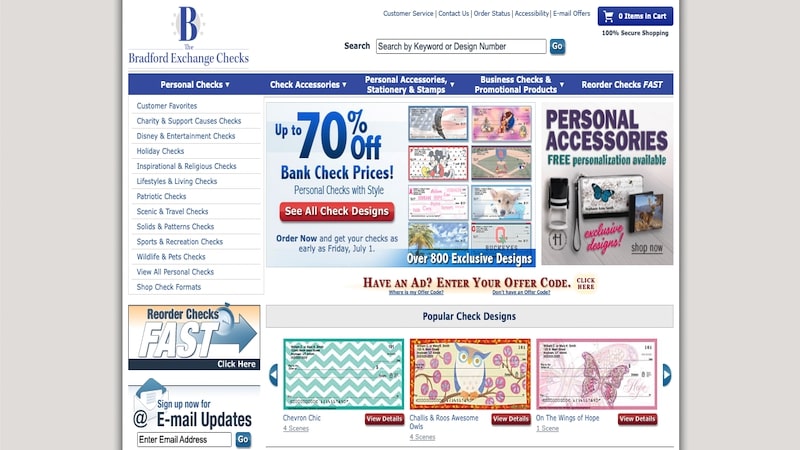 Bradford Exchange Checks advertises the opportunity to save up to 70% off bank check prices. From Disney to Peanuts, you'll find a range of beloved characters at an affordable price point.
The company sells a four-pack of boxes, or 400 checks, for $91.80. This means that you'll pay approximately 23 cents per check.
Before placing your order, you can also enter discount codes on the site. This comes in handy if you have an advertisement from the company that will help you save money on your order.
Plus, you won't have to compromise on security features, including micro printing and chemical protection against tampering. EZShield is available, but it will cost extra.
Trustpilot rating: 4 out of 5 stars
Pros
Popular character designs
Affordable price point
Trusted by customers
Cons
Added costs for extra security
Extra costs for quick delivery
4. Check Advantage
Check Advantage offers over 2,500 design options. Although you won't find every character with Check Advantage, you will find a wide selection.
If you work with Check Advantage, chances are you'll have a smooth experience. The company boasts a 99.9% error-free experience.
Depending on the design, a pack of four boxes with 600 checks will cost you just $44.05. That works out to around seven cents per check.
Better yet, the company offers free shipping. However, it may take longer to get your checks if you select this option.
Furthermore, you can easily ask questions through the website's live chat feature.
Trustpilot rating: 3.8 out of 5 stars
Pros
Live chat available
Competitive prices
Good reviews
Cons
Extra shipping costs for fast delivery
Limited character options
5. Vistaprint
Vistaprint offers a wide variety of customized printing options. With that, it is not surprising that the company offers high-quality custom checks.
You can print 25 checks for just $4. Alternately, you can choose to order up to 600 checks for $45.
It's not uncommon to be able to find discount codes on coupon sites or directly on Vistaprint that you can use on your order.
If you need help, you can reach out to a customer service representative to guide you through the process. Additionally, Vistaprint provides checks that meet the CPSA security guidelines.
Trustpilot rating: 3.8 out of 5 stars
Pros
Affordable, even with few checks
Customer service line
Secure
Cons
Mixed reviews
No popular characters for checks
6. Checks In The Mail
Checks In The Mail offers hundreds of check designs at an affordable price point. Depending on your needs, you can order between 100 to 400 checks.
It's possible to get 100 checks for just $25.25, and checks have the security features you need to protect your money. However, if you want customized checks, you'll have to pay extra.
Checks In The Mail had an outstanding reputation for years. But recent reviews seem to indicate that their customer service experience has declined over time.
In spite of the reviews, this platform offers easily accessible customer service. You can ask questions quickly within the live chat.
Trustpilot rating: 3.3 out of 5 stars
Pros
Live chat
Affordable
Top security features
Cons
Declining customer experience
Pricey for popular designs
7. Deluxe Checks
Deluxe Checks comes in at a higher price point. However, you'll find many fun designs to choose from.
If you run a small business, Deluxe Checks is worth checking out. The company focuses on helping small businesses get their check designs right.
It is easy to reorder checks using the website, and you can access a variety of designs to easily customize your order.
You'll pay roughly $59.99 for 100 checks, which works out to around 60 cents each. This price point is a bit high since there are more affordable options on this list.
Trustpilot rating: 2.2 out of 5 stars
Pros
Focus on small businesses
Easy to reorder
Fun designs
Cons
Poor customer reviews
Price
8. Checkworks
Checkworks provides personal and business checks with a range of basic designs. The company's most popular checks include a picture of clouds and the American Flag.
With Checkworks, you can order 125 checks for just $9.99. The checks offer extensive security features but lack fun characters or eye-catching designs.
This company offers a direct phone number if you need help placing an order or have any questions about your order, making it a great option for people who prioritize phone access to customer service.
Trustpilot ranking: N/A
Pros
Great prices
Secure
Customer service phone number
Cons
Poor customer reviews
Basic designs
9. Checks for Less
Checks for Less is targeted to provide businesses with the checks they need. However, there are some basic personal check options to choose from as well.
The company has been in business for over 40 years. As a result, you can expect a solid product.
You can order 25 personal checks for as little as $3. Better yet, if you don't like the products, you can return them for a refund.
It's important to note that Checks for Less has some cute designs. Unfortunately, you won't find any of your favorite characters.
Trustpilot rating: N/A
Pros
Long-standing business
100% satisfaction guarantee
Good prices
Cons
Lackluster designs
No customer reviews
10. Check Gallery
Check Gallery offers checks with the promise of a second box for just 10 cents. The focus of the company's designs is on 'green' checks. Consequently, they offer designs that feature endangered animals and scenic natural vistas.
You can receive 400 checks for $52.92. Keep in mind that you'll have to pay more to unlock better check designs.
If you want help placing an order, you can easily call the company's customer service line for assistance.
Trustpilot rating: N/A
Pros
Affordable
Green focus
Trusted by BBB
Cons
Mixed reviews
Extra for beautiful designs
11. Checks Unlimited
Checks Unlimited advertises that you can save up to 85% off bank prices. As the first company to offer printed checks via mail, you'll find a streamlined experience.
With Checks Unlimited, you'll have access to some of the best prices available. You can order 400 checks for $52.92.
In addition to their low prices, there appear to be additional discounts available regularly. These allow you to save even more money.
Better yet, you'll receive your checks quickly when you order them through Checks Unlimited. Being able to avoid the lag time you experience with other sites is a perk.
Trustpilot rating: N/A
Pros
Affordable prices
Fast shipping
Extensive experience
Cons
Price discrepancies
Lack of reviews
12. Designer Checks
Designer Checks offers checks featuring Disney characters, Warner Brothers and MLB teams. The site also provides some basic designs.
You can purchase 400 checks for $63.96. Customers can access discounts regularly to help cut the cost of their orders. From free shipping to a free fourth box of checks, there are many ways to save.
Designer Checks provides multiple security features with their checks, offering both EZShield and SecuriGuard Check options. However, these features can cost extra.
Trustpilot rating: N/A
Pros
Favorite characters available
Affordable
Special offers
How to Order Checks Online
Ordering checks online can help you save money, but it can be a bit more time-intensive. You'll need to collect some basic information before placing your order.
To order checks online, you will need:
Your checking account number
Your bank routing number
The bank's contact information
Your contact information
Additionally, you'll need to decide what check number to start at.
With that information in hand, you can pick a place to order checks based on the price and available designs. Finally, you'll need to provide the information above to the company for printing.
Related: 6 Steps To Fill Out A Check
FAQs
Before you order checks online, you may have additional questions. Here are some answers that can help you decide if this option is right for you.
What features should I look for when ordering checks online?
As you explore your options for ordering checks online, you should evaluate the reputation of the company you plan to purchase checks from. 

Look for companies that have a high Better Business Bureau accreditation or Trustpilot rating. Plus, consider the customer reviews. 

Beyond that, you'll need to ensure that the checks you order meet your price point and have the security features you require. Look for a CSPA certification, EZShield Protection and an MP Icon. 
Should I order checks through my bank?
It depends. You can order checks through your bank, but you will typically see significantly higher prices when you go this route. 

The benefit of ordering checks through your bank is that the process will be more streamlined. You can simply log into your online banking platform to order the checks you require. 
Is ordering checks online safe?
Yes. You can order checks online safely. 

However, not every provider will have your security interests in mind. Make sure to use companies that offer a secure payment portal.
What is the difference between single and duplicate checks?
Single checks include a single piece of paper. You won't find a built-in record of your check.

Duplicate checks have a specialized pressure-sensitive paper that produces an imprint on a sheet below your check. This creates a copy of each check that you write without having to record the information twice. 
How can I get free checks?
In some cases, your bank may offer free checks with your account. Other check providers occasionally run specials that involve a free box of checks with your purchase.
Summary
Ordering your checks online is a simple way to save money. Plus, you'll have the ability to choose fun designs that match your interests.
As you explore your options, keep security features at the forefront of your search. You'll want to ensure you have checks that protect your money and help you avoid fraud.