Emptying your closet or basement can put extra cash in your wallet if you choose the right app. Poshmark and Mercari offer simple ways to sell your like-new items, including clothing, household goods and other collectibles.
But when it comes to Poshmark vs. Mercari, which is better for sellers? We've evaluated both to help you choose the right one for your needs.
What Are Poshmark and Mercari?
Poshmark and Mercari are online consignment stores like eBay, but with a twist.
With over 80 million users (both buyers and sellers), Poshmark focuses on high-end clothing, accessories, home goods and unopened skincare items.
The platform primarily features expensive brands like Gucci and Chanel. It also has common brands like Converse, Coach, Anthropologie and Urban Outfitters.
You can list most clothing and accessories as long as you adhere to the site's terms. However, most buyers look for higher-end products they can get for a more affordable price because they're either second-hand or new with tags.
On the other hand, Mercari has 20 million users and functions like a flea market that is hosted online. It's more like eBay than Poshmark because you can list almost anything for sale.
Their motto is, "if you can ship it, you can sell it." While you can't sell anything illegal or hazardous, beyond that, the sky's the limit on Mercari.
Poshmark vs. Mercari for Sellers
When you have a closet full of items you need to get rid of, you might try Poshmark or Mercari. Here's how they work for sellers.
Ease of Listing
When you have many items to list, the last thing you want is a complex listing process. Instead, you want something you can click, upload and post, letting the marketplace instantly know what you have for sale.
Fortunately, both Poshmark and Mercari are among the best apps to sell your stuff when it comes to ease of listing items.
Poshmark
Poshmark is like the social media of second-hand clothing. You can create a basic listing by uploading a picture, writing a description and setting the price.
Alternately, you can get fancy and join Posh Parties. These are themed parties to attract new audience members or host a party with your friends.
Poshmark relies on interaction with your posts to publicize your items. Each time someone likes or comments on your post, Poshmark pushes it out to more viewers.
In addition to pictures, you can add videos so that buyers can fully appreciate the items you're selling. Furthermore, replying to comments or questions is incredibly important to keep your listings high in the app's rankings.
Mercari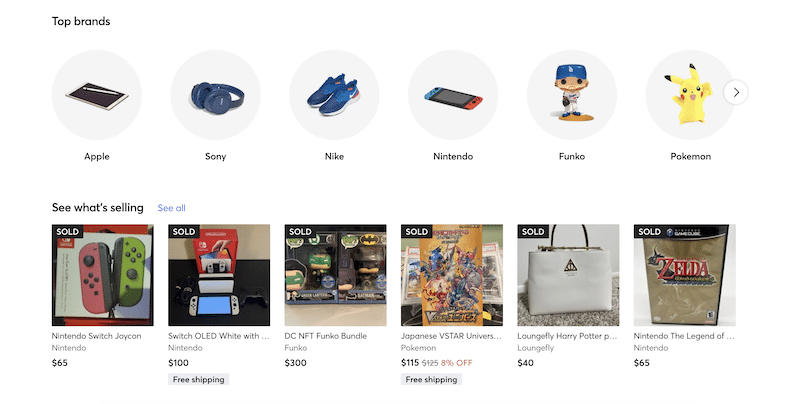 Mercari doesn't have the same features as Poshmark. Nevertheless, creating a listing takes only a few minutes.
In addition, rather than buyers posting their questions or comments for others to see, they allow instant messaging between both parties.
Like Poshmark, Mercari has a 'like' button, and sellers can reach out to those who liked their item with an offer if they want to sell their item more quickly.
Available Inventory
Poshmark and Mercari have millions of users, so you'll have a large audience on either app. That said, each audience will be looking for something more specific.
On Mercari, you'll have an audience who is looking for a wide range of products. On Poshmark, the audience focuses on high-end clothing and accessories.
Poshmark
Use caution when listing items on Poshmark. Take the time to get to know their guidelines so that you don't list prohibited items. Since they focus on brand-name clothing and accessories, it's best to sell your other inventory on Mercari.
You'll have a lot of competition for your high-end clothing on the app, but it will likely sell for much more on Poshmark than Mercari.
Mercari
Mercari is like the 'catch-all' for listings. They don't have restrictive categories, so your competition might be lower because there are many different products listed.
Your best bet is to sell lower-value items on Mercari since most people on the platform are looking for a bargain.
Selling Costs
Since Poshmark and Mercari are marketplaces, they don't have inventory to sell for a profit. Instead, they provide a service to sellers and must charge for this service in the form of seller's fees.
As a result, you'll want to pay close attention because you'll likely pay listing and final sale fees.
Poshmark
Poshmark offers transparent pricing that's easy to calculate before you list your item. Consider listing and final sale fees when pricing your products so that you walk away with your intended profits.
The good news is Poshmark doesn't charge a listing fee, but they have two pricing tiers for selling fees.
These tiers include:
Items less than $15: Items sold for less than $15 cost a $2.95 flat selling fee
Items more than $15: Items sold for $15+ cost 20% of the final sales price
This straightforward fee structure ensures you are not caught off-guard by unexpected platform costs.
Mercari
Like Poshmark, Mercari doesn't charge listing fees. However, they have a different final sales value fee you must pay.
First, you'll pay 10% of the final sales price on every item you sell. Then, you'll pay a payment processing fee of 2.9% plus $0.30 per sale.
For example, if you sell an item for $20, you'll pay a $2.88 fee. This includes the final sales fee of $2 plus $0.88 for the processing fee.
Shipping Costs
Once you sell an item, you'll need to ship it. Poshmark and Mercari provide prepaid shipping labels to make it easier for you to get sold items shipped faster.
After the buyer pays, Poshmark and Mercari send you the shipping label to get it shipped.
Poshmark
Poshmark offers flat-rate shipping via USPS. As long as the package is under five pounds, it's a flat fee.
To ship the item, package it carefully, affix the prepaid label and take it to your nearest United States Post Office or UPS drop box. If you don't want to leave home, you can arrange a pickup from USPS or UPS.
Mercari
Mercari doesn't have flat-rate shipping. Instead, you must weigh the item with the packaging before listing it. Then you can choose the preferred shipping method based on cost or convenience for drop-offs.
Mercari requires sellers to ship the item within three business days of receiving payment.
Payments
Since you're selling items to make money, how you get paid matters. Poshmark and Mercari pay you, but they do so in varying timeframes and for different costs.
Poshmark
Before you get paid by Poshmark, not only do you have to ship the item, but the buyer must accept it. If they don't accept it within three days, Poshmark automatically completes the sale.
You can leave your money in the app if you also buy items on Poshmark. Alternately, you can cash it out via PayPal or a linked bank account.
Mercari
Mercari doesn't make you wait until the buyer accepts the item, but they charge a fee for payouts.
Here are the fees you can expect:
Instant Pay: $2 fee, money goes to your account within 30 minutes
Direct deposit: No fee for transfers over $10, takes up to five business days
If you have more than $10 to transfer, opting for direct deposit can ensure you keep more of your profits.
Poshmark vs. Mercari for Buyers
We'd be remiss if we didn't also evaluate which app is ideal for buyers. Ultimately, there are key differences if you want to buy something from Poshmark vs. Mercari.
Here's what to keep in mind.
Ease of Browsing
It's easy to search the items for sale on Poshmark and Mercari. Whether you know what you're looking for or just want to browse, you can sort items by category or price.
Poshmark and Mercari both have websites and apps for your devices, making it easy to shop from anywhere.
Poshmark
Poshmark has a busy interface, but you'll find it easy once you get used to it.
After using Poshmark a few times, you'll probably find sellers you like. You can favorite them when this occurs. Then, like social media feeds, they'll appear on your home page.
With this feature, it's almost like you get to customize your homepage.
Mercari
The Mercari app is easy to use as well. You can search by keyword, sort by category and set up alerts for items you're interested in.
Then, once a new item is listed, you're one of the first to know and can buy it before anyone else.
Available Inventory
Poshmark and Mercari have vastly different products, so knowing what you're after will help you choose the right platform.
Poshmark
Poshmark's inventory is primarily high-end clothing and accessories. You can browse your options and even submit offers to negotiate with sellers.
Mercari
Mercari sells a little bit of everything, including selling clothes. As a result, it doesn't hurt to search for the same items on Poshmark and Mercari to see where you can get the best price.
However, if you're looking for something other than clothes, Mercari is your app.
Poshmark vs. Mercari: Final Verdict
When comparing Poshmark vs. Mercari, each has their own time and place based on your needs.
If you're selling name-brand clothing, Poshmark is almost always the winner.
However, if you have other items you want to get rid of, Mercari might be the better option to sell your stuff.