My favorite dessert of all time has got to be bread pudding. What's not to love? It's like a cinnamon roll mixed with custard and usually topped with some sort of boozy sauce. To put a spin on this classic recipe, I decided to use pumpkin!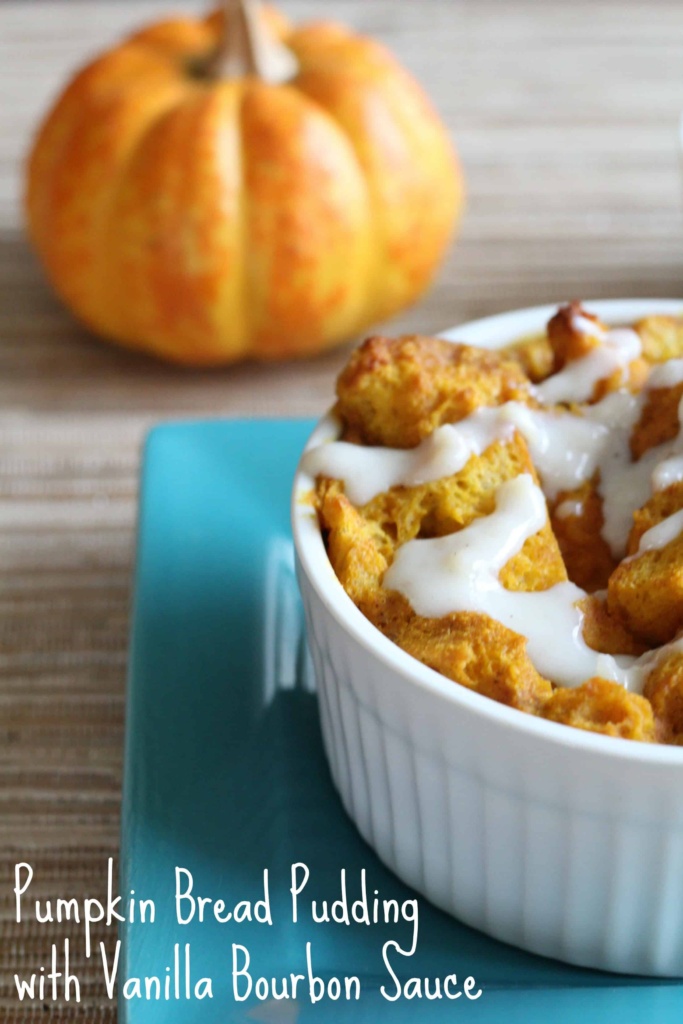 I was able to find all the inspiration and ingredients I needed for today's recipe at Main & Vine, located in Gig Harbor, Washington. If you've not had a chance to visit yet – you're in for a treat. This store sells all kind of specialty and local ingredients, and at great prices.
There are a couple ways to save on today's recipe at Main & Vine. First, make use of the bulk foods section! I picked up my raisins this way, but they also sell spices, nuts, and other dried fruit.
Second, haunt the bakery for discounted bread. This recipe would work great with day old bread!
Here's what you'll need:
One loaf French Bread (about 6 cups cubed)
1 cup heavy cream
1 cup milk (I used 2%)
3 eggs
1 can pumpkin puree
1 cup brown sugar
1 teaspoon pumpkin pie spice
1 teaspoon vanilla extract
1 pinch salt
1/2 cup raisins
2 tbsp. butter
2 tbsp. flour
1 cup milk
1 tb bourbon
1/4 cup granulated sugar
1 tbsp vanilla
pinch cinnamon
Start by cubing your bread and placing it in a large bowl.
In a separate bowl, mix the eggs, brown sugar, cream, 1 cup of milk, pumpkin pie spice, vanilla and pinch salt.
Next, pour the wet ingredients over the bread. Fold in raisins and refrigerated for 30-60 minutes. If you plan ahead, can I recommend you soak those raisins in a bowl of rum? So worth the extra time!
Preheat the oven to 350º when you're ready to bake. Now you could put the entire mixture into a casserole dish, but for fun, I decided to divide the mixture among 6 ramekins. I'm using a large 10 ounce size, but you may need 8 if you're using a smaller size. No matter what you use, make sure to select oven-safe bakeware. For easy transfer to and from the oven, I arranged mine on a deep cookie dish.
I checked my bread puddings at about 40 minutes and they were done! But your cooking time may really vary depending on the bakeware you've selected. Plan on anywhere from 30-60 minutes, erring to test for doneness closer to the 30 minute mark.
While your bread pudding is baking, you can prep your sauce. It's quick and easy. Melt the butter, whisk in the flour or cornstarch until bubbly. Add the milk, sugar, and bourbon. Keep stirring until thick – this will happen as it comes to a boil. Then, remove from heat and stir in the vanilla and cinnamon. If you want a thinner sauce, add more milk. To make it thicker, more flour. It's a pretty forgiving sauce and you can tweak it as you go.
Incidentally, this is the kind of bourbon I used. It's called Brown Sugar Bourbon and it is one of the most popular selling beverages produced by Heritage Distillery in Gig Harbor. (And for good reason – it's absolutely delicious!) I was happy to find it at Main & Vine!
As you might imagine, drizzle the sauce on top of the completed bread pudding! Serve immediately. This recipe is also excellent chilled. Enjoy – and Happy Holidays!
Disclosure: this post has been sponsored by Main & Vine. For more information, please see my disclosure policy.