If you're like me, you like saving money and getting free cash. One website that promises free money is Rakuten. But is Rakuten a scam or is it legit?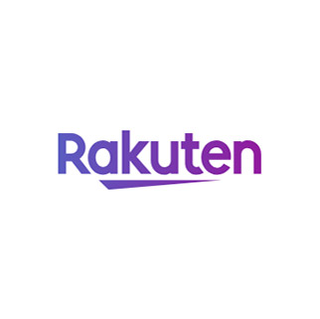 Summary
A reward program that gives customers cashback of between 1% and 40% on almost anything they buy when they purchase it through their Rakuten account.
Cashback opportunities

4.5
Pros
Cashback up to 40%
Free
Thousands of cashback opportunities
Cons
Pays quarterly
Some categories excluded from cashback
We're going to show you exactly how Rakuten works and if it really gives you free money. We'll go over the pros, cons and other details of Rakuten so you can see if it's right for you.
What is Rakuten?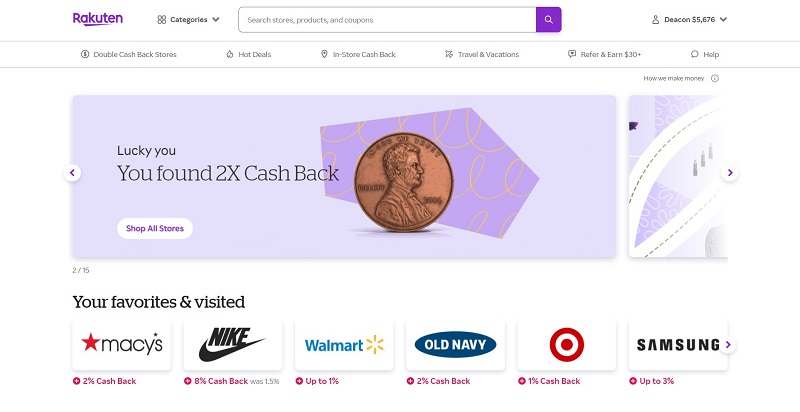 Rakuten is a legit company that was founded in 1998 in Menlo Park, California. For over 20 years, the company has been giving customers cashback of between 1% and 40% on almost anything they buy.
The catch? You have to purchase items by shopping through your Rakuten account.
My Video Review of Rakuten (Previously Ebates)
How Does Rakuten Work?
Rakuten is easy to operate. All you have to do is sign up for a Rakuten account. Once you log in using your member login, you find the name of the store(s) you wish to shop.
You can use the alphabetical list Rakuten provides, or find a store with their search bar. Once you find your desired store, you click on it.
The link will bring you right to the store website (via the Rakuten portal), and you can start shopping.
Because you are directed from the Rakuten site directly to the store website, shopping through Rakuten is no different than if you'd gone straight to the store site.
The only difference is that you'll get cashback on qualifying purchases because you accessed the store through your Rakuten account.
Your other option for shopping via Rakuten is to use the Rakuten browser extension. When you install the browser extension, you can skip the step of visiting the Rakuten website.
The extension will show a popup whenever a website you visit is eligible to earn you cashback on your purchase. All you have to do is click the button in the popup to activate Rakuten and earn cashback.
Getting Your Cashback
Each store link on the Rakuten website or browser bar will show you the percentage of cashback you'll get from purchases. The cashback percentage varies with each store – and also depending on what you purchase.
For example, Walmart might give 2% back on regular purchases but 20% back on home and garden purchases. Also, the cashback percentages vary and change from time to time, depending on store deals.
In-Store Cash Back
You can also get cash back by shopping person by connecting your credit card in the Rakuten app.
Why Does Rakuten Give You Cashback on Purchases?
You might wonder why Rakuten is giving you cashback on purchases. It's pretty simple. The stores give Rakuten money for referring you to buy from them.
Rakuten chooses to split the cash with you. It's a win-win for you, for Rakuten and the store.
Which Stores Partner With Rakuten?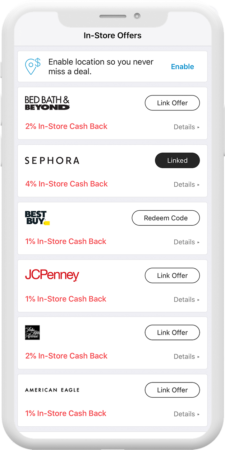 The number of stores you can shop through Rakuten is impressive. In fact, they have partnerships with over 2,500 stores.
Some of those stores include:
Nordstrom
Kohl's
Macy's
Walmart
Turbotax
Ace Hardware
Aeropostale
Barney's
Bath and Body Works
Cabela's
Justice
Target
Several Travel Sites
The sheer number of stores that partner with the program assures that there are rebates available at stores for almost every person who likes or needs to shop.
I have to say that this is my favorite part of using Rakuten. When I first considered looking into the program, I have to admit that I didn't think it would do our family much good.
As we work on our journey to get out of debt, we are keeping non-necessity shopping to a bare minimum.
However, Rakuten offers rebate discounts at the stores we shop at for all of our everyday items. Plus, there are specialty and gift stores. So this means I can save money on everyday purchases, and when I need to buy Christmas and other gifts too.
Next, we'll go over the main pros and cons of Rakuten.
Pros
There are several good things about Rakuten. Some of my favorites are as follows:
A vast quantity of stores are available to shop
Some of the more popular stores currently on the site's rebate list include Walmart, Target and Best Buy.
As I mentioned earlier, they provide cashback from purchases at over 2,500 stores.
Easy to use
Using Rakuten is simple. You just sign-in on the Rakuten website, click on the store you wish to shop at and shop as you usually would.
Cashback
Even as little as 1% cashback can add up when you're shopping. However, many stores offer 10%, 20%, 30% and 40% cash rebates.
Referral program for members
Rakuten also has a referral program for members. We'll talk more about that in a bit.
Cons
There are a few things that can be considered cons when it comes to Rakuten.
Pays out cashback accrual checks quarterly
You can't choose to get your cashback from shopping when you wish. Instead, Rakuten will mail you a check each quarter, provided you've met the minimum withdrawal requirement (currently $5.00).
In other words, you shouldn't expect a monthly payout on your shopping excursions.
The impulse to buy because items are "on-sale"
For those not in control of their spending, it can be easy to buy things that you weren't planning on buying because you got it "on sale."
I'd recommend committing to staying with your original shopping plans and try to avoid impulse buys.
Excluded products that do not qualify for cash rebates
Nearly every store featured on Rakuten has some excluded products.
For instance, at Walmart, there is no rebate given on the following:
Cellular phone purchases
Prepaid phone cards
Pharmacy purchases
Travel center purchases
Financial center transactions
Tires
Optical purchases
Gift cards
While the exclusions may be a deterrent for some, I found it a great deal that they offer cashback on the items we buy most at Walmart: personal toiletries and clothing.
Each store has some excluded items, so before you shop at your favorite stores on Rakuten, look through their lists of exclusions before you make your purchases.
A Real-Life Story About Using Rakuten
Well Kept Wallet founder Deacon Hayes started using Rakuten several years ago. He shared a cashback success story with us.
"When my son Finn became a toddler, we knew that we needed something for him to do outside, but we were not sure what to get him. I researched outdoor toys and found a playhouse that looked awesome, but it was a couple of hundred dollars. I decided to search in Google for a better deal and found it at Kmart for a lot less.

I could have just bought it and called it a day, but here is the kicker:

I decided to open up Rakuten and see if Kmart was one of their store options and it was. Not only that, but they were paying 6% cashback for these type of purchases! So I got $9 cashback on something that I was already going to purchase, and I got it for a much lower price than what I initially saw on Amazon."
Note: it is important to note that not all purchases through a retailer will get you cashback. For instance, in this case, it was for 'kids toys' or 'outdoor items.'
Some stores give cashback for all purchases, but not all of them do. For this reason, it's essential to double-check that the item that you want to purchase is relevant to the category the retailer is offering cashback on.
Rakuten Referral Program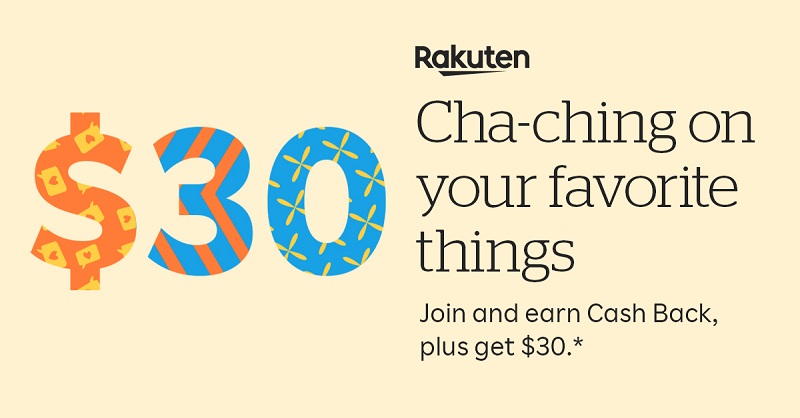 Another cool thing about Rakuten is its referral program. Rakuten is willing to pay you cold hard cash for referring your friends. Currently, they will pay you $30 per person that you refer as long as they actually use Rakuten to get cashback.
Signing up is not enough; they have to use Rakuten at least once to buy something over $30 for you to get the commission.
Also, sometimes Rakuten will run an additional promotion. For instance, they will give you $30 for each person you refer for up to 3 people.
Here is a screenshot of my most recent payment from Rakuten: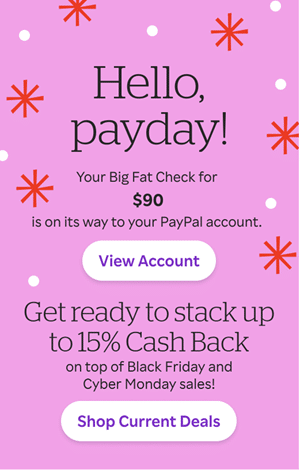 They get $30 for signing up, and you get paid as well…not too shabby!
Related: Rakuten Vs Honey: Which Is Better?
Summary
Rakuten is not a scam – it really does give you free money when you shop. And with over 2,500 stores to choose from, nearly everyone can earn cashback.
Just remember to read the fine print regarding what items stores are giving cashback on. And be wary of the urge to spend just because you get something "on sale."
When used wisely, Rakuten can help you keep more cash in your pocket and save money on the things you buy every day.
If you want to learn more about the Rakuten rewards program or if you'd like to sign up, simply sign up with either iOS or Android.