Contactless payment has become more and more important to folks around the globe, not only for health reasons but for ease of payment. The fact that there are restaurants that take Apple Pay makes it so easy.
This gives you much freedom to not have to carry a wallet full of cards or a giant purse. Contactless is so much easier.
Here's a look at restaurants that take Apple Pay listed in alphabetical order.
Who Takes Apple Pay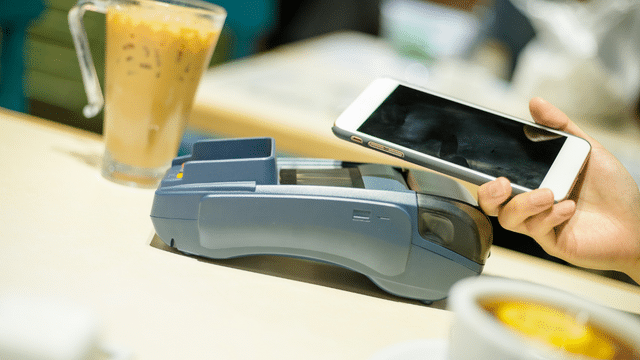 Apple Pay is one of the most popular contactless payment options and it is extremely easy. Don't be nervous if you haven't used it. You'll see how easy it is.
The first thing you need to do is set up Apple Pay on your phone by adding your credit card or bank account information. Another option is to charge everything to your Apple Pay Wallet just like you would a credit card and then pay that off once a month.
Once that is set up, you are ready to use it. All you will do is open your Apple Wallet at the time you need to pay and hover your phone over the credit card machine.
Here's our top list of restaurants that take Apple Pay.
1. Applebee's
Whether you are in the mood for burgers, wings, pasta, tacos, sandwiches or maybe even breakfast, Applebee's is the place to go!
Applebee's is a great place to visit with friends because there's something for everybody, has great prices and large portions, the food is delicious and they have locations across all 50 states..
2. Au Bon Pain
If you are in the mood for a coffee and pastry, but forgot your wallet, Au Bon Pain is the perfect spot.
They have more than just breakfast, though. Find soups, sandwiches, croissants, and other small snacks. Sweet and savory high-quality snacks at any location are what makes Au Bon Pain a popular spot.
3. Blaze Pizza
This fun pizza spot is great for groups. Blaze Pizza has a fully customizable menu so it's a great place for folks with food allergies. They even have two vegan crust options!
Blaze is a very new chain with locations popping up across the country. They are also very technologically advanced and do offer Apple Pay at all locations.
4. Buffalo Wild Wings
If you are craving wings, head to Buffalo Wild Wings to get your fill. They are known for their extensive wing menu and amazing sports bar atmosphere.
They have many locations and all take Apple Pay whether in the US or out of it so it's a great option if you are traveling and do not want to use a credit card.
5. California Pizza Kitchen
If you want a really fun pizza menu, California Pizza Kitchen is one of the most popular. Their top 5 pizzas are:
Wild Mushroom Pizza
Five Cheese + Fresh
Roasted Garlic Chicken Pizza
Thai Chicken Pizza
The Original BBQ Chicken Pizza
However, if you are not in the mood for pizza, they offer many other things as well. They have delicious Cesar salads, pastas, and an exquisite dessert menu.
6. Cava
They don't have many locations, but Cava is another great option if you want to pay using Apple Pay or their app.
Cava is a healthy Mediterranean chain with delicious bowls of rice and flavorful chicken and customizable toppings. They have become extremely popular lately because of their unique flavors and healthy offerings.
7. Chick-fil-A
Chick-fil-A is available everywhere from stand alone locations to restaurants, food courts and airports. They are all over the country and a family favorite for many.
So if you're in a pinch and need contactless payment, this is a great place to enjoy a juicy chicken sandwich, waffle fries and a milkshake.
8. Chili's
Chili's is another All-American fare restaurant with a diverse menu. Find anything from pasta to wings to tacos to steak. Whatever you are in the mood for, you will probably find it here.
They have locations across the country and are decently priced. They also have a tablet at each table so you can order there, request refills, play games and then pay there (including Apple Pay).
9. Chipotle
One of the reasons so many people love Chipotle is not only because the food is delicious, but because of their fast service.
They are definitely very efficient in their check out process. Use the app or pay with Apple Pay for the fastest checkout experience possible.
Enjoy delicious burritos, bowls, chips, queso and guac and leave completely stuffed. The best meal.
10. Culver's
If you are in the mood for the juiciest butter burger around, Culver's is your spot. The portions are huge and the fries are as good as the burgers. Don't skip the custard, either!
They are originally from the midwest, but continue to open locations across the country so don't miss out if you have one near you!
11. Del Taco
This Tex-Mex food chain has been open for over 50 years, but continues to be a family favorite. Del Taco is fast food, but just as delicious as a sit-down restaurant.
Their three most popular items are the
Snack sized Chicken Rollers
Queso Loaded Fries
Fresh Guacamole Burrito
Be sure to try the Caramel Cheesecake Bites, too!
12. Denny's
Whether you are in the mood for breakfast at 8am, 4pm or midnight, Denny's is the place to go.
They offer an extensive menu from burgers to tacos to breakfast 24 hours per day and take Apple Pay. Can it get any better?
13. Dickey's BBQ Pit
Dickey's BBQ Pit is a newer chain but absolutely delicious. The meat is juicy and tender and the sides taste homemade.
All meals come with dessert, too so that's a plus! Take the kids on Sunday to get a free meal with any adult entree purchase.
14. El Pollo Loco
El Pollo Loco is a Mexican Grilled Chicken style eatery featuring bowls, tacos, bowls, street tacos and more. They have a great kids menu and value menu as well.
They have locations in a few states, but the majority are in California.
15. First Watch
For the best brunch around, check out First Watch. It is healthy, filling and the variety is unmatched.
It is a very popular spot for college hangouts. Apple Pay makes it really easy to check out when you go in a group as well.
16. Five Guys
Five Guys is a classic burger joint that is no fuss and absolutely delicious. They're known for their boxes of peanuts by the door that you can take to your table and snack on while you wait for your meal.
The viral Grilled Cheese Burger is from Five Guys so be sure to check them out and use Apple Pay to check out for a quick and hassle free experience.
17. Friendly's
The food is great, but the desserts are what make Friendly's a place to come back to time and again.
Their newest sundaes are: Hunka Chunka Peanut Butter Fudge Lava Cake and Strawberry Shortcake Sundae. Both sound absolutely amazing but their menu is constantly changing and nothing ever disappoints!
18. Fuddruckers
Fuddruckers is a cool spot decorated like a classic diner. It has arcade games and a fun ice cream and dessert station in the middle of every restaurant.
Every kid's meal comes with a coin that you can turn in at this ice cream spot for a cookie. You can also upgrade to a cookie sundae. It's definitely a fun spot to come with kids.
19. IHOP
Pancakes at any time of day? Yes, please. IHOP is always a good pit stop for a midnight snack.
If you are not in the mood for breakfast, though, the menu is extensive and includes lunch options from pasta to Tex-Mex. No frills, just good food.
20. In-N-Out
The West of the US is known In-N-Out and it is GOOD. Hearty burgers, animal-style fries, and ice cream are what this place is known for.
This may be one of the most well-known burger joints in the country, so if you have an opportunity to try it, you definitely should.
21. Jack in the Box
For a popular, quick service fast food joint, try Jack in the Box. It's got lots of fun fried chicken options as well as healthier alternatives.
You usually find this place by highways and when you are on a road trip, but it's definitely worth checking out.
22. Johnny Rockets
Another burger place that is 100% worth mentioning is this old fashioned diner style restaurant. Johnny Rockets has been around for years and is known for the 1960s vibes. You will even find jukeboxes at the tables!
Their menu is far more than just burgers, though. You'll find a lot of American fare at great prices and good sized portions.
23. McDonald's
We can't create a whole list and skip on one of the most popular fast food joints in America. McDonald's is now accepting Apple Pay.
So head on over for a burger, some fries and a soda. Or maybe even a McFlurry and Apple Pie. Some locations even offer 24 hr breakfast so if that's the case, definitely pick up a hash brown or two.
24. Miller's Ale House
A Florida specialty, Miller's Ale House is known for being an amazing sports bar. If there's a game on, this is where you want to be!
They have a diverse menu with steaks, salads, chicken, burgers, seafood and of course, wings! The sauces are exceptional and you'll be licking your fingers after a basket of wings.
25. Olive Garden
The first Italian restaurant on this list is this fan favorite. Olive Garden is known for its fluffy, garlic breadsticks, unlimited soup and salad, and divine pasta dishes.
The wine and cocktail menu is also very nice so this is definitely a great place to come back to time and again.
26. Outback Steakhouse
If you are in the mood for a thick, juicy cut of steak, this is where you want to be. Outback Steakhouse is one of America's most popular go-to steak places.
They are also known for their brown bread, soups, Bloomin' Onion and fun dessert options.
27. Panera Bread
Soups, salads and sandwiches are what Panera Bread is known for, but you may also find some pasta dishes and other fun meals as well.
They also have the Panera Unlimited Sip Club which has unlimited drinks and coffees for a small fee per month. This is also available to be paid via Apple Pay.
28. Shake Shack
Another fun burger spot, Shake Shack is known for their crinkle fries and signature sauce. The juicy burgers are flavorful and delicious and they also have some healthy menu options as well.
This one has been around for a while and you'll see new locations popping up around the country.
29. Starbucks
It's only fitting that the most popular coffee joint in the US also accepts Apple Pay. Not only does Starbucks have coffee, but they also offer teas, refreshers, sandwiches and snack boxes along with delicious pastries.
Starbucks was one of the first restaurants to implement this change and it's a huge help when you are in the drive thru or trying to make a quick order.
30. Whatabuger
If you aren't Team In-N-Out, you're probably Team Whataburger. Their sauces are amazing and their burgers are fresh, large and tasty.
They're currently offering a Dr. Pepper milkshake so that sounds like a great reason to go in and check them out!
Summary
Apple Pay is becoming a very common way to pay all over the country- and even around the world. It is definitely not uncommon anymore and most large retailers are definitely taking the hint that customers want this.
As the years go on, it will become so common that everyone will begin offering mobile payment features. This is the future and it is truly making life so much easier whether you're a busy individual trying to run in and out of a store, or a mom with her hands full.
We hope you found a few good places to try using Apple Pay next time you visit.