If you like shopping at Ross Dress for Less, you'll want to know about this list of best stores like Ross.
These stores help you to save money on clothing while still looking and feeling great. But for those not in the know, what is Ross Dress for Less?
What is Ross Dress for Less?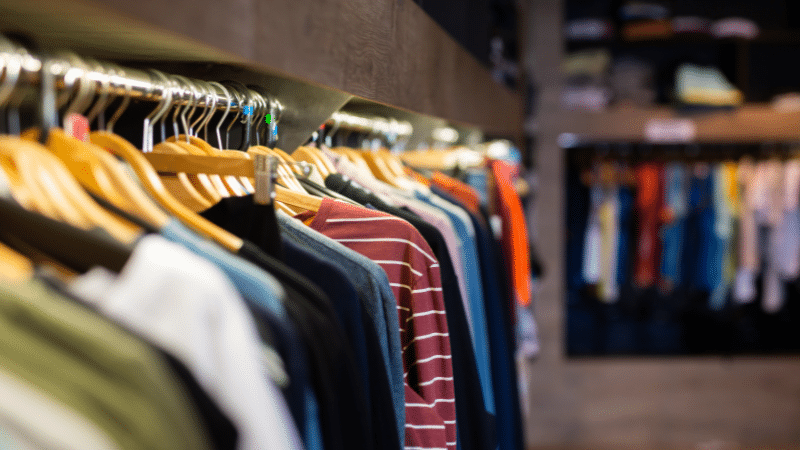 Ross Dress For Less is the largest U.S. chain of discount department stores and was founded in 1982.
With over 1,500 locations in the U.S. and Guam, the store sells off-price goods and clothing in a no-frills environment to save you even more.
You can find clothing and fashion items, home decor items and lifestyle items at Ross stores for 20% to 60% off retail department store prices.
Here's a list of other stores that, like Ross, sell off-price goods to get you the maximum savings on your purchases.
Stores Like Ross Dress for Less
We're sharing a list of both online and brick-and-mortar stores that offer deep discounts on clothing, home decor items and more.
Note that some of these stores will offer free shipping with no minimum spend amount, while others will have a minimum amount you need to spend to get free shipping.
1. T.J. Maxx
T.J. Maxx is a discount department store chain that was founded in 1976. Today, the company has over 1,200 stores in the U.S. and Canada, as well as an online shopping site.
The chain offers clothing, accessories and home goods for 20% to 60% off of retail prices by offering deals on items that are overproduced or overbought by other stores.
You'll get free shipping on any order over $89 when you shop at T.J. Maxx's online store. And if you get a TJX Rewards credit card, you'll earn 5% back on all T.J. Maxx purchases made with the card.
2. Nordstrom Rack
Nordstrom Rack is a division of Nordstrom's luxury department store chain. Founded in 1901, the Nordstrom company now has over 460 store locations in the U.S. and Canada.
Nordstrom Rack was founded in 1973 and offers up to 70% off of regular retail prices of luxury clothing, accessories and more. And Nordstrom Rack has over 350 separate locations in the U.S. and Canada.
When shopping at Nordstrom Rack, you can get free shipping on orders over $89. You'll find clothing, accessories, beauty items and more at this store.
3. World Market
World Market first opened in 1958 and now boasts over 250 stores in the U.S. The store sells all things home related, including:
Kitchenware
Bedding
Furniture
Rugs
Wall decor
Outdoor items
And more. World Market does charge for shipping on all orders. However, if you are a member of the store's rewards program you qualify for free shipping on all orders.
4. ASOS
ASOS is an online retailer that first launched in 2000. The site sells men's and women's clothing in a variety of designs, from athletic wear to semi-formal wear.
ASOS offers great prices on many items, and you'll also find coupon codes readily apparent on the site.
You get free shipping on any order over $50, otherwise you'll pay $7.00 for shipping for other orders. Join the ASOS Premier rewards program and get free next-day shipping.
5. Zulily
First launched in 2009, Zulily sells name brand children's clothing at hefty discounts. You can also find men's, women's and maternity clothing on the site.
Zulily has a selection of home goods, food and other items as well. Because Zulily works with a large variety of manufacturers, you'll always see new and different items for sale on the site.
You need to sign up to be a member at Zulily in order to shop there, but membership is free.
And there are no shipping charges on orders of $49 or more.
Related Article: 15 Stores Like Zumiez
6. Five Below
Five Below is a discount store that launched in 2002 and has over 1,110 locations in 40 U.S. States and sells items in an online store as well.
While the premise of the store is that everything is $5 and under, there are items that are more than $5 but still deeply discounted from regular retail prices.
You can expect to find items at Five Below in categories including:
Clothing and accessories
Beauty supplies
Electronics
Pet supplies
Toys and games
Arts and crafts
And more. When you buy items online, you can have them shipped to a store near you or shipped to your home or office.
When you ship to your home or office you'll pay a flat shipping rate of $7.95. It's free to have your online purchases shipped to a Five Below store location.
7. Overstock
Overstock is an online discount retailer that was founded in 1999. The site sells surplus items as well as returned items from other retailers.
Although the retailer doesn't clothing, they do sell items such as:
Indoor and outdoor furniture
Home decor
Rugs
Lighting
Kitchen items
Home improvement items
Bedding
Baby items
And a host of other goods. When you join Overstock's Club O rewards program for $20 per year, you get benefits such as free returns and points earned on purchases that can be used for discounts on future purchases.
The $20 annual club fee is waived for the first year if you make $400 in purchases during the year.
As of this writing, shipping to the 48 contiguous United States is free for all customers.
8. Saks OFF 5th
Saks OFF 5th is a sister store to Saks 5th Avenue. The first store opened in 1990, and there are 102 store locations currently open, as well as an online store.
According to the site, the store offers high end clothes, shoes and accessories at the "best" prices.
You can find men's, women's and kids' clothing here at up to 60% or more off retail prices. And the site often has additional percent off deals as well.
When you join the OFF 5th rewards program (it's free to join) you'll earn at least two points for every $1 spent.
There are three levels to the program, and the higher levels include additional benefits such as free shipping and access to members only sales.
9. Macy's Backstage
Macy's Backstage is a discount store located inside of select Macy's Department stores. Open since 1858, Macy's has over 500 stores in the U.S.
The store offers on trend clothing at discounted prices. Deals at Macy's Backstage differ daily.
However, you can find a variety of items both in-store and online including men's and women's clothing, kids' clothing, housewares, gift ideas, pet items and more.
Whereas some discount stores offer clearance items from their full-priced stores, Macy's Backstage says that you won't find Macy's clearance items at Macy's Backstage.
Instead, the store's buyers look for deals from other sources, and they promise you won't find those same deals elsewhere.
Bonus: Macy's Star Rewards Program is applicable at all Macy's Backstage stores.
10. Famous Footwear
Famous Footwear is the shoe store version of Ross. First opened in 1960, Famous Footwear has over 1,100 locations today.
The store sells name brand shoes at discount prices. Shipping is free on orders over $75.
However, if you join the store's rewards program, you'll get free shipping on all orders. The Famously You rewards program is free to join.
It also gives you 1 point for every $1 spent at the store and a $5 cash reward for every 100 points you earn.
You'll also get birthday bonus cash, additional buy one, get one half off offers and the benefit of combining your rewards cash with sales, coupons, bonus point offers and more.
11. Burlington
Burlington Stores (formerly known as Burlington Coat Factory) was founded in 1972 and has approximately 1,000 store locations as well as an online store.
The store is the third largest discount retailer behind TJX and Ross Dress for Less. Burlington has up to 60% off on deals in areas such as:
Men's clothing
Women's clothing
Juniors and kids' clothing
Accessories
Baby items
Shoes
Beauty items
And more. The Burlington loyalty program is free to join and offers extended, receipt-free returns, early access to new arrivals and a $5 bonus for completed layaway contracts.
12. Marshalls
Marshalls is a part of the TJX family, which also includes T.J. Maxx and other stores. While Marshalls is similar to T.J. Maxx, it does offer some differences.
You'll find footwear for the entire family at Marshalls, while T.J. Maxx typically only sells women's shoes.
And Marshalls has a much larger men's department than T.J. Maxx does. Check out Marshalls' home decor section as well to find unique items for your home.
You'll get free shipping on online Marshalls orders over $89.
The TJX Rewards program that rewards T.J. Maxx shoppers also works at Marshalls and other TJX stores. Note that the rewards program works in conjunction with the TJX Rewards credit card.
13. HomeGoods
HomeGoods was founded in 1992 and has over 800 locations. The TJX-owned store sells a variety of home items including:
Furniture
Lighting
Rugs
Decor and pillows
Kitchenware
You can find outdoor items and holiday decor at the website and in stores as well.
Items are generally sold at 20% to 60% off of retail prices. The company's buyers find great deals on wares everywhere from department stores to individual artisans.
Shipping is free on any order over $119. TJX Rewards apply if you have the TJX Rewards credit card. There is no store pick-up option for online orders.
However, you can return online purchases at a HomeGoods store location if you do so within 40 days of the purchase.
14. Big Lots
Big Lots is a discount retailer that was founded in 1967 and has over 1,400 stores opened as of this writing.
You can find a large selection of goods both online and in-store at Big Lots, including items in the following categories:
Holiday items
Clothing and footwear
Home decor
Mattresses
Kitchen and dining
Back to school
Furniture
Outdoor items
The list goes on. You can even get select grocery items at Big Lots. The store's rewards program offers discounts that increase as your purchases at the store increase.
Shipping costs vary based on the items you're purchasing.
Bonus: Military members and veterans get an additional 10% off of store prices every day.
15. Tuesday Morning
Tuesday Morning is a discount closeout retailer that was founded in 1974 and now has nearly 500 locations throughout the U.S.
The store boasts "first choice quality at last chance prices." In other words, buyers search for the best deals on the best products.
Tuesday Morning's selection focuses mostly on home decor, however, they do have a select offering of pet items as well, such as bedding, carry cases and more.
Although the store's loyalty program (called the Perks program) doesn't work quite the same as other stores, you will get entered into a sweepstakes drawing every time you provide your email at a purchase.
16. Sierra
Sierra (formerly known as Sierra Trading Post) is a discount retailer that focuses on outdoor and adventure clothing, gear and more. You may find home decor items at Sierra as well.
The company was founded in 1986 as Sierra Trading Post and was sold to TJX Companies in 2012, and changed the name to Sierra in 2018.
You can find items at Sierra for up to 60% less than most retail specialty and department stores.
Some of the items sold at Sierra include:
Outdoor wear such as jackets, gloves and hats
Activities gear including hiking shoes
Hunting and fishing gear
Backpacks and luggage
And more. You'll get free shipping on orders of $89 or more at Sierra. And the TJX Rewards program applies to Sierra shoppers as well.
17. Banana Republic Factory and Outlet
The Banana Republic Factory and Outlet is such a great store if you are looking for business and professional wear for men and women. If you work an office job, this store will fill all of your work wardrobe needs.
They have both online and in-store shopping available. Sales run weekly varying from 40-70% off and also offer a 15% off discount to new subscribers. If you're a rewards member, you will also receive free shipping over $50.
18. Gap Factory
Gap Factory is one of the best places to shop for the whole family at amazing prices. Everything is always at least 30% off, sometimes much more.
The quality of the clothing is outstanding, making it especially great for children's clothes. They often have cute things at a great price and they will last a long time.
This is a sister store to the Banana Republic Factory and Outlet, so the same membership benefits apply. You will receive 15% off for a new email subscription as well as free shipping for purchases over $50 when you are a rewards member.
19. Kirkland's Home
If you are in need of home decor on a budget like Ross has, Kirkland's Home is for you. They carry everything from furniture to rugs and lamps and home decor.
Their holiday decor is outstanding and the quality is amazing for spectacular prices. They often do an annual sale that is the best of the year and you will find the best prices in store!
They have online and in store shopping available as well as a 15% off discount code available when you sign up for their email list.
20. Kohl's
Kohl's is a store that so many people frequent because it really has everything you need. From kitchen supplies to workout wear and everything in between. They are also always running a sale.
A great tip to know about Kohl's is that they do stack coupons. The Kohl's Rewards Program is also amazing. It is free and offers a few nice benefits:
5% rewards on every purchase
Birthday Gift
Personalized Perks
Kohl's is also now a partner with Amazon so sometimes you'll find Amazon return drop off centers in the middle of the store. If you ever return anything, they will give you a $5 Kohl's cash coupon to spend on anything (no purchase necessary).
21. Rue La La
Rue La La is one of the coolest online shops out there. It is a compilation of so many brands all on one site. The best part is that they are all discounted. If they are on the site, they are definitely on sale.
The "shops" run for a couple of days and you'll get access to those specials. But once they're gone, they're gone for good so you need to act fast!
You do need to be a member to shop, but all you need to become a member is subscribe to their email list. You'll receive occasional coupons as well as free shipping discounts.
22. Stein Mart
Stein Mart is another one stop shop for the family. They offer clothes for the whole family, furniture, kitchen, jewelry and decor items. The website is often discounted to 30% off, but sometimes it's more.
If you join their rewards program, not only will you receive perks via email throughout the year, but you'll get a one time 20% off coupon. That's a significant coupon! Free shipping is available for purchases over $75 as well.
23. Wayfair
If you are looking for home decor or furniture at outstanding prices, Wayfair is the place to go. They are an online shop only but carry everything you can imagine to furnish your home.
Their prices are significantly less than the average furniture and home decor shop, but the quality is great.
Shipping is often free and the customer service is excellent if you need to return or exchange anything or simply have any questions regarding your order.
24. Burkes Outlet
Burkes Outlet is a retail store that offers a wide variety of items at discounted prices. From clothing and footwear to home goods and furniture, Burkes Outlet has something for everyone.
With frequent sales and clearance events, shoppers can find great deals on brand-name items. It's a great place to shop for budget-friendly finds.
25. Amazon
When it comes to clothes, Amazon has a huge selection. Shopping for clothes on Amazon is convenient and easy. With a vast selection of brands and styles, you can find whatever you need, from casual wear to formal attire.
Plus, with features like customer reviews and detailed product descriptions, you can make informed purchasing decisions. And with fast and reliable shipping, you'll have your new clothes in no time.
Summary
Ross Dress for Less gives you great deals on clothing, accessories and other items. Luckily, there are other stores like Ross that offer those same great deals.
Shop several of the stores mentioned here to find the best deals on your purchases.