What's a Good Price for a Turkey?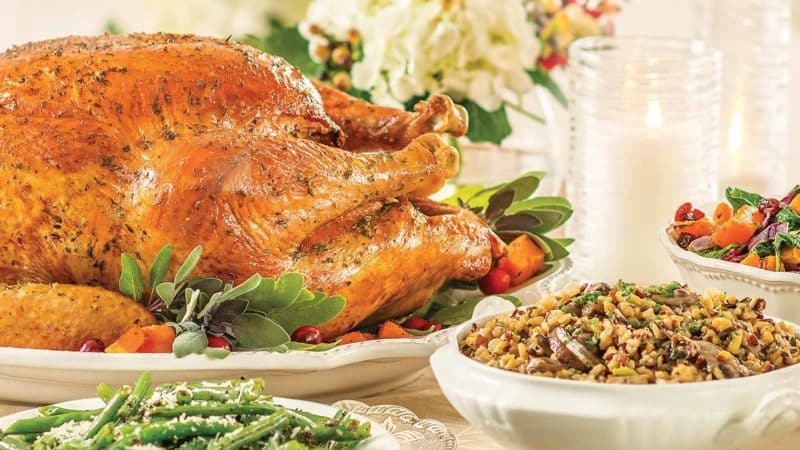 Update November 2022: We'll continue to track prices for your Thanksgiving or Christmas turkey in 2022!
Here's our prediction for a good price for a turkey in 2022.
As in years past, I'll be tracking the current best prices for turkey at your local grocery stores. This is a topic I've spent a fair amount of time and effort compiling and my goal is to help you save big on what may well be the biggest dinner you'll prepare this year!
I wanted to start by updating you on some general information on finding the best deal on a turkey for 2022, as well as provide some past prices. There are a few factors to consider when looking for the right turkey deal for you:
Most stores require a grocery purchase for the best turkey price.
When looking at where to buy your turkey, consider first where you do the bulk of your shopping. Most stores are offering a solid discount on a turkey, but only if you spend money on additional groceries in the store.
For instance, last year both Fred Meyer and QFC offered a fantastic price – $0.49 per pound, but it required a minimum $50 grocery purchase. We usually also see stores offer a FREE turkey, but typically only with a grocery purchase of $100-$150.
If you are already planning to spend roughly that amount for your groceries, this is obviously a fantastic deal. However, I generally avoid making random purchases to meet a high threshold as that will ultimately negate your turkey savings.
Obviously, the less you have to pay to get the deal, the better. Some stores even include the turkey as part of the grocery purchase, and some stores use the price before any coupons are deducted as the minimum. Make sure you understand the fine print of the offer as it's likely to vary from store to store.
For 2021, The American Farm Bureau Federation listed the average 16-pound Thanksgiving turkey cost around $23.99. Which is about $1.50 a pound
For 2022, the American Farm Bureau Federation expects record breaking high prices thanks to inflation and a bird flu.
Hence, find the great deals this year is your best best. Don't hesitate when you see a good deal.
Comparing turkey prices may be like comparing apples to oranges.
As you can see in my example above, it may be tricky to compare apples to apples when it comes to shopping around for the best turkey price! Factors including how much you have to spend at the stores and which store(s) you like to shop at may influence what's the best turkey deal for you.
You'll save more on a frozen turkey.
Remember that it takes several days to defrost a frozen turkey, so you'll want to make sure to pick yours up 1-2 weeks out from Thanksgiving. Wait until the last minute, and you'll be stuck either paying more for a fresh turkey or stressing over whether your frozen turkey will defrost in time. Plan (and shop) ahead for the best deals.
My 2022 Turkey Price Prediction
Here are the best prices I found for the past several years for frozen turkeys. As you can see, prices have increased and then decreased over the years.
$0.49/lb for 2021
$0.47/lb for 2020
$0.49/lb for 2019
$0.47/lb for 2018
$0.47/lb for 2017
$0.49/lb for 2016
$0.69/lb for 2015
$0.69/lb for 2014
$0.59/lb for 2013
$0.49/lb for 2012
$0.29/lb for 2011
$0.26/lb for 2010
Please note that additional grocery purchases would have been needed to obtain these prices (generally at least $30).
I'm hoping that our 2022 turkey prices stay consistent from last couple years, around $0.49 per pound. But I'd personally jump at anything $0.57/lb or less as it looks like we've not seen more than a $0.10 per pound increase since 2011-2012.
Lowest Prices we have seen: Right now H-E-B has $0.49 with $20 purchase, Winn-Dixie and Publix at $0.49. Or H-E-B and Hy-Vee are offering Free with purchase of a spiral ham, Kroger is offering a free turkey with $100. The deals are out there, you just have to look.
Related post: Best Turkey Prices at the Grocery Store (Near You)
Other factors may raise the cost.
This may be fairly obvious, but some things are likely going to impact the cost, including:
Free-range, and/or organic turkeys. If these things matter to you, plan on paying more money.
Butterball and other premium brand turkeys. The best deal I spotted last year on Butterball turkeys was $0.89/lb (at Target).
Fresh turkeys. The best deals you'll find are on frozen – not fresh.
Buying a turkey with no additional grocery cost. If you are just going in for a turkey, plan on paying more because you'll likely be ineligible for any discounted price promotions.
Local market. I'm blogging out of the greater Seattle area. You may note prices slightly higher or lower than my benchmarks because you live in a different part of the country.
*Economy changes -We are adding this one on this year. Inflation and recession can impact the cost of all goods, including turkey.
It's not at all necessarily bad if you've got your heart set on a Butterball turkey or if you really prefer a turkey grown on a local farm – just be prepared to pay a little extra.
Now that you have some context, are you ready to see the current deals? I'm here to help!
Once again, I'll be updating my popular Best Turkey Prices post for 2022 weekly. I will be updating this post once again starting early November. So check it frequently.
Need some help for prepping your turkey on Thanksgiving Day? I've got some help, too!
Happy Thanksgiving!