Taking surveys online can be an easy way to make some extra money online. Most survey companies offer short surveys, so you can complete them whenever you have free time.
Branded Surveys is one site that can help you earn cash while you wait for appointments, watch TV or stand in line at the grocery store.
This Branded Surveys review will help you determine if the site is a worthwhile way to put more money in your pocket.
Summary
Branded Surveys is a survey company that will pay you for sharing your opinions on products and services. Easy surveys make earning rewards fun.
Pros
You can take surveys anytime, anywhere
An abundance of rewards options to choose from
Fun bonus point options
Anyone can participate
Cons
Earnings are dismal
Can be time-consuming
Surveys can be repetitive
What is Branded Surveys?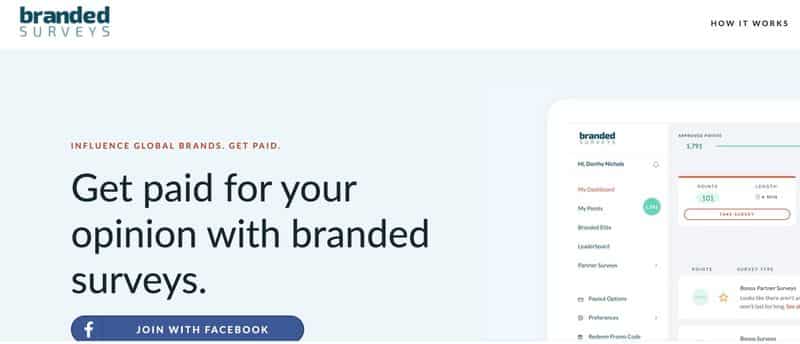 Branded Surveys is an online survey company that partners with companies looking for feedback from people who use their services and products. According to the website, they have over two million members.
You can participate in a variety of online surveys with Branded Surveys.
Ways to earn points on the platform include:
Online Surveys
Polls
Promo Codes
Referrals
You'll earn a predetermined number of points for each survey or poll you complete. This allows you to know if each opportunity is worth your time before you get started.
Points are redeemable for cash, gift cards or charitable donations. As of publication, the site has paid out almost $20 million to its users.
The team at Branded Surveys says that they work hard to provide the best survey-taking experience possible for members.
They believe this provides the best feedback for the clients that use Branded Surveys to gather market research information.
Is Branded Surveys Legit?
Yes, Branded Surveys is a reputable survey company that will pay you in points for each activity you complete. When you earn at least 500 points, you can redeem your points and get cash or a retailer gift card.
Who is Branded Surveys For?
Branded Surveys is for anyone who wants to make a little extra cash in their spare time.
The platform can be great for people who frequently find themselves sitting in waiting rooms or standing in lines with nothing to do. If you have time to kill, making some extra money can be productive.
It's also for people who want to influence the services and products on the market. This includes current products and services in addition to those that will be introduced in the future.
However, if you are looking for a side gig to make money from home that is lucrative, Branded Surveys is likely not the best option for you.
How Does Branded Surveys Work?
Getting started with Branded Surveys is easy. Anyone 16 years of age and older can sign up to be a member.
It's important to note that anyone under 18 who wants to sign up must have a parent's permission to join.
How To Sign Up
You'll start your journey with Branded Surveys by signing up using the button on the site's homepage.
Then, you will need to enter your email address, create a password and choose a gender identification category.
The gender identification category is required because some companies need feedback from specific genders for their products.
Once you have your Branded Survey's account, you'll be able to complete some surveys with details about yourself, your household and more.
It's important to answer carefully when taking these paid surveys since they are how the site matches you with the best opportunities.
For example, a 20-year-old single person won't have the same survey opportunities as a 65-year-old married person.
Bonus: You might earn free points when you sign up to be a member.
Earn Rewards
Branded Surveys rewards members with points each time they participate in some type of market research activity.
As you earn points, you can use them to get cash via PayPal or bank deposit. You can also cash them in for retailer gift cards or charity donations.
The number of points you can earn for each activity depends on the complexity of the activity and the length of time it will take to complete.
You'll get to see how long the activity is expected to take and how many points you'll earn before you participate. This can help ensure you choose opportunities that are worth your time and effort.
There are a number of ways you can earn points on Branded Surveys.
Surveys
The main opportunity Branded Surveys offers members to earn points is taking surveys. This is a similar feature with other online survey sites.
Some surveys will take under five minutes to complete. Others can take up to an hour or longer. Of course, the length of time you spend completing a paid survey depends on factors such as how fast you can read.
Additionally, you can accept or decline surveys based on how much time you have to complete them. If you only have five minutes to take a survey, you can select a survey that fits that time constraint.
There are a few survey types available on Branded Surveys:
Profile surveys: Help match you with relevant opportunities
Partner surveys: Surveys from research partners
Exclusive surveys: Surveys available as extra earning opportunities
Each survey will vary in terms of the number of points you can earn.
The flexibility to complete surveys in your spare time to make money is one of the nice things about using this platform.
Polls
Branded Surveys offers polls to members. For instance, the Daily Poll is a quick, one-question poll that earns you roughly five points.
It takes less than ten seconds to complete the daily poll, so you won't want to skip that. Other polls may take longer, but most are very short.
Bonus: When you complete ten consecutive polls, you'll earn a 25-point (or higher) bonus reward.
Promo Codes
Every so often, Branded Surveys will share promo codes with its members. These promo codes are generally awarded via contests and promotions.
When you see a promo code, you can enter it into your account dashboard. Then, Branded Surveys will credit you with the free points tied to the promotion.
How To Get Paid
As you earn points, you can keep track of your points balance by visiting your dashboard.
You can cash out as soon as you've earned at least 500 points. Otherwise, you can let your balance sit and accrue more points.
Branded Surveys says most members are able to cash out every two to three weeks.
Of course, the time in between cashouts for you will depend on how much effort you put into earning points.
You'll need to earn a minimum of 500 points before you can cash out. This is the equivalent of $5.00.
When you want to cash out, you can hit the Payout Options button on the left side of your dashboard.
From there, you can choose to get your converted points transferred to your PayPal account, which you can then transfer to your bank account.
Alternately, you can opt for a direct bank transfer, charitable donations to select organizations or gift cards.
Gift cards are available to retailers like:
Adidas
Airbnb
Barnes and Noble
Amazon
Caribou Coffee
REI
Walmart
And hundreds of other retail stores. The gift card option also offers a long list of restaurants and coffee shops.
Once you select your reward, Branded Surveys takes a couple of days to approve your choice.
You'll get paid roughly one or two days after your payout request has been approved. Most gift cards come in the form of e-gift cards you'll get in your email inbox.
Branded Surveys Features
Branded Surveys has several other features that help make taking surveys more exciting. Here are some of the most interesting perks the site provides.
Branded Elite
Branded Elite is a rewards program offered by Branded Surveys. Your monthly activity on the platform determines how far you advance in Branded Elite.
There are three membership levels you can reach if you take enough surveys to become an Elite member.
The membership levels include:
Bronze: Complete 12 surveys, then finish two surveys each month
Silver: Finish at least 10 surveys per month
Gold: Complete at least 25 surveys each month
Each membership level offers bonus percentages based on the number of surveys you complete. You can earn anywhere from 5% to 19% bonus points.
Completing enough surveys to become an Elite member can be a great way to earn additional points and higher payouts from this survey site.
Leaderboard
The Branded Surveys leaderboard showcases members with top performance levels.
You can achieve daily, weekly and monthly leaderboard rankings. Additionally, top earners on the leaderboards will earn bonus points.
For example, the top 50 daily winners get 50 bonus points. The top 50 weekly winners get 200 bonus points.
Better yet, the top 20 monthly winners get 300 bonus points.
Referral Program
Branded Surveys also has a referral program you can participate in.
If you refer new members who sign up using your personal referral code, you will earn 50 bonus points once they achieve the Silver badge level.
Note that you have to be a Bronze, Silver or Gold badge level member in order to participate in the referral program.
Frequently Asked Questions
You may have some questions about making money online with Branded Surveys before you sign up. Here are some answers to frequently asked questions that can help you decide if this survey site is right for you.
How much money can I make taking surveys on Branded Surveys?
You're not going to get rich taking surveys with Branded Surveys or any other survey company.

Nevertheless, you can earn a few extra dollars each week in order to have some extra spending money or to help you save money for emergencies.
What customer service options does Branded Surveys offer?
Branded Surveys doesn't advertise a customer service phone number. However, there is an email contact form on their website.
Is Branded Surveys worth it?
It depends. If you only have a few minutes to spare between appointments or you are looking for an easy way to make a little extra money while watching TV, this survey site can be a good choice for you.

Know that there are many paid survey sites out there. Get started with 5, 10, or 20 minutes a day. It does not take a long time to earn money.
Brand Survey Reviews
Branded Surveys earned 4.3 out of 5 stars on Trustpilot and has over 59.5K ratings. This is considered an "excellent" score.
Most of the negative reviews on Trustpilot revolved around complaints that people get partially through a survey only to be told they don't qualify. However, this is a common problem with most survey websites.
If you choose to try to earn money by taking surveys, beware that you could get halfway through a survey and then get disqualified for various reasons.
Here are some reviews that Branded Survey users shared on Trustpilot:
"Branded Surveys is the most ethical survey website I have researched. They always have a wide variety of surveys, and I never get bored. I love the bonus percentage added to your weekly total of surveys." – Tammy S.
"Surveys are fine, but payment is pathetically low – pennies per hour, if you work it out." – Philip C.
"I find branded surveys really great. It not only helps with my computing skills but keeps me in contact with what is happening on the outside world. The surveys are all different and are a pleasure to complete. I look forward to completing many more." – Julie W.
"I have done several surveys that said I wasn't qualified after I spent 15 minutes or longer on the survey. You should disqualify a person before they invest that much time." – Penny
Summary
Branded Surveys is a popular among survey sites as being a legitimate company that will pay you to share your opinions with their retailer and other clients.
You won't get rich by taking surveys. However, you can make money online each week.
If you're looking for ways to make money from home, Branded Surveys is an option worth considering.