When you're looking for tickets to see your favorite sports team or musician, using the best ticket sites is vital.
While some ticket sites are scams, others might not offer the safety and reliability you need when purchasing tickets online.
We found the top ticket websites and share what you need to know about each one before you buy.
Top Ticket Sites
When you use the top ticket sites, you can get the best seats for your chosen event. You may even be able to secure the lowest prices.
Since ticket prices can vary widely depending on the event you're searching for, we recommend visiting several sites to check pricing and availability before you make your purchase.
In alphabetical order, here are the best ticket websites that can get you into your favorite events.
1. StubHub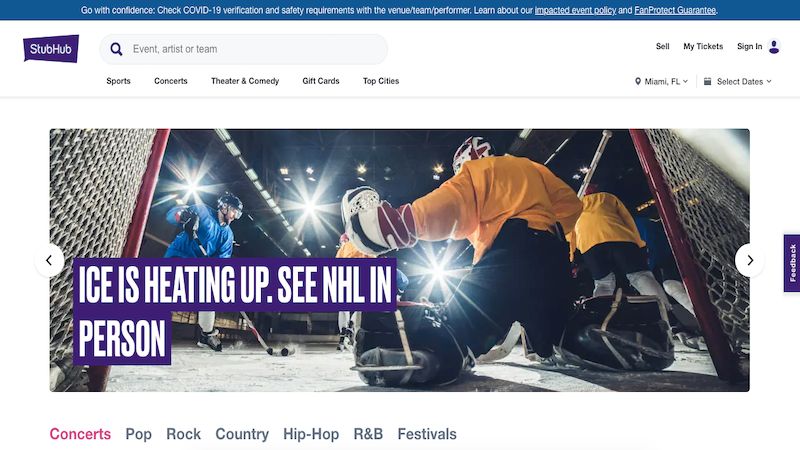 One of the most popular ticket-selling sites on the internet is StubHub. The company calls itself the world's largest ticket marketplace.
They have sold tickets to over 10 million events in over 40 countries around the world.
The StubHub Promise guarantees that the company will back orders with a 100% guarantee.
StubHub's website has a variety of features, including 360-degree view seating and a Best Value feature which helps you quickly find the best tickets for an event.
The platform's service fees are competitive and comparable with other big-name sites. They are also committed to philanthropy and have donated over $4 million to charity.
Pros
Features such as Pricing Assistant and Best Value
360-degree view seating ability
Cons
The final price is not visible until you enter your credit card information
2. MEGAseats
MEGAseats is one of the most popular ticket resale sites that sells tickets purchased from the primary marketplace.
Unlike many ticket sites, MEGAseats doesn't charge service fees on ticket purchases. It also does not charge shipping fees.
The MEGAseats 100% Guarantee states that all tickets sold on MEGAseats are real. It also promises they will arrive on time and without hassle.
If an event gets canceled, MEGAseats will give you a credit voucher valued at 120% of your purchase cost. The voucher is good for 365 days from the issue date.
You can also get a full refund of your original purchase price if you so choose, provided the event is not rescheduled.
The MEGAseats website is easy to use, although there is no 3D view of seating.
Whether you are buying sports tickets or concert tickets, MEGAseats is a great option to find deals.
Pros
Lower prices
No service fees
Cons
Some tickets may sell for extraordinarily high prices
No 3D seat viewing
3. SeatGeek
SeatGeek calls itself the leading mobile-focused ticket platform. The company says it has the largest online inventory for event tickets.
This platform sells tickets from licensed sellers, other ticket holders and ticket box offices. They offer a Buyer Guarantee that provides a full refund if you didn't get what you paid for.
3D interactive seating maps allow you to get a better idea of the view you'll have based on the tickets that are available.
You can track your favorite teams or artists on SeatGeek, and they'll send you tailored recommendations based on the information you input.
SeatGeek will even notify you when your favorite artist or team announces a new event.
In addition, you can sell tickets on SeatGeek. The platform will take a 10% seller's fee when your ticket sells (listing is free).
You'll get paid within 24 hours of when the event ends in order to help ensure the person buying tickets gets what they paid for.
Pros
User-friendly site
Helpful notifications so you don't miss an event
Cons
Not always the cheapest tickets prices out there
4. SeatRetriever
SeatRetriever works to sell you the most affordable venue tickets online. It's one of the newest companies featured here and boasts transactions that are fast as well as safe.
This platform often offers some of the lowest online ticket prices you'll find. The search and purchase features are similar to what you'll find on most ticket sites.
Unfortunately, there is no 360-degree viewing of venues. The help center is also lacking.
SeatRetriever offers a 100% guarantee on all ticket sales, although the website is vague about what that guarantee means.
There is no customer service phone number on the website, and other details regarding customer service are minimal. Keep that in mind before you use the platform.
Pros
Some of the lowest prices on the net
Guarantee on all ticket sales
Cons
Newer company with minimal online reviews
Limited customer service support
5. Event Tickets Center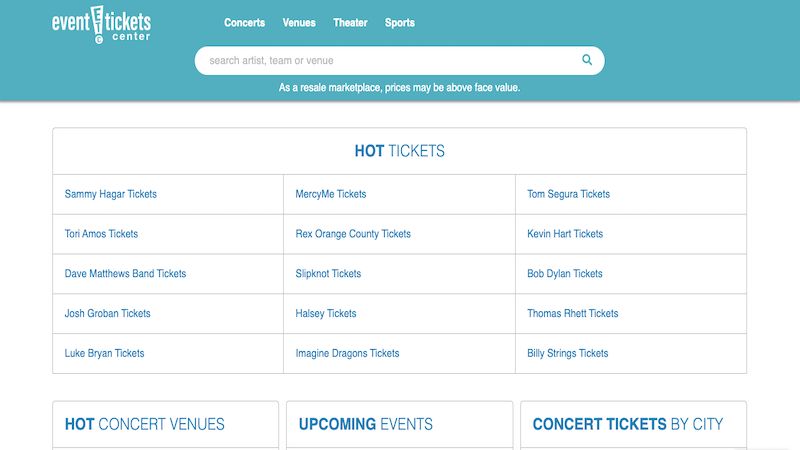 Event Tickets Center functions as a secondary marketplace to buy tickets and sell tickets. Almost 1.5 million people have used their platform to purchase tickets.
You can find tickets here for anything from concerts to games to popular speaking/motivational events and more.
The site is almost painfully simple, and you won't find a 3D viewing feature.
Fortunately, the search feature does its job and allows you to search by city or name.
Ticket prices may be above face value prices depending on the seller. The site's guarantee states you can get a refund if the tickets don't arrive or don't get you into the event.
Customer support consists of an email contact form and a phone center operated Monday through Friday.
Pros
The website is easy to use
Customer service is available via phone on weekdays
Cons
Guarantee terms are murky
The website is highly outdated
6. TicketCity
TicketCity was founded in Austin, Texas by college student Randy Cohen. The company was one of the first to enter the online ticket marketplace.
This platform owns some of the tickets they sell. However, they also sell tickets from a large network of independent sellers.
They are selling tickets for everything from events to airfare. You can also get access to premium seats and suites.
TicketCity even offers venue guides, city guides, nearby hotel information and driving directions.
The website focuses on a commitment to great customer service and has support agents available seven days a week.
Your purchases are backed by TicketCity's guarantee that says your purchase will be secure, you will receive the tickets you ordered in time and you will have guaranteed access to the event.
Pros
Commitment to great customer service
Fair prices on tickets
Wide range of services
Cons
Outdated website
Other sites may have cheaper tickets
7. Ticket Liquidator
Ticket Liquidator offers tickets to concerts, sporting events, theater and more.
Although Ticket Liquidator is a secondary marketplace ticket seller, all sellers are vetted for authenticity before they can sell on the site.
The Ticket Liquidator guarantee states your tickets will be legit, arrive on time and be the exact tickets you ordered (or comparable).
If the event is canceled, you will be eligible for a full refund. The site even says that your money will be refunded if your purchase falls short of the above-mentioned expectations.
Customer service options include email and a phone service center. You can also check out their FAQ section if you have general questions.
Pros
Thorough vetting process for sellers
Tickets are guaranteed to be legit
Cons
No 3D stadium view on the site
8. Ticketmaster
Ticketmaster is possibly the most well-known name in ticket sales. It was founded long before the internet made ticket sales easier.
The company merged with Live Nation over a decade ago and is now a subsidiary of Live Nation Entertainment.
Ticketmaster has a global selection of tickets and an attractive website with extra features such as advanced search, access to VIP seats and other deals.
You can save up to 50% on tickets when you search through the site's deals page.
Unfortunately, in spite of the fact that the company has been around for a while, it still doesn't have 3D venue viewing for ticket buyers.
Pros
An expansive ticket selling site
Unmatched history in the business
Cons
Customer service reputation is lacking
No 3D seat viewing
9. TicketNetwork
TicketNetwork is a secondary ticket marketplace that holds over $5 billion in ticket inventory.
As with other sites, TicketNetwork guarantees you'll get legit tickets that arrive on time. The seats will be what you ordered or comparable.
TicketNetwork's My Ticket Tracker feature helps you track the status of your ticket order at any time.
It's important to note that your ticket sales are handled by individual sellers here, not by TicketNetwork.
While TicketNetwork still guarantees your ticket sale, all charges and billing are done via the seller that owns the tickets.
Pros
Customer service line boasts 7-days-a-week hours
Ticket sales are guaranteed
10. TickPick
TickPick is known for its BestPrice Guarantee. This guarantee says that if you see a lower price on the same tickets somewhere else, they'll give you 110% in TickPick credit.
This site is also known for charging no service fees for all ticket purchases. The price you see is the price you'll pay at checkout.
TickPick even has a referral program that gives a $10 discount to friends you refer using your referral link. If your friend's first purchase is over $99, you'll get a $10 credit to your account as well.
Note that with TickPick, you are buying tickets from a seller who has already purchased those tickets from a primary marketplace.
The TickPick website says it has procedures in place to help verify the authenticity of tickets so you can buy tickets with confidence.
TickPick's BuyerTrust guarantee states they'll do their best to ensure you get what you pay for or get a refund.
Pros
Easy-to-use app
No service fees
Cons
Customer service isn't always the best
11. viagogo
Viagogo is a global online platform to buy tickets to sporting events, concerts and more.
The company is based in London and claims to have helped customers from all over the world get tickets to their favorite events.
As with some of the other sites listed here, viagogo does not own or sell tickets directly.
However, they will step in to facilitate a guarantee if your tickets do not arrive on time or are not as they were advertised.
Beware of General Admission tickets, which the Viagogo website says are typically standing tickets.
Pros
Wide selection of tickets to events around the globe
Ticket guarantee offered
Cons
Minimal customer service options (email only)
12. Vivid Seats
Vivid Seats is one of the largest online ticket retailers. The site is well known to sporting event ticket buyers.
The platform also has tickets to many other popular events, including big-name concerts.
Vivid Seats has a reward program that will give you a credit toward additional purchases when you purchase your tickets through their app.
Just collect reward stamps for each ticket purchase. You can claim your reward when you have earned at least 10 reward stamps.
Reward stamp values vary based on the type of tickets you buy. Additionally, they may or may not expire depending on the status level you've achieved through the program.
Vivid Seats' 100% guarantee ensures you will get what you ordered and get your tickets on time. This allows you to make your purchase with minimal stress.
Pros
Rewards program for ticket purchasers
100% guarantee
Cons
Not the cheapest tickets online
Service fees apply
13. ScoreBig.com
Score Big is an online marketplace for tickets to a variety of events.
You'll find everything from sporting events to theater experiences for sale on the site.
The premise of Score Big is to help fans get into an event at the last minute. On the site, you'll find a wide range of last-minute sports tickets ready for purchase.
But don't worry, you'll also see events with dates far into the future.
As with most ticket resale sites, you might find tickets at well-above face value. But depending on your luck, you might score a deal.
Pros
Positive customer reviews
Wide range of tickets
Cons
Tickets can be above face value
14. LiveNation
LiveNation is a platform that can help you keep up with all of the information on your favorite artist's tour.
Not only can you follow the latest updates about tours, but you can also purchase tickets directly on the site.
The music-focused platform can help you score concert tickets around the world.
Live Nation is also a big concert producer. With that, their tips and tricks for getting a ticket to your dream concert can really come in handy.
The platform sells over 500 million tickets a year. So, you can likely find the concert you are looking for through Live Nation.
Pros
The focus is on music concerts
Can keep up with the artist's tour
15. TicketIQ

Are you tired of the extensive fees tacked on your concert ticket? The fees can cut into your budget fast.
TicketIQ is dedicated to providing a fee-free experience to its users.
The platform works with venues, ticket resellers, festivals, and more to get you the best deal. When you shop with TicketIQ, you can avoid the painful sticker shock that comes with your final bill.
Sporting events, concerts, and theater experiences are all available through TicketIQ.
The platform connects you directly with the seller to get a better deal. And your checkout experience will be entirely secure.
Pros
Connected directly with sellers
Access to over a $1 billion in ticket inventory
No extra fees
Cons
Cannot cancel a ticket order
Summary
There are many ticket sites to choose from when you want to get seats to an event. The site you'll love using the most is dependent on many factors.
You may prefer searching for the lowest price to save money or using a site with 3D seat viewing in order to know exactly where your tickets will be.
Alternatively, the site's guarantee may be your highest priority, or you might prefer to shop on the site with the longest history of coordinating ticket transactions.
Whichever option you choose, make sure to compare prices before you buy to get the best deal.