If you have jewelry or other valuables that you no longer want, it's easier than ever to turn those items into cash.
Companies like Cash for Gold USA allow you to send in your valuables and receive money for them in as little as a few days.
It's easier than driving to a pawn shop in your area since you don't have to leave your house.
Our Cash for Gold USA review shares how the platform works and can help you decide whether or not it's right for you.
Summary
Cash for Gold USA is a precious metals retailer that buys gold, silver, platinum and other valuable materials. The company promises a seamless process and fast payout and will match a higher offer from any other company.
Pros
Price match guarantee
Appraisal and offer within 24 hours
Free return shipping for declines
Insured shipment
Cons
Insurance covers up to $5,000
Gold prices may fluctuate
What is Cash for Gold USA?
Cash for Gold USA is a company that allows you to trade in your precious metals and jewelry for cash. Since its launch, it has paid out millions for gold and other materials to over 300,000 customers.
Customers can use the platform to make money selling gold and silver in addition to a variety of other valuable materials, including platinum.
Your valuables can be in the form of bracelets, necklaces, watches, coins, dental scrap, earrings, broken gold and nearly anything else.
The company boasts that it offers private transactions that are easy, safe and risk-free. It prioritizes customer satisfaction and agrees to beat any competitor's offer or they'll return your items for free.
Is Cash for Gold USA Legit?
Yes, Cash for Gold USA is a legit gold buyer that has 4.2 out of 5 stars on Trustpilot. While there are many scam sites out there that take advantage of people who are selling gold, this is not one of them.
The company is owned by parent company CJ Environmental, Inc., which is accredited by the Better Business Bureau (BBB). This company has a 4.53 out of 5 stars on the BBB site.
CJ Environmental, Inc. has subsidiaries that work with several different types of materials, including silver, diamonds and precious metals.
When it comes to validating legitimacy on Trustpilot, the site's numerous reviews of 5 stars indicate a high level of customer satisfaction. You can get paid via PayPal, check or bank wire.
Furthermore, this online gold buyer offers payment within 24 hours and a 100% satisfaction guarantee. If you aren't satisfied with the offer you receive, you can "back out" of the transaction and get your valuables back at no charge to you.
It's a great option to consider if you want to sell your gold jewelry or other valuables.
How Does Cash for Gold USA Work?
Cash for Gold USA has a simple three-step process to help you make money selling your valuable materials and ensure you have a great experience.
1. Request Free Shipping
When you want to sell your gold or other valuables, you can go to the Cash for Gold USA website and request free shipping.
You'll provide information such as your name and contact information. You can also choose whether you'd prefer a USPS mailer or FedEx label for shipping.
Whether you are selling broken gold, dental scrap, gold jewelry or old gold, you can get free shipping.
Plus, they are currently offering a 10% bonus, increasing your potential payout.
2. Mail Your Items
Once you've received your mailing label, you can ship your items to Cash for Gold USA. You'll have tracking information through whichever shipping method you choose.
Shipments are insured for up to $5,000, and additional insurance is available for more expensive items up to $100,000.
If you'd rather not use USPS or FedEx to mail your items, you can use any shipping service of your choice. However, if you go this route, the company won't provide insurance on your shipment.
If you decide to ship your package yourself, you can send it to:
CFG-USA
6 Perry Dr
Foxboro, MA 02035
3. Get Paid
Within 24 hours of Cash for Gold USA receiving your item, one of its certified technicians will appraise it and send you an offer. It's up to you whether to accept the offer or reject it.
If you accept the offer, you'll receive a rushed payment within 24 hours via:
A check in the mail
Bank wire
PayPal
Don't forget, you may get a 10% bonus that can increase the value of your offer and put extra cash in your pocket.
If you're unhappy with the online gold buyer's offer, you can decline it. Once you do so, the company will return your items to you without any extra fees or shipping costs.
How Much Does Cash for Gold USA Cost?
Cash for Gold USA is completely free to use. In fact, if all goes well, you'll actually end up making money through the service.
The platform pays for shipping when you send in your items for appraisal, so you won't have to pay a dime for shipping or insurance costs.
You'll also get a free appraisal of your item and free return shipping if you decide not to accept the company's offer.
Key Features
There are many sites that pay you cash for your valuables. Here's what sets Cash for Gold USA apart from the competition.
Gold Calculator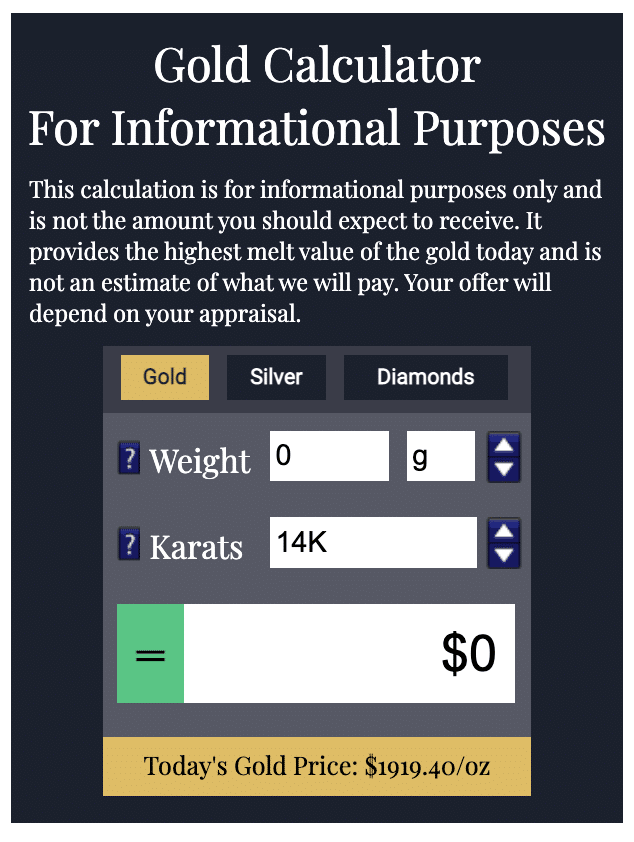 The site offers a calculator to determine the actual value of your gold, silver or diamonds might be worth based on their weight and karats.
Of course, this calculator can't tell you exactly how much the company might offer you. However, it can give you an idea of whether or not it's worth sending in your items for an appraisal.
Gold Price Chart
Like other assets, the price of gold fluctuates regularly. But, unless you're well-versed in the gold industry, you may not know the best time to sell.
Luckily, Cash for Gold USA provides information to help you decide whether or not now is a good time to sell.
The site provides a gold price chart that shows the historical price of gold.
It even shows:
The current price
The last time gold was at the current price
What happened the last time gold was at its current price
The site also shares some of the different factors that influence the price of gold and why now might be a good time to sell.
According to the platform, gold prices are influenced by the value of the dollar, inflation, supply and demand, central bank diversification and mining productivity.
Just like the calculator, their insights into price trends may not be 100% accurate. However, thanks to its many years in the industry, it can provide some insights that can be helpful as you consider selling your gold.
Price Match Guarantee
One of the most attractive features of this service is its price match guarantee. If you get a higher offer from another company, Cash for Gold USA will match it.
You might be wondering why it's worth taking the price match guarantee when you can simply accept the higher offer. The reason is that Cash for Gold USA rushes your payment once you've accepted their offer.
As a result, you might be able to get significantly faster payouts compared to other competitors.
Risk-Free
There's absolutely no risk involved with sending your items to Cash for Gold USA for an appraisal. The company insures your shipment, meaning that if your items are lost in transit, you'll be reimbursed.
Additionally, you can back out of the selling process at any time. The company will make an offer based on its appraisal, but you're welcome to decline the offer.
If you turn down their offer, the company will ship your items back free of charge.
Cash For Gold Blog
Most people who want to sell their jewelry, extra gold and other valuables they have in their homes aren't experts in the industry. This can put them at a disadvantage when it comes to getting the best prices for their items.
The good news is that Cash for Gold USA has a blog that shares important information about the value of gold and other materials, what's happening in the mining industry and more. This can help you make better decisions on selling your valuables.
Cash for Gold USA Reviews
With a ranking of 4.2 out of 5 stars on Trustpilot based on 269 reviews, Cash for Gold USA received mostly positive customer reviews.
85% of the reviews are excellent (5 stars), while fewer than 10% are average, poor or bad.
With 76 customer reviews, Cash for Gold USA's parent company, CJ Environmental, Inc., has a rating of 4.53 out of 5 stars on the Better Business Bureau site.
Most of the reviews are 5 stars. The company itself also has an A+ rating on the platform.
Here are some Cash for Gold USA reviews from customers:
"Have used this service three times. Very easy process, great customer service." – Christina
"I sent in my Tiffany & Co. engagement ring that was purchased a few years ago for $4k and they offered me $160 for it. What a joke! The only good part of it was how convenient the send in process was but it was still an utter waste of time and energy so 1 stars." – Kailee
"They were efficient and gave me a good deal for the jewelry. I have already recommended them to a few people and I don't recommend unless it's the truth." – Barbara
"They have a calculator in their website that shows true value of gold; however, they take about 40% of that. They are deceptive and not honest. It takes more than a week to get your gold back." – Lisa
Alternatives To Cash for Gold USA
Cash for Gold USA is just one of the many companies on the market that will give you money for your gold and other valuables. Here are a few of the most popular alternatives, many of which earned 5 stars from multiple customers.
GoldSilver
Many people highly recommend GoldSilver as it has been in business for more than a decade. As its name suggests, it helps customers buy and sell gold and silver.
Like Cash for Gold USA, customers can sell their valuables to GoldSilver. However, the company also makes it easy for you to invest in gold or silver. You can even open an individual retirement account (IRA) to hold your investments.
Trustpilot score: 4.6 out of 5
SD Bullion
SD Bullion is an online service that buys and sells gold, silver, platinum and other valuables. It disburses payments quickly once you accept an offer, earning it multiple ratings of 5 stars.
Each day, you can check out the website and see the current top sellers. This can give you an idea of how much your valuables might be worth.
Trustpilot score: 4.5 out of 5
Learn More: SD Bullion Review
JM Bullion
If you don't want to use a pawn shop, JM Bullion allows customers to buy and sell gold, silver, platinum and other valuables. It claims to offer the only DIY buyback tool in the space, and many customers rated it with 5 stars on Trustpilot.
If DIY isn't your style, you can also call the company directly to sell your items. JM Bullion promises easy shipping and industry-leading rates.
Trustpilot score: 4.5 out of 5
Frequently Asked Questions
Before you use Cash for Gold USA, these frequently asked questions might be able to help clarify whether or not it's the right option for you to sell your valuables.
Summary
Cash for Gold USA makes it easy to sell your old jewelry and other valuables that are made of gold, silver, platinum and more.
The company's price match guarantee ensures that you'll get the best price for your valuables. Plus, you can receive payment within 24 hours of appraisal. The process is quick and easy.
That said, it's one of many companies that buy precious metals from individuals. As a result, it's important to shop around and compare your options to ensure you get the best price for your valuables.