Are you looking for the best places to sell jewelry online? Look no further.
Do you have jewelry sitting around the house and not being worn? Why keep having it take up space when you can turn it into cash? There are several reputable places to sell jewelry online at a fair price.
Maybe it's an old engagement ring/wedding set, diamond bracelet or earrings, or an old heirloom piece that you no longer want.
Whatever the case, we can show you how to turn your unwanted fine jewelry into money in the bank.
Where to Sell Jewelry Online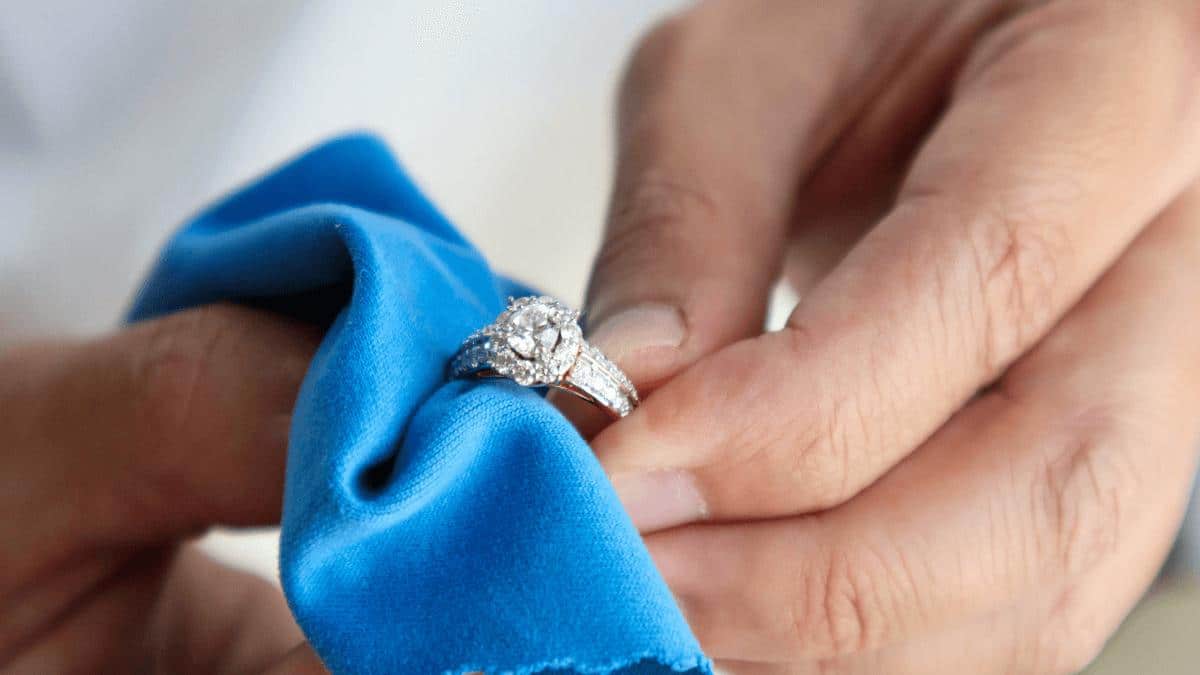 Selling jewelry can be a daunting task. How much is a piece worth? Is the buyer honest and trustworthy, or are they simply out to rip you off?
You can sell your jewelry pieces to a local pawn shop or gold buyer, but doing so limits your audience and your potential profit.
When you sell with the best online sites, you automatically broaden your audience to buyers around the world.
Expanding your potential buyer list means you have a better chance of selling your jewelry at a price that pleases you. Consider these online jewelry sites as you prepare to sell your unwanted fine jewelry.
1. Worthy
Worthy is an online jewelry auction site that exists to bring fine jewelry sellers and buyers together in a luxury auction marketplace. And to do so with transparency and integrity.
Worthy doesn't charge you anything until your item sells. Once your item sells, the company charges a commission fee based on the selling price of your item.
Here is what their fees look like:
| | |
| --- | --- |
| Jewelry Value | Fee |
| $5000 or less | 18% |
| $5,001 to $15,000 | 14% |
| $15,0001 to $30,000 | 12% |
| $30,001 and above | 10% |
The nice thing about using an auction site like Worthy is that you get professional assistance all the way through the transaction. From inspection to sale, fine jewelry professionals are with you the whole time.
This process helps ensure you're not selling your jewelry piece for too little–or to the wrong people.
Note: Worthy only accepts jewelry pieces that have a minimum sale price of $1500 or more.
For lesser-value items, you'll have to choose one of the other options available.
2. Cash For Gold USA
If you have gold jewelry to sell, you can sell it to Cash For Gold USA. This company will take just about any type of gold.
You can sell them:
Intact jewelry such as bracelets, earrings, rings, etc.
Gold nuggets
Gold dental crowns
Scrap gold
Broken jewelry
The company also accepts any karat gold between 8K and 24K. Since the company pays for gold based on purity and weight, it doesn't matter what condition the gold is in.
The process of selling to this company is pretty simple. You start by filling out the submission form on the site's home page and requesting whether you want to ship via FedEx or USPS.
Cash For Gold USA will send you a shipping package based on the information you've given.
After you get your free shipping package, you can send in your insured, trackable package of gold. When Cash For Gold USA receives your parcel, they'll have one of their certified technicians appraise your jewelry.
The appraisal typically happens within 24 hours of when they receive the shipment. After they analyze it, they'll send you a check for their buy offer amount.
They can pay via PayPal if you choose, too.
If you're happy with the amount you've received, just keep your cash. If you don't like their offer, you can return the money, and they'll send your gold back free of charge.
3. The Diamond Valet
The Diamond Valet operates with three goals in mind: convenience, security and customer satisfaction. They buy the following jewelry items:
Diamond engagement and wedding rings
Diamond stud earrings
Tennis bracelets
Like some other companies, The Diamond Valet gives you an online price range for your diamond when you fill out their online form.
After you send your diamond in, the company's diamond experts evaluate your ring and give you a final offer price.
The Diamond Valet's authenticity experts don't remove your diamond(s) from the setting to give you an offer price. They keep the piece intact. If you decide you don't want to accept their offer, they'll send your diamond piece back to you.
If you decide you do want to accept their offer, The Diamond Valet will send you a cashier's check or company check. They'll send the check via UPS, FedEx 2nd Day Delivery or USPS First Class Mail.
The Diamond Valet will send you free shipping labels and instructions and return your item free of charge if you decide not to sell. Note that you can also sell pre-owned watches to them.
4. I Do Now I Don't
The I Do Now I Don't website says it's the largest jewelry buyer from the public. Their goal is to help jewelry sellers receive the strongest possible pricing for their diamonds and jewelry.
You'll likely earn more money if you choose to list your item for sale on the site, but the downside is that it will probably take longer to get that money.
Note that it's free to list your piece on the site. The listing will expire after 30 days if your jewelry item hasn't sold, but it's free to relist it again.
I Do Now I Don't does things a bit differently than other sites. You don't send your jewelry in for authentication until after it sells. Once you have an accepted offer on your item, you'll send it in, and the company will authenticate it.
I Do Now I Don't commission scale:
| | |
| --- | --- |
| Jewelry Value | Fee |
| $500 to $5,000 | 20% |
| $5,001 to $10,000 | 18% |
| $10,001 to $50,000 | 15% |
| $50,000 | 10% |
If there are any issues with authentication, the buyer will have the option to renegotiate the deal or cancel it. After authentication is finished and your sale is complete, you will receive your payment on the 15th of the month following the completion of the purchase.
Payments are sent in the form of a check via USPS.
5. The RealReal
The RealReal is an online luxury consignment store that helps clients buy and sell a variety of luxury items, including fine jewelry. Here's how selling your jewelry online would work with TheRealReal.
You choose from three easy ways to get your jewelry piece to TheRealReal:
Shipping your piece directly using a free, printable shipping label
Having your item picked up from a location of your choice (this service is available in over 20 metro areas)
Bringing your jewelry piece into a consignment location (Chicago, Miami, Dallas, NYC, SanFrancisco, LA, Washington DC)
Once The RealReal has received your jewelry, they'll authenticate it and inform you of their suggested list price. If you agree, they'll list your item for sale.
After your jewelry piece sells, you can choose to get paid by Direct Deposit or by check. The RealReal gives you a large commission on any item they sell for you.
Here are the commission rates you'll pay:
60% on items with an original resale value of $145 or less
50% on items with an initial resale value of $146-$195
30% on jewelry with a beginning list price of $1,000 or more
There are other commission levels, too, based on the value of particular items. You can find more details on commission levels on The RealReal's website.
Note that there is some language in The RealReal's terms and conditions page that mentions their right to lower the price.
In other words, if you set an agreed-upon price and your item doesn't sell soon enough, The RealReal has the authority to reduce the cost by up to 20% unless you've agreed otherwise with them.
Lowering the price would affect your bottom line, so it's important to make sure you get your desired terms in writing before selling with The RealReal.
6. Circa (formerly Mondiamo)
Circa helps you maximize the value of your diamond when you're ready to sell. Note that they only buy diamond jewelry.
There's no specific commission structure with Circa. Instead, they simply make you an offer price that you can accept or reject. Circa will pay you via bank wire into your bank account or by mailing a check.
For international customers, they pay via wire transfer.
Another option you have is to get a gift card to Circa or to Blue Nile (a partner company of Circa) instead of cash. When you choose this option, you can get up to 110% or 120% of your quote price.
Note: Circa's offer price includes the precious metal that your diamond is set in. If you'd rather not sell the metal, they'll remove the diamond from the setting. Then they'll ship the setting back to you free of charge.
7. WP Diamonds
WP Diamonds was founded in 2012 to create a marketplace for people to buy and sell diamonds and other fine jewelry pieces quickly and safely.
At WP Diamonds you can sell loose diamonds, diamond jewelry, fine watches or any other designer or estate jewelry piece.
When you sell to WP Diamonds, you don't have to wait for someone to buy your piece. Instead, WP Diamonds buys your jewelry directly.
After you receive your final offer price and tell WP Diamonds that you accept their offer, the process is quite fast. In many cases, you can get paid within 24 hours.
If you go directly to a WP Diamonds location to sell jewelry, you may be able to walk out the door with a check the very same day.
Note that WP Diamonds has internal valuation specialists instead of third-party valuation specialists like Worthy uses.
WP Diamonds has locations in New York City, Hong Kong, and in the UK.
8. 1stdibs
1stdibs calls itself "the leading online marketplace for the world's most beautiful things. They were founded in 2001 and specialize in selling unique luxury items, including fine jewelry.
In order to sell jewelry on 1stdibs, you have to start by completing a seller application. The company has high standards for sellers, which means they attract quality buyers as well.
Once you're accepted as a seller, you can list your jewelry pieces and work to sell them. I looked to find details on 1stdibs about listing fees, selling fees, and commissions. But there was no information given unless you sign up to be a seller and go through the vetting process.
I can tell you that while they seem to specialize in higher-end pieces, there were dozens of pieces for sale under $1,000.
And although I can't give you details regarding fees and commissions, I can tell you that the 1stdibs Trustpilot rating is quite high, which is why we include them here.
9. Ruby Lane
Ruby Lane is an online marketplace that specializes in selling a small group of items. The company is sort of a cross between Etsy and Amazon. Ruby Lane has members sell items like Etsy does, where members open stores.
You can sell antiques, porcelain, dolls, furniture–and jewelry. As with the other companies listed here, you can only sell high-quality jewelry on Ruby Lane.
Regarding their jewelry section, Ruby Lane requires that the pieces are:
Less than 20 years old
Made of precious metals or stones
Worth $250 or more
Marked with the stamp of a designer or luxury brand (or a non-mass produced unmarked item)
You'll list your item for sale, along with adding a description, photographs, and terms, including the shipping costs.
Once you list your item for sale, it's up to you to communicate with the buyer for payment, shipment, etc. You can choose which methods of payment to offer, but the company encourages the use of PayPal.
Note that, like Etsy, Ruby Lane requires you to open an online "shop" to sell there. While their listing fees are affordable at only 19 cents per item (for under 80 pieces), they do have other costs.
There is a one-time set-up fee of $100 for your store (this fee includes ten free listing fees) and a monthly maintenance fee of $69.
So, if you're only looking to sell one item for $250, Ruby Lane wouldn't be worth the cost, and you'd be better off going with another choice.
10. Cash For Diamonds USA
Cash For Diamonds USA is a sister site to Cash For Gold USA. This site works the same way Cash For Gold USA works. Of course, the one difference is that they accept diamonds instead of gold.
You can send in any size loose diamonds or diamonds set in a ring or other jewelry piece.
If your diamonds are in the inside of a setting, such as a ring, they will evaluate the precious metal portion separately from the diamond portion. They'll do this without damaging your jewelry pieces.
After evaluation, they'll send you a check for your jewelry pieces. You can request payment via PayPal as well.
If you aren't happy with the amount they've offered, you can call them, and they'll send your item(s) back to you free of charge.
11. Alloy
Another one of our favorite sites to sell precious metal jewelry is Alloy. Simply request a free appraisal kit, send your items in with their free insured shipping option (up to $5K), and receive a video recorded appraisal.
If you accept their offer, you get paid. Alloy's 'mission is to make it easy and efficient to sell your gold, silver, and platinum jewelry in any condition while providing you the highest level of transparency and value'.
Alloy accepts gold, silver, Platinum, and Palladium. Besides accepting jewelry, they also accept bars, flatware, scrap metal and more.
With a 4.7 out of 5 star Trustpilot rating, you know that Alloy is doing something right to keep their customers happy.
Local Ways to Sell Jewelry
Here are a few ways you can sell your jewelry locally if you prefer to go that route.
12. Pawn Shops
If you're looking to sell jewelry locally and quickly, a pawn shop is probably the first thing that'll come to mind.
Pawn shops don't typically give you the most bang for your buck, but they are effective at getting you cash in your hand very quickly.
And what most people don't often realize is that when you "pawn" your jewelry item, you are not necessarily selling it.
You are essentially taking out a loan and using your jewelry as collateral. Once you repay back the cost of the "loan," you will get your item back.
Pawn stores will definitely just buy the item outright from you if you prefer to just make some quick cash from your valuables.
Keep in mind, you are probably only going to get about 25-60% of the value of your item by using a pawn shop.
13. Jewelry Stores
Another option to sell your jewelry is at your local jewelry store. Stop in with your item and see how much they will offer you for it.
You might be pleasantly surprised at what your item might fetch. It might be a little uneasy if you don't already have a relationship with your local jeweler.
However, there are also some big-name jewelry stores that offer buyback programs which might be worth a look.
Jareds, Zales and Kays all have gold exchange programs, where you can ship them your jewelry for free and they will issue you payment once they determine the value of your items.
They also guarantee 100% of the trade-in value of your natural diamond jewelry purchased from them as a credit towards your next purchase.
Check with each site for the specifics of their exchange program.
14. Antique Stores
Antique stores tend to offer a wide variety of vintage items throughout their store. You might be able to find retro items, antique art, furniture or collectibles.
And of course, antique stores usually carry jewelry.
Confirm with your local antiques dealer, because most of them will likely allow you to sell jewelry.
Either they will pay you cash for the item, or they will display the item for you and offer you a percentage of the proceeds.
15. Consignment Stores
When trying to sell jewelry, you may not normally think of a consignment store as an option. However, they are a great, stress-free option to sell your valuables.
This is because a consignment store won't pay you directly for the item. They will allow you to use their showroom, but if the item does not sell, you will not get paid.
Of course, a consignment store does not have the same cache as a jewelry store or other high-end dealer.
Their consign fees can be a bit steep (sometimes around 50%). But if you are fine with waiting, it could definitely be an option for you to explore.
16. Cashing Diamonds
Cashing Diamonds is "one of the premier diamonds and gold buying and selling venues in the world." It has locations in South Florida, New York, Los Angeles and Hong Kong.
Each sale you might make through them is fully insured up to $100,000 and the funds from the sale are made available to you immediately via secure channels.
They buy diamonds, gold, silver, watches and jewelry. Cashing Diamonds strives to be a fair buyer by emphasizing "seller education."
In other words, they aren't looking to make sure they give you the cheapest price. They want to make sure you understand the worth of your valuables and come to a reasonable figure in order to buy it from you.
Other Options to Sell Jewelry Online
Note that while there are other popular sites where you can sell jewelry online, we tried to stick with sites that had the highest ratings for customer service.
Feel free to check out websites like eBay, Bonanza and more for other options to sell your jewelry online.
Just note that you'll pay commissions when you sell on eBay and similar sites. Be aware of what those commission amounts are when you go to set a price for your jewelry piece.
And be aware of what your piece is really worth. If you don't like the thought of going it alone as you sell jewelry pieces on a site like eBay, you can always use an auction house.
However, auction houses have their rules for selling your jewelry online too. Here is some information about two very popular auction houses that might buy your jewelry online.
Christie's
Christie's famous auction house buys jewelry online in some cases. Well, they won't necessarily buy your jewelry. Instead, you can ship your jewelry items to Christie's for a place in their online auctions.
Note that auction houses like Christie's are much more particular about which jewelry pieces they'll take. They have a minimum estimated value and only sell higher value items.
Also, the timeline and process of selling jewelry with Christie's is much slower. You start by sending photos of your item.
The jewelry experts at Christie's will determine whether the piece is best served by selling by auction, private sale, or online sale.
You send your piece in and you pay for shipping and insurance. It might be a month or two before your item goes up for auction or is placed in a private or online sale.
When it sells, Christie's takes a cut to cover commission and expenses. The website doesn't specify what percentage of commission and what expenses they'll take.
Sotheby's
Sotheby's auction house lets you sell jewelry online too. As with Christie's, Sotheby's only takes higher quality pieces of jewelry.
And they don't typically do auctions for online jewelry sales. Instead, they take jewelry pieces on consignment. You start by sending them photos of your jewelry pieces.
They'll share what they think you should price your piece at, and then list the piece in their online store.
Note that you do need to pay for your listing and your estimate with Sotheby's. If you both agree to sell with the company, they'll take a roughly 25% commission as well.
And as with Christie's, selling through Sotheby's will likely take longer than it will if you sold through Worthy or another company that specializes in buying online.
However, you may get more money depending on the process and the sales price too.
Next, let's talk about some important frequently asked questions that come up as it pertains to selling jewelry online.
Frequently Asked Questions
I can understand how the thought of selling jewelry online might seem a little scary. After all, you're putting something potentially worth thousands of dollars into the hands of a shipping company.
Then you're hoping it reaches its destination safely. There can be a lot of unknowns when it comes to buying and selling online. Here are a few FAQs about how to sell jewelry online.
Summary
It is possible to sell your jewelry online and get cash for it. Instead of having it lay around taking up space, why not earn some money by using one of the best places to sell jewelry above?
Then take the cash you've earned and use it for something that's important to you. Go on that vacation. Put it in your house purchase fund. Pay off your debt.
Donate the money to help someone less fortunate than you. There are all sorts of better options for your money than to have it in the form of jewelry pieces you never wear.