If you're trying to sell a watch, there are many options to consider. Knowing the best places to sell watches is important whether you're looking to get top dollar or need cash fast.
We've found the best places to sell watches online and in person so you can put some extra money in your wallet.
Where to Sell Watches
Watches can be sold in a variety of ways. You can sell regular and luxury watches online, in brick-and-mortar stores or at other places near your home.
The suggestions mentioned here include a wide array of selling options listed in alphabetical order. Just make sure to get a jewelry appraisal first so that you don't sell your watch for less than it's worth.
1. 5miles
5miles is a local buy-and-sell app that connects you with interested watch buyers in a specific area.
You can list your watch on 5miles in a specific city or town to attract watch buyers near you. Then, you can meet those watch buyers in person to get your cash for your watch.
Another nice thing about 5miles is that the app works to promote safety. Users have to verify their identity via Facebook or their phone.
Users are even asked to rate other users. This means you can check a user's rating to see how other users' interactions with a watch buyer or seller went.
As a bonus, there are no fees for selling jewelry on 5miles. Plus, the site has an above-average Trustpilot score, making it one of the best selling apps.
2. Cash for Gold USA
Cash for Gold USA has one of the highest Trustpilot scores on this list and buys any kind of gold watch or other gold jewelry. Better yet, they make it super easy to sell your gold watch.
To sell your watch, all you have to do is fill out the site's online form, request free shipping and send the watch in.
Cash for Gold USA's free shipping program includes $5,000 of insurance for your watch. Additional insurance can be purchased for higher-value luxury watches.
Once your watch arrives at Cash for Gold USA, it will be assessed within 24 hours and you'll be sent an offer.
If you like the offer, your payment will be rushed by PayPal, check or bank wire. If you aren't happy with the offer, simply reject it and your item will be returned free of charge.
Do you have a watch made of silver and not gold? You are in luck. Check out Cash for Gold USA's sister company, Cash for Silver USA.
Related: Cash for Gold USA Review: Is This Gold Buyer Legit?
3. Give It Away
Giving your watch away may not seem the same as selling it for cash, but there is a potential monetary benefit to giving away a watch.
When you donate a watch to a 501c3 charitable organization, you can deduct the fair market value of the watch on your tax return.
If you can't get full price for your watch when you sell it, donating it might be a smart option. As a perk, you make a positive impact in the process.
Not all charitable organizations accept fine jewelry donations, but some do. For instance, the Salvation Army accepts donations of fine jewelry.
Another organization you could donate to is Support Our Troops. This charity uses your fine jewelry and other donations to support troops and their families.
For example, they might purchase a laptop for troops so they can communicate with their families while deployed.
4. Local Consignment Shops
Local consignment shops are another one of the best places to sell watches. Using a local location means you can keep a close eye on your watch to see when it sells.
Additionally, it often means getting your money faster once the watch sells. That said, there are a couple of downsides to selling at a local consignment shop.
The first is that your potential audience might be smaller. Of course, this depends on where you live. You'll likely have a larger audience if you live in a bigger city or town. However, your audience could be limited if you live in a rural area.
That being said, even consignment shops in smaller towns could provide a large potential buying audience if they have a strong online presence.
The second potential downside to selling at local consignment shops is that the fees can be high, so you won't get the fair market value for your watch.
Check with consignment shops near you to find out the exact fees for selling jewelry.
5. Pawn Shops
Pawn shops are valid options for selling your watch as well. Each shop works differently, so compare the details between different pawn shops before choosing one.
Most pawn shops will buy your watch for an on-the-spot price. You walk away with your cash, and they'll resell the watch at a higher price to turn a profit.
As a result, these shops are not the route to choose if you want top dollar for your watch. But, if you need fast cash, pawn shops can be the way to go.
Some pawn shops do allow people to sell items on consignment. This method could earn you more cash.
Check with pawn shops near you to find the best option to maximize your profits.
6. TheRealReal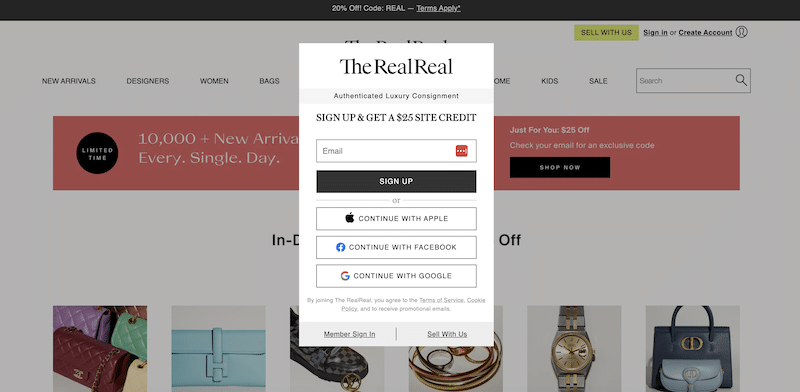 TheRealReal is an online luxury consignment shop that specializes in selling clothing and accessories that are made by high-value designers.
If your watch is listed on TheRealReal's list of accepted designers, you could sell your luxury watch on the site.
Some of the luxury watch designers TheRealReal accepts include:
Bvlgari
Bulova
Gucci
Hamilton
Ralph Lauren
And dozens of other designer watchmakers. See the TheRealReal website for more details.
When you sell with TheRealReal, you ship them your watch for free. The company's experts will authenticate your watch, determine a sale price and take photos.
Then, they'll list the watch for sale on their site. After your watch sells, you'll get paid.
Your paid commission if you sell your watch on TheRealReal will be anywhere from 70% down to 20% based on the value your watch sells for.
TheRealReal is one of the best apps like Mercari and scores highly on Trustpilot. It's worth considering if you have luxury watches to sell.
7. Tourneau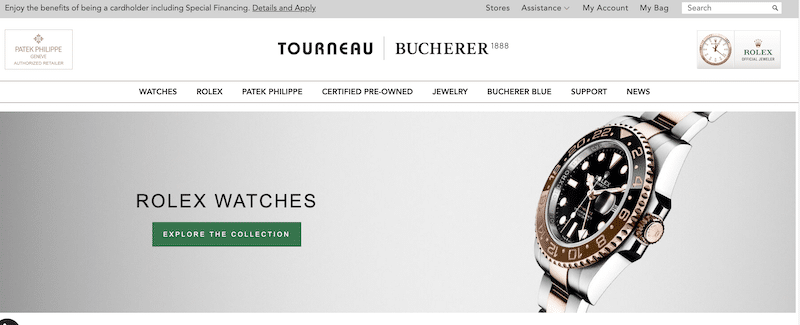 Tourneau is a reputable fine watch and jewelry store. The platform is the largest buyer of pre-owned luxury watches in the world and is one of the best places to sell watches online.
Selling watches to this watch buyer is easy. You start by filling out the company's online form. Then, you'll get an estimate from the company for your watch.
If you are happy with the estimate, you'll ship the watch to Tourneau free of charge.
When Tourneau receives the watch, they'll examine it and give you a final offer. If you are satisfied with the offer, just let them know and they'll send you a check.
If you don't like the estimate, they'll send your watch back to you free of charge.
As a bonus, if you accept store credit instead of a check, you'll get an additional 20% in value for your watch from this watch buyer.
Tourneau has a higher Trustpilot score than many pre-owned watch buyers. It could be the perfect option for selling luxury watches.
8. Watchfinder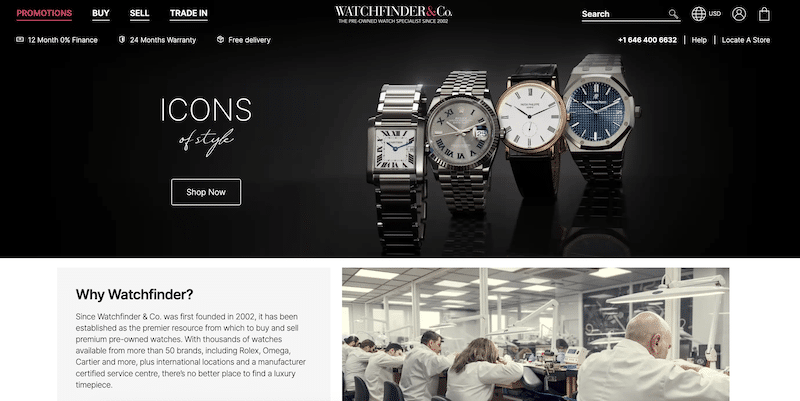 Watchfinder has been in business for over 20 years and is a premier watch dealer that works with over 50 name brands. They sell thousands of watches on their website.
Although it isn't a brick-and-mortar watch and jewelry store, they buy pre-owned designer watches.
To sell your watch, start by filling out the sell form on Watchfinder's website. Once the company reviews the form, they'll ask you to ship the watch to them.
After they've received the watch, they'll assess it and give you an estimated price. If you accept the offer, the watch buyer will transfer the money into your bank account within five business days.
In the event that you don't like their offer, they'll ship the watch back to you.
Watchfinder has a high Trustpilot score, so you can feel confident using the site to sell your watch.
9. Worthy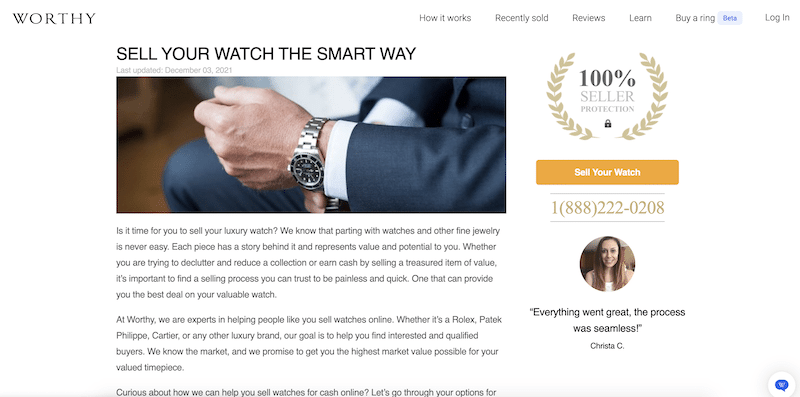 Worthy is an online marketplace for fine jewelry. You can buy and sell watches, diamond jewelry and more on the site.
When you want to sell your watch to Worthy, you start with an online phone consultation. You'll speak to an expert who will give you an idea of what your watch will sell for.
If you're happy with the estimate, you can send your watch to Worthy. From there, Worthy takes care of everything. They examine and grade the watch, clean the piece, photograph it and assign a personal account executive to the piece.
Then, the piece is placed online in an auction manner. Once the auction has ended and a reliable watch buyer is found, you get 80% of the purchase price. Essentially, it functions like an online auction platform.
Note that with Worthy and most other watch buyers, you'll likely get more money for the watch if you have the original box and the papers that came with the watch.
Worthy has one of the highest Trustpilot scores on this list, making it one of the top options for selling watches in the luxury watch market.
Read our full review of Worthy.com.
10. WP Diamonds
WP Diamonds is a luxury online marketplace for designer watches, jewelry, handbags and more.
If you want to sell your luxury watch with WP Diamonds, you start by filling out the online form that's available on the company's website. Then, a dedicated client representative will contact you to give you an estimate for the watch.
You can take advantage of the company's free, fully insured shipping and send the watch to them if you are happy with the estimate. Alternately, you can visit one of their stores in New York, London, Hong Kong or Tokyo.
Once WP Diamonds has your watch, their experts will assess it in person and get in touch with you with a final sale price.
If you like the price, they'll send you your money via wire or check on the same day that you accept their offer. Otherwise, if you're not happy with the offer, they'll return your watch at no cost to you.
WP Diamonds has a high Trustpilot score, giving customers peace of mind that it's reputable and easy to work with when trying to sell a valuable watch.
Methodology
When evaluating different places to sell watches online and in person, there were key criteria we assessed to determine the best options. In-depth research was performed to identify the top ways to sell watches.
For online options, we included places that met the following criteria:
Trustpilot rating of 3.0 or higher
Multiple ratings on Trustpilot
Reputation among industry leaders
Ease of use
Low fees
Potential for decent payouts
For brick-and-mortar options, we focused on the following factors:
Ease of accessibility
Likelihood of purchasing watches
Potential for decent payouts
We chose this methodology to ensure we're doing our due diligence as we determine the best places for you to consider when selling watches.
Frequently Asked Questions
Here are some answers to commonly asked questions about the best ways to sell watches.
Summary
Finding the best places to sell watches online or in person takes some work. However, it will be worth the effort when you get the results you want.
When it comes to selling luxury watches, choose the watch buyer that best fits in with your timeline, the price you want and other factors that are important to you.
Once you find the ideal solution for your specific needs, you can make money fast by selling your watch.