Whether you have a single gold piece or a treasure trove of coins, you might decide that you want to make money by selling your coins. If so, you'll want to find the best places to sell coins online.
The top websites will help you get the best price for your coins while minimizing your fees. They will also connect you with the right buyers.
Here are the ten best places that make it easy to sell coins online while earning the greatest profit.
Where to Sell Coins Online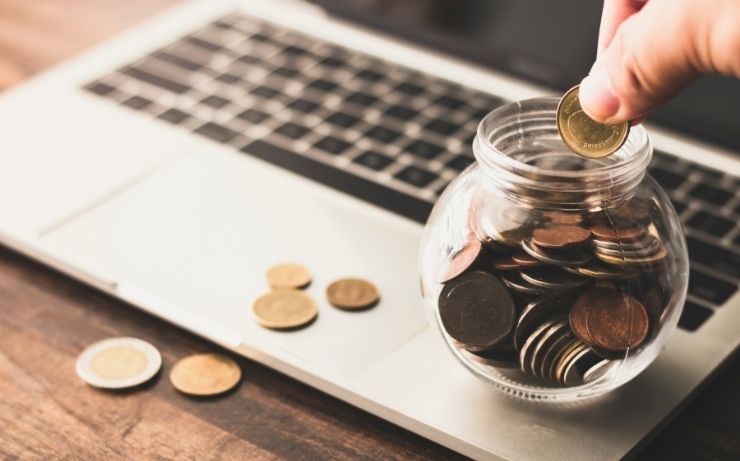 You may have inherited several coins or built your collection from the ground up.
No matter where your coin collection came from, you'll want to get the best value with the least amount of hassle.
Here are the top places to consider if you want to sell your coins online.
1. APMEX
APMEX is one of the country's largest buyers of coins, currency and bullion. Since it launched, the site has bought over $1 billion in products off the retail market.
With that, this company has a strong reputation for making good on their deals.
The process starts by calling APMEX to describe what you want to sell. If necessary, the team will help you identify the products. You can also submit a form online with the details about your coins.
Once the team has a good understanding of your coins, they will quote you a price that you can lock in over the phone.
Next, you'll have to ship the coins via UPS. You will not be paid until APMEX receives the coins.
Although they promise fast payment processing within a day of receiving your products, it is understandable to feel uncomfortable mailing your coins in before you receive payment.
Another issue with this option is that you'll have to have at least $1,000 in coins to sell. APMEX will not work with you if the value of your coins doesn't hit this threshold.
Check out our full APMEX review to get more details.
Pros
Well respected operation
No need to list the product online
Likely to sell
Cons
You won't receive payment until after shipping the coins
You'll need at least $1,000 worth of product to sell
2. JM Bullion
As you might have guessed, JM Bullion specialized in buying gold and silver bullion. The process is fast and painless.
It starts by selecting which products you have to sell online. If you are happy with the price, you can lock it in.
After that, you can ship the products to JM Bullion. Once the package is received and inspected, you will receive your payment.
If you prefer to get a quote from a representative, that is an option as well. The downside is that you have to wait until after you send the bullion to receive payment.
With that, you must trust that the inspection goes well and that JM Bullion can honor their price.
Keep in mind that JM Bullion wants to sell these items for a profit. That fact could cut into your potential earnings.
Pros
Seamless online process
No listing responsibilities on your end
Likely to sell
Cons
Must send the bullion before receiving payment
JM Bullion resells the items
3. Coinappraiser.com
Coinappraiser.com offers a free coin value guide with the option to sell your coins to them. The goal of the site seems to be to help you determine the value of your coins. You can even work with a coin expert to figure out the details.
In addition to this service, Coinappriaser.com also buys coins. The process starts with a call, email or text to walk through the coin's value.
From there, Coinappraiser.com may make you an offer. However, they might also point you in the direction of another buyer to help you secure the biggest profit.
The site itself recognizes that they might not always be the right place to sell your coins. Fortunately, they can help you find an option that allows you to get the most value.
If you make a deal, it is unclear how the transaction will be handled. With that, you should proceed carefully when considering selling your coins here. Don't be afraid to ask how payment will be handled before agreeing to anything.
Pros
Coin valuation assistance
Physical storefront option in NY
Cons
No guaranteed sale
Unclear transaction details
4. CoinsForSale.co
CoinsForSale.com is a relatively new marketplace for coin collectors. The website is essentially a platform designed to help you sell your coins.
If you choose to sell through CoinsForSale.com, you'll find buyers exclusively interested in coins and bullion. You'll also be pleased to discover that it is completely free to list any number of items.
When creating a listing, you can set a price or start an auction. If you make a sale, you'll have to pay a flat 5% fee.
Ultimately, CoinsForSale.com is a worthwhile option to find a crowd of interested buyers.
Pros
Flat 5% fee
Free listings
Marketplace dedicated to coins and bullion
Cons
Relatively new company
Small but growing number of users
5. Coin World Marketplace
Coin World offers a marketplace for buyers and sellers of coins to meet in a single spot. It has built a good reputation that both buyers and sellers trust.
You can create a listing as a seller by describing your coin, adding pictures and paying a listing fee. The listing fee is 2.50% of the list price for private listing ads, with a minimum charge of $5 and a maximum charge of $299.
Luckily, there is a caveat. If the item doesn't sell within 12 months, Coin World will reimburse the fee so that you don't lose money.
Purchases are made through an escrow service. With that, you won't receive the funds until the buyer possesses the coins.
Pros
You set your own price
Fee reimbursed if the item doesn't sell
Cons
Listing fees
Responsible for setting the item price
6. eBay
eBay has millions of users that check out its listings. Of course, not all eBay users are collecting coins. Since thousands of other products are available, it can be difficult for coin buyers to find your listing.
However, when a potential buyer does find your listing, you will be in more control of the price point.
Keep in mind that you'll need to factor selling fees into the equation. Currently, eBay charges between $0.25 to $2.00 to list an item. Plus, you'll have to pay a 12.35% + $0.30 fee when the coin sells.
If you are comfortable creating listings and covering the fees, then eBay could be a great option for you to make some money by selling your coins.
Pros
A large number of potential buyers
Option to set a price or create an auction
Cons
Seller fees
An extreme number of products to compete with
No guaranteed sale
7. Great Collections
Great Collections offers sellers the opportunity to sell their coins at auction. As a seller, you'll send your items to Great Collections. After Great Collections receives your coins, the company will auction off the items.
According to the site, the company conducts an extensive marketing strategy for these auctions. This means your coins will be seen by many prospective buyers.
When you send in coins, there is no minimum consignment amount. You'll have to pay 5% for coins and banknotes that sell for under $1,000. You won't have to pay any fee if the coins or banknotes sell for over $1,000.
There are some instant cash advances available. But in most cases, you'll only receive payment after the item sells.
As with some of the other options on this list, you will have to put a lot of trust into Great Collections when sending your coins without a guaranteed value.
Pros
No minimum consignment
Free auction estimates
Cons
Must send items before receiving funds
It may take weeks to receive funds
8. Heritage Auctions
Heritage Auctions is a specialty auction house. With decades of experience selling coins, you'll likely find success with this option.
Through Heritage Auctions, you have the ability to sell your coins online outright or go the consignment route. If you sell outright, you will send pictures, and they will determine a price.
If you consign your coins, you'll have to ship the coins for the company to auction for you. With the consignment option, you are trusting Heritage Auctions to get the best price for your coins before you are actually paid for them.
When your coins sell, you'll pay a 10% fee to Heritage Auctions. Unfortunately, you won't receive your settlement check until 45 days after the auction closes.
Although the outright sale option is fairly straightforward, the auction route may take too long for people who are looking to earn cash from their coins quickly.
Pros
Sell outright or sell by consignment auction
No listing responsibilities on your end
Cons
Long wait time to receive payment after auction
10% fee for consignment sales
Must send the coins for auction before you receive payment
9. Modern Coin Mart
Modern Coin Mart is a business that is set up like an online pawnshop. The process starts when you send in your coins. After assessing the value, Modern Coin Mart will send out your payment.
Once Modern Coin Mart owns your coins, the business will resell the items at a profit.
You won't have a chance to negotiate the value of your coin collection until after Modern Coin Mart has your coins in hand.
As a result, it might be risky to put your trust in the fact that Modern Coin Mart has your best interests at heart. After all, the website has to worry about its own profits.
This might not be the best move for a treasure trove of coins. But if you are looking to sell just a few high-value coins, then it might be a good option.
Pros
Likely to sell
No listing responsibilities for you
Cons
Requires trust that Modern Coin Mart will give you a fair value
No payment until after you ship your coins
10. Stacks & Bowers
Last but not least, you can sell coins through Stacks & Bowers, America's oldest coin auction house. Stacks & Bowers is known by coin collectors as a great place to find coins for sale.
The large, built-in number of buyers bodes well for sellers. Regardless of the item, you will have the option to sell directly to Stacks & Bowers or consign the item for auction.
If you sell direct, the process starts with a phone call or email. Depending on the situation, the company may send an appraiser to your home.
Should you decide to sell on consignment, you might be eligible for a cash advance. With that, you can receive a portion of your estimated auction proceeds before the auction actually starts.
However, you'll have to pay interest on any advances you receive. This can be a deterrent for most people, and rightfully so.
The auction house is known for world record prices. That said, you'll still have to part with your coins before you receive the payment.
If the coin sells, you will receive your funds 45 days after the auction closes.
Pros
Likely to sell
No listing requirements on your end
Cons
Requires trust that Stacks & Bower can sell at a fair value
Must wait for 45 days after auction close to receive payment
Frequently Asked Questions About Selling Coins
What is the best way to sell coins in bulk?
eBay is the best place to sell a lot of coins in one transaction. There platform allows you to sell coins as a lot so that you could sell an entire collection in one listing.
How do you make sure that the buyer is legit?
Many of the marketplaces have a rating system so you can see how other sellers rated the buyer. Make sure to look at the recent history to see the current reputation of a prospective buyer.
Summary
If you are ready to sell coins online to make money, you'll find many places that are looking to buy. You can choose to list the items individually on a marketplace, sell directly to a buyer or use a consignment auction.
Ultimately, the best way to sell your coins will depend on your unique situation.
You might not have the time to manage a marketplace listing, making a consignment auction or selling directly to an online shop a good choice. If you have time to manage your own listing, a marketplace could lead to more profits.
Before you sell your coins, take some time to figure out which option is best for you.