Many investment options are digital, but some people enjoy investing in tangible assets. This can include anything from real estate and classic cars to even silver coins.
Precious metals tend to maintain their value during bear markets and can help you diversify your portfolio. In particular, silver can be a great long-term investment to offset inflation concerns.
Here are some of the best places for investors to purchase silver coins, dollars and more.
Where to Buy Silver Coins
Silver Gold Bull
Huge selection plus 100% insured and free for orders over $199.
SD Bullion
Buy gold and silver coins. Low-price guaranteed, plus free shipping over $199.
BGASC
Offers current options plus historical currency and rare antique coins.
There are many websites that make it easy to buy silver coins online. However, it's important to keep in mind that not all sellers are reputable.
We've compiled the best places to buy silver from legitimate online sellers so you can determine the best option for your needs while avoiding scams.
1. BGASC
Buy Gold and Silver Coins (BGASC) is a large online marketplace for gold and silver coins as well as other precious metals. There is no order minimum, and the prices can be very competitive.
Buyers can get a discount on their order if they pay by bank wire. Other payment methods include paper checks, debit, credit, and PayPal.
Orders can be placed online 24 hours a day, seven days a week. There are no hidden fees or commissioned sales. Shipping is free for orders of $5,000 or more, and packages are insured.
Customers can use BGASC with confidence since the site and facility are PCI-compliant.
2. Silver Gold Bull
Silver Gold Bull is an online precious metals retailer that sells gold, platinum and silver bullion products. They also offer storage worldwide as well as a buyback program.
Products purchased from the company come directly from various mints, refineries and stored suppliers, including the Royal Canadian Mint.
If you want to buy coins but aren't sure where to start, the company lets you talk to veteran traders to help answer any questions you may have. You can even access up-to-minute market pricing.
Shipping is 100% insured and free for orders over $199.
Learn More: Silver Gold Bull Review
3. Golden Eagle Coins
Golden Eagle Coins sells silver, platinum and palladium. Originally a retail shop, the company expanded to become the largest online coin and gold bullion dealer in the Washington, D.C. metro.
Product quotes are updated in real-time and tied directly with the commodities exchange. There are no commission fees when you buy through the site.
Shipping is free on orders over $99. Purchases are sent via USPS-insured mail.
If you want to sell your coins, Golden Eagle Coins may be willing to buy from you.
4. SD Bullion
SD Bullion is an online retailer that sells gold and silver bullion products. They also offer a competitive buyback program for gold and silver.
The company claims they have had the lowest prices in the industry for over a decade. They provide subscribers with a newsletter to stay up-to-date on current bullion deals.
Beyond selling coins and metals, SD Bullion offers accessories like coin capsules, tubes and monster boxes, sigma metallics scanners, and more.
Shipping is free and insured on orders of $199 or more. Tracking is available on all shipments.
5. JM Bullion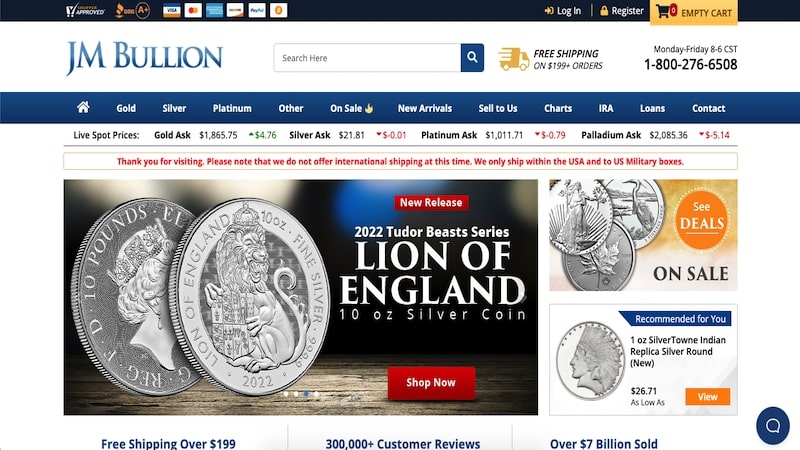 JM Bullion is an online retailer that sells and buys precious metals. The company inspects all products before shipping them to customers and works directly with mints and distributors.
An email newsletter is offered to clients who want to learn about exclusive promotions and sales. The company also provides an investing guide and a blog.
JM Bullion prioritizes customer security by using 256-bit SSL encryption.
Shipping is free on orders over $199. Orders under $199 ship for $7.99. Packages are fully insured and ship within one business day of payment.
Learn more: 12 Best Places to Get Quarters
6. GoldSilver, LLC
GoldSilver, LLC sells and buys gold and silver products. They provide a good selection of gold and silver along with private vault storage at locations around the world.
The site offers resources to help buyers learn about investing in precious metals. These include a book, video series and news articles.
A mobile app is available to help investors track their gold and silver investment values 24/7. The app is available on both Android and iOS devices.
Flexible payment options are available. Shipping is free for orders over $500. Items are insured and ship quickly in discreet packaging.
7. Texas Precious Metals
Texas Precious Metals is an online precious metals retailer based in Shriner, Texas. The company sells gold, silver and bullion products.
Boasting less expensive costs than benchmark industry premiums, the company also lets you place limit orders. There is no order minimum.
Shipping is insured and free. Orders of $1,000 or more are shipped with UPS Next Day Air. Buyers also have the option to pick up their purchase in person if they live near Shriner.
Beyond selling metals, the company offers a depository for short-term and long-term storage.
8. Westminster Mint
Westminster Mint is an online retailer of gold and silver bullion products. The company offers a wide selection of coins, bars and rounds.
With a highly trained team that can provide personal assistance and help you find almost any coin you may be looking for, Westminster Mint provides clients with great service.
A free mobile app is available on iOS and Android devices. This allows you to get price quotes and make purchases anywhere.
Most products ship in one to three days and are fully insured. Shipping rates vary based on the order value.
9. Gainesville Coins
Gainesville Coins is a full-service precious metal dealer and online marketplace. The company buys and sells precious metals such as gold, silver, platinum and palladium.
Commission and broker fees are not applied to your purchases. Gainesville Coins says they avoid these types of fees to ensure personalized attention to all orders.
You can make purchases 24 hours per day, seven days a week on the website. Beyond selling precious metals, Gainesville Coins also offers metal detectors, coin supplies and gear.
Unlike other precious metal online dealers, Gainesville Coins does not offer free shipping. Shipping and insurance rates are based on the weight and value of products.
10. Provident Metals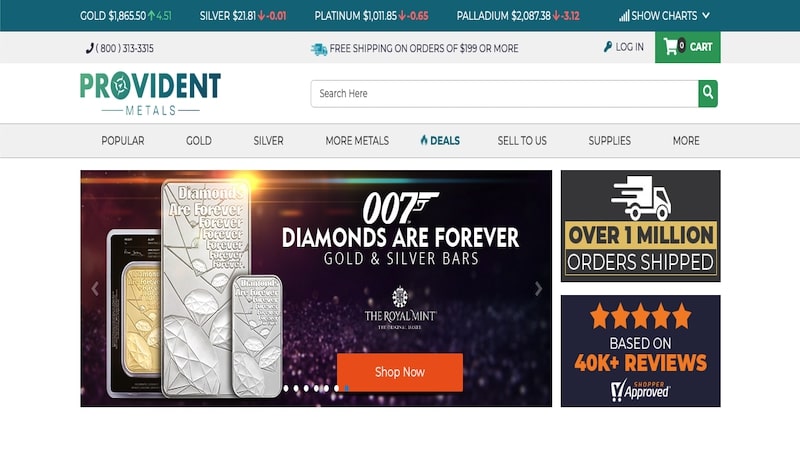 Provident Metals is an online retailer of domestic and international bullion, currency and investment-grade metals. The company sells gold bars, silver bars, copper and platinum products.
Buyers can place an order anytime through the company's website. They can also access news and exclusive discounts by signing up for the site's email newsletter.
Using high-grade encryption software and a secure shopping cart, Provident Metals makes sure your information is protected when you make a purchase through their website.
Shipping is free on orders of $199 or more. Items are shipped discreetly and are fully insured.
11. American Precious Metals Exchange (APMEX)
American Precious Metals Exchange (APMEX) is one of the largest online dealers of silver coins on the market. They also purchase products from sellers.
The exchange is an authorized purchaser of the United States Mint and partners with other respected mints around the world.
For buyers looking for good prices, the company offers a loyalty program. This gives members access to perks such as flash sales and quicker shipping times.
If you value philanthropy, APMEX is committed to community involvement. They regularly donate to and support the Regional Food Bank.
While they don't have the best prices, you may find them competitive because of the volume of sales. Shipping is free on orders over $199.
Learn More: APMEX Review
12. Scottsdale Mint
Scottsdale Mint is an online precious metals retailer based in Scottsdale. They are one of three U.S. mints currently in operation.
The company designs, manufactures and distributes precious metals products. They even offer secure vaulting and asset transfer services.
Cash discounts are available to buyers who pay by bank wire or ACH/eCheck. Customers can also access discounts by subscribing to Scottsdale Mint's email newsletter, including $5 off a purchase of $250 or more.
Free shipping is provided on purchases over $500. All shipments are fully insured.
13. Money Metals Exchange
Money Metals Exchange is an online retailer of precious metals, including gold, silver and platinum bullion products. They offer silver bullion products, including coins, rounds, bars, bullets and fractionals.
In addition to selling silver, the company offers a secure depository to store your gold and silver. Their website claims their pricing for storage is extremely low.
A unique feature of the company is its scholarship program. They offer a gold-backed scholarship to help students pay for college.
Money Metals Exchange also works with customers to buy gold and silver products. They boast buyback prices above most competitors.
14. Silver.com
Silver.com is an online retailer that sells silver products. They also offer gold, platinum, copper and palladium precious metal products.
The company provides exclusive email offers, industry-leading pricing, reliable customer support and 24/7 online ordering.
An investment guide is offered to help buyers understand silver investments. Interactive price charts are also available.
Shipping is free on orders over $3,000. Orders under $3,000 cost $7.99, and every order shipped is covered by Silver.com's insurance policy.
15. Golden State Mint
Golden State Mint is a full-service mint offering direct-to-customer service with high volume production of silver, gold and copper products.
Unlike other precious metals dealers, Golden State Mint does not sell second-hand products. Their products are minted and shipped every day.
Members of the military can access 10% off gold, silver and copper products. Proof of military service is required to access this discount.
All shipments are insured, discreetly packaged and include a tracking number.
Why Buy Silver As An Investment?
There are several reasons you should consider investing in silver. Here are some things to consider when deciding if you should add silver to your investment portfolio.
Pros
Hard asset
Assists with portfolio diversification
Hold their value
Cheaper than gold
Cons
Not easy to liquidate
Need a place to store them
Won't earn dividend income
Frequently Asked Questions
Before you invest in silver products, here are some frequently asked questions to keep in mind.
What types of silver investments are available?
As you research silver, you will encounter various products. These can include silver bullion, silver bars, silver rounds, silver bullets, silver bullion coins, and more.

You may also run across junk silver, which is any old U.S. currency that contains genuine silver.
How do I choose the right place to buy silver from?
It's advisable to use a trusted and established company when you are buying silver. Check out sites like Trustpilot to evaluate legitimacy and read reviews.

Also, make sure to look at pricing, including shipping, as you decide which company to use. Comparing the total cost can help you get the best deal for your investment.
What are some of the most popular silver dollars for investors?
Popular silver dollars for investors include the American Silver Eagle, Canadian Silver Maple Leaf, Austrian Silver Philharmonic, and Silver Krugerrand.
How do I store my silver?
Since silver can tarnish, it's a good idea to keep it in a cool and dry area. Storing silver in a container, especially one that is airtight, is a smart idea.

You could also use a company like GoldSilver, LLC, Silver Gold Bull, Money Metals Exchange or Texas Precious Metals for your storage needs.
Summary
Investing in silver can be a great alternative investment to diversify your portfolio. Silver is a tangible asset and holds real currency value in addition to the value behind their silver content.
Before you invest in silver, it's important to do your research. Only buy from reputable silver dealers who have a long history in the business and positive reviews.