Vintage and antique goods can often bring you good money if you're selling the right items. But where should you sell your antiques for the most cash?
In my experience, selling at local antique shops will bring you fast money, but not necessarily the most cash. After all, local antique shops buy with the hope of re-selling at a profit.
For that reason, most antique shop buyers are going to try to give you a lowball offer. Before you bring your antiques to local shops, consider these other places for selling your antiques.
Where to Sell Antiques
The websites and stores listed below will help you sell your antiques and get cash. With these options, you can sell online or locally, depending on which option works best for you.
The types of items each site, store or other venue accepts will vary. For that reason, read the fine print before listing your item for sale. You may even want to try apps for selling online or locally.
1. Etsy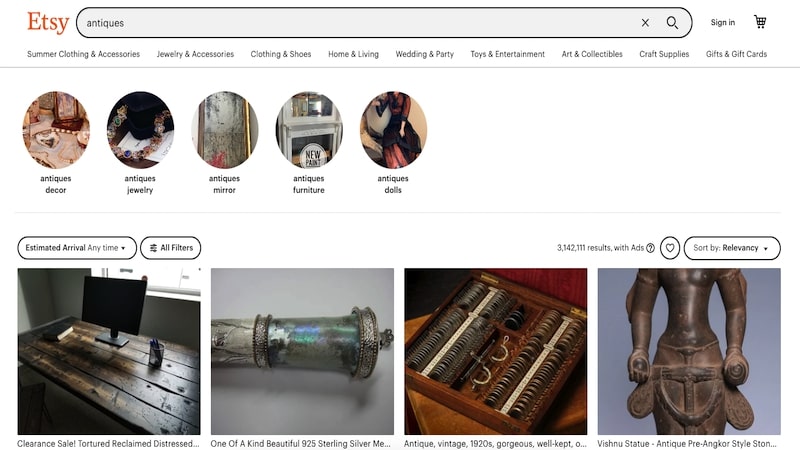 Etsy only allows people to sell items that are handcrafted, custom-made, unique or vintage. If you're selling antiques, you fit under the "vintage" category.

Several types of items qualify as vintage on Etsy, including:

Clothing
Books, movies and music
Home decor items
Jewelry and accessories
Toys and games
Regarding vintage items, Etsy states that the items need to be at least 20 years old. If the items you want to sell are not at least 20 years old, you technically can't sell them on Etsy.

Etsy does charge fees to sell on the site. There's a 20 cent listing fee. After your item sells, you'll pay a 5% transaction fee.

You might pay an additional fee based on the type of payments you accept and how a buyer pays. See the Etsy website for more details on fees.
2. Bonanza
The Bonanza website says it sells "everything but the ordinary." When you sell your antiques on Bonanza, you won't pay any listing or setup fees.

But when you sell, you'll pay a fee of 3.5%. If you choose to have your antique advertised on Google ads, you'll pay an additional 5.5% fee when you sell.
Bonanza has other advertising rates to expose your antiques to more buyers. If you're considering selling antiques regularly, this feature could be very beneficial.
3. OfferUp
OfferUp works kind of like Craigslist. The site is made for people wishing to buy and sell locally.
One nice thing about OfferUp is that there are no listing or selling fees. In addition, there is a special section on the site geared toward selling antiques.
This means it can be easier for buyers to find your antique items when you list them on the site. OfferUp is quickly becoming one of the most popular places to sell antiques and other items.
4. Ruby Lane
Ruby Lane specializes in helping people sell vintage items. However, it's geared toward sellers who want to sell antiques regularly.

In fact, the site's listing rules state that you must have a minimum of at least 10 items for sale at all times. There are no listing fees when you open a Ruby Lane shop.
However, you will pay $69 a month for your shop and a one-time set-up fee of $100. If you list more than 80 items, you will pay 1–10 cents in maintenance fees on each item every month.
5. ArtFire
ArtFire sells handmade goods, craft supplies and vintage (antique) items. You have to open a shop to sell on ArtFire. Shop fees are as follows:
Standard Shop: $4.95 per month, 23 cent listing fee per item, 12.75% final valuation fee
Popular Shop: $20 per month, no listing fees, 4.5% final valuation fee
Featured Shop: $40 per month, no listing fees, 4.5% final valuation fee
Final valuation fees are based on the final selling price. With the Standard Shop, you can list up to 250 items for sale.
The Popular and Featured shops let you list up to 1,000 items and 2,500 items for sale, respectively.
6. eBay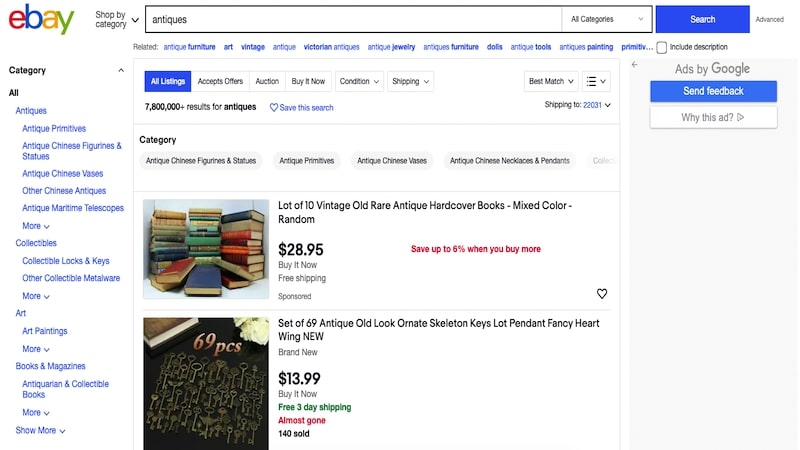 eBay is the old standby for selling antiques and other items. One benefit of selling antiques on eBay is its reach. Its more than 177 million shoppers (according to the eBay website) mean exposure for antiques you want to sell is massive.
If you sell as an individual, you'll pay $0 for listing fees and a 10% final valuation fee. On the other hand, if you choose to sell as a business, there are shop plans eBay has in place. See the eBay website for more information.
7. Craigslist
Craigslist is nice for selling antiques because there are no listing or selling fees. In addition, most of your buyer market for the items you sell will likely be local to where you live.
This means you don't have to ship your antiques and can meet your buyers in person instead. The market for selling antiques on Craigslist may vary depending on the area where you live.
In my major metropolitan area, there were thousands of antique items listed for sale. Your area may have different results. Another option for you might be to try selling on sites that are similar to Craigslist.
8. Flea Markets
Another option for selling your antiques could be to offer them at flea markets. There are several ways to make money at a flea market.
You can rent space at a stationary flea market that is housed in a building or market area near you. Or, you can join a traveling flea market when it comes to your area.
You could even join in the traveling market as it goes from town to town. Selling your antiques at a flea market would likely be best if you have many antiques to sell.
Or, you could sell at a flea market if you have antiques and other non-antique items you want to sell, too. Most flea markets charge some sort of rent for the booth or table you use to display your items.
9. Facebook
Facebook is fast becoming one of my favorite places to buy and sell. One reason for this is that selling on Facebook Marketplace is free. There are two ways you can sell.
First, you have the option to sell your item by simply posting it and sharing with your Facebook followers. This can be a nice option to choose because you're typically only dealing with people you know.
Second, you can post your antique items for sale on Facebook Marketplace. Facebook Marketplace is a section within Facebook where you can post items for sale.

Everyone who goes on Facebook Marketplace can see your antique listings. This means you'll have a much bigger potential audience than if you just write a post to your timeline.
And since shoppers here need to have a Facebook account, there's a certain level of security involved.
10. eBid
eBid works very similarly to eBay. However, there's one major difference: lower fees than eBay. In fact, eBid promises you'll never pay more than 3% to sell your antiques and other items there.

eBid isn't a new site; it's been around since 1999. And the website says they currently have over 3 million items for sale. This means you can be sure you'll reach a wide audience if you list on the site.
If you want to sell on the site, you just need to hit the "Start Selling" button. The site will direct you from there.
You can sell all types of antiques on eBid, including:
Art
Clothing
Coins
Collectibles
Furniture and home decor items
Jewelry and accessories.
eBid can be a great site to use if you want to reach a global audience. With their "zero listing fees" policy and a maximum of 3% selling fees, you can reach a large audience without paying exorbitant fees.
11. Consignment Stores
Another option for selling your antiques for cash is going to local consignment stores.
Consignment stores typically work like this:
You bring your vintage item into the store
Store employees assess and price the item
The item gets displayed in-store
Once the item sells, you split the sell money with the store
Consignment stores usually work on commission. Depending on store policy, they'll take 20%, 30%, 40%, or more of what your antique item sells for.
Each consignment store sets its own rules regarding the percentage of the sale they'll take. Therefore, it's important to know the rules of the shop before placing your item for sale in it.
That includes knowing cancellation rules. Be sure you're not on the hook to pay the shop if your item doesn't sell.
12. Yard Sales
You could also try selling your antiques by having a yard sale. In order to get the most shoppers, consider having your yard sale during citywide or neighborhood-wide sales.
By doing so, you'll help ensure there will be an abundance of people shopping. Another tip is to combine your sale with those of other families or neighbors. Multi-family sales can entice shoppers, as they expect to find more items for sale.
And finally, be flexible when pricing your antiques at a yard sale. People love a bargain. Set your prices with a bit of wiggle room for bargainers.

Or, decide in advance how low you'll go for the sale price. Would you rather keep the item if you can't get a certain price for it? Or is the goal simply to get rid of the antique?
Determine the answers to these types of questions and price your antiques accordingly.
13. Pawn Shops
Local pawn shops might be another place you can sell your antiques. While pawn shops do allow you to sell your stuff to borrow money, they also allow you to sell it permanently and keep the cash.
Search online for pawn shops near you and bring your items into the shop to ask what they might give you for the items. Make it clear that you won't want the item back, and that it is theirs to sell if you agree upon a sale price.
Keep in mind that pawn shops have a goal of buying low and selling to make a profit. For this reason, you may not get as much money from a pawn shop as you would by selling online.
14. Local Antique Shops
I talked a bit about how selling at antique shops may not bring you as much cash as you'd get at other places. While this is true, you could make money if you have a lot of antiques to sell.
How? By renting space at an antique shop. Many antique shops rent space to dealers who have several antiques to sell.
The dealer — or renter — displays their items priced as they wish. Customers come in and buy the items.
You could even have a continuous stream of items to sell and make a business out of it. Dealers get the antiques they sell at a variety of places, such as:
Estate sales
Garage sales
Flea markets
Auctions
They look for great deals on antiques and then resell them at antique stores where they rent space. Do you have a lot of antiques to sell, or are you looking to make a business out of selling antiques? If so, consider checking into becoming a seller at an antique shop.
15. Auction Houses
An auction house is another place you might consider if you have a large number of antiques. In addition, if you have highly valuable antiques such as automobiles, using an auction house to sell them might serve you well.
Auction houses will sell your antiques at an auction and then take a percentage of the profit. The auction will be advertised in order to gain a larger audience.
People like going to auctions as it can be exciting to compete to buy items. Auctioneers work to create excitement that makes people eager to bid. This is because it's in the auctioneer's best interest to gain the most money for your antiques.
The more income they get per piece, the more their profit increases. However, the income you'll get from your antique items depends on who is at the auction and whether they're looking for what you're selling.
If buyers who are looking for your type of antique are there, the chance of them buying is higher.
Summary
If you have antiques to sell, consider using one of the ways above to get the most cash for them. The profit you'll make from your antiques depends on several factors.
The audience you reach, the demand for your type of antique and the route you choose for selling all affect your bottom line. However, the right type of antique and the right audience can result in a healthy profit.